So I know, I have been away for quite some time and I never really meant to, but things just happen that we cannot even control. I had to focus on my studies and my exams and so many other private life stuff. But the good news is that am back, and I hope to impact positively by equipping you with reliable and quality STEM information.
While still engaging with life, I encountered a friend who was working on his Final Year Project, the project involved the use of Lithium Ion batteries, "Li-on", the 18650-type to be precise, the kind you find in your dead laptop batteries and look like something of this nature

Li-on Laptop Battery Internals By Lead holder Creative Commons Attribution-Share Alike 3.0 Unported
His project was centered on energy storage. And from there we got into a lot of discussion regarding his project and I finally decided to ask him why he had chosen the 18650 batteries among the large pool of batteries. With a smile, he told me that he was motivated by people like Elon Musk, Jehu Garcia and so many other renowned men who had picked up such great interests in 18650 li-on battery deal in the creation of their project.
Elon Musk will surely not be a new person to those of us keeping up with technological trends, he is the CEO of TESLA, a major tech company involved with the production of electric cars and power walls. He is also the founder of the project SPACE_X, whose mission is to revolutionize space travel.
Elon Musk has greatly put the Li-on batteries to good use in his building of his electric cars and even his power walls which is dedicated to serve as secondary power for our homes, for those of us staying in remote areas far away from good power supply this is good news; as this power walls can even be charged with solar panels and they also have great storage capacity.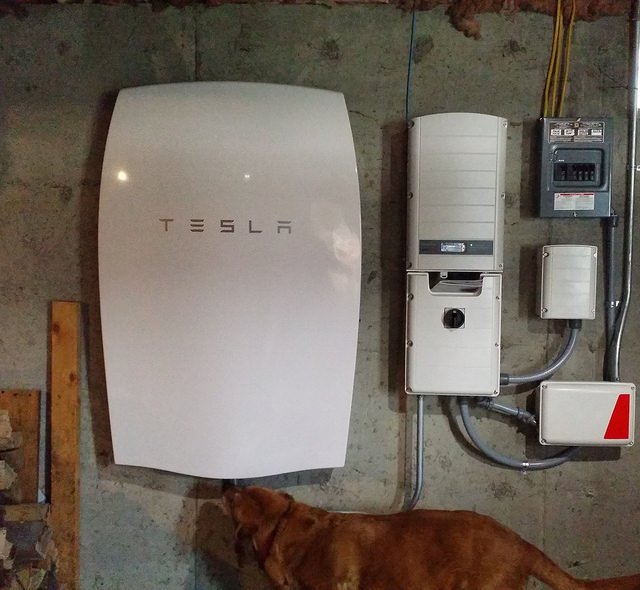 Tesla's Power Wall- Installed (CC By 2.0) from Flickr
A lot of "DIYers" have taken to the same feet by collecting and recycling from dead laptop batteries, good 18650 Li-on batteries to build their own homemade power walls. One of such person is Jehu Garcia, he has by connecting the 18650 Li-on cells in different configurations to build even bigger battery packs, built his very own Electric Car which he calls his SAMBA and has now started building his very own DIY power wall. If you would like to know about his project you can check out his YouTube channel using the link
And now my good friend is doing the same thing by harvesting his 18650 Li-on Cells from dead laptop batteries and hopes to build is very own DIY Power Wall someday, but he still has a long way to go in order to achieve this. And someday I hope to do the same.
Any time I go to his place, I am still amazed at how possible it is to harvest good 18650 Li-on Cells from dead laptop batteries. And to clear my head of doubt, I had to search the internet for reliable and science backed up reasons for this. And the great news is I did. So what did I find?
Well for basics: In every laptop battery there exists what is called the BMS "Battery Management System" and its primary role in our batteries is to monitor and manage the life of the battery cells. Within the BMS we have the thermistor - a temperature sensor that helps the BMS know if the cells are too hot or otherwise. The BMS plays a major role as to how our batteries actually function and what happens to them in the course of use.
If the battery gets heated more than normal the BMS defects, if the battery cells get unbalance - i.e if they get undercharged or overcharge beyond or above the recommended voltage the BMS defects, if the battery cells - due to the normal charging and discharging process - exceeds its Charge Cycle the BMS defects
So why can I still find good cells in dead laptop batteries?
One possible reason could be that the battery has exceeded its Charge/Discharge Cycle set by its manufacturers, probably for safety reasons and the batteries' BMS turns off - remember, the BMS controls the battery. When this happens the laptop battery stops working and when you get one of such batteries it is very possible that all the 18650 Li-on cells stopped working.
According to an article written by Apple, it is estimated that laptop batteries made by Apple (MAC) are expected to have a battery charge/discharge cycle of approximately 1000 cycles. As you could imagine, after such number of cycles the BMS could turn off or the batteries considered dead for replacement. And such batteries could be used for DIY projects, though using worn out batteries would obviously have its effect.
Another possible reason could be that one of its cells in the battery was defective. This happens when the cell becomes unbalanced i.e it falls below its recommended voltage -that is usually 3.0V for 18650 Li-on cells. This defective cell causes an imbalance in the battery as a whole. The BMS which was programmed to monitor and manage the battery will turn off to prevent further damage to the battery such as explosion (but this rarely happens), which if allowed will damage the laptop battery.
If you had such laptop battery you would have 18650 Li-on cells which are good with exception to that one that was defective.
And yet another reason, the laptop battery getting overheated or exposed to excessive heat and the thermistor causing the BMS to turn off for safety reasons. In this case, there is a high possibility you could harvest all the 18650 Li-on cells and they are all good.
One great advantage of all these is that by harvesting and recycling dead laptop batteries is that the DIY community is helping the society at large eliminate environmental pollution caused by tech products such as laptops and others, which is increasing at a high rate
---
Summary
18650 Li-on batteries are being harvested and used in DIY projects by a lot of people (DIYers) who are driven to build their secondary power supply and so many other types of projects, in imitation of the Power Wall Project by TESLA led by CEO Elon Musk.
And in the process Dead Laptop Batteries have been discovered to be a good source. YES! Dead Laptop BAtteries, and with good reason, we learned in the course of this post that good 18650 Li-on cells can actually be harvested from them.
I hope we all learned a great deal and I hope to see you next time as there will be more updates on this project soon.
---
References
---
Thank you for Reading. If you found this post interesting and helpful, would you please upvote it and follow me because you will be able to see more posts like this on your feed. And don't forget to drop your views and comments, they are very much appreciated.
---