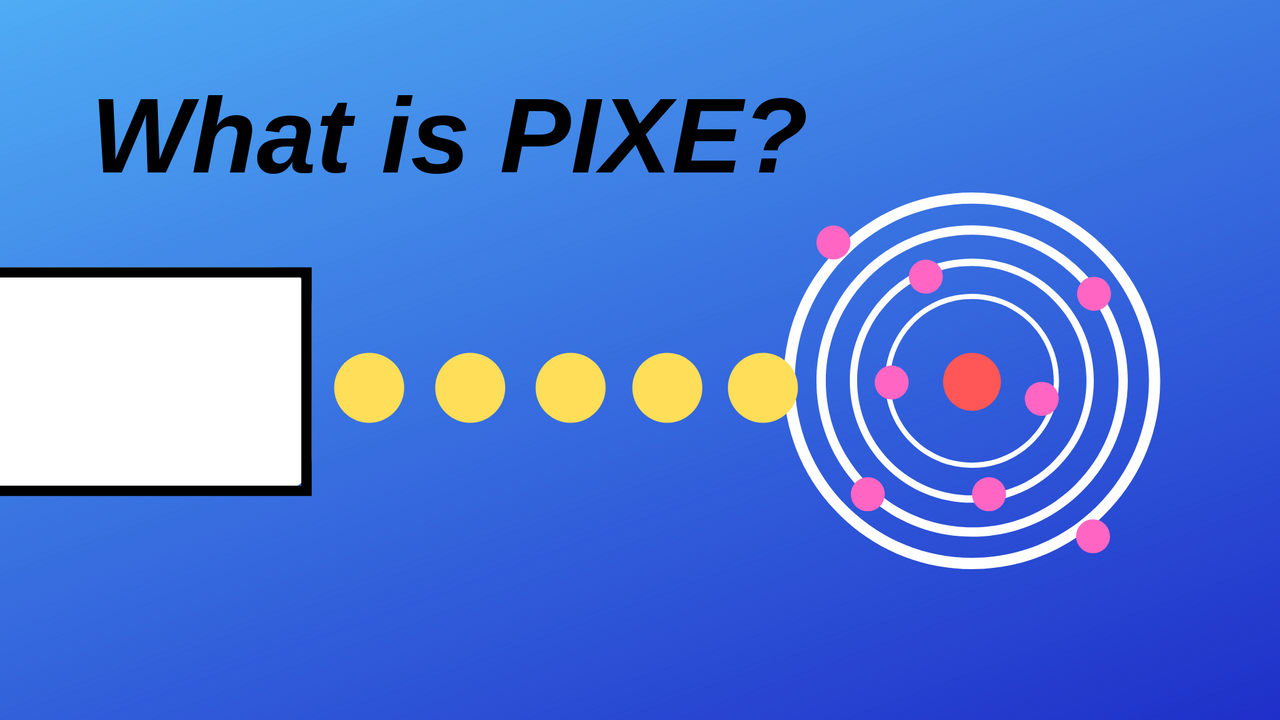 Dear fellow steemians and friends. Today I again bring to you a bit of a different topic but as you will see it is still related to my fusion work I usually talk about. I will be talking about an analytical technique called Particle Induced X-ray Emissions or PIXE.
What is it?
PIXE is first and foremost an analytical technique that gives you a qualitative 2D distribution of concentrations of elements in an investigated material.
At its core it is a simple technique. An accelerated particle is shot into a material. There, several things can happen but the most probable process is that a particle knocks out an electron from the so-called K-shell. This is a spectroscopic designation for the inner-most electron orbital. The electron is knocked into the continuum where it is lost to the atom but a so-called hole persists where the electron was. Such an atom is not stable and will soner or later relax with various mechanisms. In all of the mechanisms an electron from a higher orbital falls into the hole and the excessive energy must be released somehow. Either it is absorbed by a electron which is trapped in the outermost shell, which then also leaves the atom. This electron relaxation is called the Auger effect.
The mechanism that is relevant to us is where again an electron falls into the generated hole and a characteristic photon is radiated. Because this photon is in the X-ray part of the EM spectrum this is called X-ray emissions.
We can collect the photons with a solid state x-ray detector which is able to count the amount of photos detected at specific energies. We can also count the number of particles that hit the material of question. We have a lot of information already but still not enough to say quantitative statements about elemental concentrations in the material. In principle we can differentiate different elements because the X-rays emitted during relaxation have characterstic energies depending on the atom they were radiated out.
If we use protons as our particles of choice we also get the quantitative information. This is because the probabilities for protons to dislodge electrons from various electron orbitals are very well known. If we know how many protons were shot into the sample Np, the number photons of a typical wave-length detected Nphot, the probability of a proton kicking an electron out η we can calculate the concentration of a specific element c by using:
c = Nphot/Npη
The protons usually originate from an accelerator as the probabilities depend strongly on energy. The probabilities for K-shell electron - proton interaction are significant only in MeV proton energy range. Also the protons can be focused into sub-micron ranges so the technique also has microscope imaging capability.
Comparison to other similar techniques
Now when we know how the techique works we can compare it to other techniques that work is similar fashion. The most used is the so-called Energy-dispersive X-ray spectroscopy - EDS. Here a X-ray source is directed onto a sample where they excite the atoms. These atoms relax with radiative X-ray photon emision similar to the PIXE technique. Similarly the X-ray source can be focused into sub-micron beams making the technique be usefull in a microscope fashion.
So what is the difference?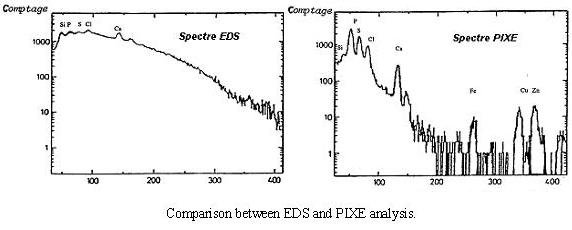 source
Well as you can see the main difference is the sensitivity of both techniques. Because EDS has a much stronger X-ray background it is not suitable as a trace-element probing technique. Meanwhile PIXE has a sensitivity in the part per million - ppm. But... And it is a big but. EDS is a table-top machine and therefore quite accesible and cheap. PIXE needs particles accelerated to MeV energies meaning an accelerator is needed. This makes the technique much more expensive. But it is completely unreplacable when it comes to trace-element analysis.
An example
The PIXE technique is an important sample analysis tool in our own lab. It is mostly used in the biology field as biologists are very interested in how various elements are distributed sample-wide in various grains or other plant-samples.
Bellow I shortly describe an experiment on barley. You can read more about it here.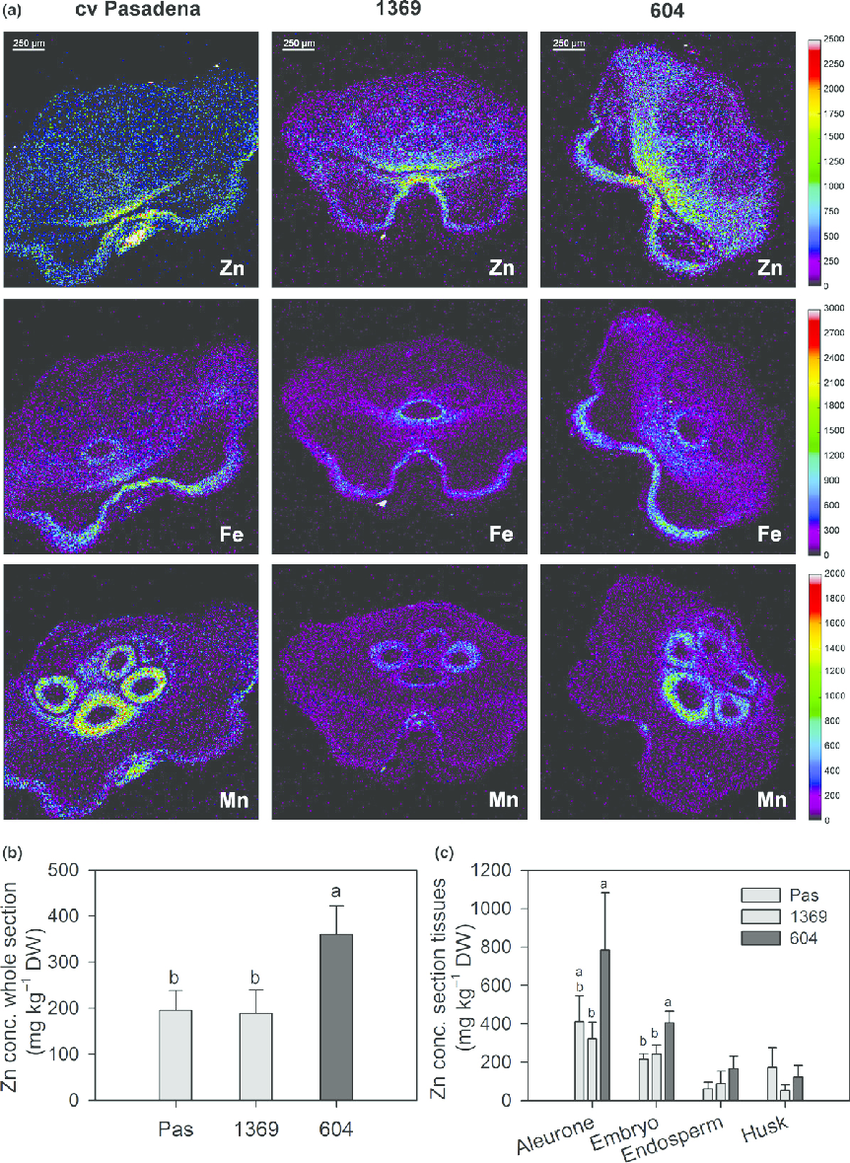 In this specific example biologists were interested in how trace-elements that are vital to our nutrition is distributed in various genotypes of barley grains. This is important because elements like some metals (Zn, Fe, Mn, ...) are vital for our nutrition, but usually our intake of them is simply not enough for maintaining our health. This means that even in the West where food-scarcity is low, some people suffer from various mineral deficiencies.
To make a long story short... By determining which barley genotypes absorb the most valuable nutrition elements from the soil into the grain the biologists can then suggest which barley grains should be planted and processed in specific ways to still retain as much nutritional value even in their flour form from which bread is then baked.
A similar project was undertaken but investigating beans. A genotype was determined which retains the most nutritional value and still does very well in the tropical African weather and in the poor African soil. This bean genotype was then planted to help eliminate hunger in sub-Saharan Africa.
Conclusion
PIXE serves as a niche analytical technique for trace element characterization in various sample types. Usually it is used by biologists for various plant tissue analysis.
I hope you enjoyed this post. More of them are coming!


StemQ Notice: This post was originally submitted on StemQ.io, a Q&A application for STEM subjects powered by the Steem blockchain.