Storj is a decentralized storage platform that aims to take on the big guns of cloud storage such as Amazon S3 by offering up a cheaper encrypted storage solution based on home and business users selling their unused storage space. While Storj accepts payments for storage in fiat currencies (e.g. USD), the company pays farmers (people that sell their hard drive space) in its own cryptocurrency. Originally this was a Counterparty currency called SJCX which was a token based on the Bitcoin blockchain. As bitcoin has exploded in popularity and valuation, so too have the transaction fees and length of time needed for confirmations. The Storj team thus moved to STORJ which is a token cryptocurrency based on the Etherium blockchain which promises to be cheaper, more reliable, and faster than Counterparty.
Following the STORJ token sale (which is beyond the scope of this article, but you can find information here: https://storj.io/tokensale), Storj is offering users the ability to exchange their SJCX tokens for the new STORJ tokens on a 1:1 basis. Reddit user c0pp3rp0t noticed yesterday that the team had flipped the switch and set their promised STORJ converter tool live, and this was later confirmed to be the official tool by the Storj founder Shawn Wilkinson.
Shortly after spotting this Reddit post, I navigated to the STORJ converter and started the process. The Storj team have made it very simple to convert to the new Etherium-based tokens with the most difficult part being dealing with your Counterparty Counterwallet and getting your tokens transferred out (more on that below).
How to convert SJCX to STORJ:
Step One: The first thing you will need to do is open up the converter tool. The tool can be found on the Storj website at https://converter.storj.io/. Once you navigate to this page using your web browser of choice, you will need to know your ERC20 compatible Etherium wallet address as well as provide an email (this can be a disposable email if you want, it is only used to send a notification email once the conversion process is complete as well as for support if necessary). As far as the Etherium wallet is concerned you can use any wallet you want so long as it supports ERC20 tokens. MyEtherWallet (https://www.myetherwallet.com/) is an easy to use browser based wallet that allows you to hold onto the private key, for example. MetaMask (browser add-on), Parity (desktop app), Mist (desktop app), and imToken for mobile devices are also compatible options.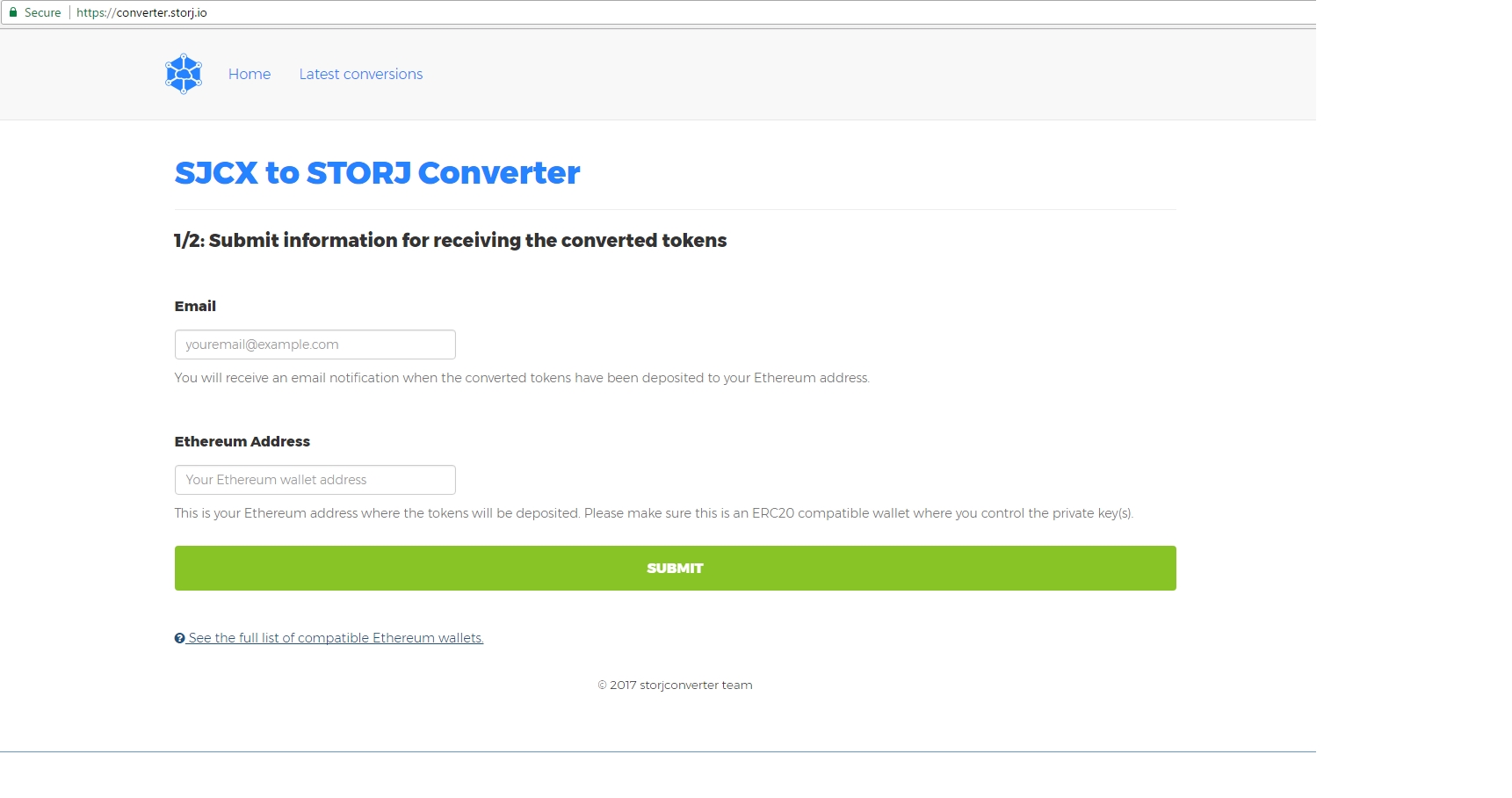 Step Two: After filling out the two required fields for email and Etherium address, click Submit. You will then be presented with a page that displays your personal BTC deposit address. This is the address that you will send your SJCX tokens to. Note that you can use this address more than once, so if you want to deposit SJCX to this address from multiple wallets or just send your SJCX in smaller batches to test out the converter you can do that.
Step Three: Okay, now the hard part (if only because of Counterwallet bugs)! Open up your Counterparty wallet where you have your SJCX tokens. In my case I used the default "Counterwallet" Counterparty wallet. Once you are logged into your wallet, find your address that contains SJCX, and click to send the SJCX. You will then enter the destination address (the one provided by Storj you got in the previous step) and select the type of fee you want (normal, cheap, custom, ect.). If all goes well, once you hit send your tokens will be sent to Storj for conversion.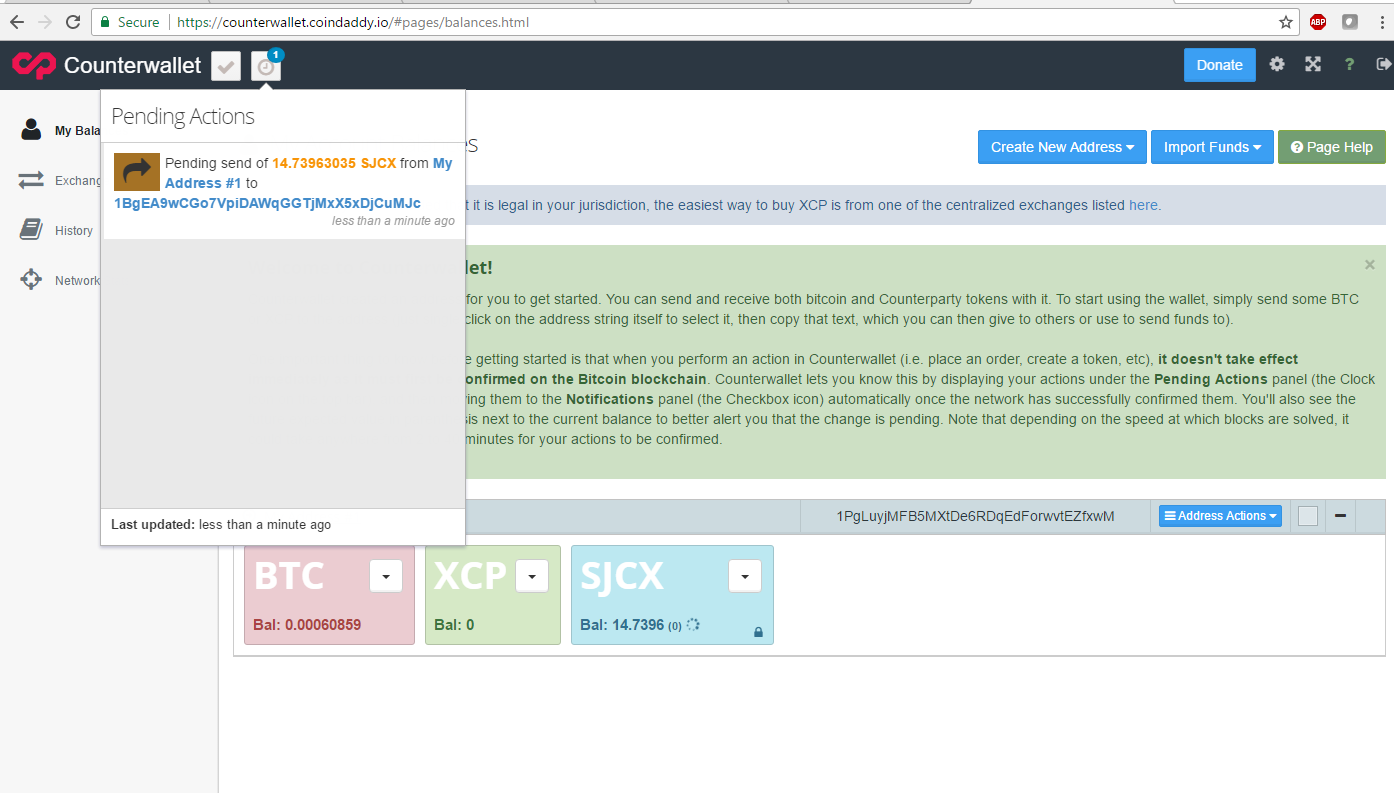 Aside: When I went to send my SJCX to Storj, the wallet complained that I needed to have the required minimum transaction fee of 0.0005 BTC to send my ~14.7 SJC. Fair enough as I only had a bit over 0.0001 BTC from two monthly Storj payouts that came along with my SJCX. I added some BTC from Coinbase that would be enough to cover the fee (after the Coinbase transaction fee I deposited 0.0005 BTC to my Counterparty wallet). Unfortunately, when I went to send the tokens, Counterwallet complained, once again, that I did not have enough BTC to cover the fee only this time their minimum fee was even higher. Frustratingly, as myself and others have discovered, if you add more BTC to cover the minimum fee Counterwallet will just keep error-ing out and stating their is insufficient BTC as it shows an ever increasing minimum! Thankfully, I did some searching before adding additional BTC because there is a workaround. If you run into this same issue, you will need to open your Counterparty wallet using a different server or wallet. I was able to open my Counterparty/Counterwallet wallet using my pass phrase on the Coin Daddy Counterwallet server (https://counterwallet.coindaddy.io/). My SJCX showed up and I was able to hit send, enter the deposit address, choose the cheap fee setting, and it went through without issues, finally! Alternative options for opening your counterwallet are freewallet.io and wallet.indiesquare.me.
Step Four: And now the waiting game begins. Once your tokens are converted you will receive an email from Storj and your new STORJ coins should show up in your Etherium wallet under Token balances. In my case, I send my SJCX being going to sleep in very early morning and by the time I woke up to get ready for work I had an email and new STORJ tokens waiting in my wallet. Depending on how quickly your BTC transactions are processed, the conversion could take hours or days.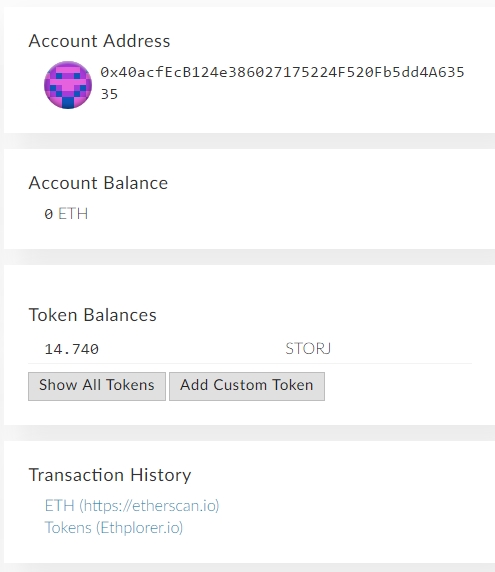 Bonus tip: If you are a Storj farmer, don't forget to update your Storj Share to version 6.0.0 and replace your BTC/Counterparty address with your Etherium address. Once your address is updated you will start earning STORJ and will (at some point) get your payout for May in STORJ rather than SJCX. You can download the latest Storj Share update here: https://github.com/Storj/storjshare-gui/releases/
I hope that this short guide helps! I am looking forward to the move from Counterparty (XCP) to Etherium ERC20 tokens. What are your thoughts?