What can you say about dog hair?
When you have a long-haired dog, after a certain amount of time, despite you clean the house a lot, you will find hair everywhere.
Lilly had a white coat, with some small, pale coffee-light colored patches, one on the back and a pair on the ears. His fur was thick, but every hair was thin like an angel's one. She herself seemed like an angel of sweetness, even if she had the habit of eating her poop and her own personal idea of ​​gardening.
His fur flew everywhere, invisible, and then materialized in the closets and drawers. You could brush her on the terrace near the entrance every day, with the thick-toothed iron brush! The fur continued to materialize on the clothes, even woven into the weave itself of the clothes, especially the underwear.
I wear only dark underwear, and even after a lot of washing machines, my blue or black socks were intertwined with very thin white hair. I still find some of it now, and then you can say that I can still cuddle Lilly as I did, more than a year after her last breath.
Now there is Toby, who has a more sparse and hard hair, which is very difficult to lose. I love him a lot, even if he isn't part of my socks!
Word count: 226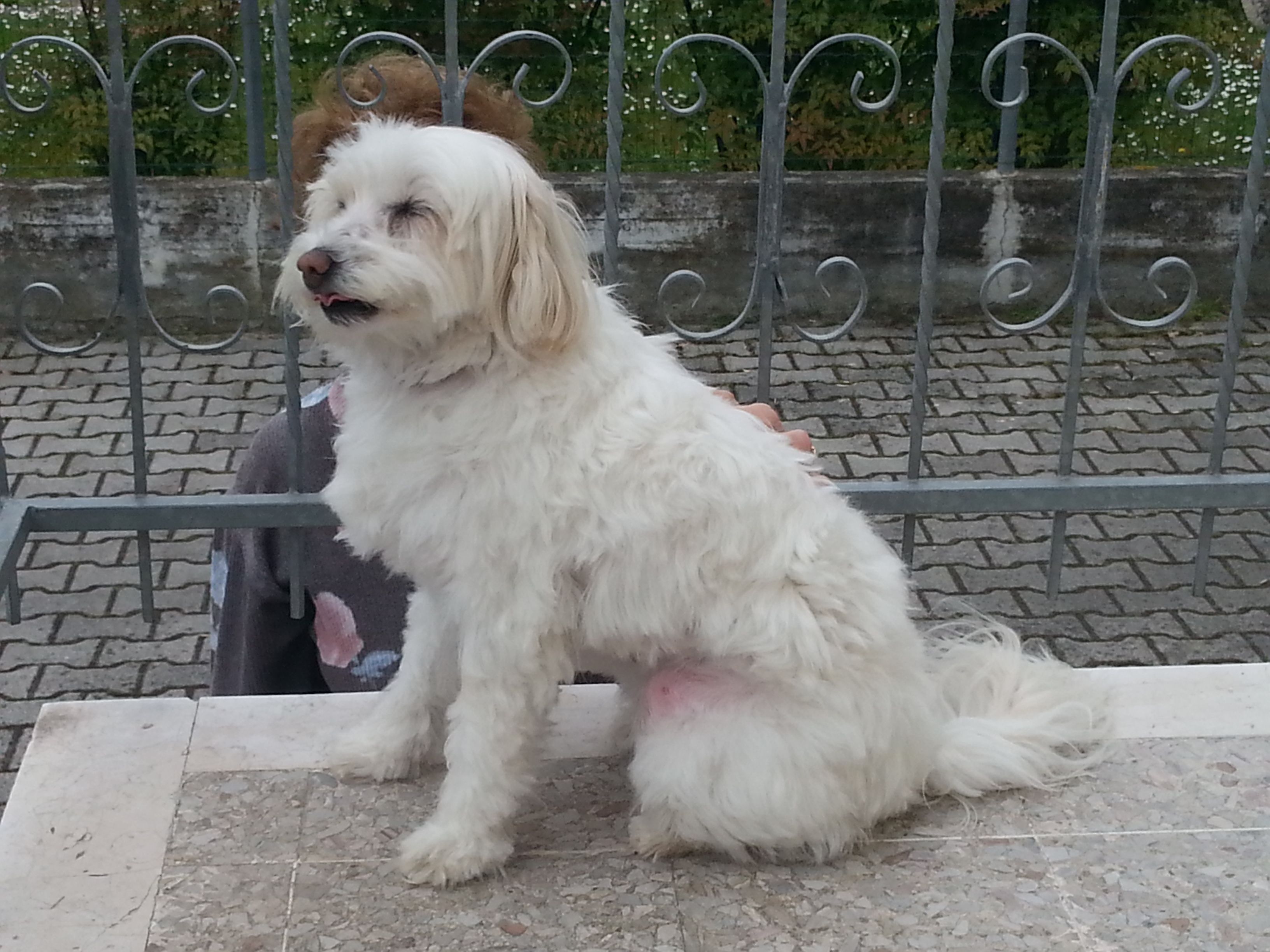 Lilly
[Italian translation]
Cosa si può dire sul pelo di cane?
Quando hai un cane a pelo lungo, dopo un certo lasso di tempo, per quanto tu possa pulire la casa, troverai peli dappertutto.
Lilly aveva un pelo bianco, con alcune piccole chiazze color caffelatte chiaro, una sul dorso e un paio sulle orecchie. Il suo pelo era fitto e sottile come i capelli di un angelo. Lei stessa mi sembrava un angelo di dolcezza, anche se aveva il vizio di mangiare la sua cacca e una sua personale idea di giardinaggio.
Il suo pelo volava ovunque, invisibile, e si materializzava poi negli armadi e nei cassetti. Avevi voglia a spazzolarla sul terrazzo vicino all'ingresso ogni giorno, con la spazzola di ferro a denti fitti! Il pelo continuava a materializzarsi sui vestiti, anzi intessuto nella trama stessa degli abiti, specialmente della biancheria.
Io indosso solo biancheria scura, e anche dopo molte lavatrici, i miei calzini blu o neri rimanevano intrecciati di sottilissimi peli bianchi. Qualcuno lo trovo ancora, e quindi si può dire che io possa tuttora coccolare Lilly come facevo, a più di un anno dal suo ultimo respiro.
Ora c'è Toby, che ha un pelo più rado e duro, lo perde molto difficilmente. Gli voglio un mondo di bene anche se non fa parte dei miei calzini!
Conteggio parole: 216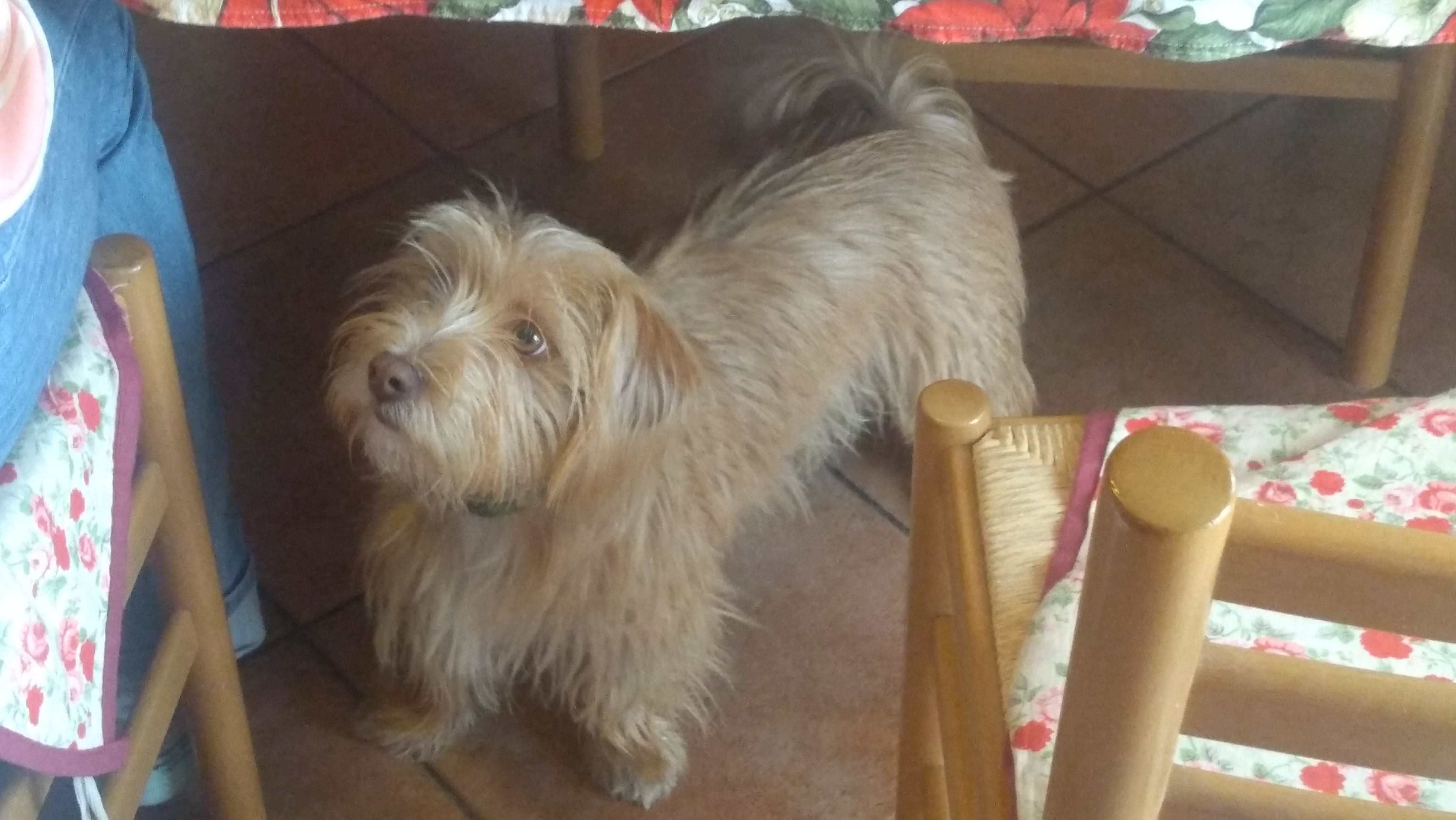 Toby
---
This post is part of the 5 Minute Freewrite Contest,
And part of the Short Story Initiative.
This is also done with The Most Dangerous Writing App and only a little editing for typos.
All images are my own unless otherwise cited.
Thanks for reading! If you liked, please let an upvote, a comment or a resteem.