My name is Rushd Averroes, and I'm the founder of BABB. This story starts with my experiences of financial exclusion, which gave me the idea for a new kind of bank (details in Chapter One. The first person I ever shared my idea with was my friend, Ricardo Abreu.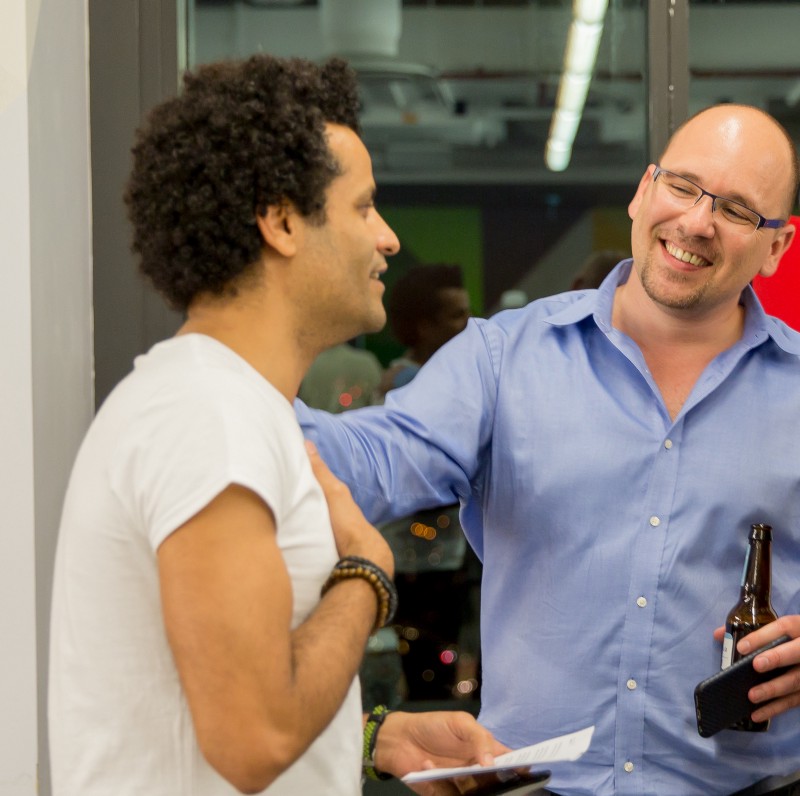 Ricardo (right) and me
Ricardo is a pragmatist, but he's also an innovator and a rebel at heart. My memories of those days are hazy, blurred from lack of sleep. Luckily, Ricardo remembers and has kindly agreed to share his memories of the early days of BABB.
Here is what he wrote:
**********************************************************************
I remember that it was back in 2015 the first time Rushd and I had a conversation about what is now BABB. Rushd told me he wanted to build a different kind of bank. He was focused on an idealist view of a bank to help the poorest people in the world, a bank that would help you to be successful and not take advantage of your success. More than anything else he presented me a vision of someone who wanted to make this world a better place with his full heart and mind dedicated to that purpose.
I probably didn't help him much at that time, at least not in the way he expected. The majority of my feedback pulled apart his idea and any solution or angle he presented. I was returning 100 problems to his every suggestion, and different point of views to challenge him. It was a dantesque task but I believe that my feedback only made Rushd more motivated and aware of the battles ahead. Still, it seemed to me a crazy idea for one man who isn't millionaire.
Today I feel proud that he quite often mentions those late Saturday nights sitting around a table full of papers and sketches while enjoying a bottle of Portuguese port wine. Building and shattering an infinite number of dreams per hour was part of the spark. I admired his passion and tenacity so much.
I wanted to personally help him as a friend but somewhere along the way his passion was contagious and sparked with my passion for digital innovation. We can't close our eyes to the opportunity to make such an impact in the world. All the real-life examples he shared were so painful to imagine, and somewhere in the world millions of people were facing those painful challenges and having their life impacted by them. And there we were, in London, exploring ways to alleviate that pain.
So, I kept challenging and supporting where I could and Rushd kept sharing and building a stronger case every time someone threw a rock at his castle. Looking back, he reminds me of the well-known poet, Fernando Pessoa who once said "Stones in the road? I save every single one, one day I'll build a castle.
"Success is more complex than it looks. I, and most probably you too, live in the comfort of my home, I have food, clothes, security, education and employment, all "easily" available. However we know that a big percentage of the world don't have these privileges and that our governments, banks and wealthy individuals could, if they really wanted, unite themselves and end some of the biggest challenges in the world. So, success to me is empowering the microeconomy to help people build safety, security, education, and wellbeing for everyone.
So, why isn't this happening? What bigger legacy can a man leave behind? With BABB the power comes back to me, you, Rushd and everyone in the world who, united in a powerful exponential growth network, have the opportunity to make that difference in other people's lives. So, for me personally, the success is about the footprint it will leave on the world.
***********************************************************************
BABB is holding a token sale in early 2018 to raise funds for the development of the technology for the platform. Join our Telegram channel to get updates. 
You can also connect with Ricardo on LinkedIn.