After having a few days to reflect upon the Belgium-Japan game, I've come to what would be an obvious conclusion to Japanese football experts (admittedly, not I): everything that Rising Sun News and JSoccer.com claimed, including that this year's team had the potential to put together a historical best, and yes, that Japan could win the World Cup, were absolutely spot-on.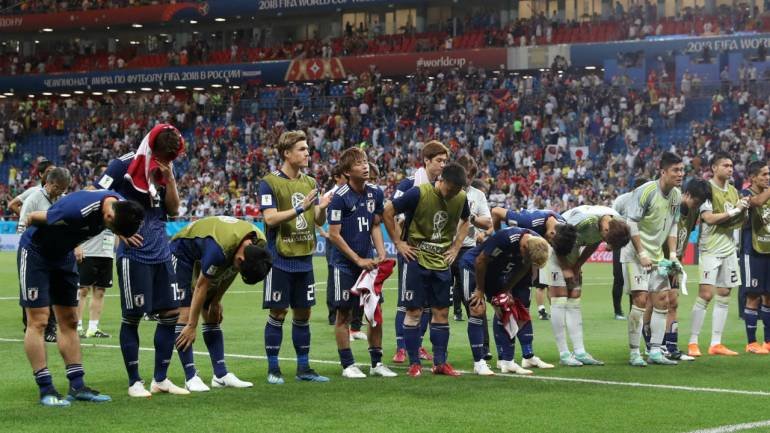 Image from Static-news
Some of the claims stand today as actual fact. Although the group-stage record doesn't reflect it (I'll get to that in a bit), this was the best Japanese team ever. You could look at it statistically: Japan scored six goals, more than any other tournament in which they participated. But in this case, I think the subjective qualities do far better justice than objective realities.
Throughout watching Japan's World Cup performances, I've been extraordinarily frustrated by their near-timid mentality in front of goal. Instead of a confident, direct approach, we were instead subjected to Japanese players attempting to pass the ball in to the back of the net.
No more.

One of the striking takeaways from this tournament is that Japan can play beautiful football AND finish it. This is why I've been a long-time fan of Keisuke Honda. After Nakata retired in sad circumstances, I was disheartened at the thought that we'll lose the charismatic, unapologetic verve in otherwise regimented Japan.
But now I realize that Japan can produce many Hondas, and I'm not talking about the car. Inui was a particular revelation – where was this guy in 2010 and especially 2014? Japan is actually a damn good team, and they've been silently progressing in talent, skill level, and an overall positive approach. If only the Japanese Football Association could see that, and put their best foot forward!
But is Japan good enough to win a World Cup?

I used to think this was a pipe-dream, and to many outsiders who point to the Round of 16 statistics, it still is. But the Belgium game, to true football fans and analysts, should prove that Japan has what it takes. They just need that extra something to kill off the giants of the game.
And while Japan eventually succumbed to Belgian firepower, I think we have to be realistic. No team can endure that level of constant barrage – just ask Brazil, who were also felled by the same team. Very few saw that result coming, except perhaps those who were watching the Japan game with a keen eye.
This Belgian team is for real, and I fully expect them to get the job done in Russia. If they can beat France, there's no team on the other side of the elimination-round bracket that would worry Belgium. And if they do hoist the World Cup, this truly lends credence that Japan has the potential to win a World Cup.
Because that game was damn tight. While it's not the result that we wanted, we have the assurance that on any given day, Japan can beat anyone in the world. And not just through a fortuitous red card, or any other component that would "take away" from their victory.
Of course, the question becomes, if Japan were really that good, where's the beef?

Japan could have realistically, if not easily, gotten into the semifinals, if not the final game of the tournament. But that really depended on coach Nishino putting his best squad to finish off Poland, who even in their "consolation game" looked weak and tepid.
The Polish players began to show their strength only when they scored a goal – a very cheap goal in the overall context, if you ask me. This game also reiterated a side-note. If Japan doesn't put their best foot forward, they don't have the depth to move past the group stage.
But the JFA and all the footballing staff should recognize this point. I don't know for sure why they made an unprecedented – and completely bone-headed change – just prior to the critical Poland match. Because if Japan lost, they would have to back-in through the tightest of margins (they did, fortunately).
However, this fortune was a curse in disguise because Japan would have to endure an extreme, uphill battle, a battle which they ultimately could not overcome. In fairness, many other great teams would not either (case in point again, Brazil).
Which is the maddening point of it all. The JFA knew that one side of the bracket was decidedly easier than the other. True, if Japan won Group H, there's no guarantee that they would face England. But they definitely would have faced an easier road in the knockout rounds, and at least they would give themselves a better chance with the starting squad continuing to grow in confidence.
While I'm extremely proud of what Japan were able to deliver, ultimately, this is the World Cup of regrets – regret that one man ultimately squandered an entire national team's best chance for extraordinary success.
The World Cup can never be taken for granted. The JFA did, and while they didn't suffer ignominy, they certainly fell way short of their potential. This inhuman waste of an opportunity is the overriding emotion that I'm sure most Japanese fans feel.
Whether the JFA learns its lesson will determine the trajectory of the next generation of the Samurai Blue.