A true story.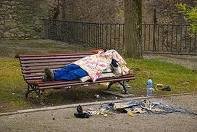 The story starts many years ago when I was walking my kids home from school and we had run into him on a bench in this park. (photo below)
The bench is gone, the park was refurbished, but the size of the park where twenty to thirty homeless people lived is still there.
Thank you for all the wonderful comments. For those using translators, John is not a young boy. He was about thirty-five at the time we met. Poverty is everywhere and Little John is just one of many that I chose to meet, talk to and get to know.
Stepping in to help and knowing when to step out of the way.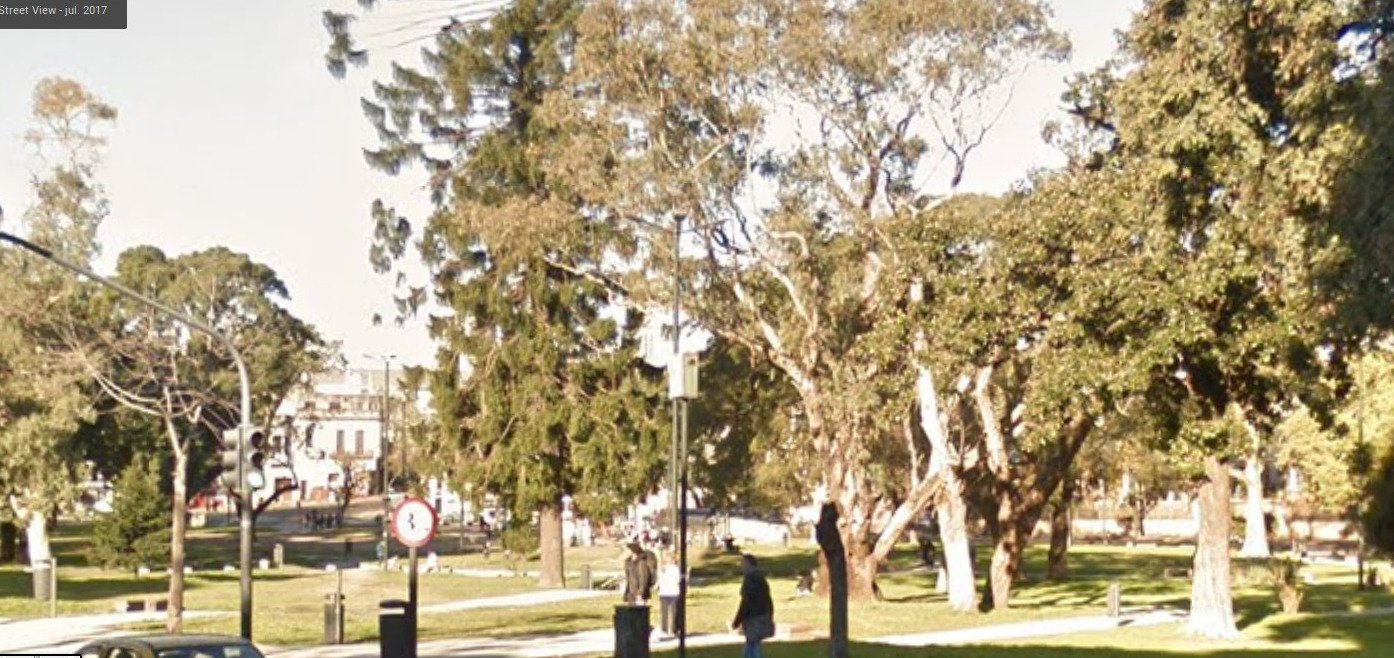 This shot was from 2017 on street view, and by then Little John had already moved on.
This all happened years ago but there are several lessons to be learned. Last post I shared the first contact with John and how we came up with his nickname. He is a large man but the name Tiny is way over used.
Maybe a month had gone by and my children took turns giving him a few bucks, competing for the blessing that comes with doing so. I hope they felt that good feeling inside when you know you just made another's day a bit easier. Every experience leaves a lasting impression and Little John often came to mind when we ate dinner, watched movies and at night when it was time for bed. He found a spot in our thoughts and prayers when each day came to a close. To me, I had only given the man a little bit of paper currency, but this teddy-bear of a guy was now relying on me to be there once a week. He was not found sleeping at 5:00 in the evening anymore. He was awake and had something to look forward to every week.
My children, though small, were allowed to walk to their mother's house the other four days of the week. They passed within eye shot of the park on their way home every day. The know they are not to have interaction with any adults in the streets, known or otherwise. I sometimes asked if they had seen Little John, and if he seemed alright. I always got an update.
Seven or eight weeks had gone by and I started second guessing myself. I had decided that the lesson for my kids was over. I went earlier than usual to get a better idea of who this homeless man was. I decided to deal with him directly, have a conversation, and see if he knows how to dig himself out of desperation. I was also prepared to up the amount that I was giving so that he could get through the week.
Little John was not fast on his feet, was always alone as far as I had seen. There was little chance that I would be jumped or mugged. I got there thirty minutes early the following Friday. I approached him and shook his hand. There is a smell that comes with close contact, it was expected, but still, not pleasant. I gave him my first name, which he never got right since then to this very day. I handed him fifty this time. He held it up as would someone about to make a toast at a wedding, looked at it and said, "Thank you!" before putting it in his pocket. Then we had a conversation.
The plan was to invite him to sit and have a coffee that day. He was unable to leave his things unattended, but I did suggest he find a way for next week. He spoke of some of the others who live in the park, how they rob people and use the money for drugs or to get drunk. He had been beaten and lost what little he had on several occasions. I was glad to listen, saddened that he would be subjected that.
I found out that he does not smoke or drink. I learned that he had a stutter, and some of his though processes were not quite right. He had arrived from another country and had a child who was in his late teens that he had not seen in over two years. I asked if he knew the phone number to reach his boy and he did. By this time the smell that overwhelmed me was hardly noticeable, though I did sit a couple of feet away from him. When Little John moved or bent down to reach into the garbage bag where he kept most of his possessions, the smell would hit me like a two by four, then fade again. There was an invisible cloud around him. He showed me some of his valuables, like a smaller version of the tour when invited to a friend's house.
We each shared some of our struggles, he talked about his, I selectively spoke about mine. People that passed by scowled at me. This enraged me inside that anyone would judge me for speaking to, or sitting with another human being, no matter the smell or look of it. They all knew that Little John lived at that park, and they all knew that I am one of the parents who attends those parent teacher conferences. The money is a small price to pay, the scorn is a slightly higher price to pay for helping. I could see them labeling me in their minds, yet they also knew that my vehicle, phone, and even pets were at the top of the scale among parents. Can you say, "get bent" anyone? Yes, that was the look they got back from me. I shrugged off their looks more easily than I got used to the smell of the person I had chosen to make friends with.
I am staunchly different. My individuality has a toxicology to it. I don't think outside the box, I live there. I see every other person as an individual and love tearing up those obvious labels floating above their heads. Then I inform them of their individuality. Our first meeting was successful. Little John learned that his current social difficulties did not define him. Everyone deserves respect until they prove that they do not deserve it. Little John had my respect in the beginning and had not done anything to lose it during that meeting. I had learned enough about him to know that I was not wasting my time.
As time went on, I had to continue throwing off scorn from people that saw me speaking to Little John. As it turns out, Little John had to learn to deal with envy from the others who lived in the park. He now had a regular source of income and soon would have a financial advisor. This and more in the part three and onward here on Steemit.
Not @done yet. To be continued...