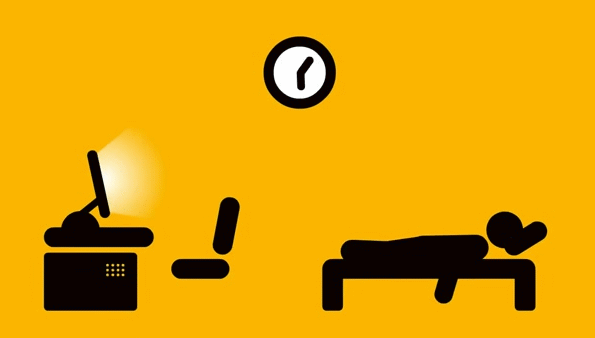 Me for most of my adult life.
Today marks exactly one year since I took the leap from my career of twenty-three years to work for myself. 10.13.17 will forever be emblazoned in my memory as the day I was reborn.
These past 365 days have been filled with new experiences, lessons, tons of hard work, and an immense amount of fun. A lot of this new life was foreign to me, there have been a few things I've had to unlearn.
I was raised in an extremely routine-driven household in which you could almost set your watch by the daily schedule of. At the age of eighteen I was thrust into a full-time job that began at 6am and ended at 2:30pm with two fifteen minute breaks and thirty minutes for lunch. The career then blossomed into a succession of jobs with similarly rigid schedules.
As a result, if I were to have to choose a single thing that's taken the most adjustment it would be the fluidity of a non-structured workday. Thankfully, it's this rigid schedule that seems unnatural and foreign to me now. The budget was usually always tight, savings meager, and the "safety net" of consumer credit was used frequently to stay afloat. This equated to a life of modern day serfdom.
Taking that initial leap into the void of the unknown was the most frightening thing I've ever done (much more frightening than bungee jumping). Developing the HardFork IP, full on, with @dougkarr and @bakerchristopher (and many more talented team members) over the past year has been one of the most personally and professionally rewarding things I've ever done. I've grown in ways I never imagined. Life now moves quickly and it's imperative to be flexible and open to all possibilities. In this world if you don't know how to do something, you learn it.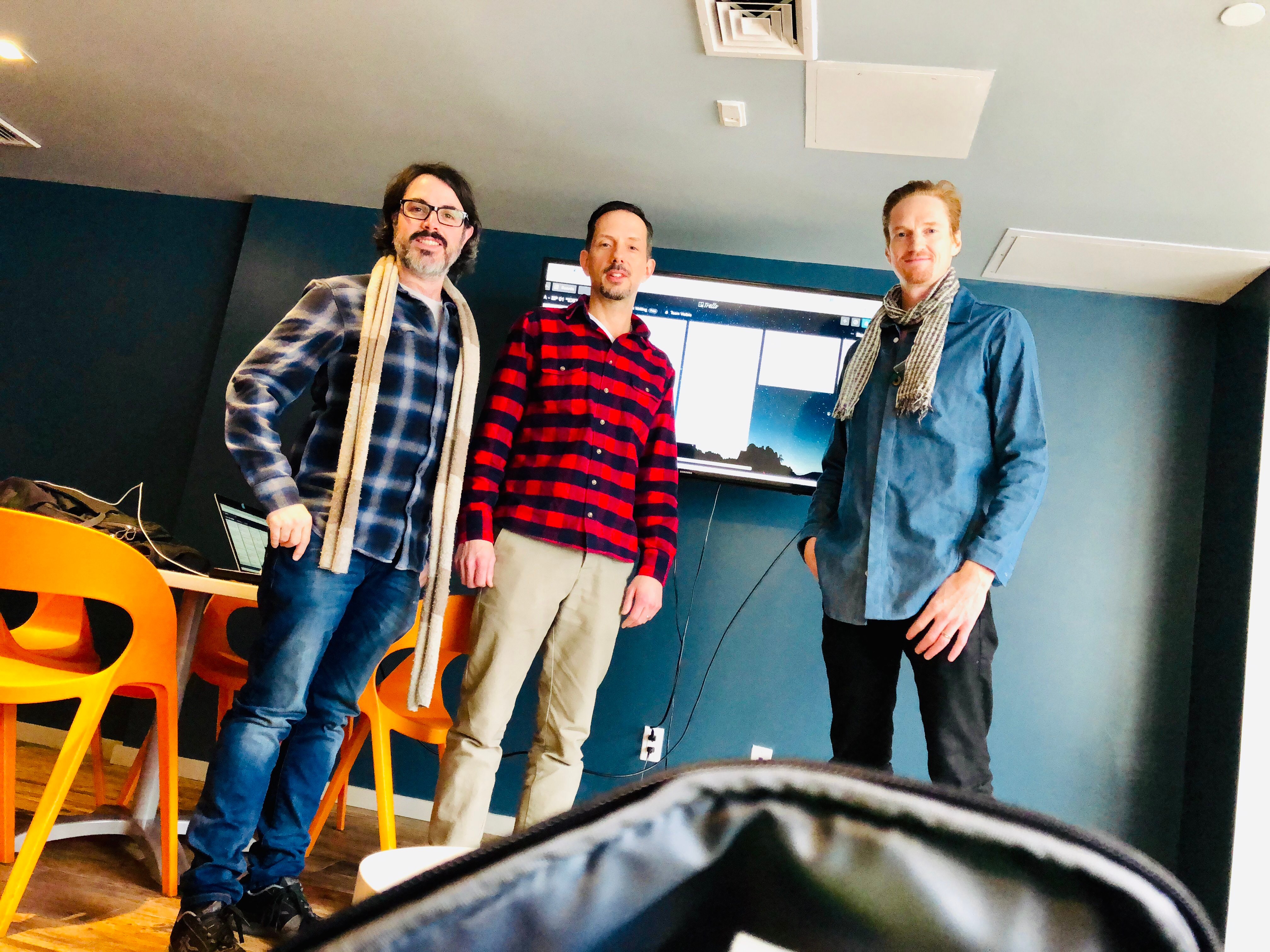 Doug, Chris, and I during one of our NYC writing sessions (yes, Chris really IS that tall).
There are still occasions when I'm walking Amstel (our beagle) in the middle of the afternoon or my wife and I are in a vacant restaurant, when the rest of the world is at work, and I can't believe that this is my life. These are the moments that make you feel as though you're merely an observer of the world. Watching the ebb and flow of humanity act out their daily routines, you wish you could convince them there was another way.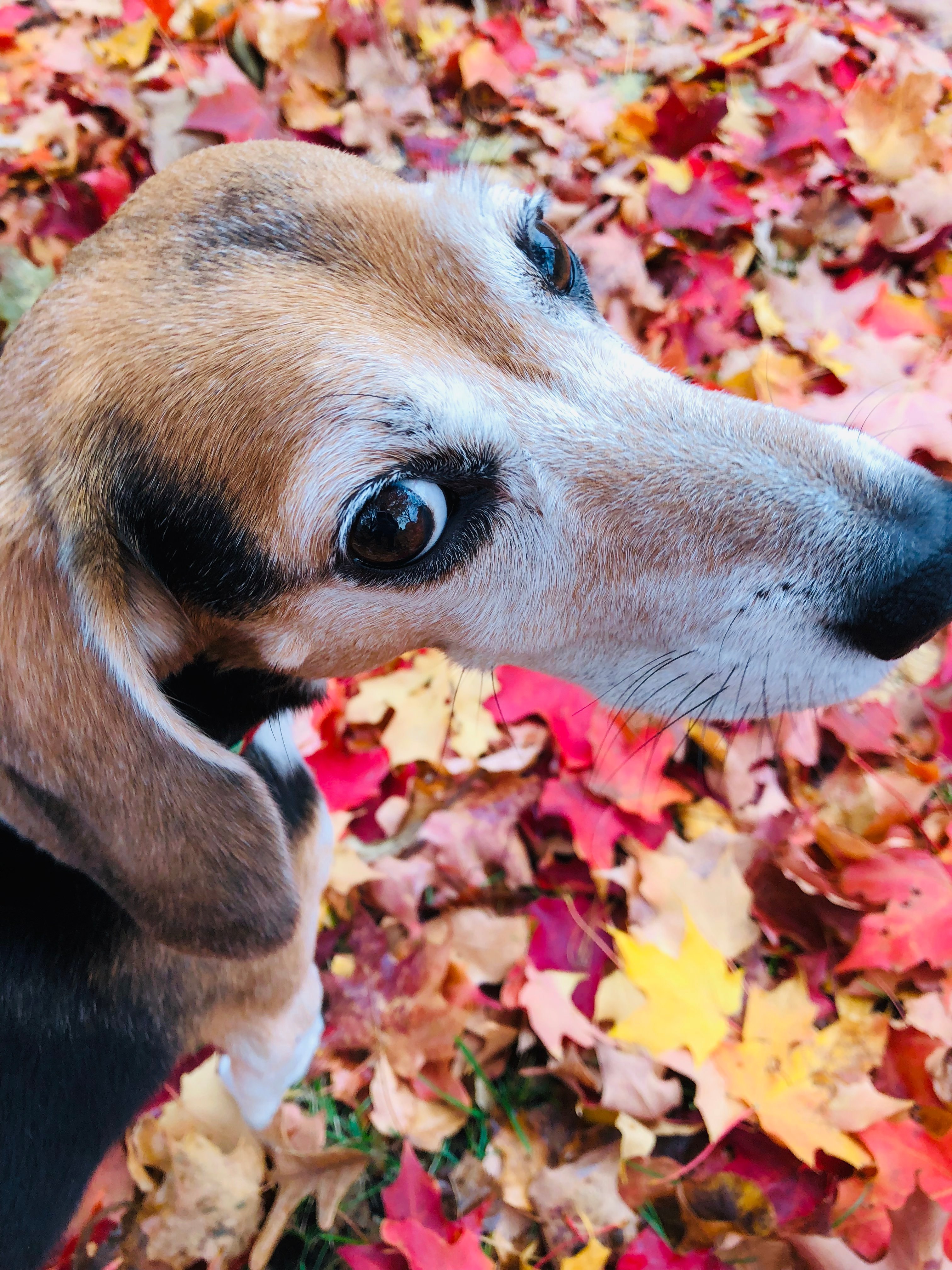 I see so many people walking around with dead eyes. I want to tell these people that the things that fill them with a spark of energy and positivity are probably a road map to their life's purpose and they should pursue those things at any cost. The frustrating thing is people have to come to this realization on their own.
I had lunch with some of my old work team a couple of days ago. It had been a year since we'd seen one another but so much had taken place that it felt like many more years had passed. After lunch I got a guest pass and stepped foot into the office space that I occupied for way too many years. Now, this place felt foreign...kind of like I pressed pause on 10.13.17 and then pressed play a year later. Not a whole lot had changed.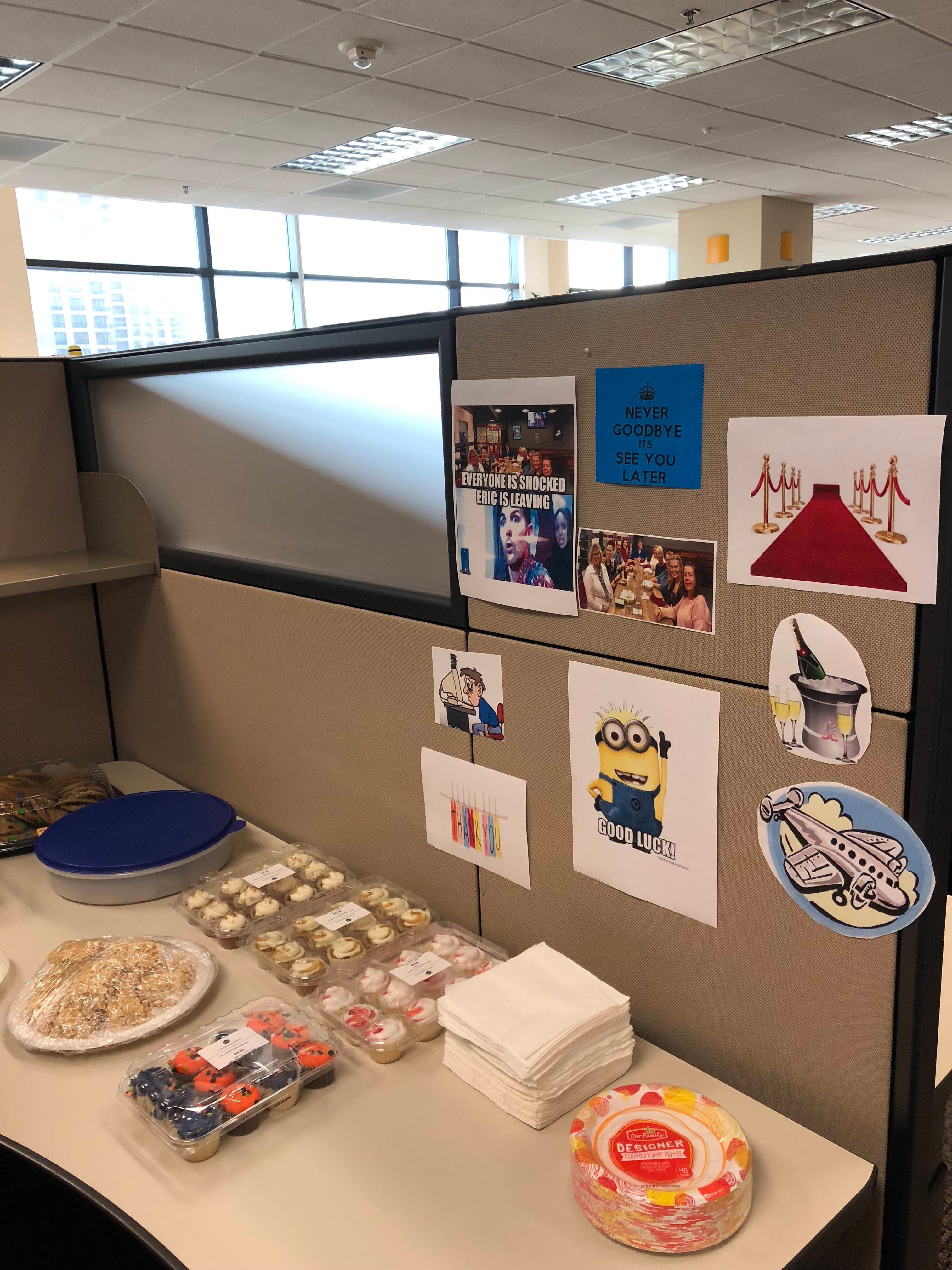 My "retirement" send off from 10.13.17. No corporate office celebration is complete without some form of sweet pastry.
It truly was great to see many of the people I spent most of my waking hours with for upwards of two decades. As I made my rounds, people peppered me with questions about what life was like on the other side. I wanted to tell them in a way that would truly convey the marrow of it but the right words somehow failed me.
I'm convinced that everyone has talent in something and a life of unimaginable freedom, exhilaration, fulfillment, and joy lies just on the other side of their fears. Sometimes it would be nice to be able to just push people through.
Thanks for reading,
Eric
(Gif sourced from Giphy.com)
---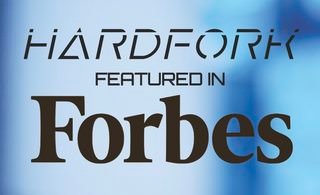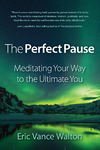 *I am an American novelist, poet, traveler, and crypto-enthusiast. If you've enjoyed my work please sign up for my author newsletter at
my website.
Newsletter subscribers will receive exclusive updates and special offers and your information will never be sold or shared.
My book on meditation,
The Perfect Pause,
is priced at $12.99 (paperback) and $4.99 (eBook). Buy the paperback and receive the eBook for free!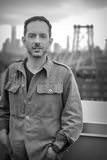 Connect with Me
www.ericvancewalton.net