"The poor:
Sir please make a nice parcel and expensive, because it will be my gift for my boss "
"The rich man:
Sir please make the most cheap parcel because it will be my gift to my subordinate employees ".
The interesting question is: Who is poorer and who is richer and who is better?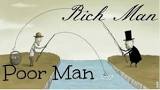 I do not think the answer should be discussed again.
That's how we as humans sometimes think often back and forth.
Astaghfirullah, to those who should be deserved, we become very stingy.
To the abundant people, we become very generous.
To the weaker / weaker we should be gentle to him, to him we are very harsh and evil in speech and attitude.
To the person we deserve to be rebuked for his arrogance and evil, we become very respectful.
To the person who every day eat luxury, we invite him in a party with treats of 'wow' and abundant.
But to the person who today can eat and tomorrow may be he is hungry, instead we give him the leftover food that we ourselves do not want to.
Whereas the Prophet SAW: "The worst of food is the food of the unjust where the one who does not need it is invited, while the one who wants it is not invited"
That's how most people do. Often think back and forth
I was reminded of the heart message:
"If you want to measure the goodness of a person, see how he treats the people beneath him or the people who do not give any benefit to him"
Hopefully we are not among those who are "upside down", and always improve to be the best people. Aamiin