It was the school holiday period of the year 1980 and it was 12 years old. Already the stage of children's games had been overcome: the metras, raise kite, the hidden, police and thieves, among other games.
My adolescent cycle and the many questions of life were barely peeking timidly: what will I study ?, sciences or humanities ?, work to become independent from the workloads that dad gave me, well it was not money every month but every day.
At that time we lived in a residential area of ​​people with low economic resources, which we usually call "barrio", but with hardworking, honest, collaborative people surrounded by humility. Those values ​​were entering my mind and were shaping my behavior before society.
The economic situation was difficult for my parents who had to keep afloat the home of 5 children, food, clothing and studies, so one day I escaped from the neighborhood to the center of the city to see the activities that people were doing to get the money of his daily sustenance. The great detail was that I must be of legal age, 18, to be able to work!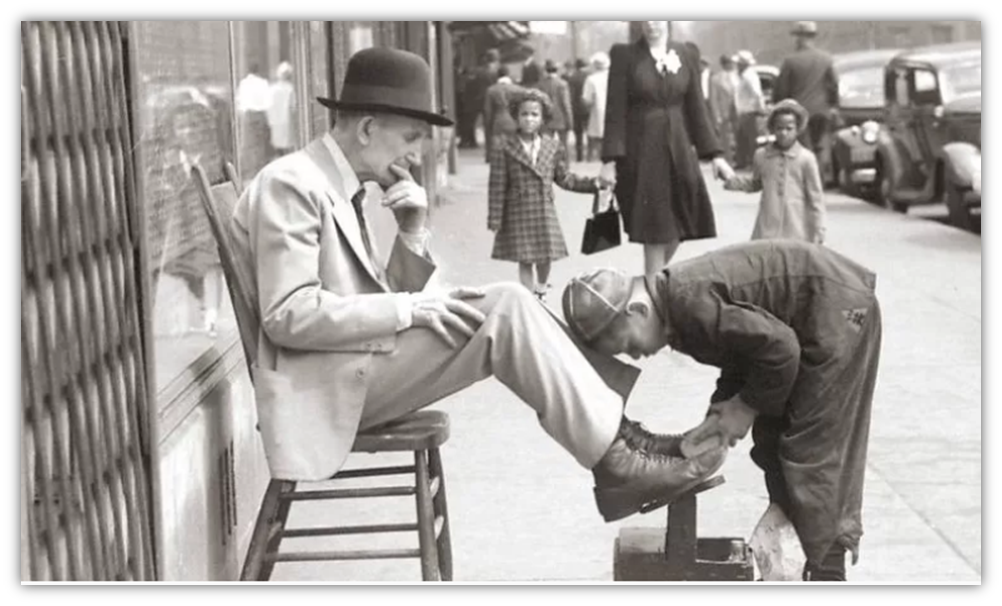 Image source: noseasimbecil.com
I continued walking and arrived at the Central Plaza, which is surrounded by the Cathedral Church, the City Hall, banks, the Cinema-Theater and some shops, so I understood why it is called "downtown." There I got my friend Henry, he lived 3 houses lower than mine, and he was 16 years old, other people nicknamed him "the pecueca", he earned it because he did not continue studying and they said he was on bad terms.
That day I saw him with a wooden box that had an opening on one side, a piece of wood on the top that resembles a shoelace and by which he grabbed it. I greeted him and talked a couple of minutes about his mom and his sister, because I knew they ate once a day, maximum twice when someone helped them or they worked ironing clothes in the neighborhood. Unexpectedly interrupted the conversation, pointed to the feet of a man and he sat on a bench in the square. Henry threw himself to the floor, put his knees on the floor and placed his wooden box so that the gentleman would mount his foot there.
Hands on! I heard him say as he took out his work tools: the black shoe cream, a toothbrush and a larger one with soft bristles, a cream-stained handkerchief that he wrapped in his hand , another cleaner cloth and a plastic container with water that had a small hole in the middle to moisten the shoes. In a few minutes he did a cleaning process, which today I consider an art, because he left his shoes shiny, did not stain the man's stockings and to complete ....... they gave him money!
Precisely, what Henry had just done was the job of a "shoe shiner".
With what I had earned since the morning and with what the lord paid, I already had what it took to bring something to lunch. We went walking to the house and on the way he explained the details of this work. His shoeshine drawer was rented, but everything else was his and with a small investment it was profitable almost 5 times its value. I in sixth grade of primary education was not a genius in mathematics, but as my mom said "if you buy merchandise, sell it and earn more than half, then it's a good business", so half way to We were already partners in the "Shoeshine" business.
Once we went to talk with the owner and manufacturer of the wooden crates so that I could rent one to myself. I arrived home and after the deserved reprimand for my trip to the center I asked my mother for money to buy the shoe cleaning materials and my friend kept my drawer in his house. It was school holidays, so my mother was not so aware of me and I took the opportunity to go to the Central Plaza with my friend to "work", already exceeded the detail of 18 years !. No one in my house knew about these things of mine, not of a child but of a teenager.
Then the classes began and Henry in his job as "Shoeshine" and I concentrated on my studies, although eventually I looked for my wooden box, still rented, and did the independent work, that is to say that the clients got them in the streets of the neighborhood and on the way to the center. Everything was great, except for the case of a policeman who did not pay me and threatened to put me in prison because that activity could not be done in the street and to complete it was a minor. How crazy, why he did not say it before he left his police boot shiny, which by the way was high cut and I spent a lot of black cream, hahaha.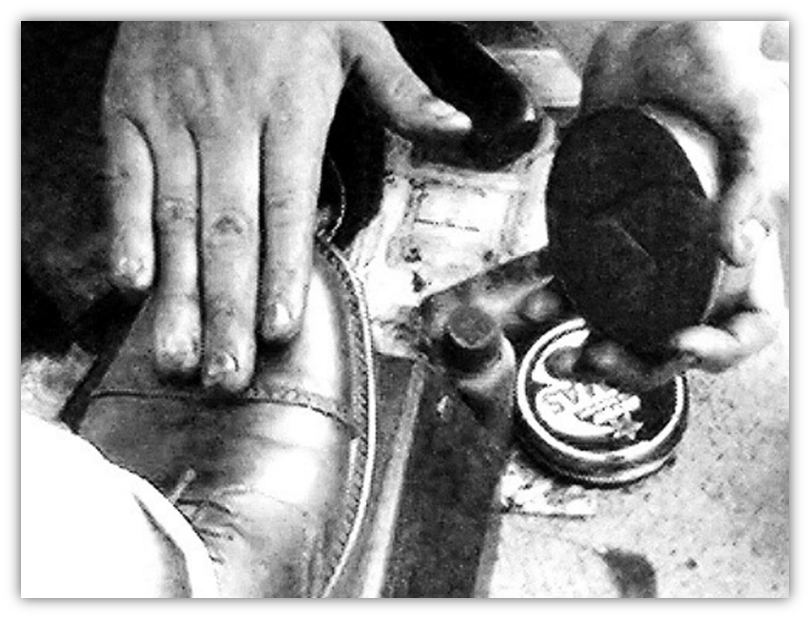 Image source: flickr.com
Now, with a few years on I recognize very well that "work dignifies man", and in my time as "Shoeblower" it left an unforgettable mark because the first gift I gave to my mother on Mother's Day, fruit of my "work", it was a talc perfumed with powder that I bought it in the Golden Botica and that I had negotiating with the saving of two weeks of work.
One Saturday, very early in the morning, the neighbors were excited by the bad news, "The Pecueca" and four more had been killed by some police officers, because they found them stealing a preschool from another neighborhood, precisely in front of the Golden Botica. friend Henry taught me the trade of "shoeshine" and many tips to not fail in the attempt.
Now I already have a bachelor's degree, a master's degree and a doctorate, but that does not give me license to walk with dirty shoes, no ... no ... no ......., I still clean them with black cream, they are things that are not forgotten!
The original text of this story is exclusive of . . . . . . .