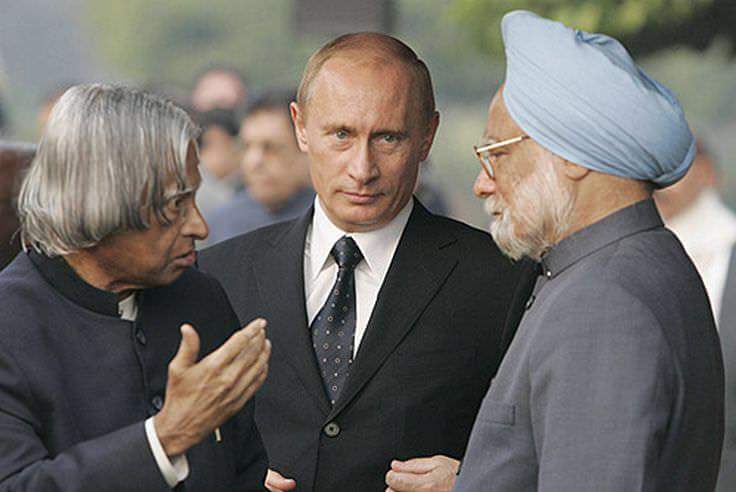 The person who stands on the left in the pictures below his hand mada;
Abu Bakr Zain al-Abidin, former president of India for the period from 2002 to 2007 when he was known to be president of India, thought he was a political leader but it turned out to be one of the greatest scientists in India. He is an aviation engineer and a scientist in mathematics, nuclear physics, astronomy, To 35 years of age in the development of the capabilities of his country, both militarily and civilian, he had the largest role in the development of India's nuclear program and supervised the experience of India's first two nuclear bombs and supervised the development of the Indian ballistic missile program in the same period was overseeing the development of propulsion engines for missiles that Carrying satellite to space and also supervised the manufacture and launch of the first Indian satellite and the subsequent successes in this area and also contributed to the manufacture of a pillar of the arteries of the heart, although this is not within the scope of competence
In 2002 he won the presidency of India in a sweeping manner against his rival and the Indians called him the People's President for his love. He was asked by the masses to run for a second term but preferred to leave politics after his first term.
He was a convert to Islam, but he respected his Hindu and Sikh Indian citizens. He was never criticized or repudiated by any other religion or any individual from outside his own religion, and although he was a Muslim, his loyalty was to Hindu India and did not provide an ounce of allegiance to the Muslim neighbor of Pakistan And the permanent enemy of India.
For his father's knowledge, he was a fish fisherman and his mother was a housewife. He worked as a newspaper distributor before he went to high school.
Abu died in 2015.