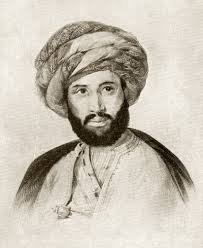 After resistance (Mohamed Karim) to the French campaign led by Napoleon
Mohammed Karim was sentenced to death
But Napoleon sent him and brought him and said to him:
I do not want history to remind me that I have executed heroes who defend their homeland and therefore I have forgiven you for ten thousand pieces of gold to compensate for the killing of my soldiers.
Mohammed Karim said to him:
I do not have enough money
But traders were convicted of more than one hundred thousand pieces of gold,
Napoleon said to him,
I will allow you a time to collect your money, so it was decent to go to the market every day, a series of shackles surrounded by the soldiers of the French occupier, but he hoped to sacrifice for the sake of the people of his homeland did not respond to one trader
But accused him of being the cause of the destruction of Alexandria and the cause of the deterioration of economic conditions,
He returned to Napoleon, who was free
Napoleon said to him,
I have nothing but your execution
Not because you resisted us and killed our soldiers
But because you have paid your life for the cowardly people who are preoccupied with their trade and have no meaning to the freedom of the homelands.
((Sharif is the one who pays the price and the cowards are the ones who make the gains).