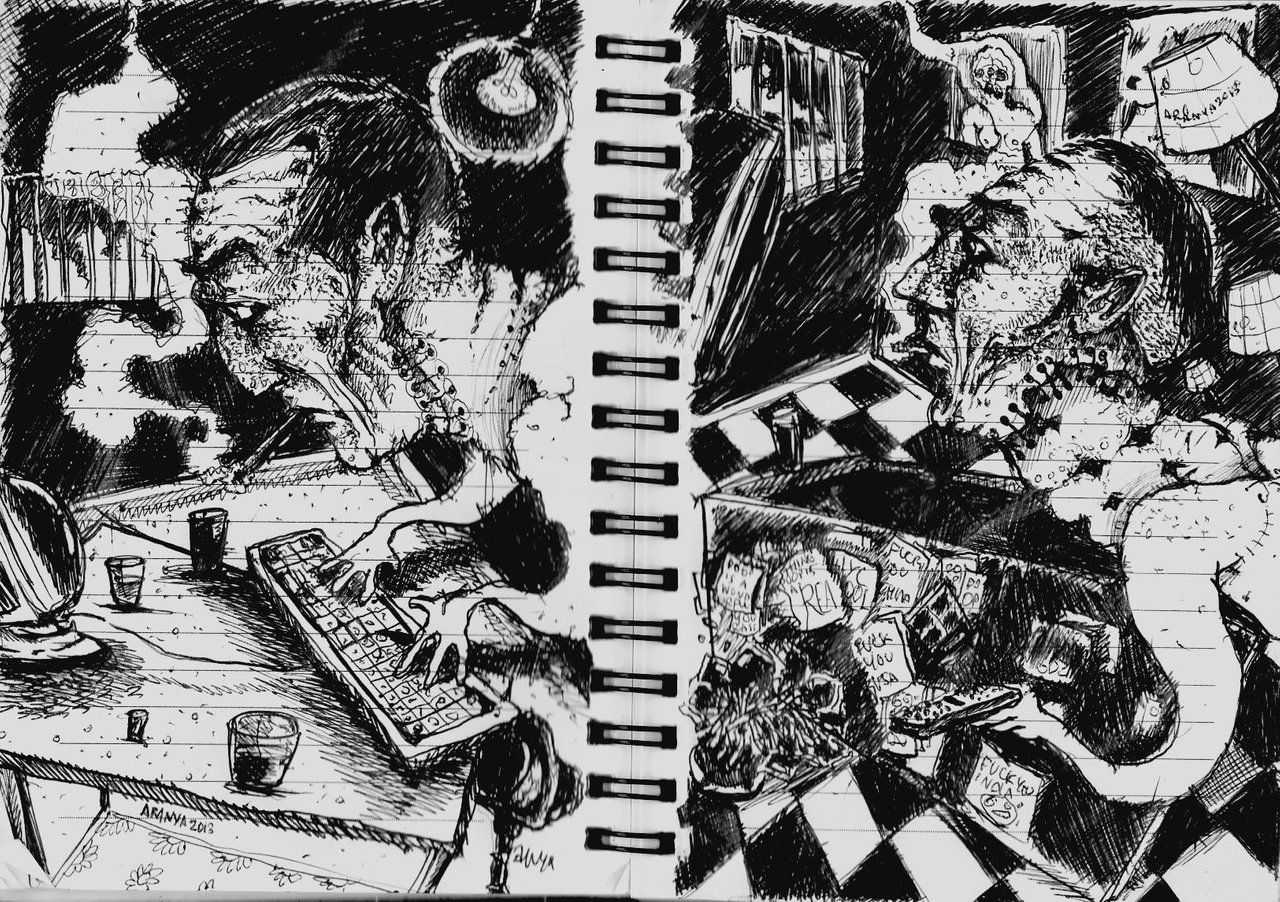 Love is like a heavy smoking habit, you dig? Every half-done cigarette you look at for about a second and fling without finishing, without giving it a second thought, is like a few precious minutes of life saved. Likewise, romantic conversations with wine and cheese on the side that are on the verge of being interrupted in the middle or turn awkward, are blessed gaps through which the lover can escape the wrath of impending sickness. But one's hands are usually too slippery with love-slime. It sticks to the skin and multiplies, forcing one to slip. Once he slips and tumbles further and further away from the gaps the slime begins to ooze slowly into his brain, which in turn begins to bloat and wheeze. He forgets, or perhaps ceases to care, that life was indeed dandy a few weeks ago. In his head, the past gradually takes the shape of the seventh layer of hell. "To hell with what I had!" he says, with resolution. This is a lover's Sisyphean rock. Its gigantic size blocks the doors and windows of a generally rational person's cranium till their eyes begin to gradually secrete that potentially lethal substance, love-slime.
So what is love-slime? Love-slime is a sentient schedule A type drug. You can shoot it up and you can roll it in a paper. But worst of all, it can come to you unknowingly, like a sickness, like the monstrous ugly head of a gruesome slug, invisible and surprisingly fast for such a slimy thing. It leaves behind it a trail of sadness and heartbreak and a trickle of other hopeless beings addicted to this terrible curse, this abominable satanic spittle. This gigantic squid. They follow the slugtrail with hunger and spite and leave behind them a trail of their own slime, a mixture of desperation and needles. Where there are beautiful men and women, this beast of the sly lurks quietly behind our heads, waiting for our eyes to connect.
We call it a spark.
Love-slime doesn't really consider itself to even require a name, or title, or designation, as it were, but I suppose 'Evil Manipulative Wanker' is a title it would possibly make agreeable ultrasound noises to.
Centuries of this vile sickness and the horizon does not seem to contain even a blink of a cure. To quote someone who had, at some point, said in a book, or a play: "there's nothing to be done."
There's nothing to be done. Be wary of its manipulative, parasitic methods of control.
Constant vigilance. If you ever do, in an unfortunate turn of events, feel it arising within or around you (it has several ghastly, unmentionable tactics), always remember:
Don't panic. Stay equanimous.
Don't fall into the pit.
Don't stalk people on the internet.
Drink water every day.
Smoke a cigarette.
Beware the love-slime.