I suddenly remembered a small incident, which some coffee lovers (or hipsters?) could relate to.
I went to a popular (big corporation) coffee shop one time to meet with a friend. Arriving ahead of time, I went straight to the counter to order coffee. "I could work on something first while waiting," I thought. Looking at the menu, I noticed that they offer some mixture with cold brew coffee. Something with milk, cream and/or vanilla. Since I prefer black coffee, I asked if they could serve me just plain cold brew. "Yes sir, but is it okay if we still charge the same amount, as this (mixture) is the only one in our menu." I said sure, then paid, and went to my seat to wait.
The coffee arrived. At first sip, I instantly knew, that was not cold brew. In this post, I showed how to make cold brew and explained a little bit about how it differs from the usual hot brew. And I tell you, that drink I ordered did not taste like cold brew. Imagine hot brewing coffee using boiling hot water, and then leaving it still for a while. And then you decide to refrigerate it. That's how the coffee I received tasted like.
I signaled a barista/waitress and told her, "Excuse me, this doesn't taste like cold brew. It seems like an iced americano." Though as I mentioned, it tasted worse. She immediately had it replaced. The next drink came and oh, same taste. So I thought, these people either do not know what cold brew is, or cheated their way to it on that day. And you know what, I prefer it's the former case, since it's more disappointing for them to lie about their menu.
Needless to say, I didn't finish my drink. And before my friend and I left the coffee shop, I left this note: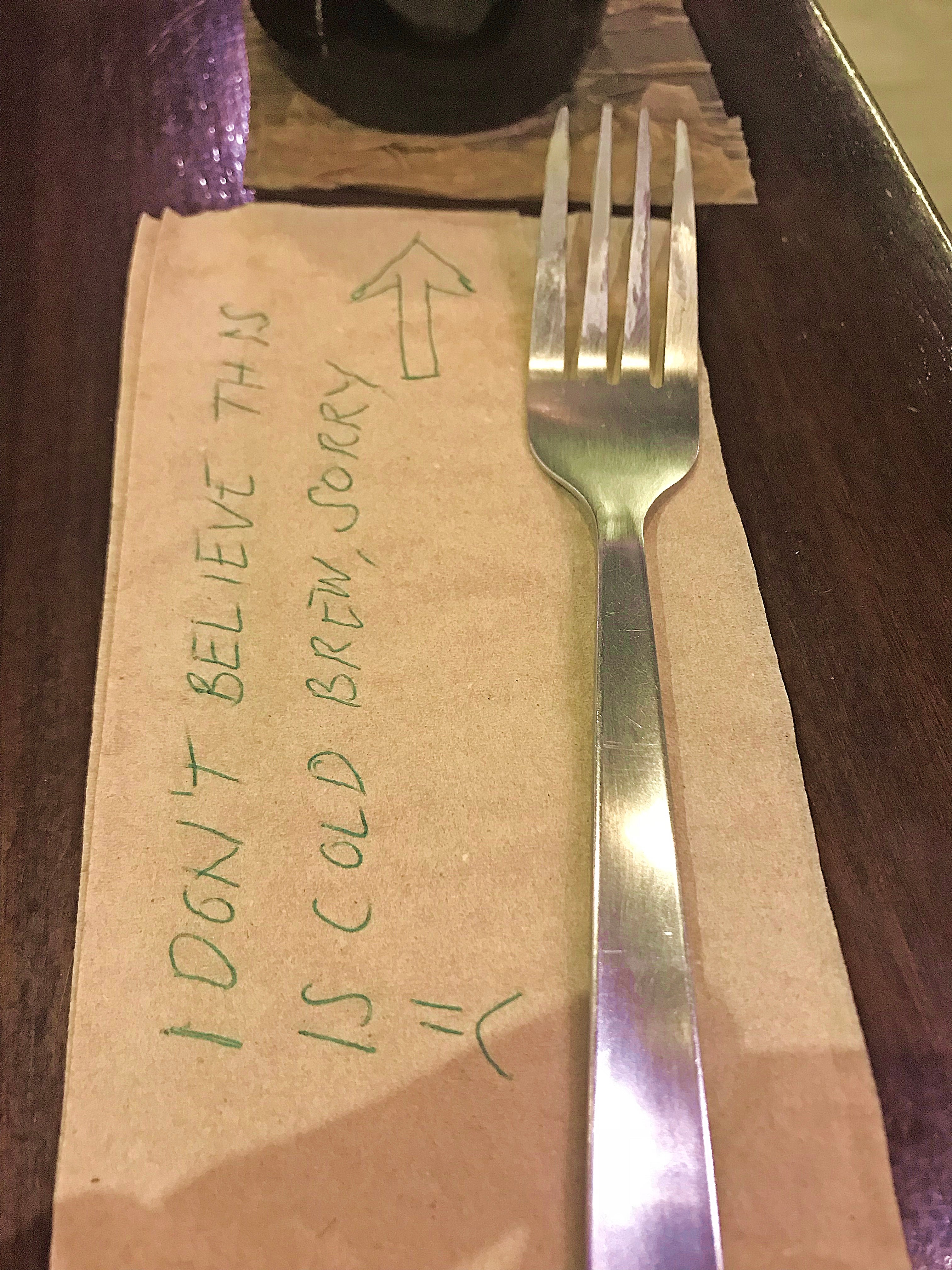 Anyone who can relate? :D