Taiwan is quite famous for its night markets and street food. You can see people selling all sorts of food just off the street pretty much everywhere. It must be very easy regarding the administration and paperwork (probably none). You can see a grandma just sitting on the sidewalk and selling dumplings, a guy setting up a small BBQ and selling sausages and such.
On the photo below you can see a guy selling coffee. Look closely! This guy made his coffee stand on top off a scooter. That's pretty smart! You can just stop wherever you want and start selling coffee. He just brings a canister full of water and that's it.
I took this photo at Yingge, ceramics city of Taiwan. If you want to buy ceramics, that's where you go!
Let's get coffee (off a scooter)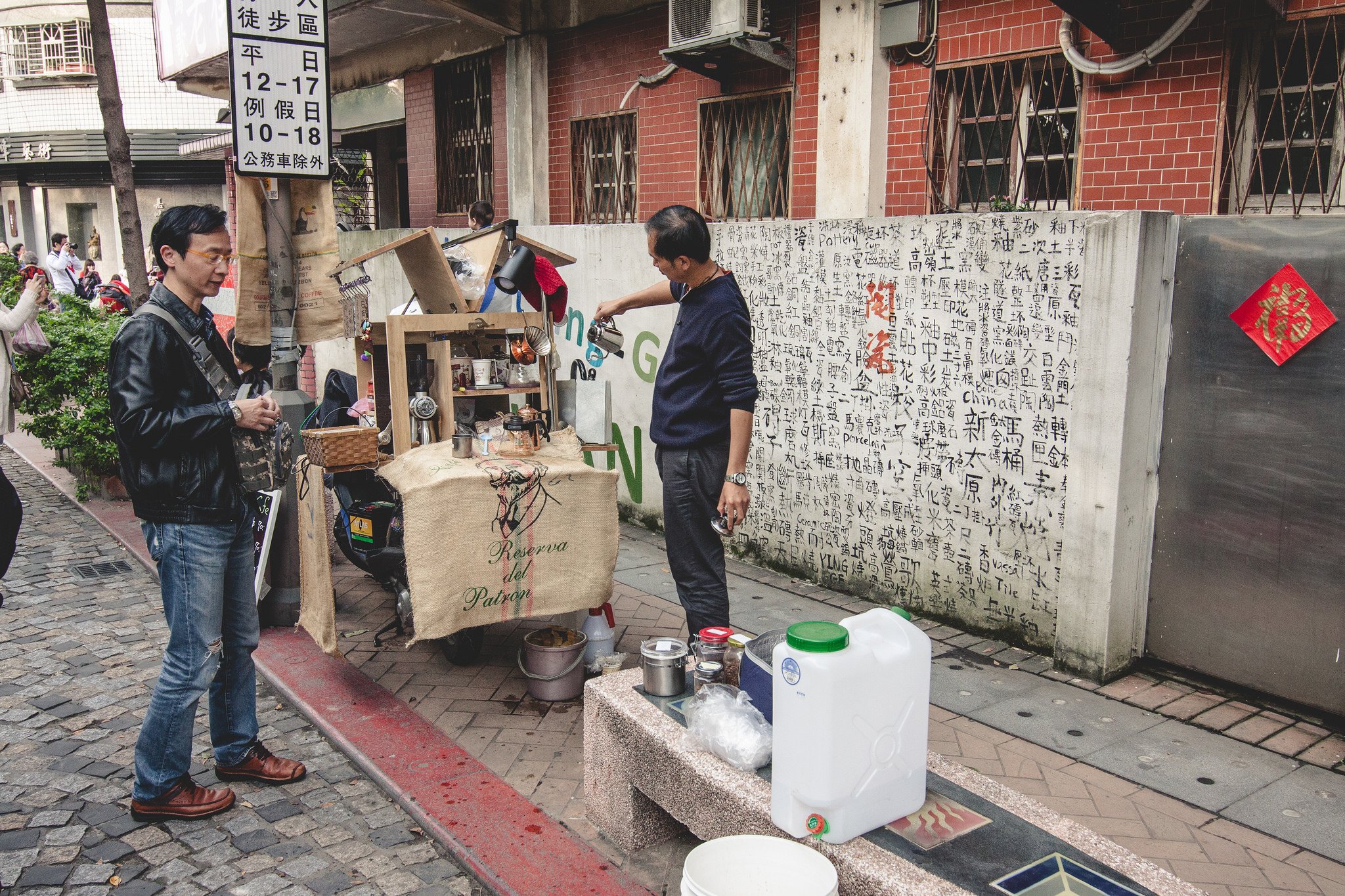 If you'd like to see the photo in full resolution, please click here, to see it in my Flickr album.
This photo is today's entry in the #streetphotography contest organized by @juliank and @photocontests
Czech: Na Taiwanu najdete spoustu street food kamkoliv půjdete. Ať už jste na night marketu nebo jenom někde na ulici. No musí to být hodně jednoduché co se týče administrace, placení daní, a ostatního papírování. Asi skoro žádné... Večer můžete vidět babičku se stánečkem prodávajícím knedlíky, chlapíka s motorkou na které má přidelaný malý gril a dělá na tom párky, atd.
Co mě zaujalo na fotce výše je chlapík prodávající kávu. Ale podívejte se pořádně. Stánek s kávou si postavil na motorce. Docela dobrý. Zavře dvířka a zajede si prodávat kam chce. Jenom si přivezl kontejner s vodou co si postavil na vedlejší lavičku a je to.