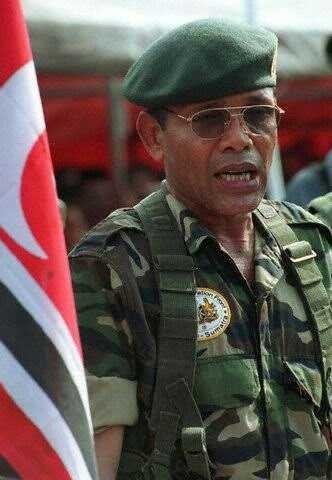 In the history of the Free Aceh Movement (GAM) struggle, the figure of Teungku Abdullah Safi'i is written in golden ink. He is a charismatic and respected GAM Commander. More than that, Teungku Lah, as he is addressed is also a friendly and courteous and consistent person in the line of GAM struggle. Yet beneath her humble and beloved figure, the story of the struggle and life of Teungku Lah ends tragically. He died with his wife Cut Fatimah and two of his loyal guards in a battle with TNI troops in the jungle of Jim-jim, Pidie Jaya, January 22, 2002. His disappearance was weeping over the people and GAM declared mourning for 44 days at that time. So what is the figure of Teungku Abdullah in his lifetime? I will summarize it from the story of those who are in arms with him.
Commander of the Free Aceh Movement Teungku Abdullah Syafi'i, better known as Teungku Lah was born in Bireuen, Aceh, October 12, 1947. He was martyred at the age of 54 in a battle with the TNI, and was a charismatic and respected figure of GAM fighters. Teungku Lah served as Commander of the Free Aceh Movement (GAM) when he was killed in the battlefield.

Friendly, Humanist and Santun Teungku Lah is a humble, friendly and humane figure. He is also known for a simple figure and devout worship. He did not speak vain. His polite nature keeps people from getting angry with him and when he speaks with advice and wisdom.

Delivering the Testament Before Marty Teungku Lah is a highly respected figure of warrior and GAM Commander. He is also known for a sincere figure fighting at the forefront of GAM soldiers. "... if someday you hear the news that I am martyred, do not feel sad and discouraged. Because I always bermunajat to Allah swt to menghasyibidkan me if the independence of Aceh has been very close. I do not want to get any position if this country (Aceh) is independent ... "That is the last will of the Commander of the Free Aceh Movement Abdullah Syafi'i who died in armed contact in Jim-jim hill area, Bandarbaru sub-district, Pidie district on January 22, 2002. Wasiat made a month before he was martyred as a sign that his struggle will end.

Not GAM Military Graduates Teungku Lah is known to be very polite and unpretentious. In the eyes of GAM activists, he is a humanist and nonviolent figure. Tengku Lah was never raised in the world of violence. He has also never received combat education in Libya, as Muzakir Manaf earned him as a GAM Commander after Teungku Lah died. His last education was only in Madrasah Aliyah Negeri Peusangan. It was only until the third grade. After that, he studied religion in a number of pesantren. Uniquely, Abdullah Syafi'i's youth turned out to be spent more in the theater world with the Jeumpa group.

Making Fools for Meeting the Cabinet Secretary and Artist Cut Keke The figure of Teungku Lah once made a scene in Jakarta and the GAM elite in Sweden because Bondan Gunawan was able to meet Secretary of the Cabinet during President Abdurrahman's reign and artist Cut Keke. The meeting took place in the middle of the forest in an atmosphere full of intimacy. For Teungku Lah the meeting was regarded as a gathering of friendship.

It has been reported that shooting Teungku Lah until dying. In March 2000, Teungku Lah casually invited SCTV reporter Jufri Alkatiri and Yahdi Jamhur for an interview in the middle of Pasee Forest. On that occasion, Tengku Lah also invited Kompas journalist Maruli Tobing to see the condition which at that time was in healthy condition walafiat.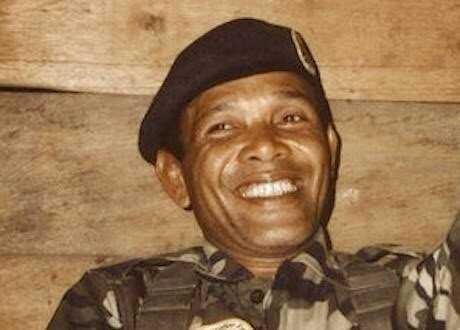 Shaheed in the Joint War of Wife Medium Containing 6 Months The end of Teungku Lah's struggle was so dramatic. He was martyred along with Cut Fatimah, his six months pregnant wife and two bodyguards. Teungku Abdullah Syafi'i died after being shot in a battle in the jungle of Jim-jim, Pidie Jaya, January 22, 2002. However, his body was not immediately evacuated. To make sure the one shot was the number one man in GAM's military, the Commander of the Security Restoration Operations Command Brigadier General Djali Yusuf then left for the location by helicopter. The next day, January 23, 2003, it was only certain that the shot was Teungku Abdullah Syafi'i. There were also two bodyguards who died in battle.

His Disappearance Wronged People On the eve of the dawn of January 25, 2002, sobs and selawat echoed in the Village Cubo, Bandar Baru District, Pidie Jaya. The body of the Commander of the Free Aceh Movement (AGAM) Team Teungku Abdullah Syafi'i and his wife Cut Fatimah and two bodyguards loyal Teungku Daud Hasyim and Teungku Muhammad Ishak were buried. They were killed by gunfire between GAM and TNI three days earlier, in Sarah Panyang Jim-jim Village, about four kilometers from Blang Sukon. People recall Abdullah Syafi'i as a friendly and humble figure. Three villagers had fainted because they could not hold back.

His grave is often visited by pilgrims After the peace of Aceh blossomed on August 15, 2005, the tomb of Teungku Lah crowded visited pilgrims. Starting from ordinary people to former GAM leaders. In fact, Wali Nanggroe Tengku Hasan Tiro had time to visit when he returned to Aceh in October 2008. Tengku Lah tomb was built with a simple and only surrounded by iron trellis. Abdullah Syafi'i was buried in Cubo, Bandar Baru Subdistrict, Pidie Jaya on January 24, 2002.

Often Cooking For His Troops At one time during the fasting month of January 2002, Teungku Lah got up to cook rice for the meal. While his troops are sleeping.
While in the guerrilla roam the forest with his troops, sometimes found his life dying and lack of food shortages and lack of food.
But Teungku Lah still prefer to bother looking for what can be eaten without distressing his subordinates.

Last Sentence on Dying
"Nyoe ka troh nyon lon lakee, ka troh watee nyang lon preh-preh (now the time has come that I've been waiting for)," Teungku Lah told Jalaluddin's bodyguard after he was shot in battle with his wife Cut Fatimah.
The sentence followed the departure of the highly respected and charismatic commander who was martyred in the battlefield. @furkansamudera