'Fun at the Fair.'
It was a perfect day for visiting a local fair. There were the usual market day stalls but due to the fact that the Traditional Trade Fair was held simultaneously this Sunday, there were many interesting demonstrations to learn from and enjoy.
This is my entry for the @beautifulsunday and @sublimesunday challenges hosted by @ace108 and @c0ff33a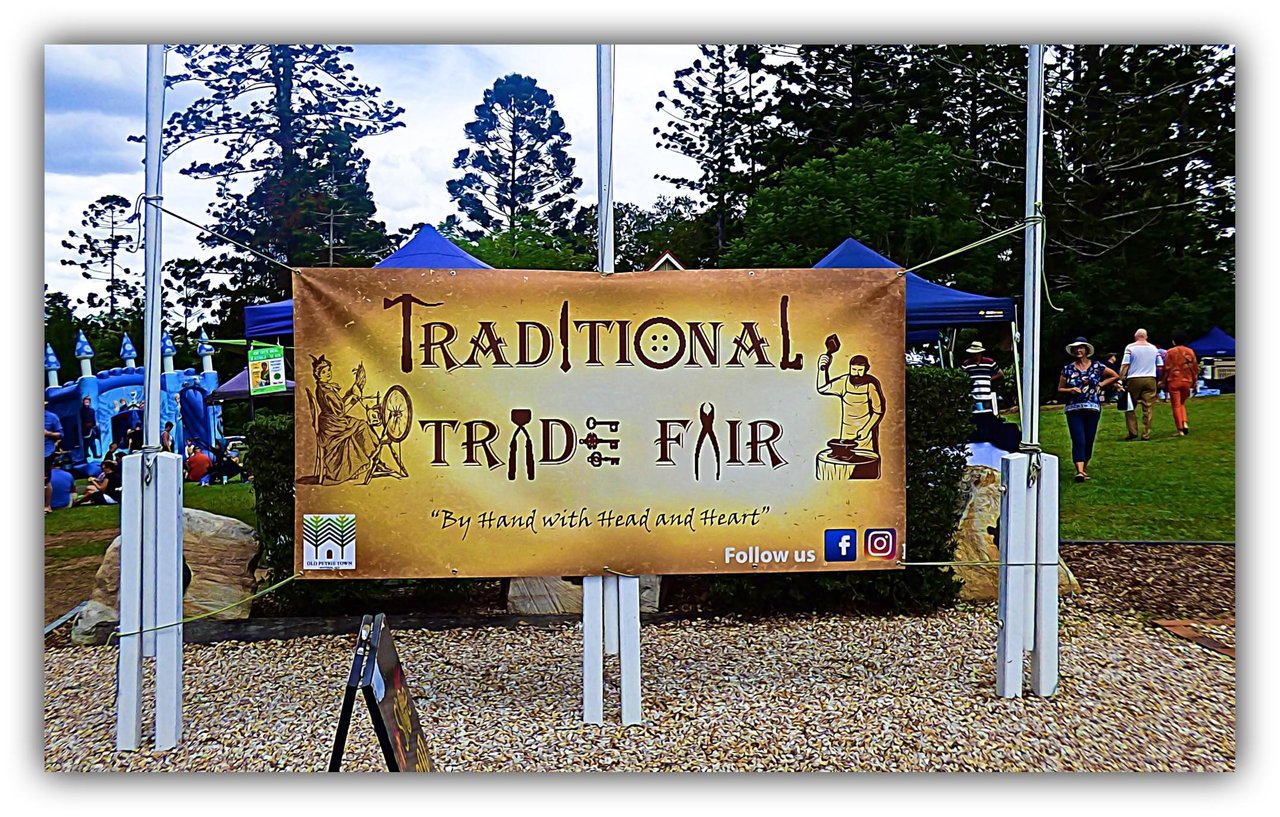 Old Petrie Town is a restored historic village replicating life pre 1930's. In 1978, a local landscape architect was requested by the Pine Rivers Shire Council to submit ideas for development of the former Hyde Property in Dayboro Road, west of Petrie.
The council also requested that a reserve be made available to for historical buildings around this homestead. It was given the name, North Pine Country Park but in 2000 it was renamed, 'Old Petrie Town.'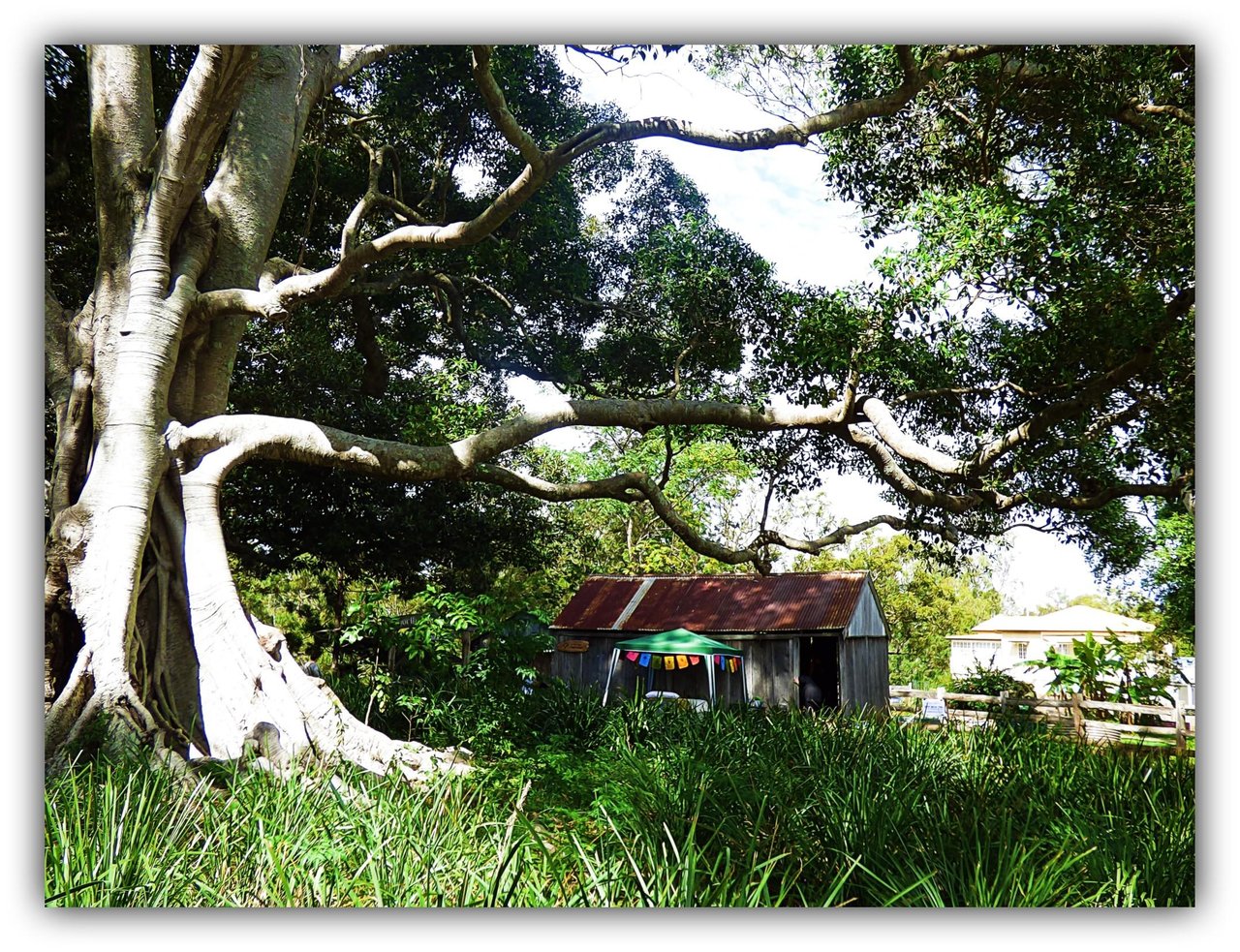 This property is set in over 50 acres of manicured gardens and bushland, and is listed as a koala reserve. 300 year old fig trees (which were used as birthing trees by aboriginal women many years ago,) stand tall and proud and are a magnificent feature in this town.
Visitors have a choice of four museums which are Fire, Scouts, Historical or Steam Engines. The Pine Rivers Shire Museum provides information into the days of the early settlers and people can enjoy viewing some remnants from the local World War II Army Camp.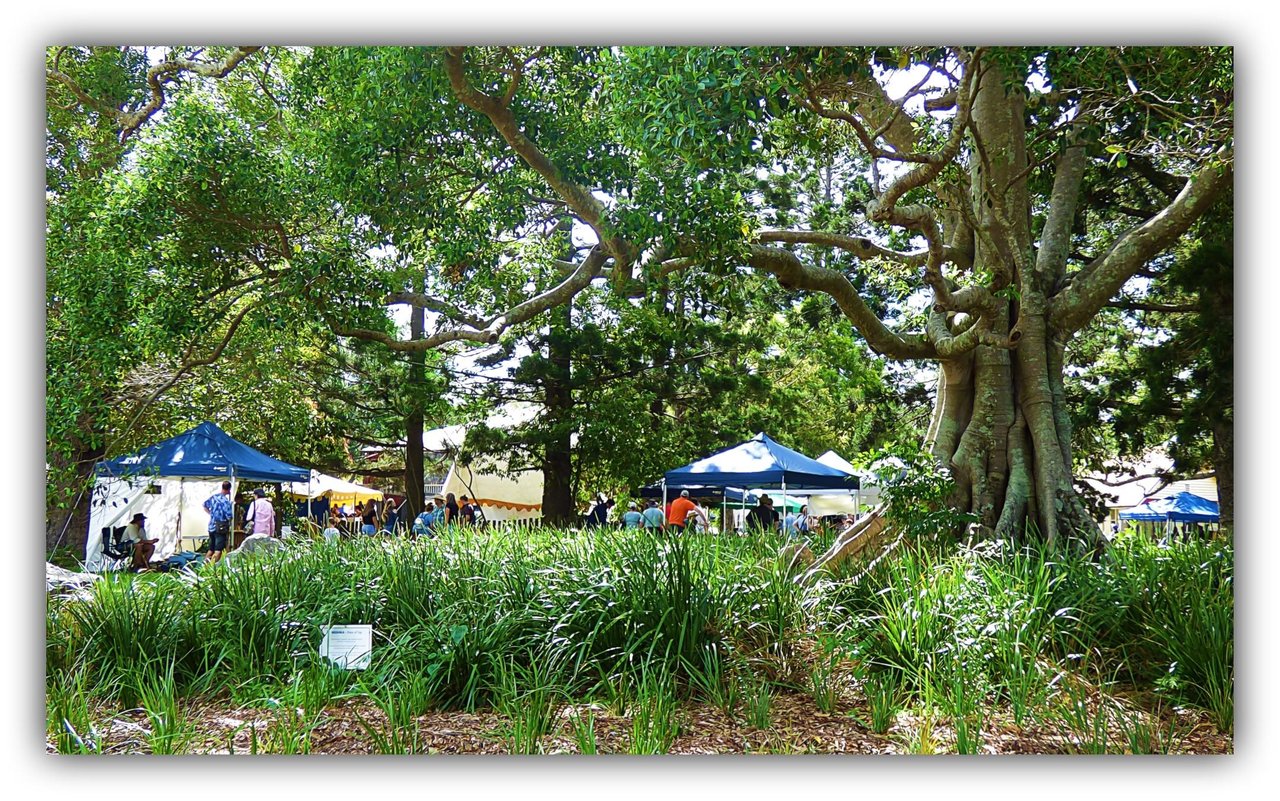 The layout of the property is ideal for regular markets as you don't feel hemmed in, even when a lot more people than usual turn up to take advantage of this special Traditional Trade Fair event.
Lively music punctuated the air, drowning out surrounding sounds of excited conversation and general activity. The 'Mullet Gut' (what a name!) were well worth listening to and it was obvious that they were in their element as they played to the crowd.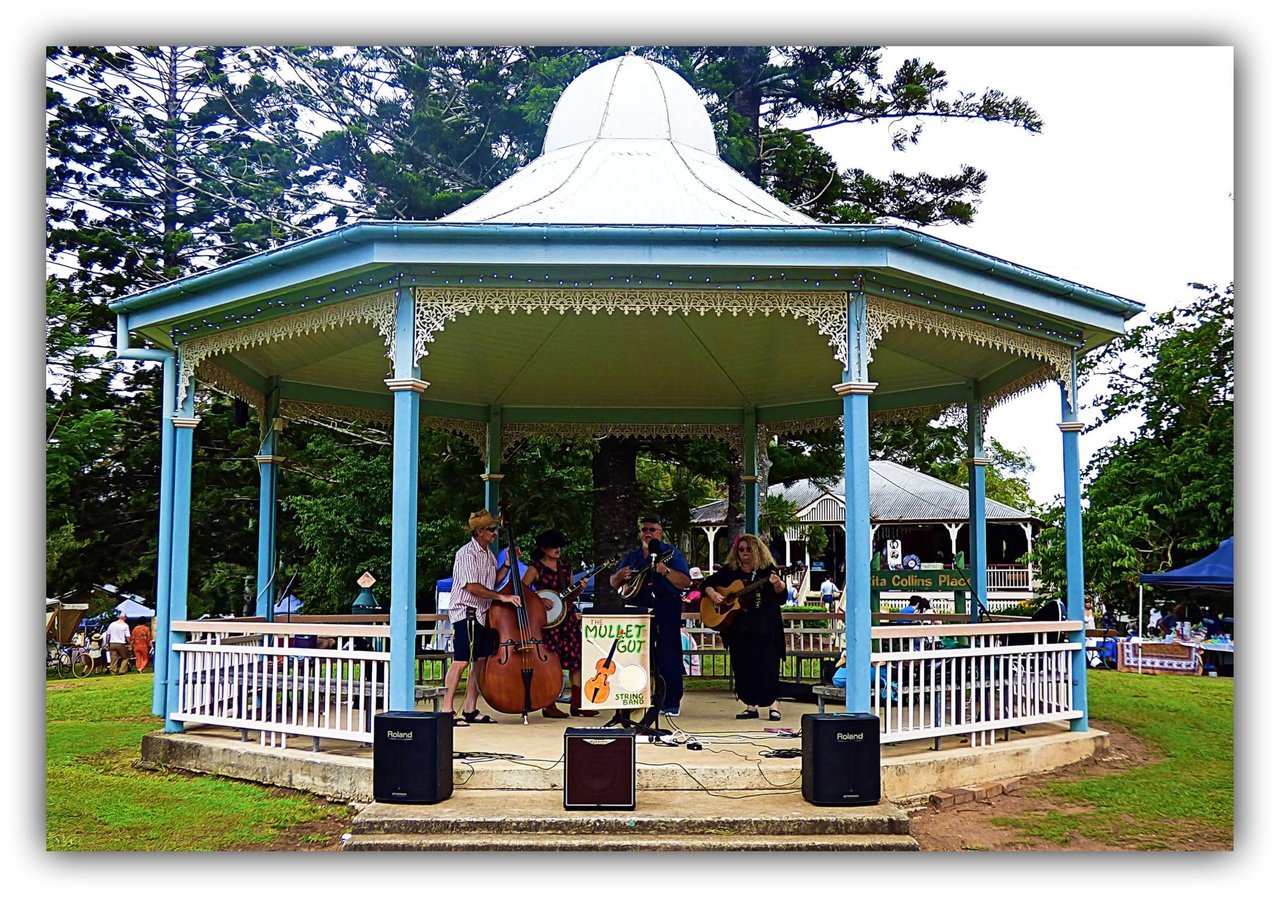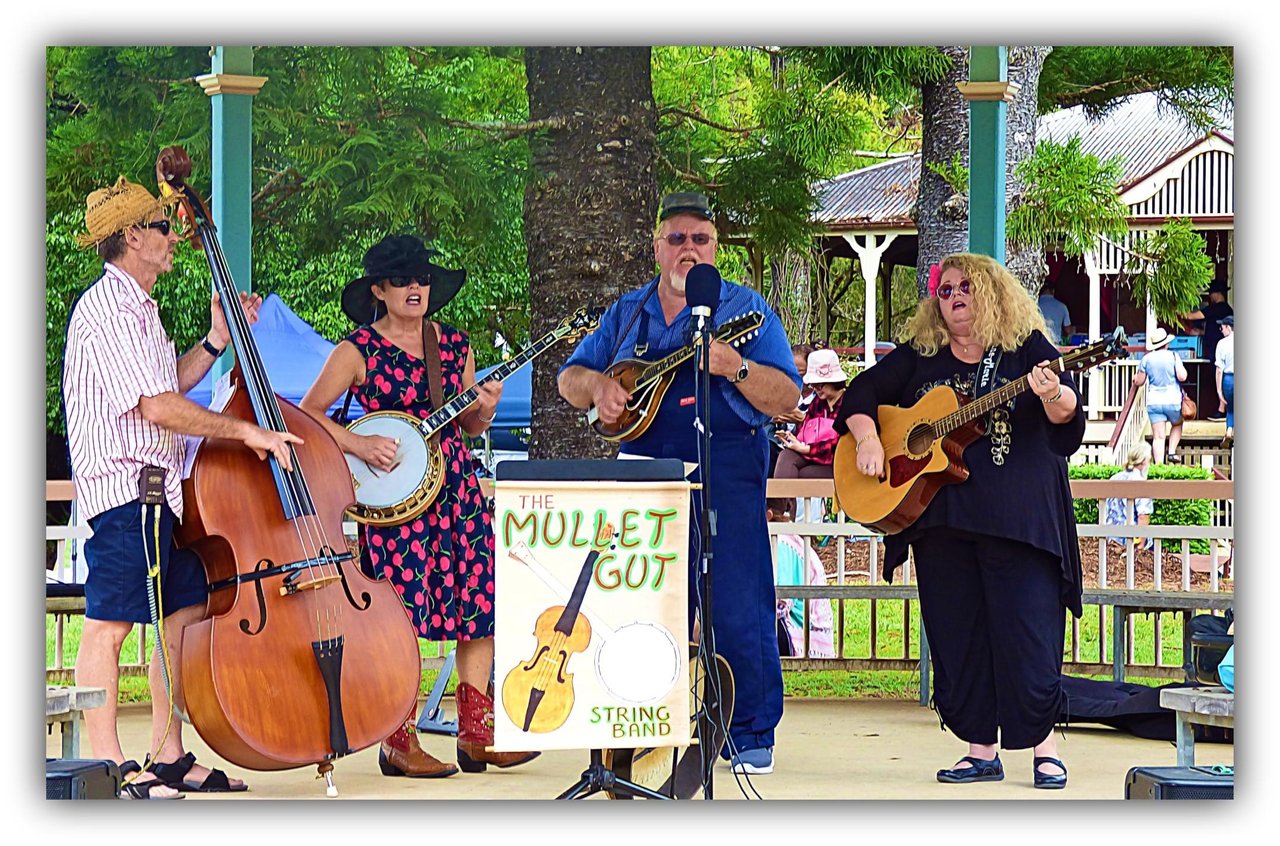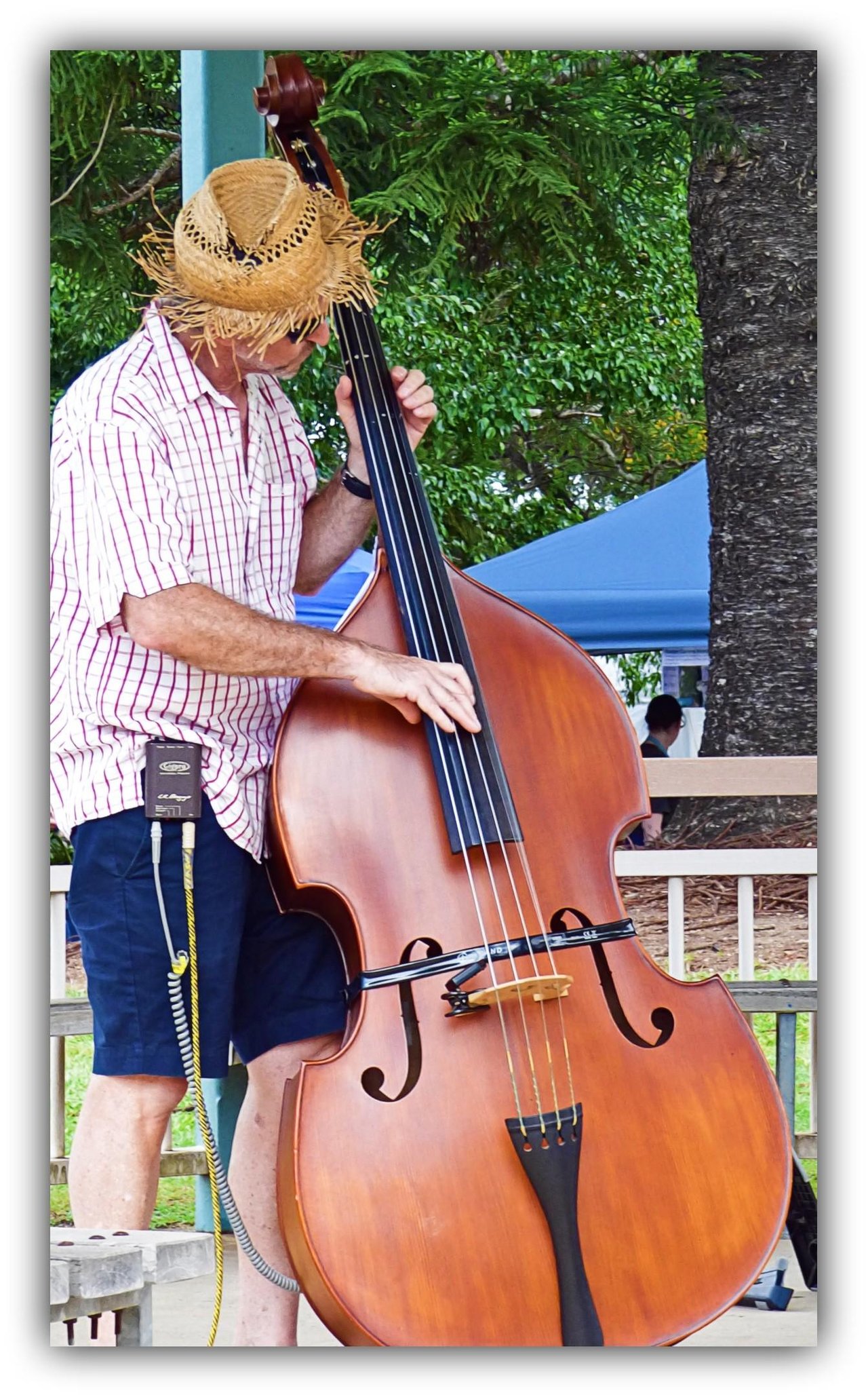 A blow up pirate ship acted as a very effective distraction for the kids, whilst the parents relaxed on the grounds nearby.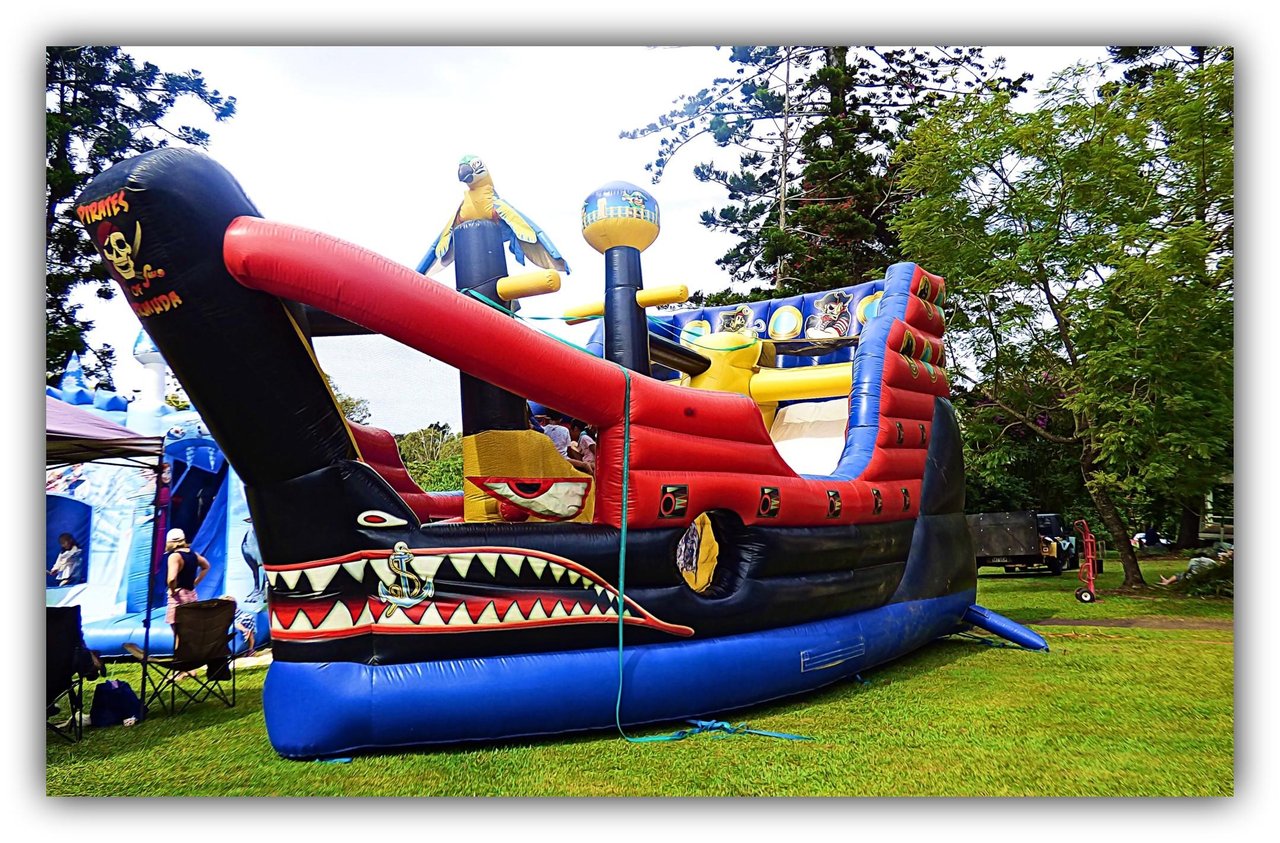 We arrived just on lunch time but because the fair was closing at 2pm I wanted to cover as much of the area as possible with my camera before it closed. I did not have time to waste on eating. But then I came across a stall selling American hotdogs........and they sure smelled good.
So what distinguishes an American hotdog from an Australian one I wonder? I wish I could answer my own question but I did not pause long enough to find out.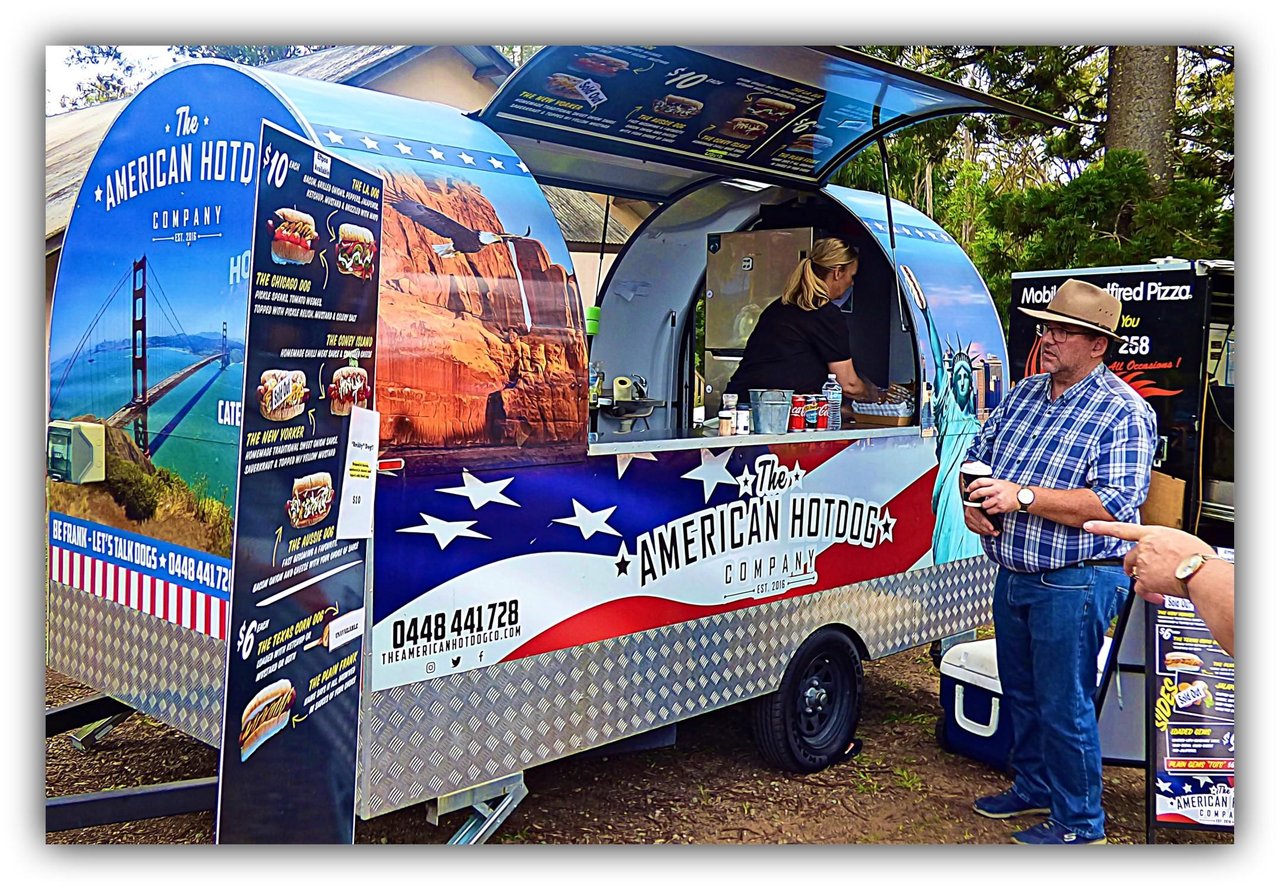 However, I'm sure a few of my American Steemit friends can put me in the picture should they wish to. Feel free to satisfy my curiosity American hotdog lovers.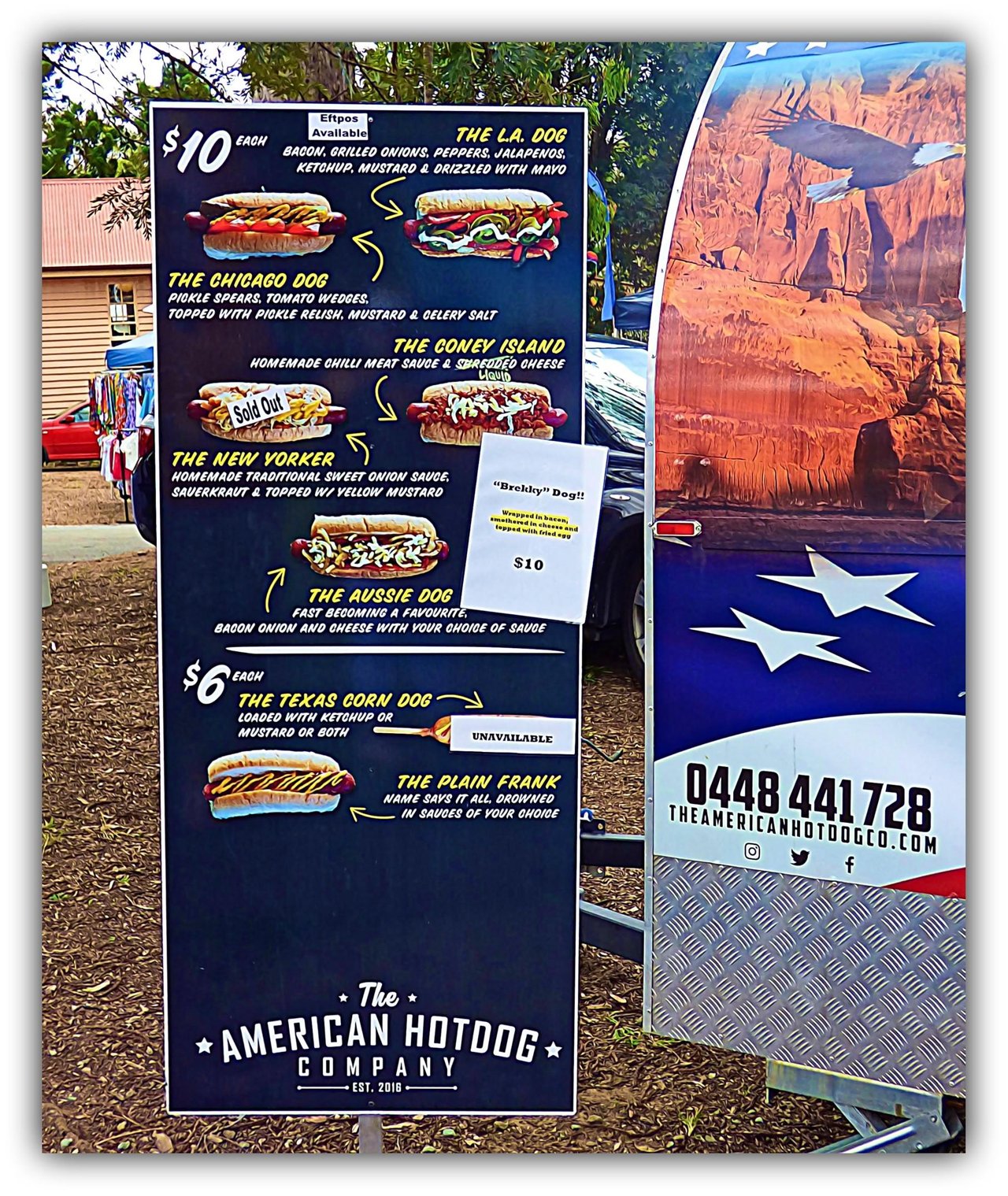 The inevitable 'Food of the Fairs' had a line of customers waiting to be served in front of their van. I got a little closer and saw that Doughnut Dreams were selling doughnuts for $1 each! Are they serious? That is outrageously exorbitant! But then, if they were the size of a dinner plate, then perhaps their asking price was not so unrealistic.
Not loving doughnuts enough to see how big they were I let the sellers off the hook, I moved on.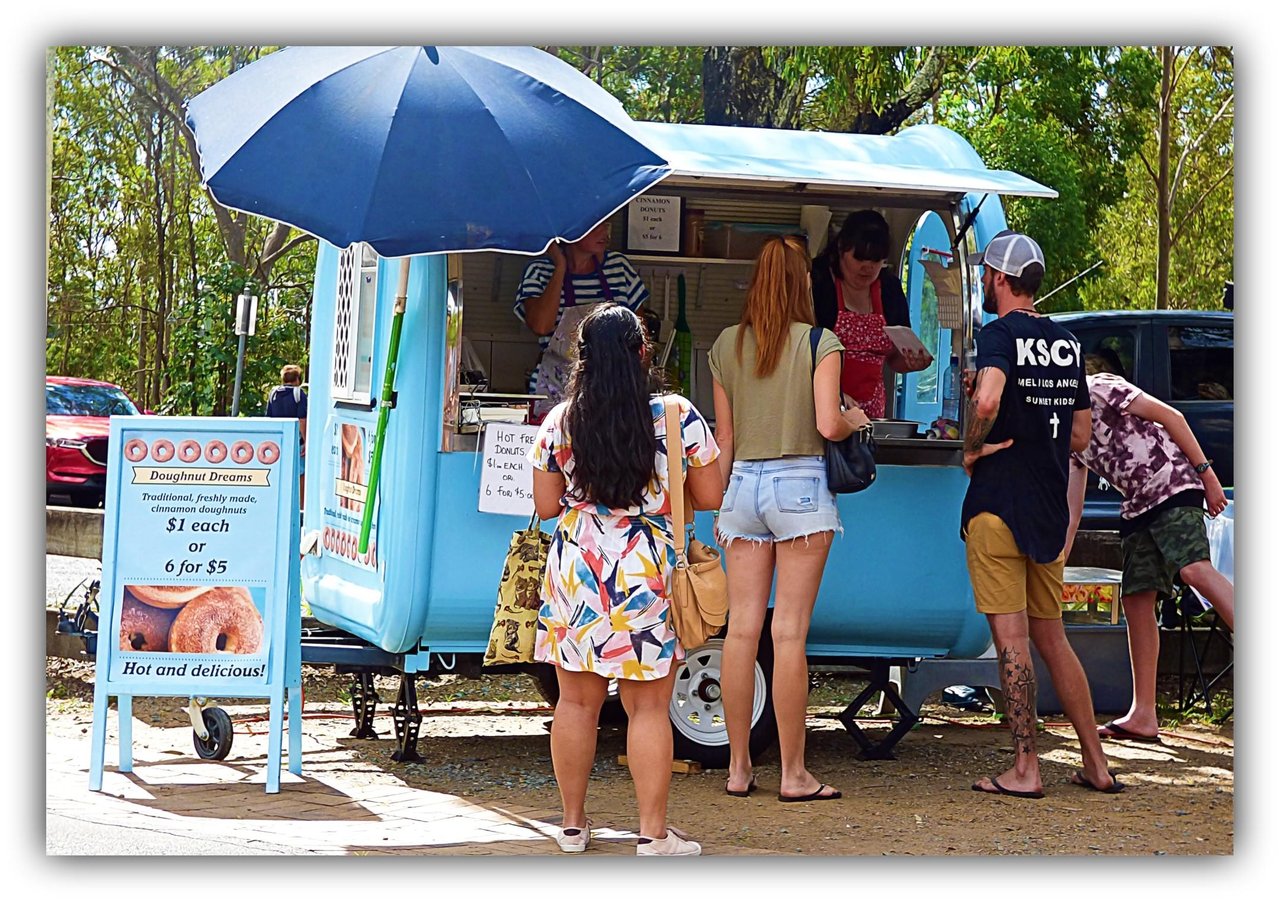 A white horse was attached to a wooden cart adorned with floral garlands and knitted shawls. Very artistic!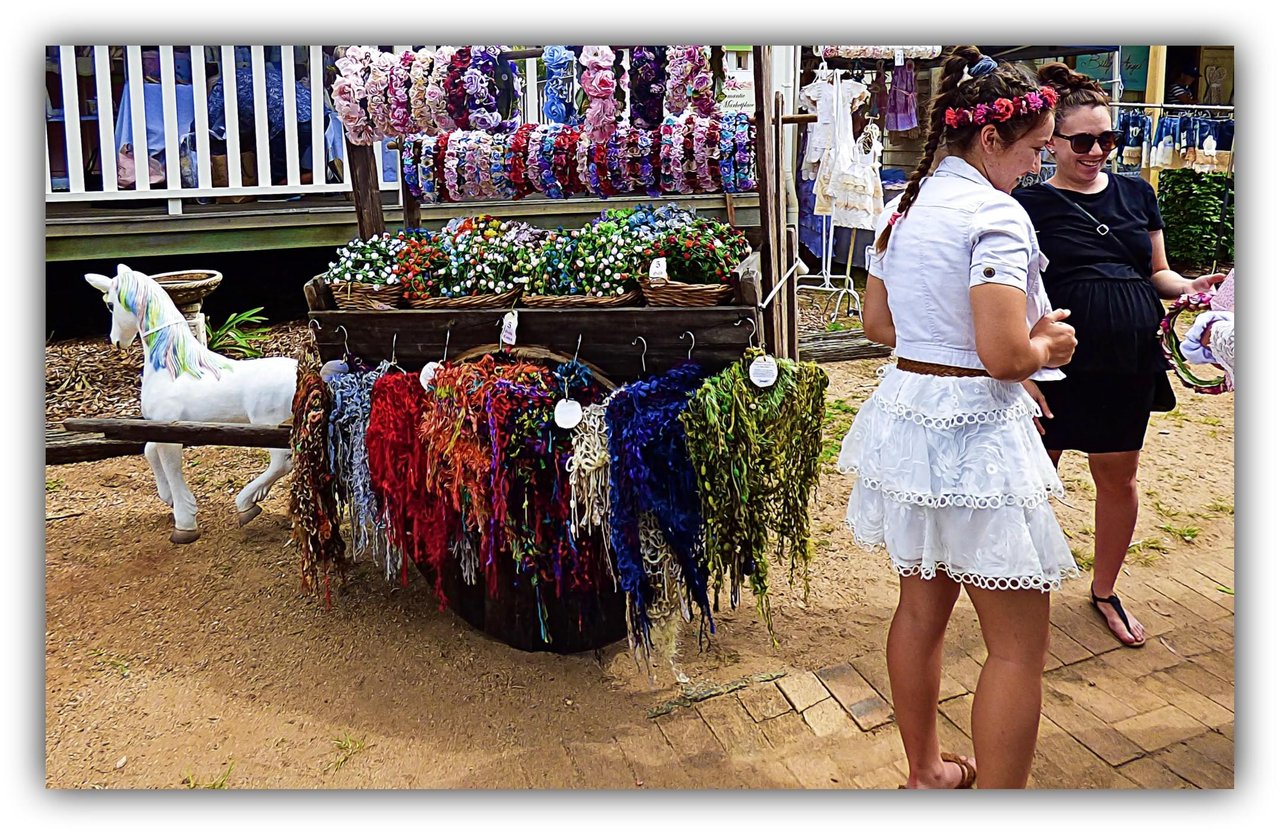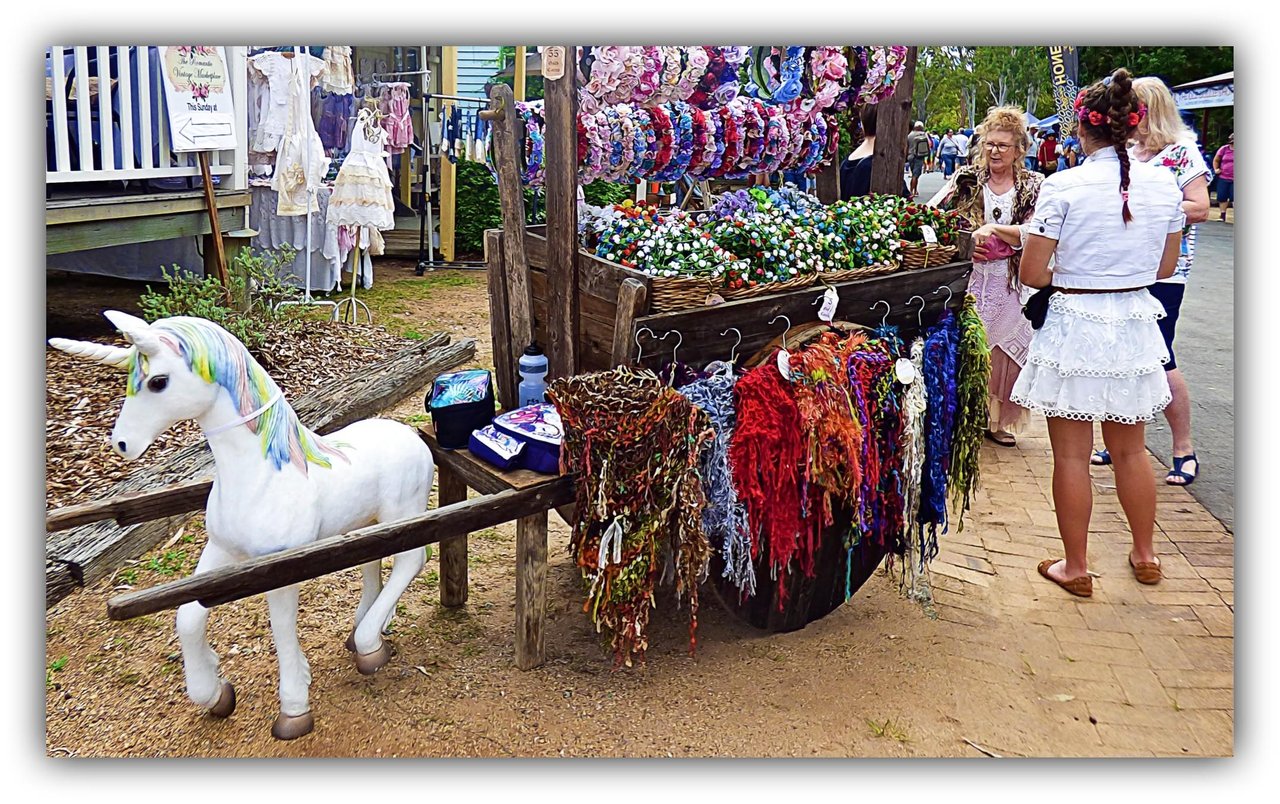 I came across an attractive lady working on an intricate pattern with very thin wire. The process is called enameling and I was intrigued with the result she had achieved with some of her completed work.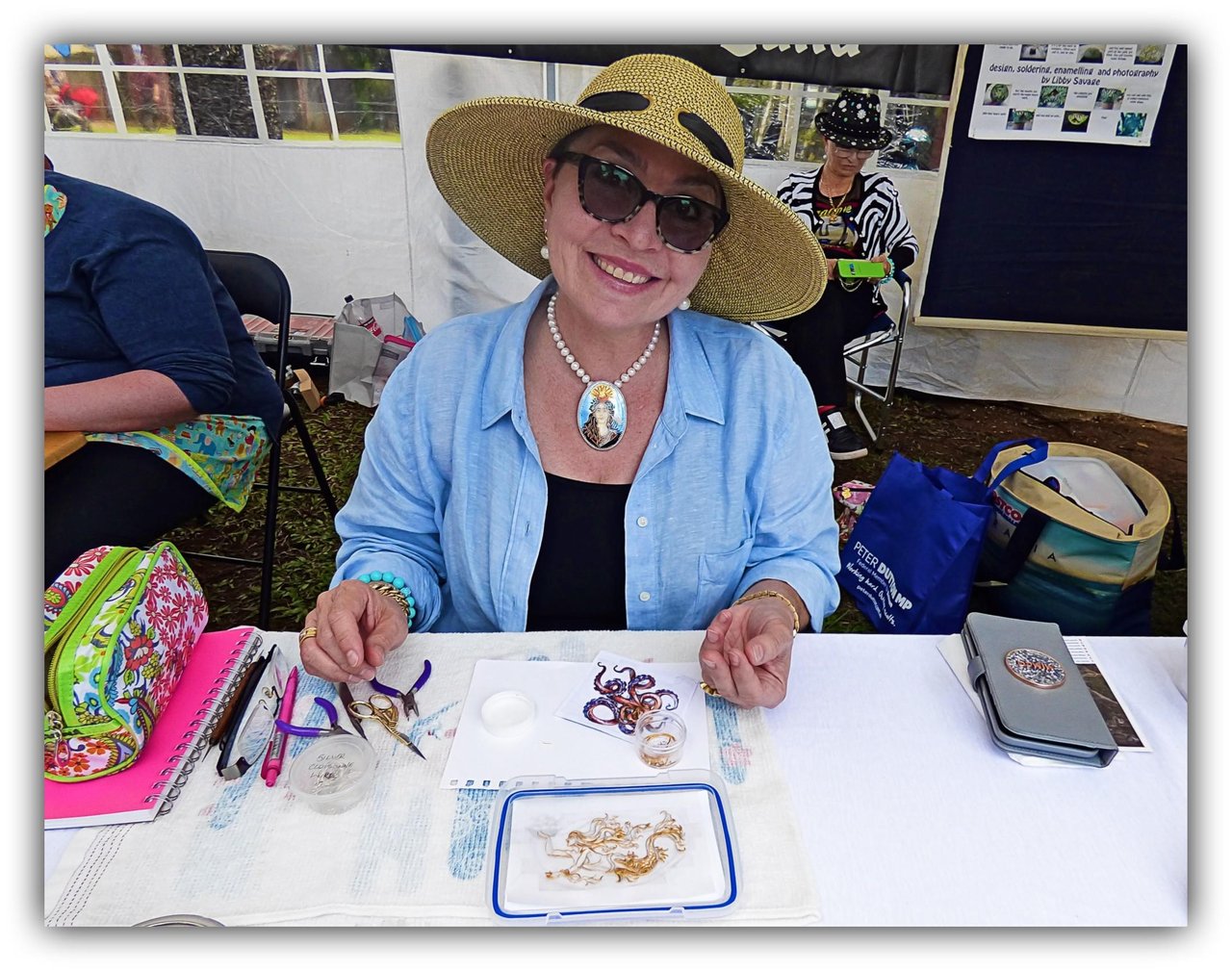 She wore one of her own pieces created on a pendant around her neck and took it off to allow me to examine it more closely.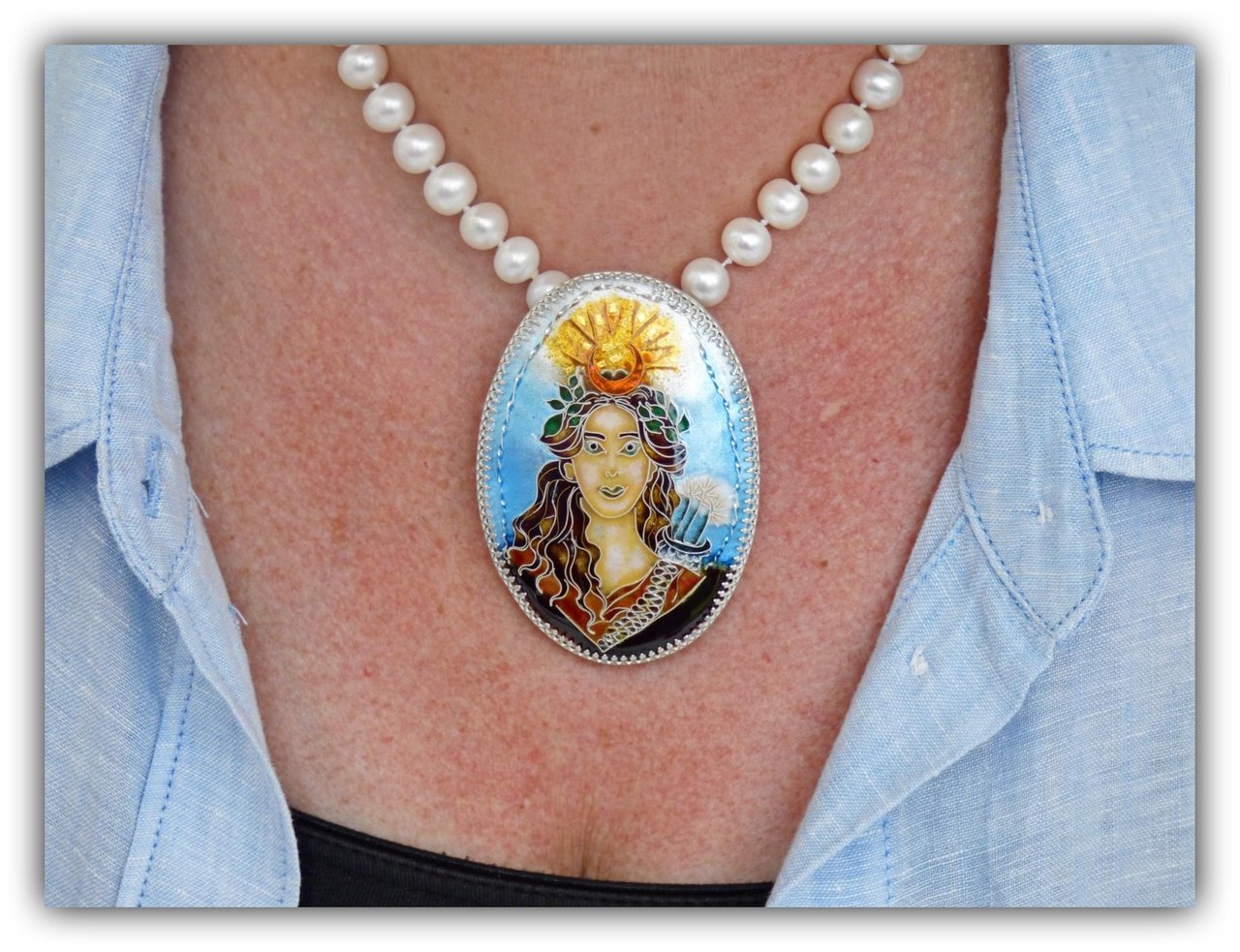 She then continued working on an octopus design but I was completely distracted by the size of the diamonds on the rings she wore on both her hands.
She was either making extremely good money for her art or was flat out trying to replenish her bank account after investing in her diamonds. They were simply gorgeous.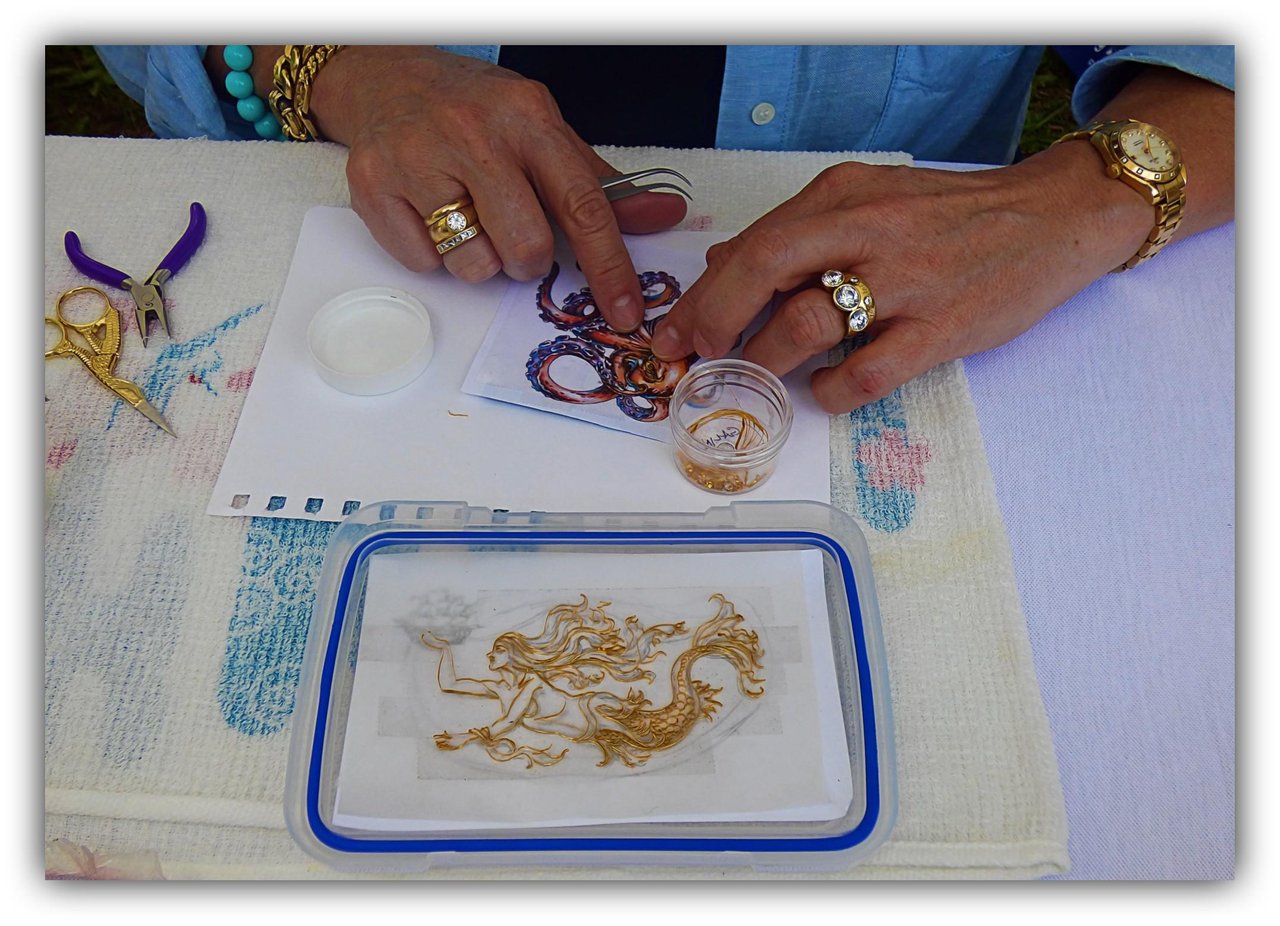 Most of the stall holders had information about their craft available for interested buyers. Many offered workshops to teach people who were interested in learning how to make their own creations.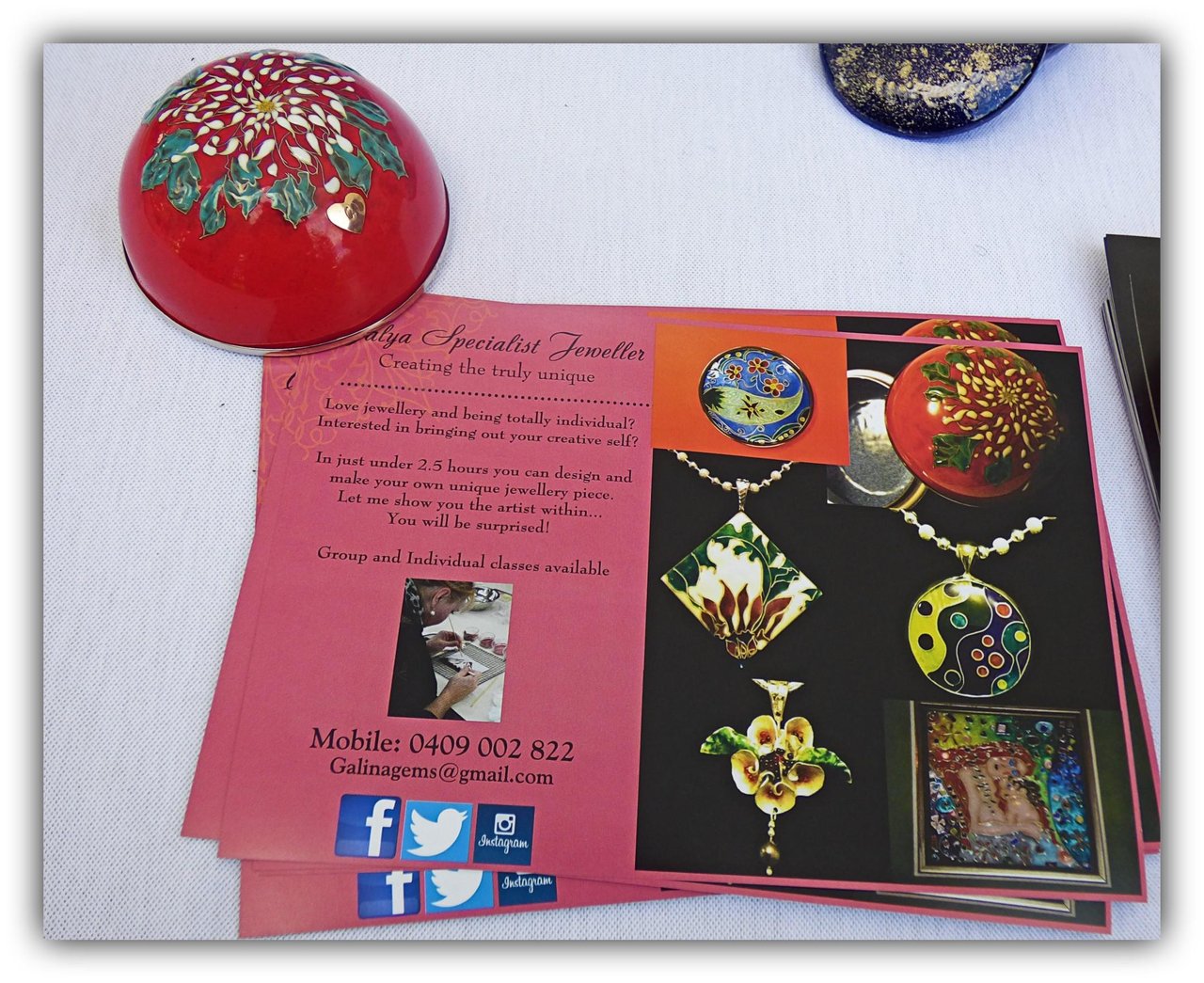 It's not every day that you come across an artist working on a clay sculpture. What I enjoyed seeing during my tour of the Fair was just how passionate the artists were who were working on their craft and doing demonstrations. And this gentleman was no exception.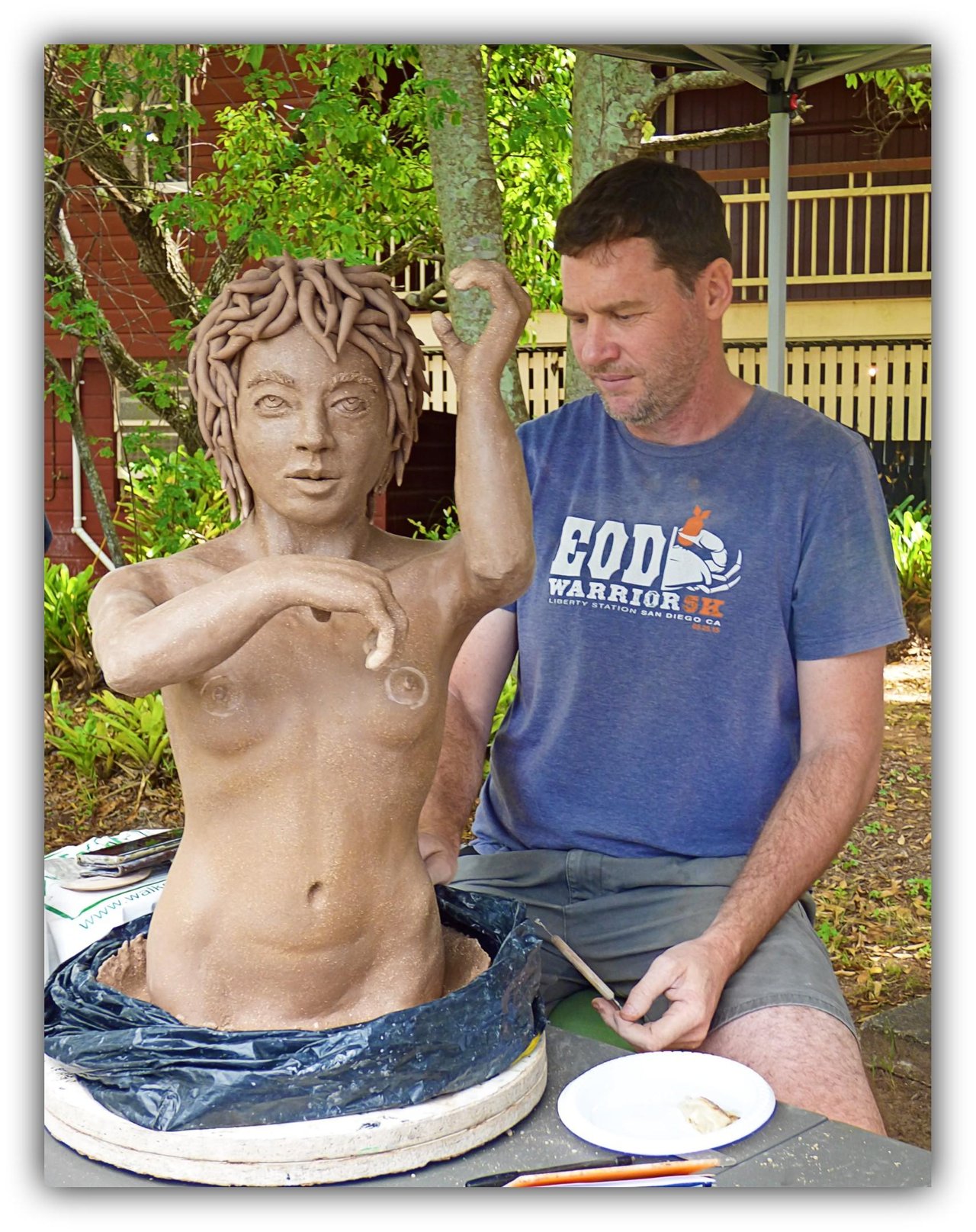 I asked him if he used a model to produce this interesting looking lady with the unique dread locks. He said that it just evolved once he began working on it.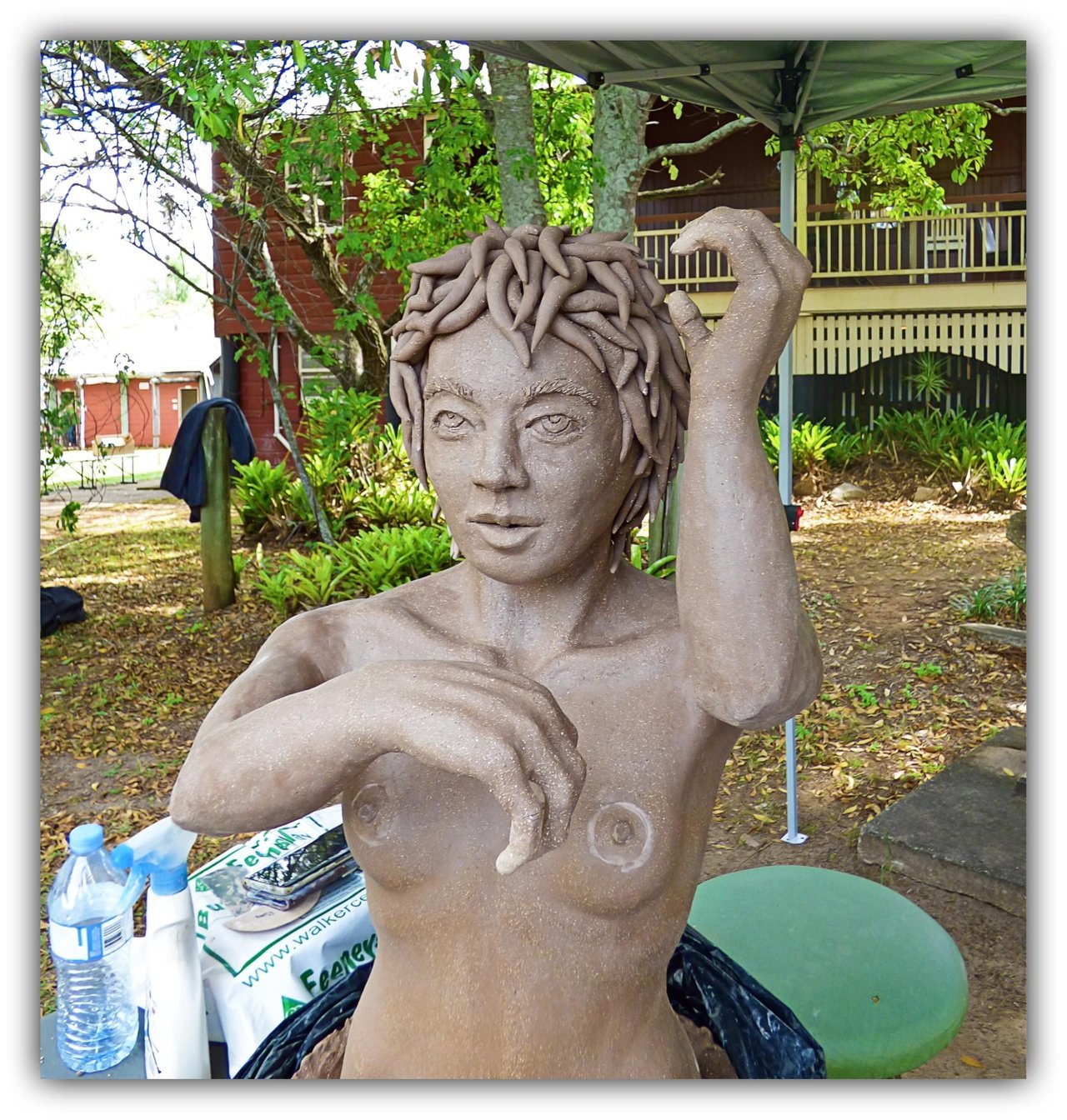 I really liked the detail he created on her lips and I could see her personality developing.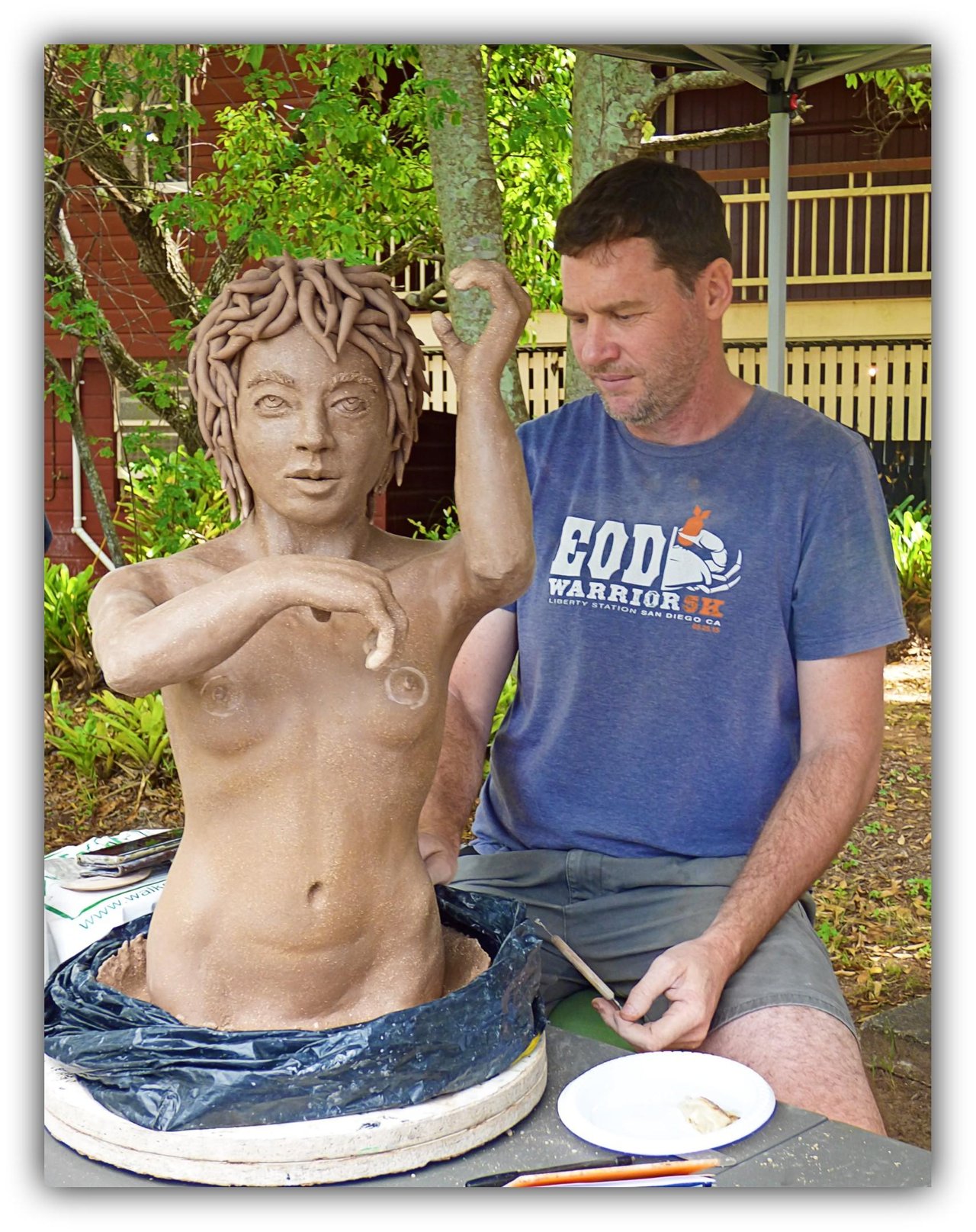 He showed us some pottery mugs his daughter had made and it was clear that she was following in her dad's footsteps with her love of working with clay.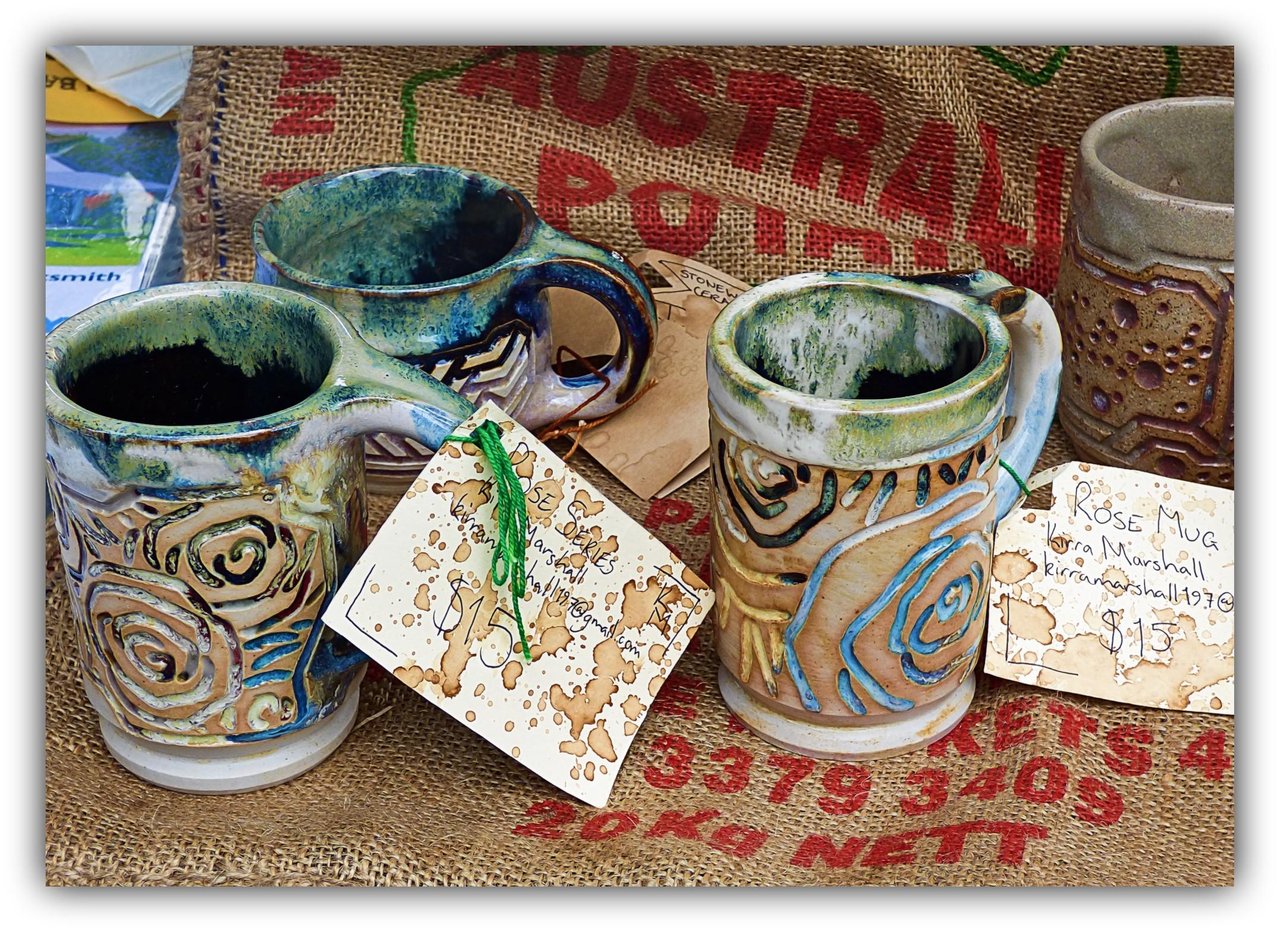 I was fascinated to see what was involved with making guitars and it was soon obvious that a lot of skill was required to perfect their craft.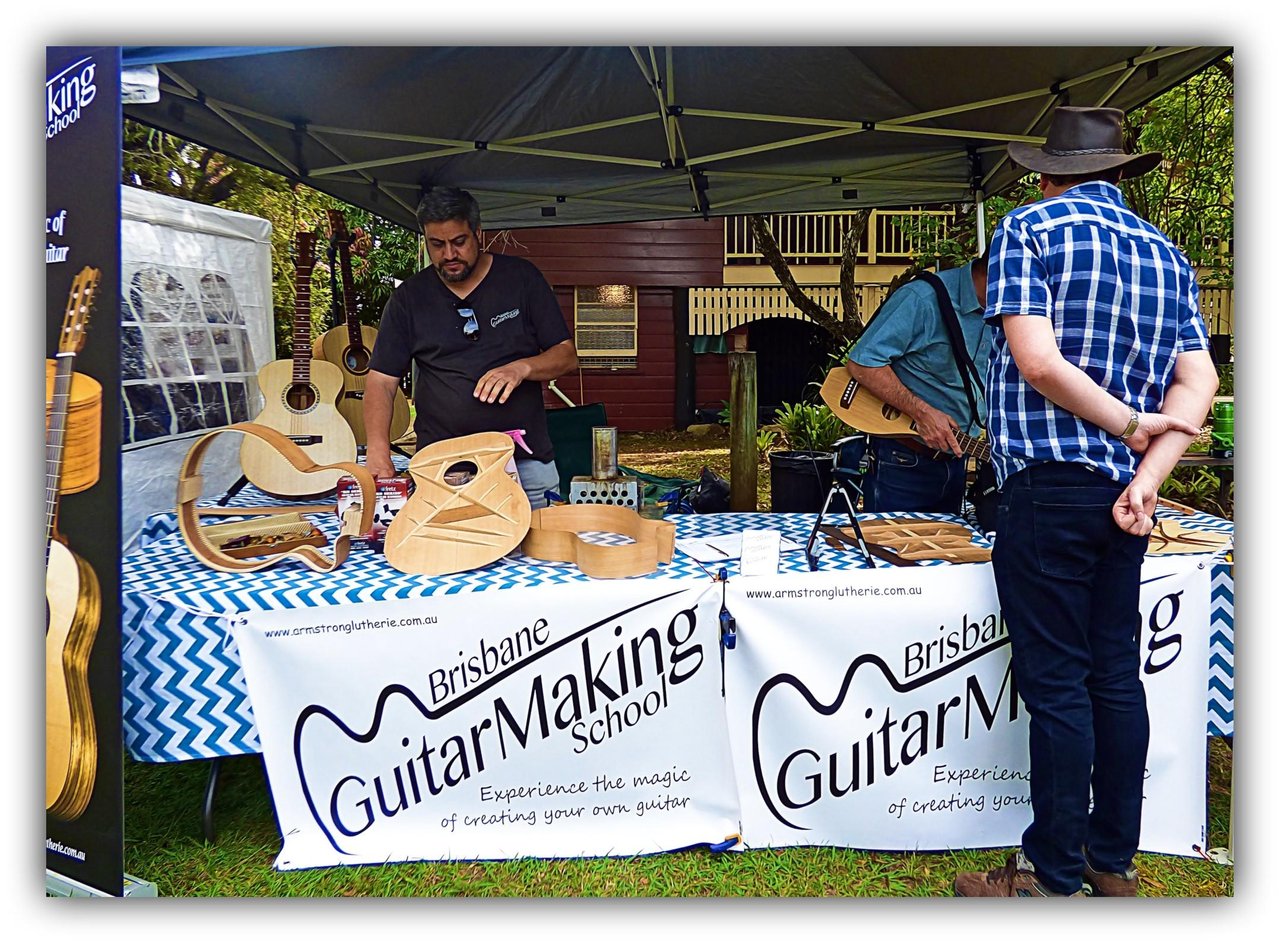 There was so much more taking place at the Trade fair but it would make this blog too long to include it here, so I think I will bring you Part Two next Sunday if you are interested.
Source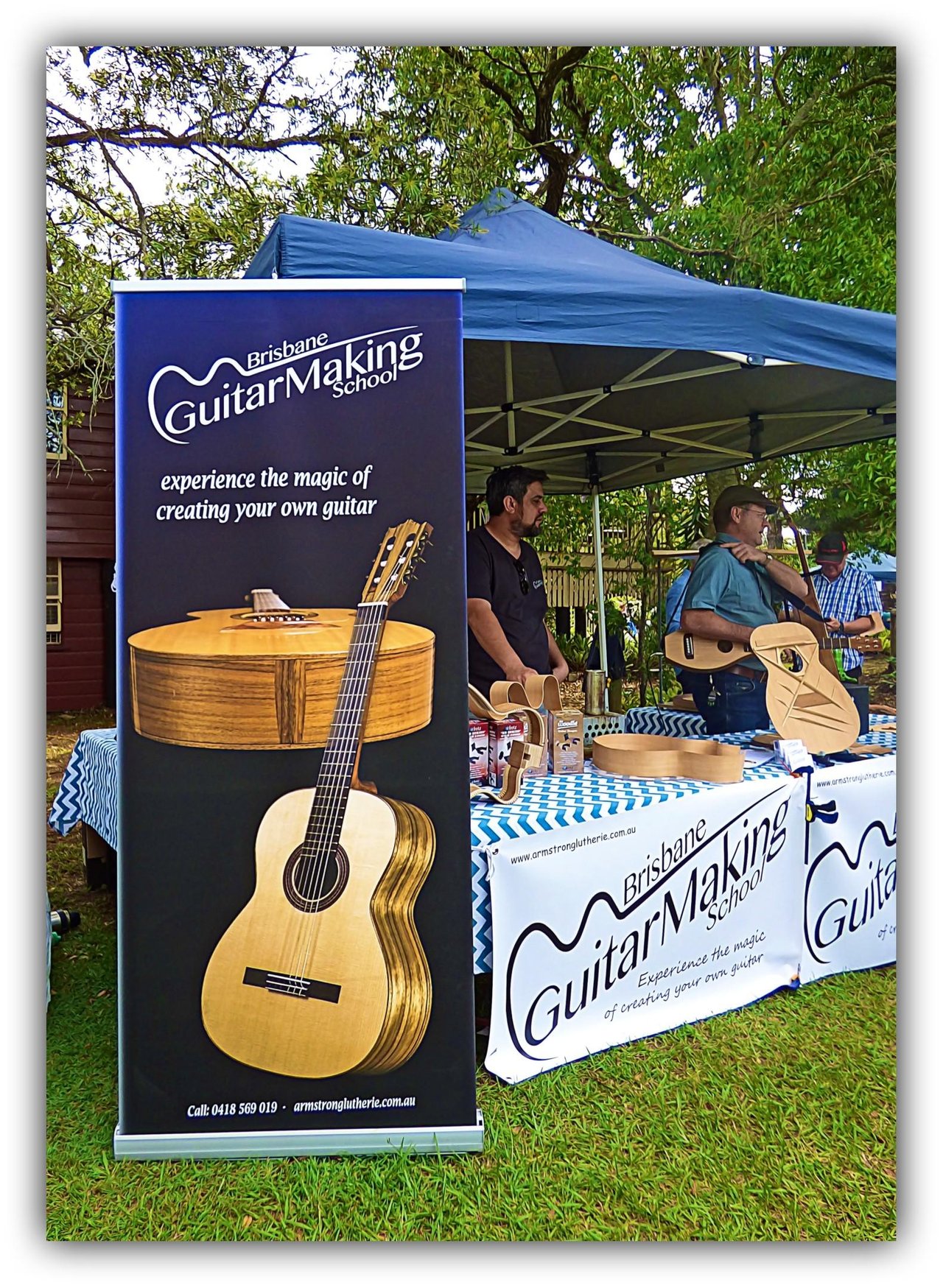 THANK YOU FOR VIEWING. HAVE A GREAT DAY.