So today I want to share with you about this new project I been working on for the past few month or so.
The plan is to take this 70 sqm old building, covered with galvanised iron walls that used to serve as a mechanics place and turn it into a Self Sustainable, Fully Automatic, Solar, Hydroponic Micro Urban Farm.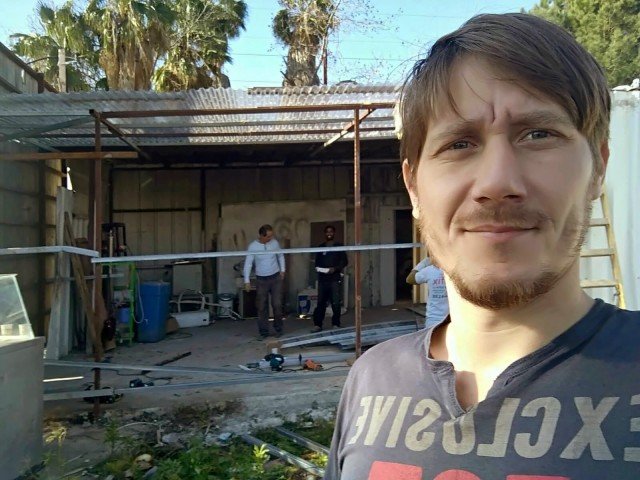 The name sounds big and complicated , but really it is all much simpler than that...all we going to do is take this place a part, build it as a semi-greenhouse construction, put bunch of hydroponic systems in there, connect the whole thing to and iOT automation system and plug it to some solar panels (later on we are planning to add some additional elements that will allow it to be fully self sustainable).
We building this place to showcase a wide range of urban farming solutions that can be used for growing quite a bit of food in an urban environments, fully automatically and without any dependencies on outside energy sources.
The place will also be used for workshops and courses on various topics of sustainability in general and hydroponics and urban farming specifically.
I was planning to write about the whole process in one post, but as we still working on the place and as that posts would be very long, I decided to split it up into series of posts, I will try to publish them as we progress.
Hope you enjoy the progress :)
Here is a short video showing the BEFORE :
How it all started
We been looking for quite a while for a suitable place, we wanted it in a crowded residential or commercial area, that not being used for anything worthwhile, but we also wanted to have a big enough space for both indoor and outdoor setups.
So after a few candidates we finally chose this old structure, right on the main road, next to a big commercial plaza and a residential area.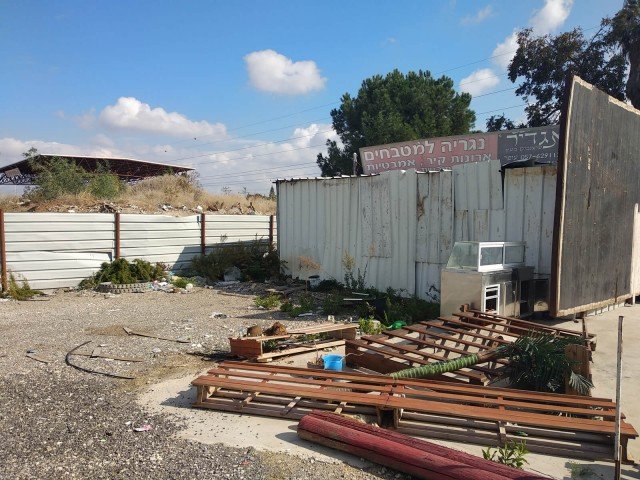 Its not in the best shape, but it has some promise
It was in bad shape, but in a prime location, it had a very low rent (compared to some other places we seen) and the landowners seemed chill enough and as we like challenges, we decided to go for it.
The place was messed up both inside and outside, it seemed that years of neglect and the lack of proper garbage disposal turned this place into a junkyard.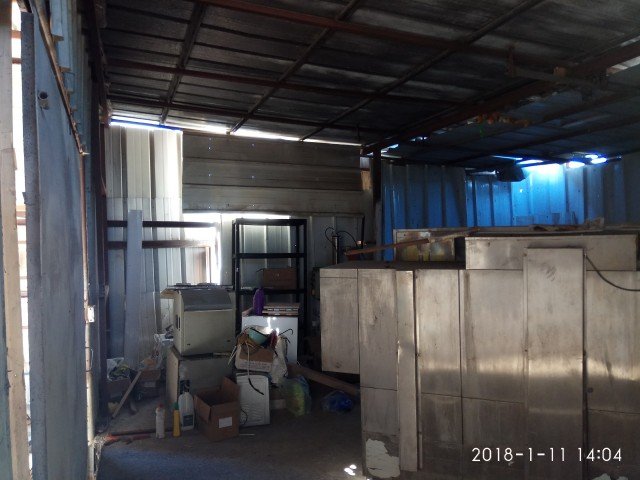 There were garbage everywhere, old machines from a nearby "metal recycling center" were all over the place, beer bottles, old clothing and bunch of other less identifiable trash was all over the place.
And after spending a few days of cleaning up we finally were able to move to our next step.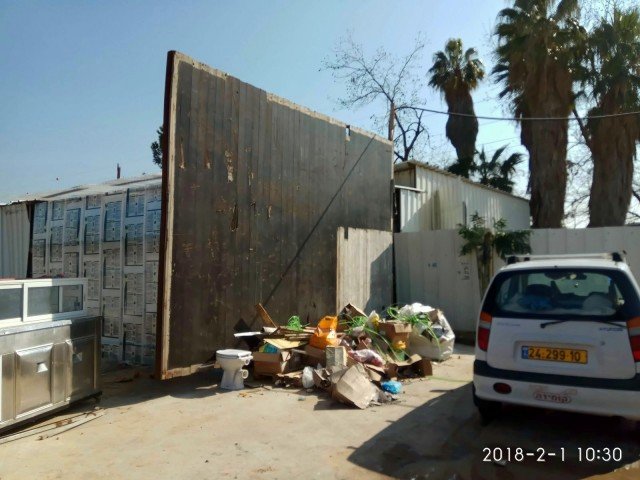 Building the Roof of the "Semi-Greenhouse"
So as mentioned previously, the plan is to convert part of the place into a greenhouse, while leaving the rest of it for indoor growing and some other growing solutions.
In order to be able to move some walls and to remove parts of the roof, we first had to structurally strengthen the whole thing.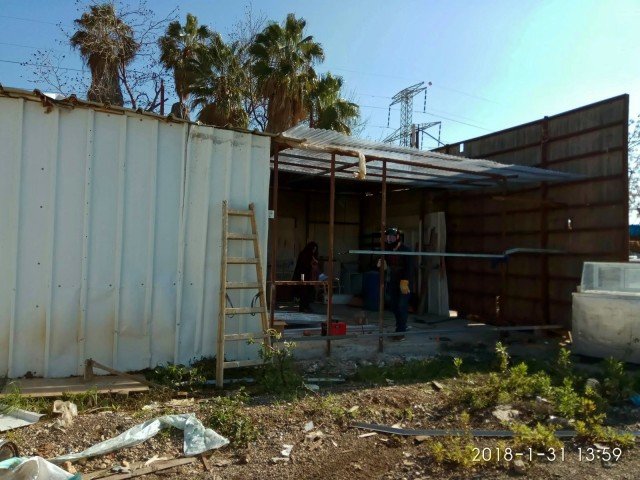 You can see that it was built as a temporary solution for the previous owners.
Due to some heavy building regulations in the area, people often build those temporary structures in order to save them the hassle of getting a permit to build something more structurally sound.
So the first step was to add a few more metal profiles to strengthen both the roof and the walls of the building.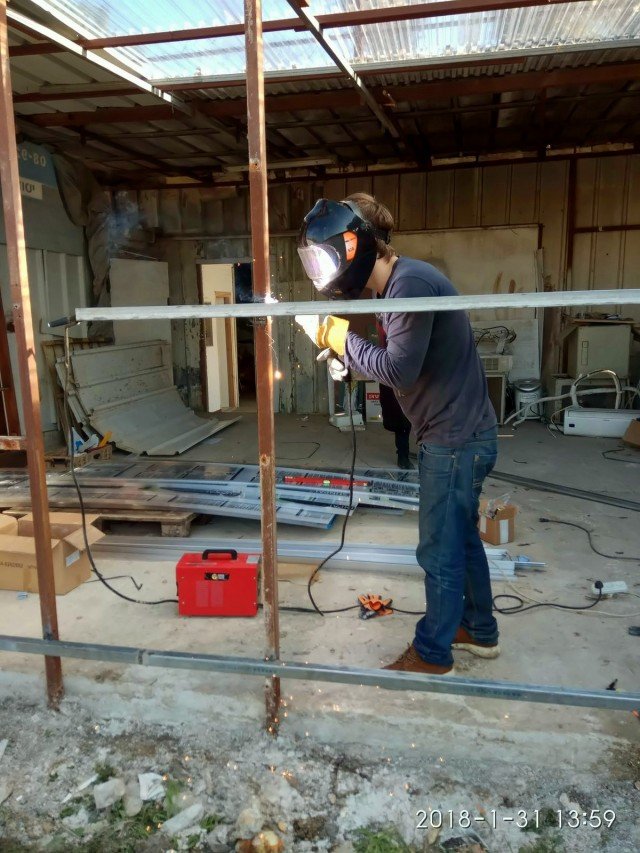 For the roof we decide to use a semi-transparent corrugated coroplast sheets called "Suntuf".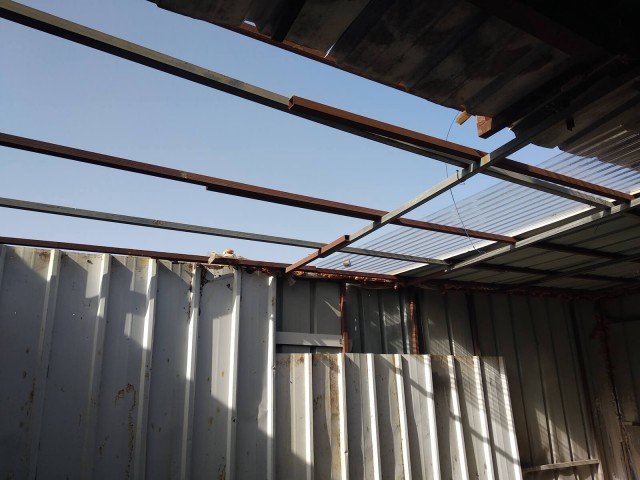 They have 90% Light Transmission, very lightweight and have a great weather and UV resistance.
This will provide us with lots of natural light, while filtering all the harmful spectrum.
So we stripped about ¼ of the roof from the original corrugated galvanised iron sheets that was there probably for 30 years or so, it wasn't an easy job as we were not 100% sure that the roof will hold our weight while we climbing.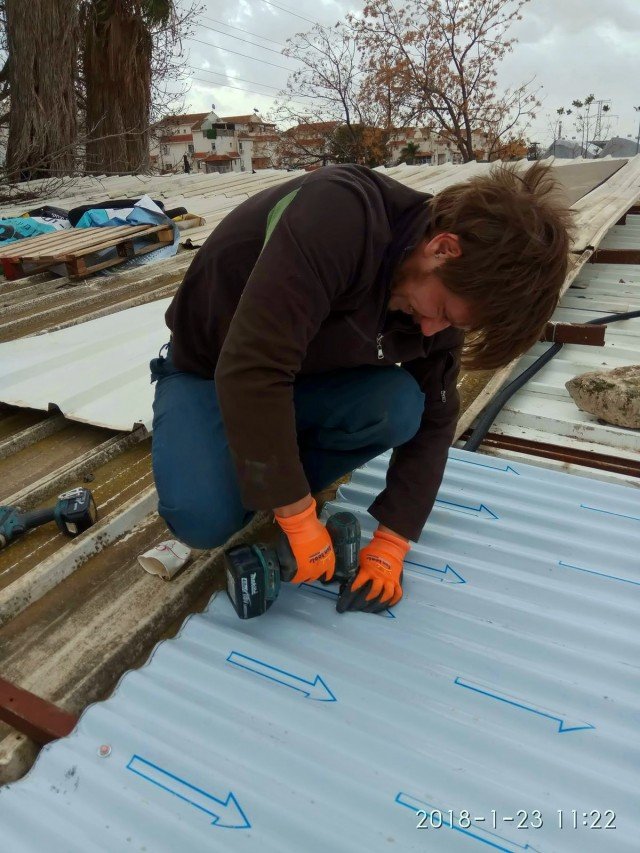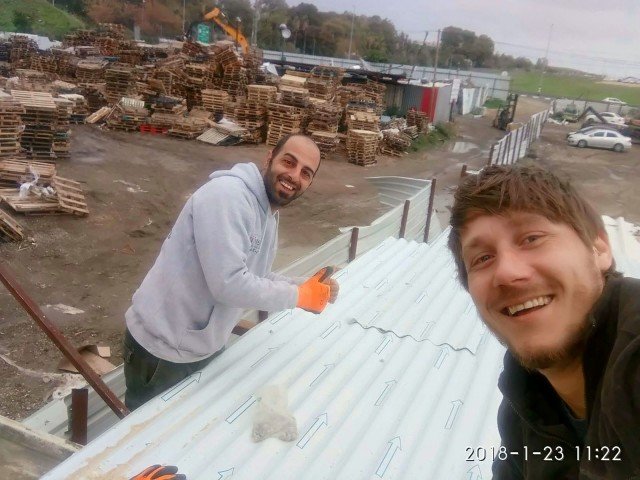 But it did hold us and with some custom fittings and stitches we were able to lay out our brand new semi-transparent roof.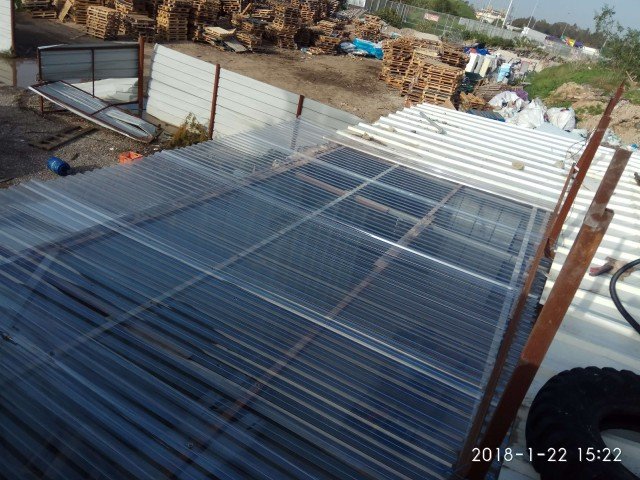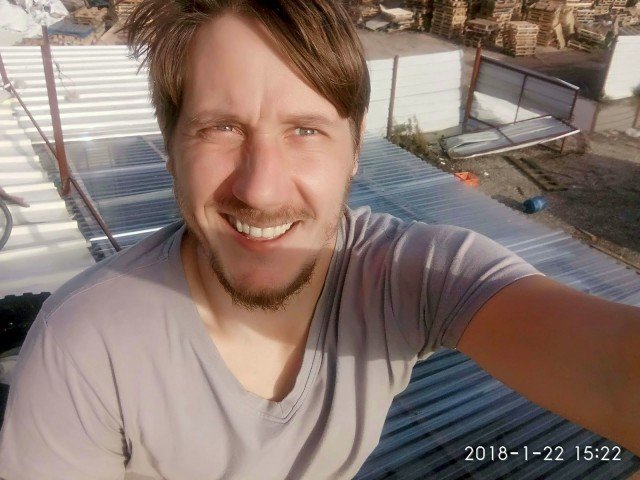 The next step was the walls.
We decided to cover part of the walls with a slightly stronger material but still keep the transparency.
So after a little research we decided to use polycarbonate panels called "Sunpal", they are manufactured by a local company (that makes the prices competitive), but the best part of those sheets is the ease of installing, you simply slide them into the included connectors and you get yourself a lightweight and leak-proof wall that can withstand very high loads, and to accommodate thermal expansion and contraction.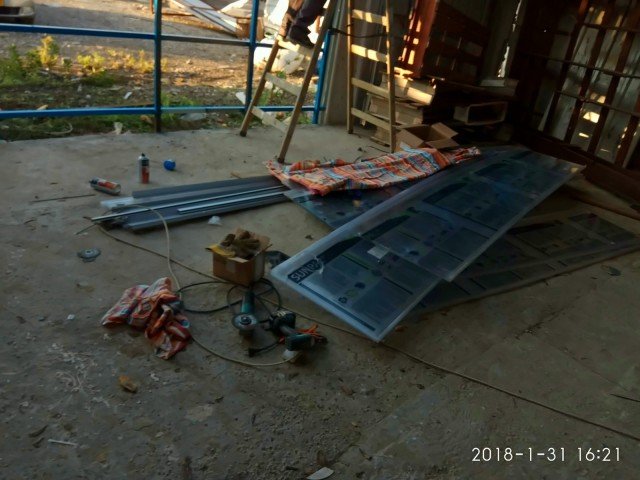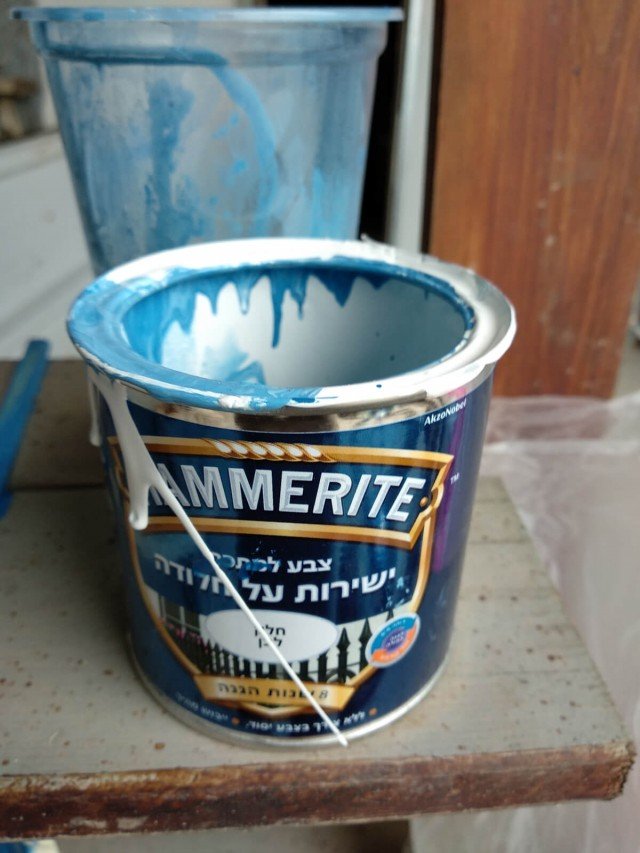 So after a fresh coat of paint on the rusty metal profiles, we started the easy installation.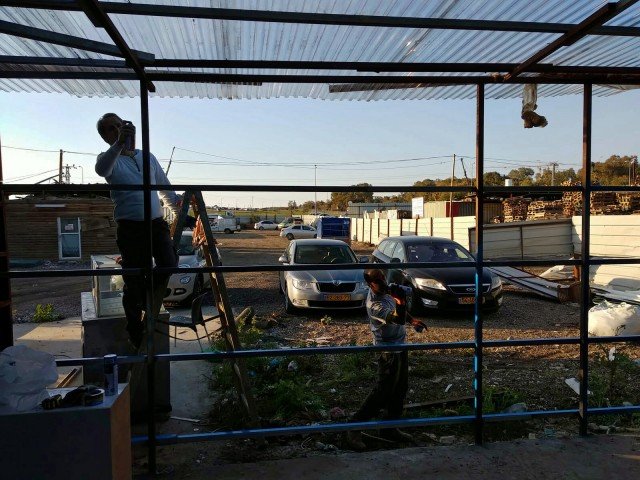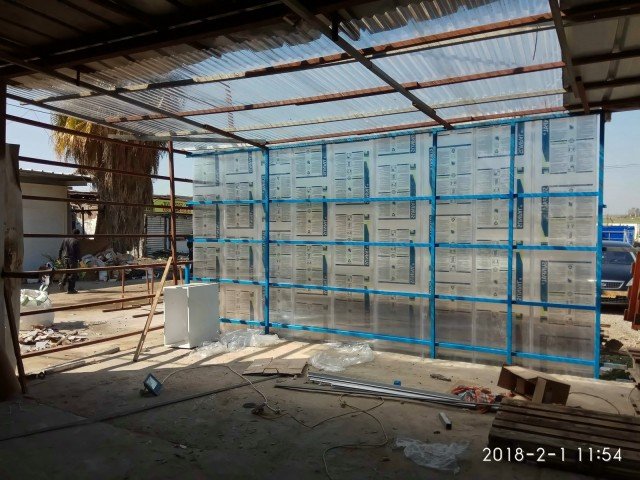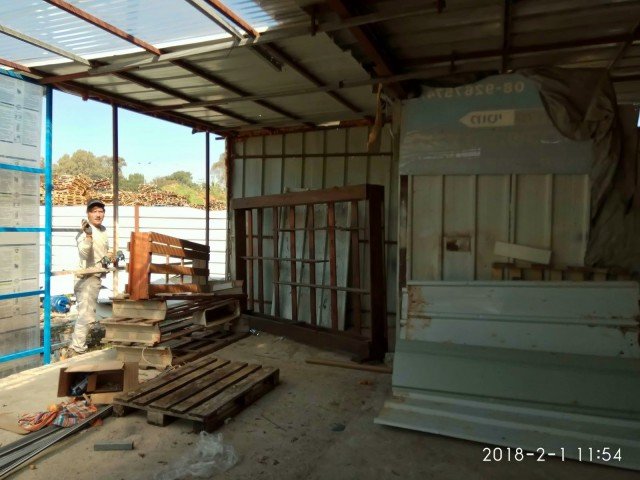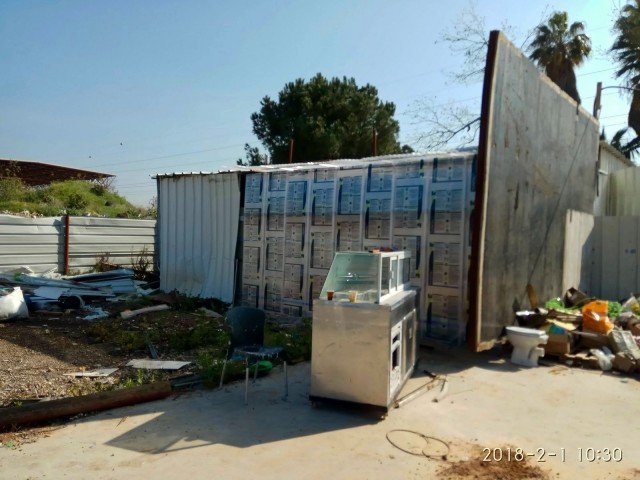 After finishing the main wall, we still had part of the entrance, so we decided to cover it with poly-carbonate sheets, just to provide it an nice even look.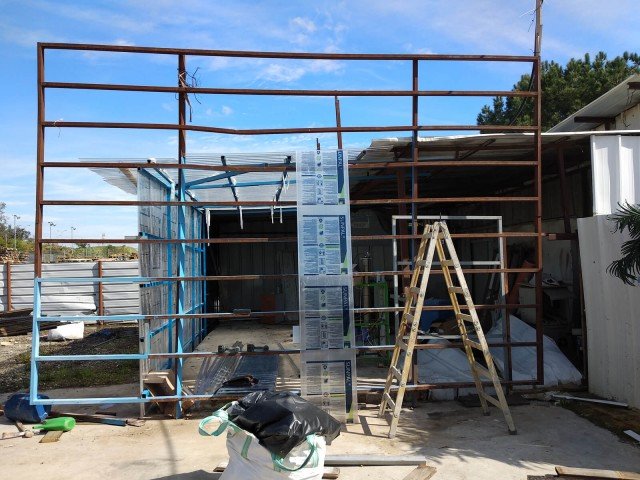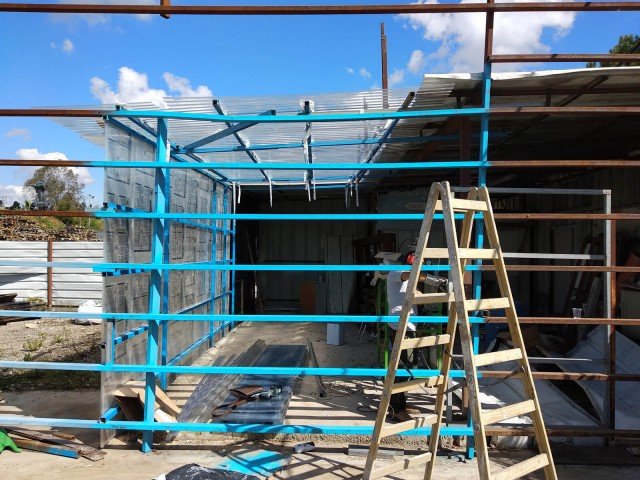 For the last part of the visible wall we decided to use wood, it will provide a nice country house look, and will allow us to use the wall to hang stuff inside.
Luckily, the previous owner had attached a heavy ass ex-cabin floor to one of the previous wall of the structure, it was welded in … but it had some nice thick planks that were exactly what we needed.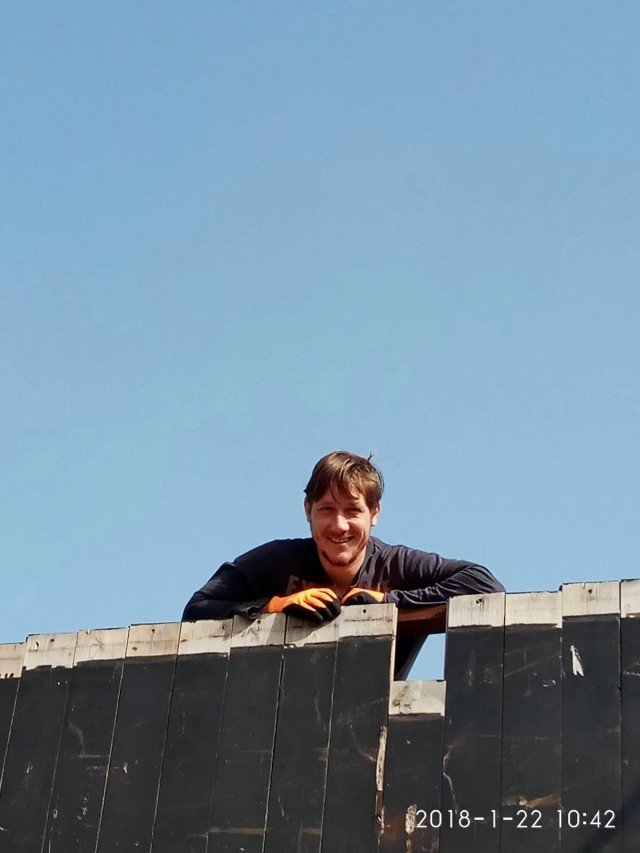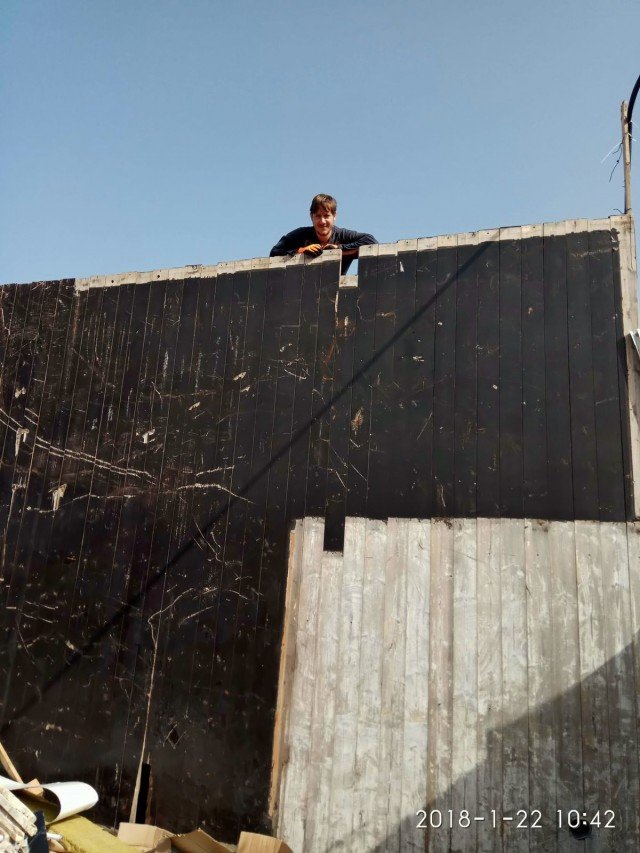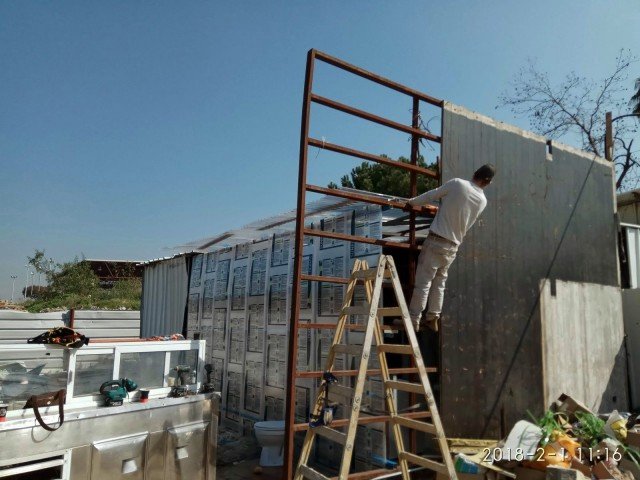 So after adding a few more metal profiles to the walls to make them structurally sound as possible, we have screwed our reclaimed planks and the walls were back in place.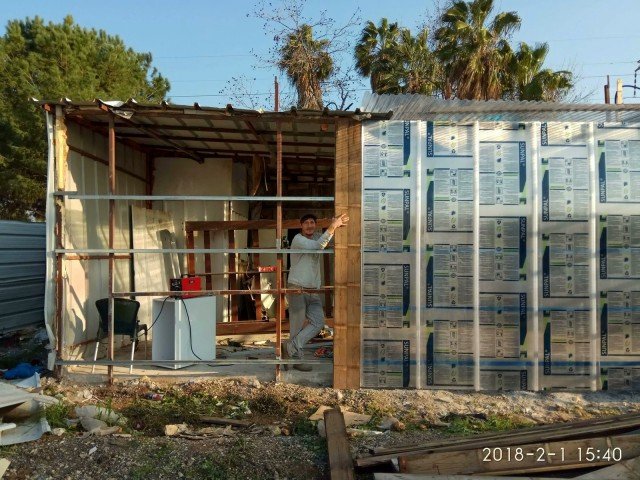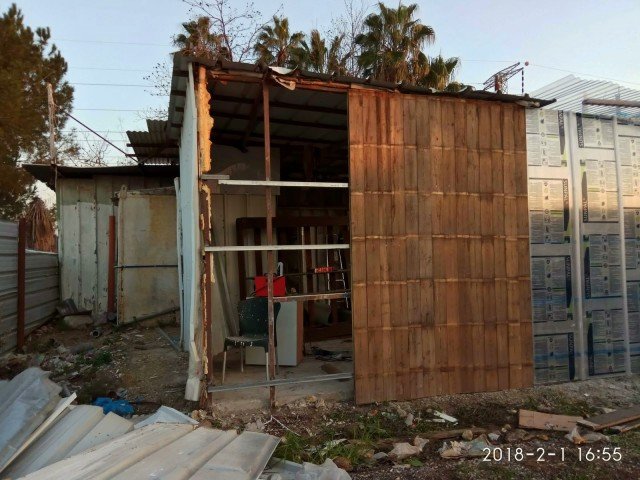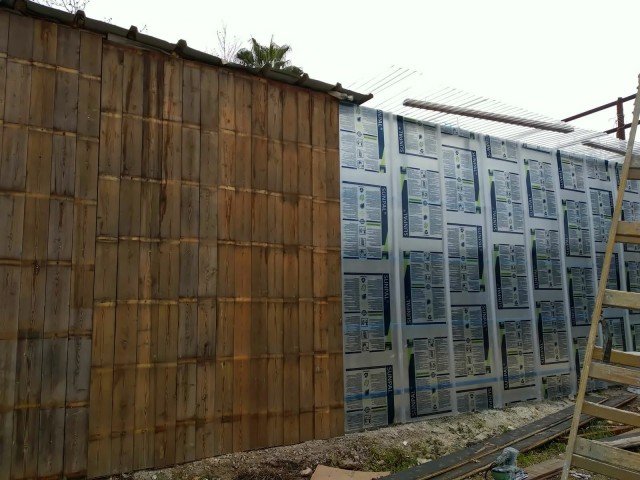 A fresh coat of lacquer and we are ready to move on...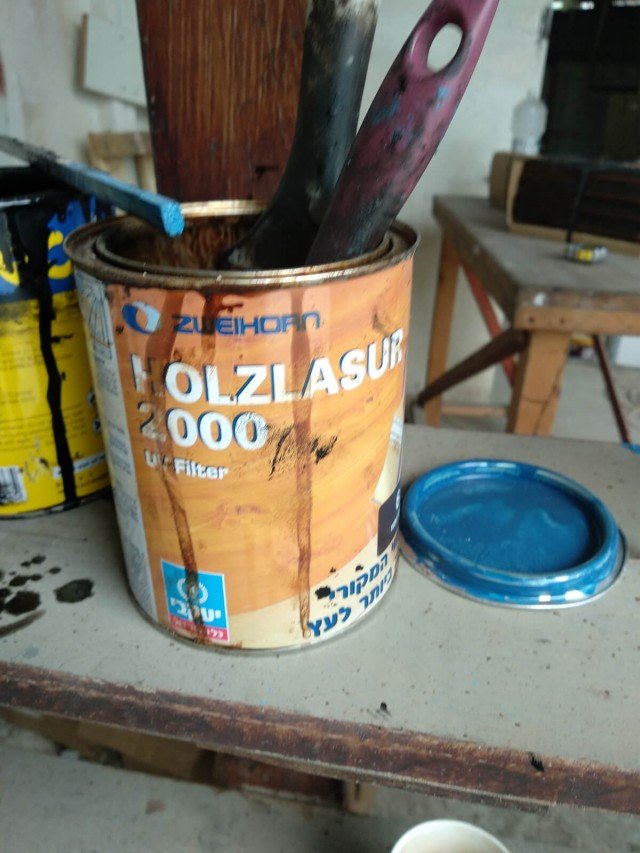 The last step of the structure was to open our new door, so after a bit more welding and screwing we finally had our structure back in place.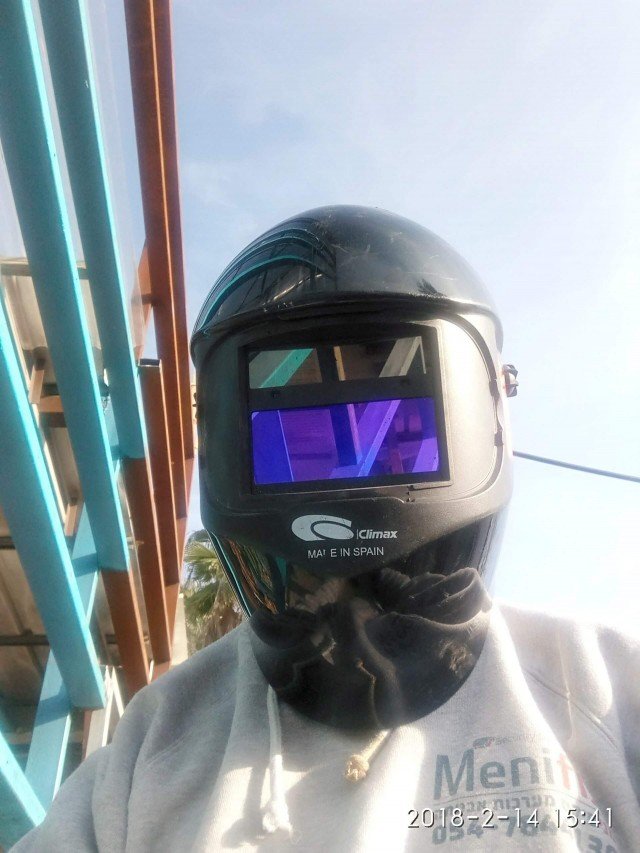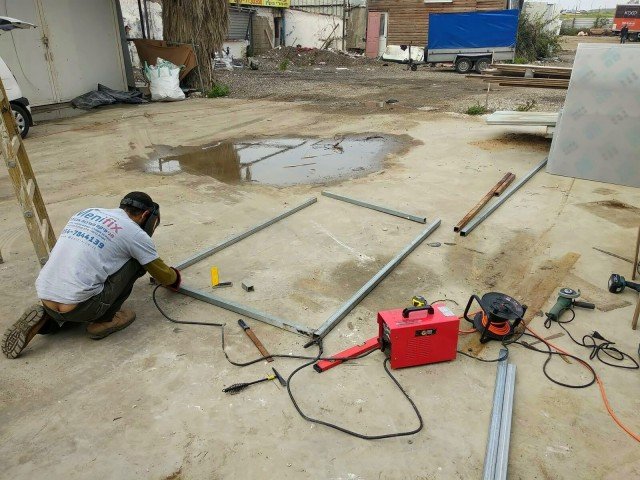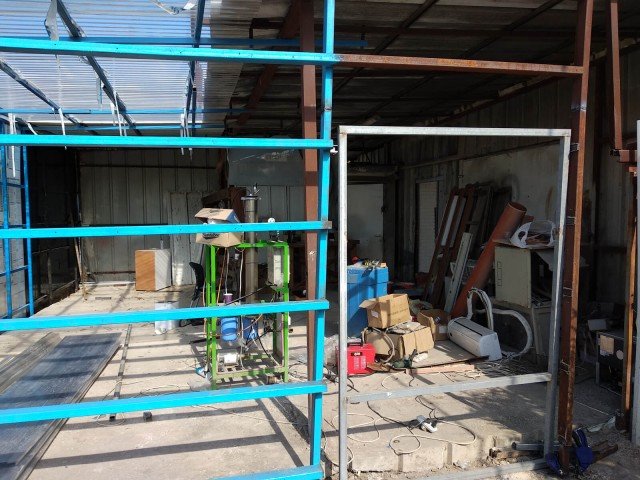 It turned out to be quite a nice entrance, that will allow us to properly secure the place but also bring in some big equipment.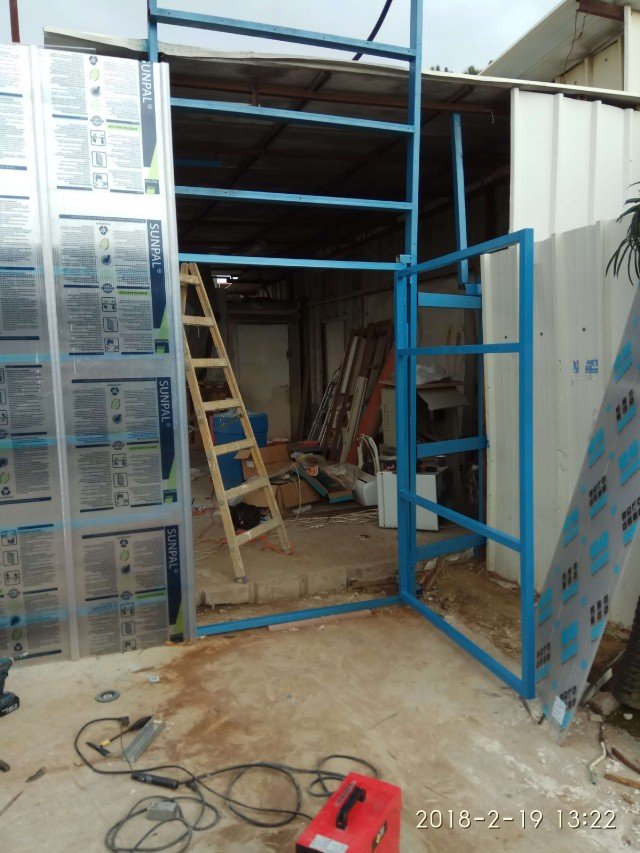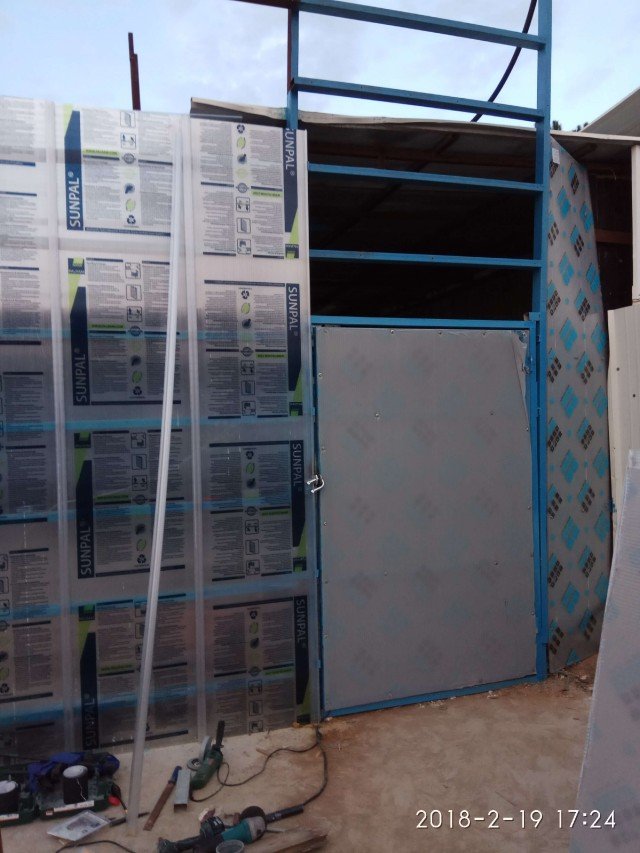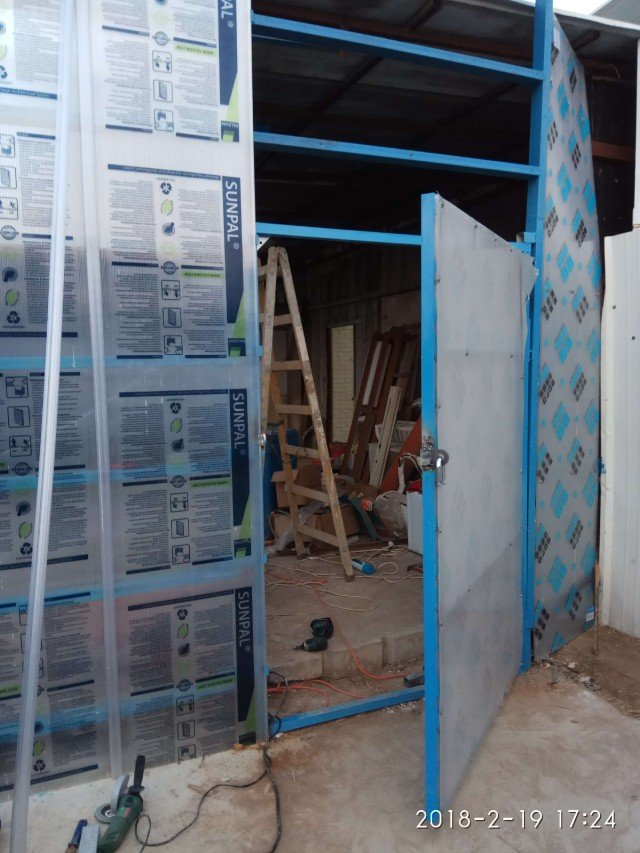 The place started to take shape...we have managed to seal most of the leaks, we got ourselves a brand new roof and walls without spending that much on materials.
We still have a long way a head of us, the outside might be looking OK, but the inside still shows the neglect and decay.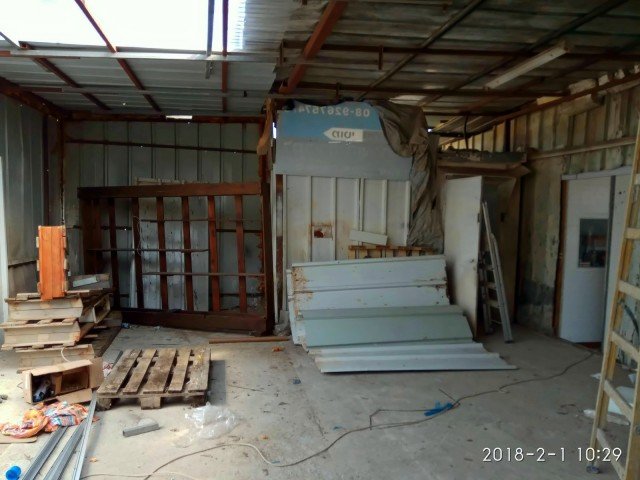 We going to need to clean the place, build a proper electrical grid, hang some lights and pretty much rebuild the whole thing inside up.
But for now to celebrate our progress, we decided to light up the place with some LED lights I got a few weeks back, It didnt had much function...but it gave the whole place sort of a magical look :) or perhaps we were very tired ;)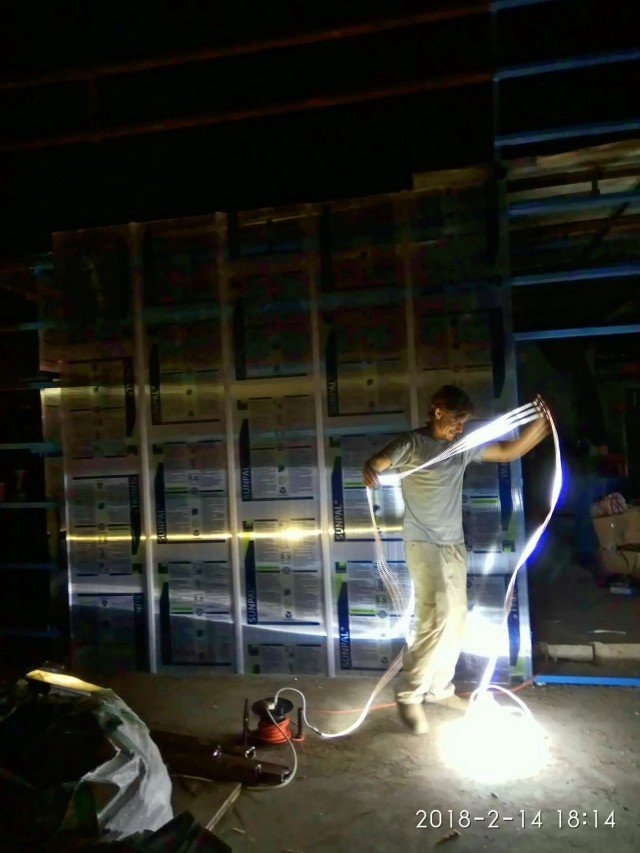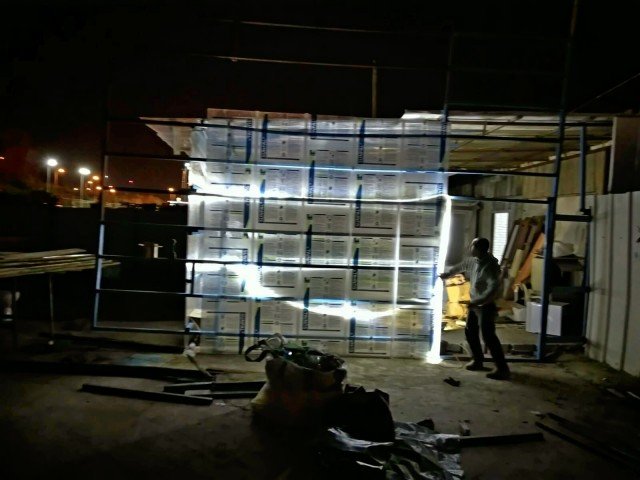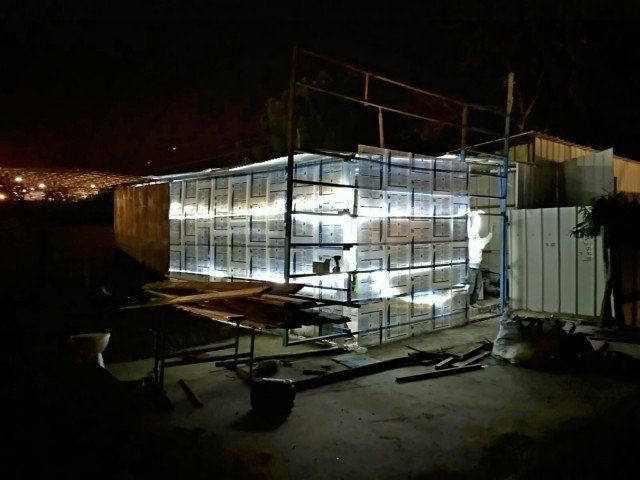 Stay tuned for my next post...here is a sneak peek of what we up to next :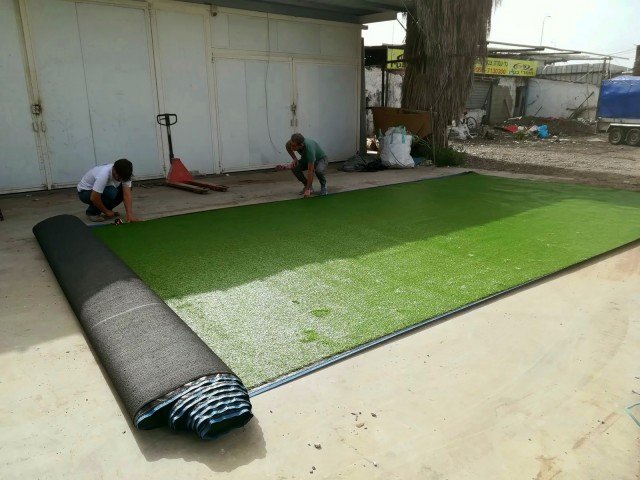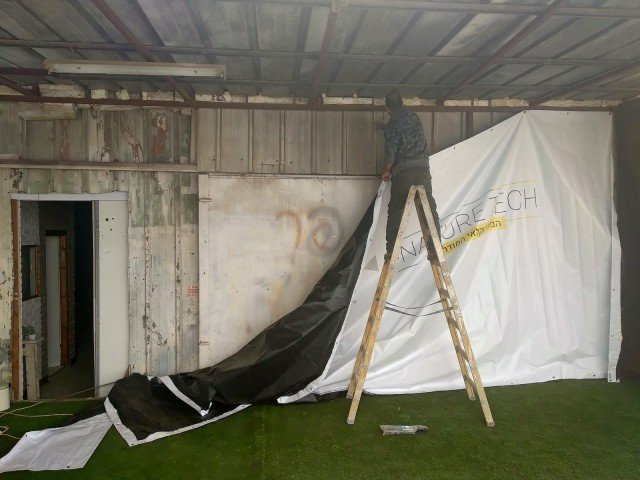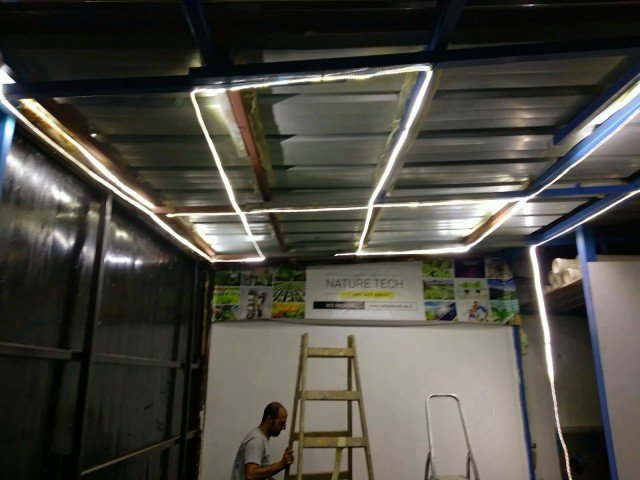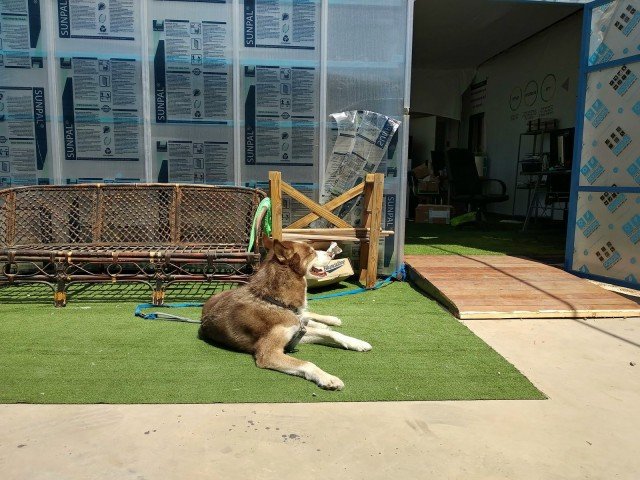 See you next time.
Thanks for reading.
For more stories and photographs, make sure to check out my profile and if you like some of the stuff then perhaps consider UPVOTING, FOLLOWING and RESTEEMING.
" The real voyage of discovery consists not in seeking new landscapes, but in having new eyes."
~ Marcel Proust



Check out some of my latest posts:
Sustainability Curation Digest #4 👨‍🌾🌼👩‍🌾 by Carpedimus - MSP
An afternoon Jam Session with Friends from All Over the World - Penticton, BC Canada - Cute Baby Photo inside 😻😘😍
Sustainability Curation Digest #3 🌸🍄🌹 by Carpedimus - MSP
A few Crazy Stories from My Life that I have Never Shared Before - I am Pasha - #introduceyourself