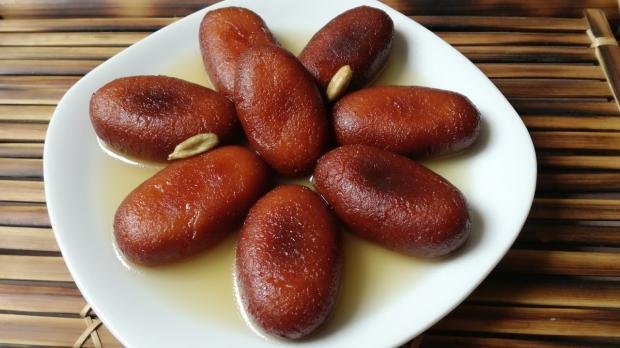 Source
Ingredients
Powder Milk - 1 cup
flour - 2 tablespoons
suji - 1 table spoon
baking powder - 2/3 pinch of
ghee - half teaspoon
liquid milk - half cup
food color - a few pinches (optional)
oil - Mawa for frying -
1 cup
sera Ingredients water -
3 cups of
sugar - 2 cups of
cardamom - Mix 3 cups of
preparing
milk powder, flour, sugar and baking powder in a bowl. Mix ghee in the mix. Make a little bit of liquid milk and make it. Give me the food color. When the glue is made of the dough, grip the hand and grab the opposite part by holding it in the hand. Next, give the shape of blackjack in length. Cover the sweet when made.
Heat the pan with the water in the stove. If you are hot then give sugar. Break the cardamom when the sugar melts. Reduce the heat when the spraying begins.
Now you have to take dough in black pepper oil. Heat the pan with oil and fry the medium. If hot, then roast in a sieve with sweets. Before leaving the sweet you will see if the oil is too hot. If the excess of the hot oil is sweet, the outside part is fried, but the inner part will not be fried. After a while, take a little bit when sweet oil starts to rise. After frying for some more time, keep stirring constantly after the sweet reddish. If you want to lighten up the dough, add sugar to the stove and keep the medium dry. Keep it for 10 minutes. Sprinkle occasionally. After 10 minutes, when the sweet swelling, cover the ceramic vessel and cover it for 1 hour. Serve the testy kalajam.