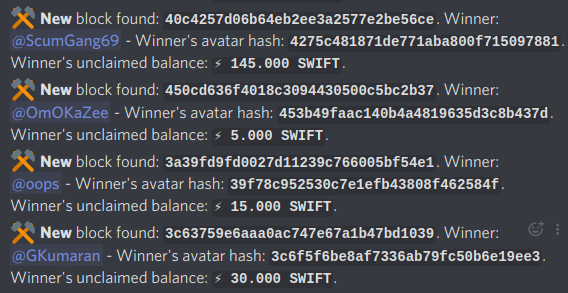 For transparency reasons, winners are selected in a deterministic way based on the SwiftCash blockchain. Each user has an avatar hash created by Discord which is contingent upon their avatar so users can change their avatar and try winning new blocks with a different hash. The block hash in the messages are the second half of the block hash in the SwiftCash blockchain, each of which are found via the Proof-Of-Stake algorithm.
Technically speaking, Discord users do not find these blocks and neither do they register them in the blockchain. This is a job that is done through staking with stakeholders who are currently rewarded about 20 SWIFT per block for doing so. This is while Discord users in the mining channel currently get about 2 SWIFT per block without having a stake or hash power. Furthermore, for the sake of transparency again, all interactions with the bot including withdrawals must be done in a public channel with users who have verified their account with a unique phone number.
In order to be eligible for winning these rewards on http://miner.swiftcash.cc, you need to first join the server via an invite link such as the permanent one which is http://miner.swiftcash.cc, and then create an account on Discord in case you don't have one already. Then you need to make sure your account is verified via SMS. Please notice that you cannot interact with the bot in the claim channel, if your account is not verified via SMS.
Last but not least, you need to make sure you have an avatar or profile picture. Once you upload an avatar, you can double check and make sure that the bot has acccess to your avatar hash just like below. Please keep in mind that it can take a couple of minutes before the bot refreshes the list of hashes and therefore any change in the avatar does not change the appropriate hash instantly. This is to make sure no one can exploit the algorithm.

Once you win a block reward, the bot will tag you in the winners channel like this:

You have 5 days to claim the rewards you win. If you do not claim your unclaimed balance within 5 days after you first win, the bot will return the rewards back to the pool and remove them from your balance with a notification in the expired channel. You can easily claim your rewards with the claim command like this: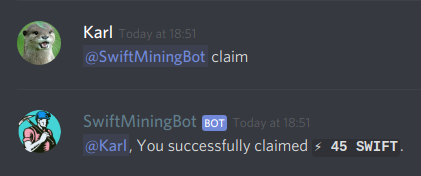 Last step is withdrawing your funds into an address in which you and you alone have the private key to. If you do not have an address, you can easily create one using the paper wallet or you can download the core wallet of your choice depending on your OS by clicking HERE or use our radically easy-to-use and open-source mobile/web wallet HERE. Please keep in mind that there is no expiry for withdrawing however it is not recommended to accumulate too much on Discord. You can easily withdraw your rewards like this: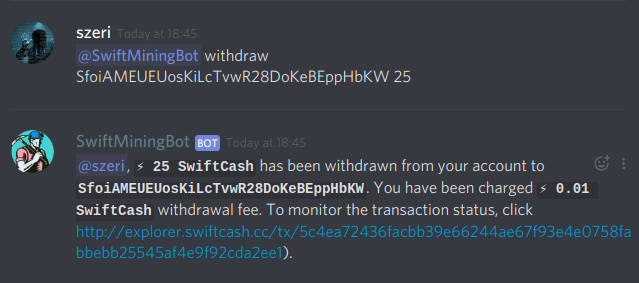 STEEM | DISCORD | TWITTER | GITHUB