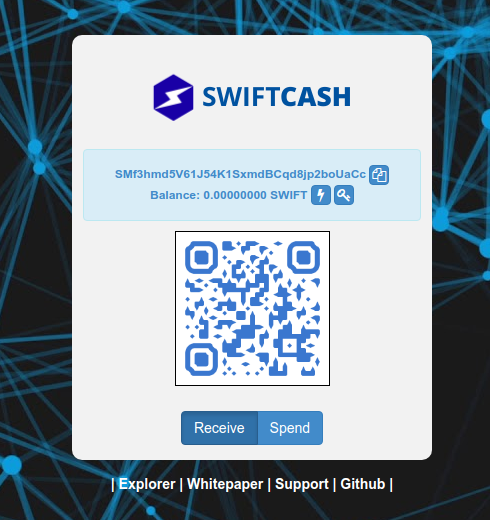 Our mobile-friendy and radically easy to use web-wallet is now live! It's 100% open-source with client-side signatures. Your private key will never leave the browser! https://wallet.swiftcash.cc/ - please keep in mind that the app is running straight from github and can also be accessed via https://swiftcashproject.github.io/webwallet/
SWIFT's web wallet is an open-source wallet written in html, css and javascript. All signatures are handled on the client-side and private keys never leave the browser. To secure the account of users who login with an email and password rather than a private key, the wallet hashes the email and passsword 144,000 times, and then uses the final hash to create an address and private key in the end. The wallet also enforces very strong passwords using a password strength meter to further secure the accounts against brute-force attacks.
To avoid becoming a victim of phishing attacks, make sure you always double check the domain in your browser's address bar. You can also download the wallet and run it locally. But you're still going to need Internet in order to transact with the blockchain.
Make sure you vote yes to the proposal as the work has been delivered before any payment. Once the proposal is approved and paid, we're going to have a brute-force contest to prove the strength and security of the web wallet. An account will be made and filled with 10K SWIFT, the email and the length of the password will be revealed and the password will only be made of numbers and lowercase characters, and anyone who can crack the account will be able to spend the funds in it. The address will also be staking during the year and anyone who cracks it will be able to take the staking rewards as well as the initial 10K SWIFT. The contest will last for 1 year!
Last but not least, pay close attention to the initial warning message!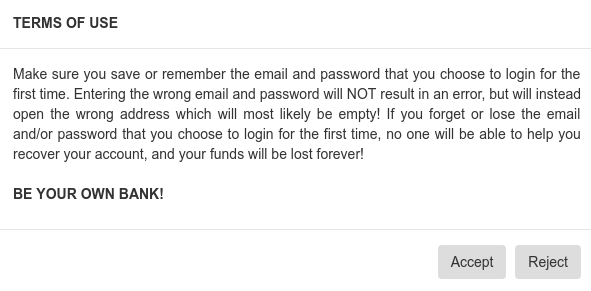 STEEM | DISCORD | TWITTER | GITHUB