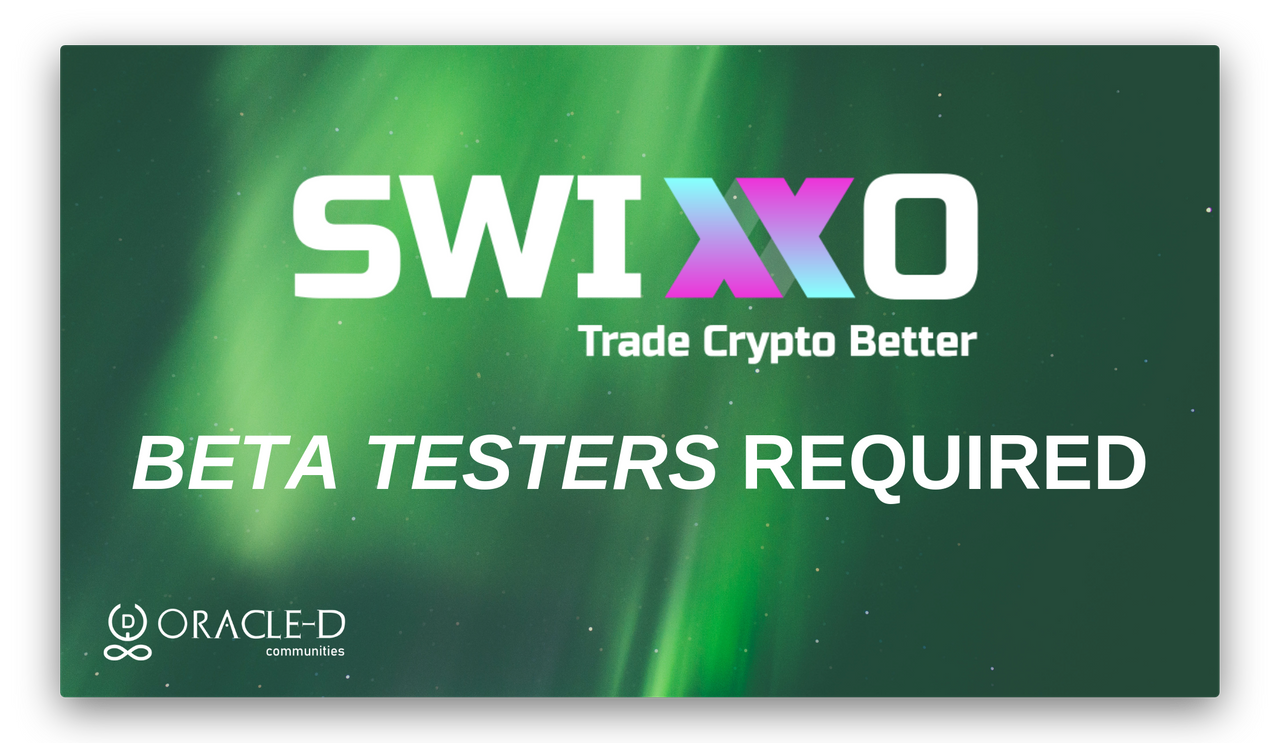 Almost Three weeks ago on 6th March, we announced about @swixxo listing STEEM Token in partnership with @Oracle-d. It's a newly launched cryptocurrency exchange with low fees powered by a cutting edge trading platform.
Swixxo offers its Swixxo Crypto Asset Platform (Swixxo CAP) to users. The platform is intuitive, reliable and secure. With access to a wide range of cryptocurrencies , which we are continuously expanding, our trading application's simplicity pleases beginner traders, and its powerful order functionalities are loved by experienced traders. We continuously enhance our platform according to our users needs.
Source: https://swixxo.com/about-us/

Beta Testers Required
The platform is relatively new, and Beta testers are required. If you a crypto trader of any level, please signup through the link : https://trade.swixxo.com/sessions/signup/AuRBohSKI
Why Join Beta Testing?
If you enter beta testing through above link, you are eligible to get the following benefits:
Free trading in beta phase.

1 month additional free trading.

Thereafter 15% life-time discount on trading fees.
In order to improve the exchange and provide more features, we need your assistance and valuable feedback. Join today to start trading STEEM and other cryptos like BTC, LTC, DASH etc. Offer valid till 23rd April 2019.
Note: Please resteem this post and tag any traders you know on STEEM who might be interested in this opportunity.
Rewards
Talk about your experience and review the exchange through a STEEM blog or vlog and you might get a chance to earn a few upvotes from @Oracle-d account. Don't forget to use the above link for signup.
Contacts
Support inquiries: support@siwwxo.com
General inquiries: info@swixxo.com
Corporate inquiries: corporate@swixxo.com
Marketing info: marketing@swixxo.com
Legal inquiries: legal@swixxo.com

Oracle-D
is a new STEEM blockchain business venture bringing new investment into the ecosystem. Founded by @starkerz and @anarcotech, we previously were co-founders of the #promo-steem and @steem-ambassador projects, and we developed the CAMPUS curation system, which is a fully decentralised system for distributing rewards.
Core Mission
We remain apolitical, and our number one goal is to raise the price and utility of the STEEM blockchain, improve culture and education about the blockchain, and create opportunities which support exceptional quality content creators through collaboration with investors and clients. In other words, to add as much value to the blockchain every day as we can.
Steem Ninja Widget
Welcome to the new Signup Widget for @Steem.Ninja. It was never easier to onboard people to Steem directly from your website! This can be easily integrated into any website by using our "Ninja Widget Generator". You can set a custom logo, brand name and a referrer account which will receive $0.50 USD worth of Steem and 0.5 NINJA for each sold account.


You can support us in the following ways:
Upvote & Resteem this blog and spread the word about Oracle-D and our campaign.
Support our writers and their content which will ultimately empower quality on the STEEM Blockchain.
Join our curation trail in SteemAuto to maximize your curation rewards.


Upvote @Oracle-D witness by going to https://steemit.com/~witnesses
or directly through SteemConnect
Any kind of contribution is much appreciated and thank you for being a part of this Journey! Also, please do not hesitate to connect with us for any kind of collaborations that can help the STEEM Community grow.


Connect with us at the following:
DISCLAIMER:
This is not financial advice, nor a guarantee or promise in regards to any result that may be obtained from using the above content. The information provided here is for informational and entertainment purposes only. It should not be considered as financial and/or investment advice. No person should make any kind of financial decision without first consulting their own financial adviser and/or conducting their own research and due diligence.