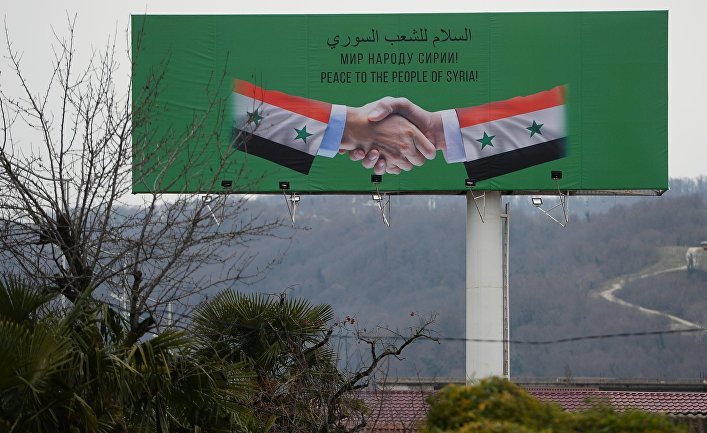 In Sochi, the Syrians negotiate with the Syrians.
But as always, there are those who would not care at all, and the negotiations for a peaceful life, etc.
Many media reported that most of the members of the delegation of the Syrian opposition has expressed a desire to participate in the Sochi conference, but changed its decision after the Vienna conference.
The announcement of the boycott of the meeting in Sochi was followed by the USA, Jordan, UK, France and Saudi Arabia presented a paper, by Steffan de Mistura, as a resumption of the Geneva talks. De Mistura has urged the parties to focus on constitutional reform, the holding of elections under UN auspices and reducing the powers of the government.
Let me remind you that this opposition members (in majority) more than 20 years living outside of Syria. In fact, what they can know about their former homeland? Nothing. Especially if the information presented by CNN or BBC
Moscow platform said that the leak of such a document at this time is aimed at undermining the dialogue in Sochi, describing it as establishing an American mandate over Syria and hostile to a political solution.
The platform announced that the discussion of the content of the Constitution is not the prerogative of the UN or parties involved in the negotiations, but is the exclusive right of the Syrian people.
At the same time, experts believe that the publication of the document by the countries supporting terrorism, indicating their desire to remain in Syria under any pretext, especially after the defeat of their terrorist groups on Syrian territory and the rejection of a political solution. The delegation of the opposition now announced a boycott of the Sochi conference in response to the requirements of those countries that continue to fulfill the promises made to the groups.
SUMMARY:
So , if the opposition does not want to go to Sochi and speak with their own people, than that opposition have no any rights represents the Syrian people. And talk about this . Let them wait calibers and aviation and this will help them to heal their brain