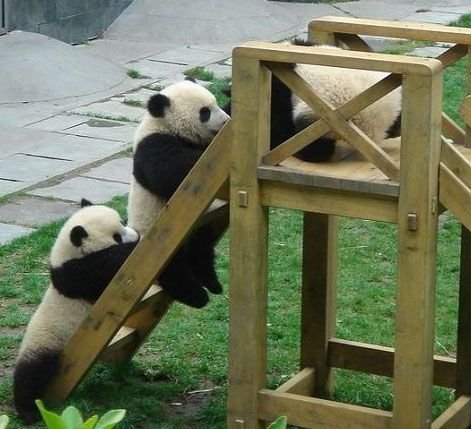 成都大熊猫基地陪国内的朋友去过,陪国外的朋友去过,但都很遗憾的是大熊猫不是全体在室内睡觉,就是全体在室外露台躺倒,随你千呼万唤就是岿然不动。所以去看过熊猫的朋友都说熊猫真懒!难道真是这样?我带着疑问请教了基地的管理人员,他们的回答让我明白了应该怎样参观大熊猫。于是,我按照他们的提示再次前往基地参观,终于欣赏到和拍到大熊猫活动时憨态可掬的场面。我总结出的参观功略如下:
1、要选择晴天去参观,这样大熊猫在外活动的机会就多些;如果是大太阳天,下午就可看到刚出生几个月的大熊猫在草坪晒太阳;
2、要想看到大熊猫吃竹子时的千姿百态,就要在中午12点--13点期间参观;
3、要想看到大熊猫在户外活动,就要在下午3-4点左右参观;
4、要来回在各大熊猫别墅间穿梭,才能欣赏到幼年大熊猫、亚成年大熊猫、成年大熊猫活动。如当你第一遍参观幼年大熊猫时,也许它们都躺到不动或在游客不方便参观的地方;但等你再从其他大熊猫别墅参观后转回来,也许就可欣赏到幼年大熊猫活动的样子了。
5 游客参观大熊猫有一定的距离。如果要拍近距离大熊猫,必须带上长变焦镜头。
6、在成都大熊猫基地参观大熊猫,基本需要一天时间。
我是这样参观的:
太阳天,上午11点30分到基地后,在游客中心获取游览图,不用乘观光车,顺着主游道前行就 大熊猫14号兽舍.
Chengdu panda base with friends at home to accompany foreign friends visited, but unfortunately not all the pandas in the indoor outdoor terrace is all in bed, lying with you, time and again is not. So the friends who went to see the panda said that the panda is really lazy! Is that true? I asked the manager of the base with a question, and their answers made me understand how to visit the giant panda. So, I follow their cue again to the base to visit, and finally enjoy to take pictures of the naive panda activities at the scene. I summed up the visit Sina as follows:
1, we should choose sunny days to visit, so that there are more opportunities for giant pandas to take part in activities outside. If it's a big day, we can see giant pandas in the lawn in the afternoon in the afternoon.
2, if you want to see the pandas eating bamboo in different ways, you should visit the --13 point at 12 o'clock at noon.
3, to see the giant panda in the outdoor activities, it is necessary to visit around 3-4 p.m.;
4, to go back and forth between the giant panda villas in order to enjoy the activities of young pandas, sub adult pandas and adult pandas. If you visit the young pandas for the first time, they may lie in the places where they are not convenient to visit, but when you return from the other giant panda houses, you may be able to enjoy the appearance of the giant panda.
5 visitors have a certain distance to visit the giant panda. If you want to take a close range giant panda, you have to take a long zoom lens.
It takes a day to visit the giant panda base in Chengdu giant panda base.
I visited it like this.
A sunny day, at 11:30 in the morning to get a map of the base, in the visitor center, do not take the sightseeing car, along the main road ahead is panda No. 14 shoushe.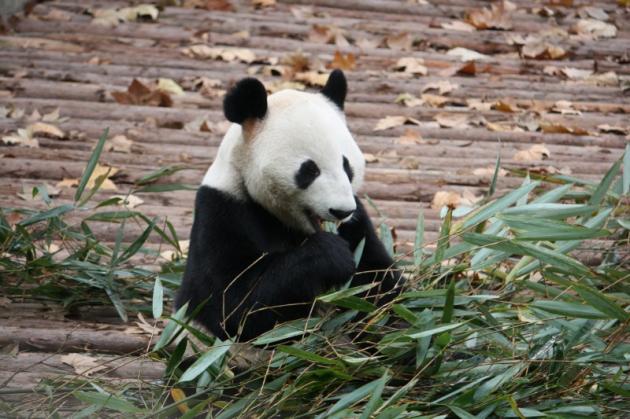 大熊猫吃着竹子,游客都抢着拍照
The giant panda eats bamboo and the tourists take pictures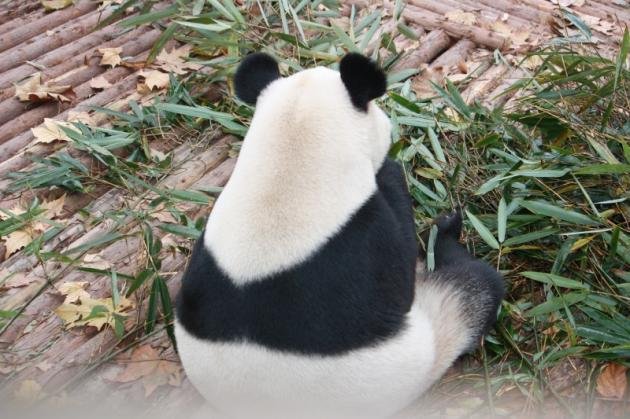 大熊猫好象是不高兴了,干脆来了个背对游客。不过这个造型还是很漂亮的哦。
The pandas seem to be unhappy, and they just come to the back to the tourists. But it's very beautiful.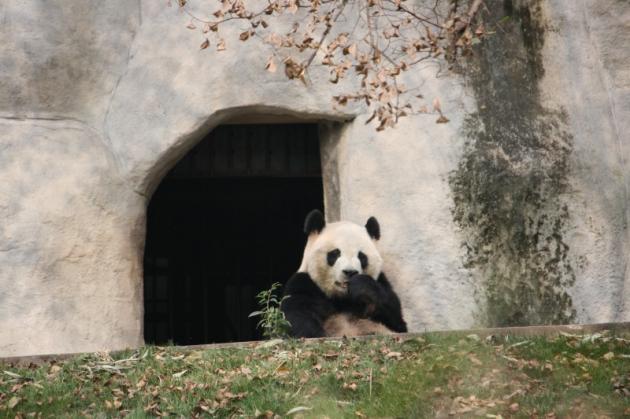 不愧是成年大熊猫,不怕你们怎么拍!
It's an adult panda, not afraid of how you do it!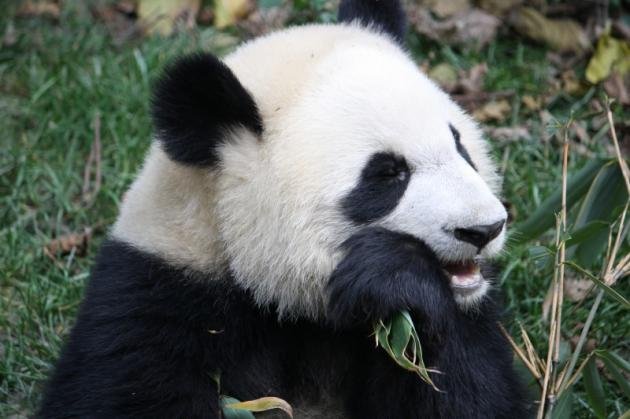 吃得津津有味!
Eat with relish!
到幼年大熊猫别墅参观时,正是大熊猫们吃午餐时间。四只大熊猫本来是远离游客最佳参观处,好心的饲养员手捧竹子,一个个呼唤这些大熊猫的名字,于是四只大熊猫拽着拽着的跑到了游客面前,展开了各种吃相,引得游客是哈哈大笑。
When we visit the young giant panda villa, it is the pandas that have lunch time. The four giant pandas were originally far away from the best tourist places. The good hearted breeder held the bamboo to call the names of the giant pandas. So the four giant pandas dragged and dragged them to the front of the tourists and launched various kinds of eating habits, which attracted the tourists to laugh.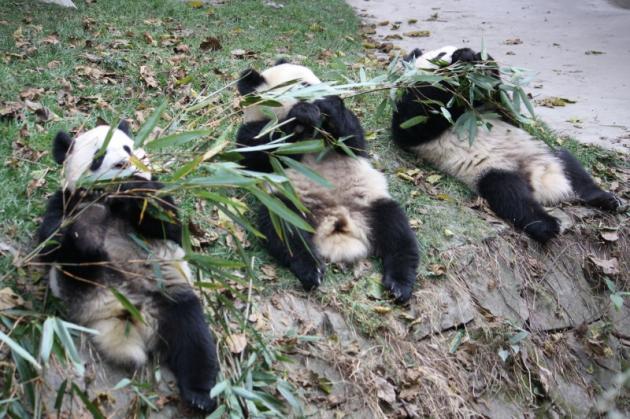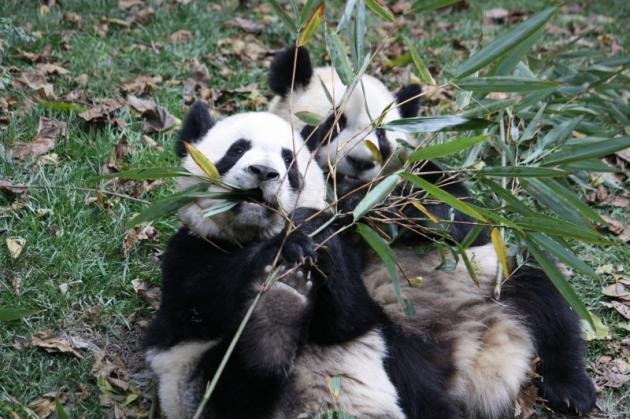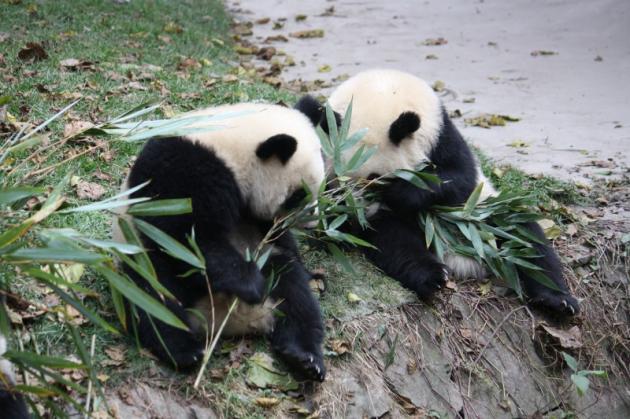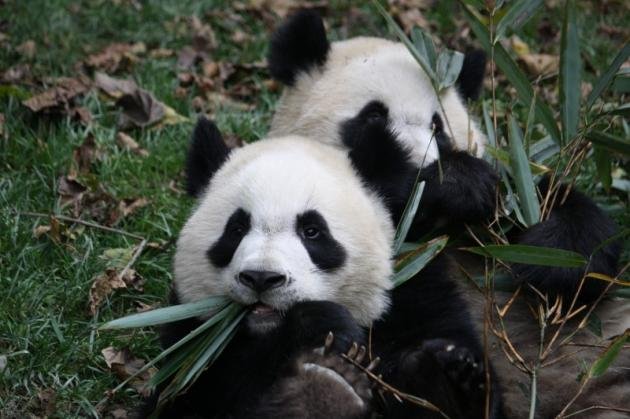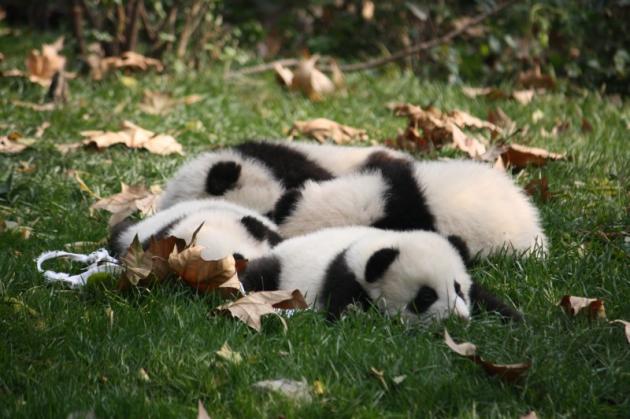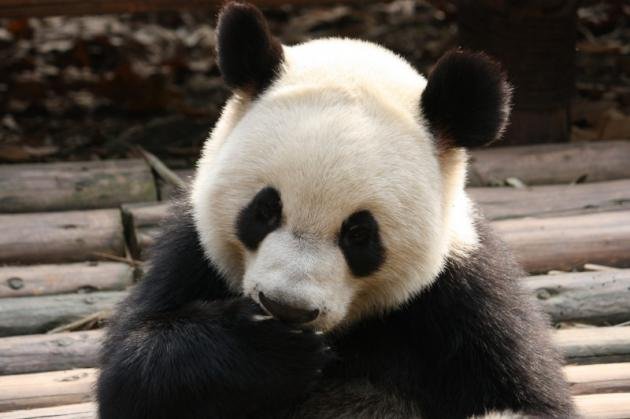 名星大熊猫"晶晶",很有点名星味!
Star giant panda "crystal", very famous star taste!