Many changes coming for the rescue, and for me, personally. On August 20, I fly to Europe for the rest of the year. This was a relatively sudden decision, but only in course of action. The awareness that I would have to make a radical move has been dawning for a while.
As an animal advocate by default, I find it impossible to remain silent when living creatures are harmed or abused in some way. This casts a pall over fundraising, when people are more likely to give when they hear happy stories than they are when something or someone is suffering, even if they know that giving will make things better.
People don't like to be reminded of atrocity. It makes them feel bad. This is probably why the Nazi death camps went unacknowledged for so long. I don't mean to start a war here by comparing genocide to animal welfare. But I toured Auschwitz while I was in Poland last year and it left a lasting impression on me. It was virtually a blueprint for modern kill-sheltering. It took an invasion by the Russian military to bring the horrors to light in a way that caused the world to demand they stop. People like Oskar Schindler saved a few, but he never changed the paradigm. Just like Schindler, I've done what I could. The rest is up to the community.
On Friday the 19th of this month, I'm taking four dogs to rescue in Pennsylvania. That leaves me with three others that no rescue will take. Why will no one take them? They're not aggressive or sick. They're scared and require extra socialization before adoption. And apparently this is just too much work for every other organization except mine.
I know I sound snarky. But I'm tired, my health is not great, and I'm deeply concerned about the fate of these dogs. I'm disappointed and disgusted by responses I've gotten from organizations that are funded far, far better than TARC. I'm left with some pretty impossible choices, including the unthinkable option of having the dogs put down.
What am I asking from the Steem community? Not much, other than awareness that donation monies to popular animal charities seldom reach the actual animals in need. TARC could use some eleventh-hour donations to pay for health certificates and transport vetting, so if you feel generous and want to actually help dogs and not line a CEO's pocket, we do take Steem, SBD, and BTC, as well as FIAT donations at rescue@tazewellarc.org.
The two dogs you see in the video at the top of this post are two of the three with nowhere to go. The dog in the photo below is the third dog whose future is uncertain. He is sweet and loving and just wants to be with his person. But he was abused as a puppy and as a consequence, has a bite reflex. For this reason, no other rescue will take him. Even the Best Friends Sanctuary in Utah expressed no interest in helping him, and my rescue has been a Best Friends Network Partner since 2013.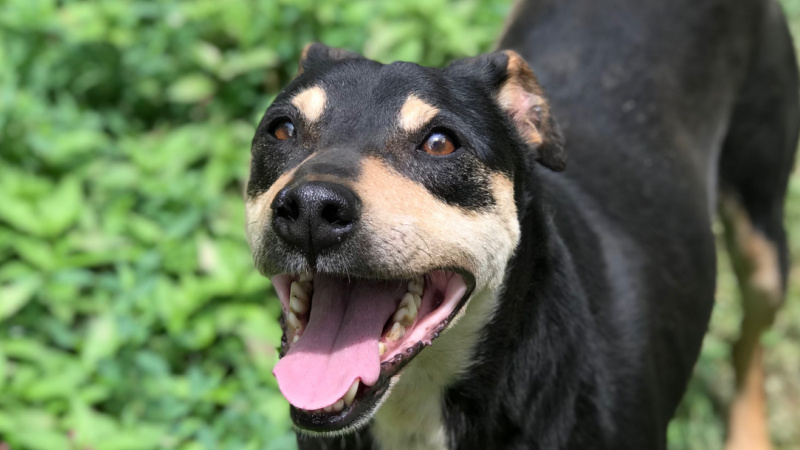 Any help you can give us would be appreciated.