Oh man I know it's 2am in the US now but I still wanted to post my first Tarot Tuesday while I hope most of you are asleep. Enjoy this Horseshoe Question reading!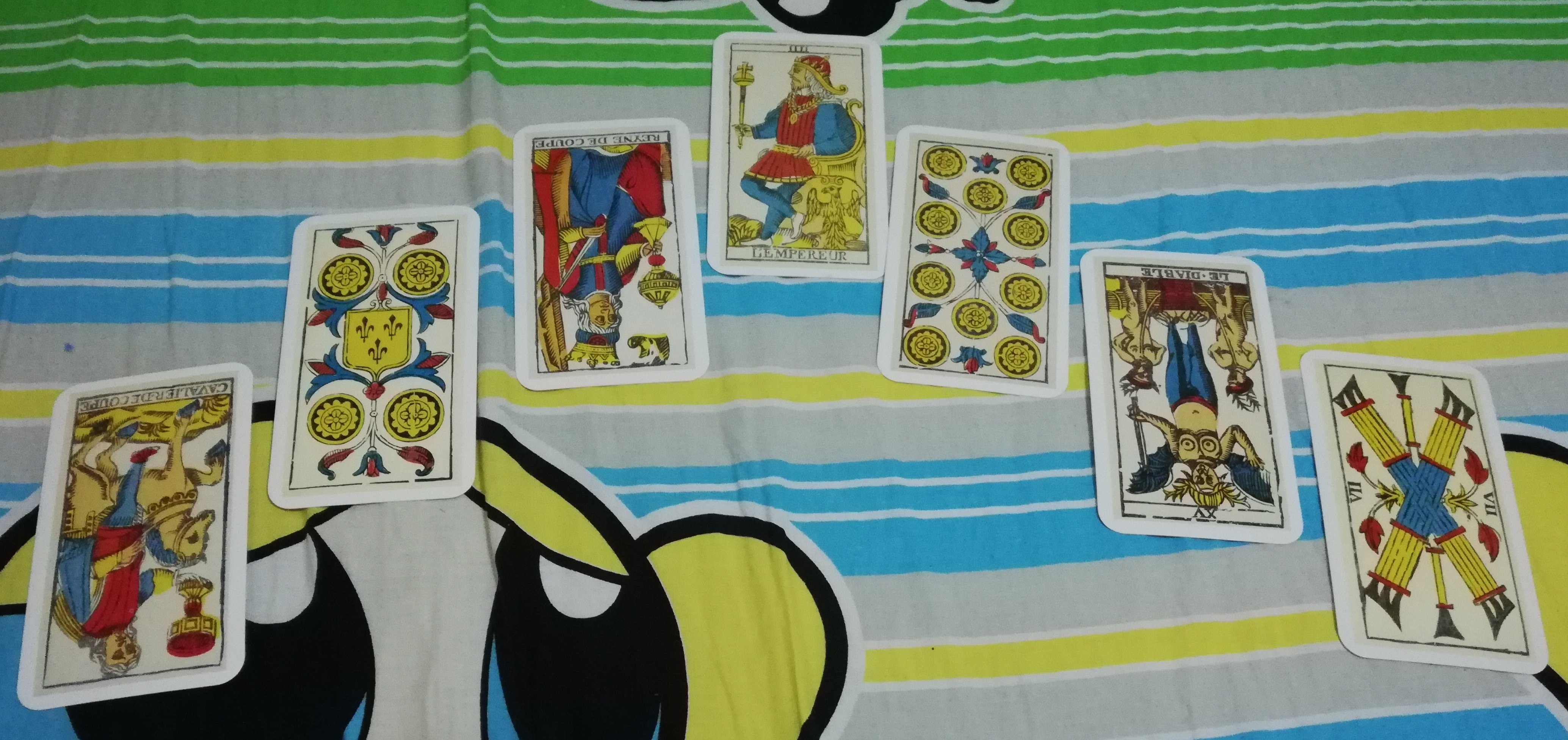 Question: How well will my dream of making a queer cafe go?
(A cafe because I think queer folk need an option for a sober space)
Reversed Knight of Cups: Past Influences
The Knight of Cups reversed allows their emotions to control their life too much. They may be moody, jealous or emotional to the point of incapacity. They may jump to conclusions before getting all the facts. If their card shows up reversed, either look at yourself and at how you are acting, or realise that the person involved may be acting from their emotions rather than from any form of logic.
Four of Pentacles: Present Situation
Even though this card shows a practical and financially stable person, it often indicates possessiveness, greed and an overly cautious approach to life. You may be afraid to take risks, both financially and emotionally for fear of losing everything that you have attained so far. As a result, you may be vaguely unhappy and unfulfilled. Deep down you are starting to realise that you have sold out for a conservative and overly 'safe' approach to life.
Reversed Queen of Cups: Positives
The reversed Queen of Cups can indicate an over-reliance on other people's emotional responses, which may result in a co-dependency type relationship. You may want to examine your current relationships. Is there co-dependency? Are you giving too much of yourself and not getting anything in return? This Queen nurtures for the sake of inducing dependency, and places undue importance on being in a relationship, no matter what its quality. There could also be a tendency towards having too many expectations from your partner.
The Emperor: Difficulties
Domination of the mind over the heart is sometimes unwanted or best avoided but with the Emperor, it is necessary and even welcomed. If you are facing difficult choices, you must maintain your concentration and focus. Enjoy the assertiveness and confidence that this self-control and focus brings. Push ahead and do what you know is best. Know that if you can master yourself then you should have little problem mastering the world and everything in it.
Ten of Pentacles (Upright/Reversed?): Outside Factors
The Ten of Pentacles is such a great sign that despite challenges and setbacks along the way, you will finally reach a point of completion and accomplishment in your journey. This sense of accomplishment is likely to be as a result of an improved career path, more solid financial reserves, a stable home environment and a possible committed and long-term relationship. This is one of those cards that shows that everything will eventually come together in a wonderful way and you will feel highly successful and proud of everything you have achieved. You will also feel compelled to share this success with others to ensure that they are also well cared for
or
Reversed, the Ten of Pentacles is about failure on a financial level. This card indicates financial loss, problems with investments, and lack of resources. Despite a lot of time and effort, there seems to be many limitations to future success as a result of a poor foundation. In some cases, this card represents the problems of money, such as fears about finances and quarrels over property, as finances become an impediment to the enjoyment of life. It could indicate that you are beset with financial burdens and responsibilities.
Reversed Devil: Best Course of Action
The Devil reversed may refer to the Buddhist principle of detachment. Detachment, also expressed as non-attachment, is a state in which you overcome your attachment to the desire for things, people or concepts of the world, thus attaining a heightened perspective. The detached person is the happiest, for to live without attachment is to live in true freedom. It is important to note, however, that the Buddhist principle of detachment does not mean that you no longer care for things or people but rather that you separate your own existence from them in such a way that means you can still care about them but that you are not dictated or defined by their existence.
Seven of Wands (Upright/Reversed?): Result
The Seven of Wands can indicate a challenge to the continued success of a venture or creative project from an external source. While it appears to block your path forward, you can overcome this challenge or obstacle by drawing upon your strong self-confidence, self-belief and continual self-improvement. It can also be overcome with effort and clarity of purpose.
or
This card can suggest that you are trying to avoid conflict wherever possible, and as a result, you are backing down on your point of view too easily. As soon as someone challenges you or opposes you, instead of standing up for yourself, you compromise or give in. It appears that being accepted and liked by others is more important than standing your ground and fighting for what you believe in. Alternatively, you may have tried everything possible and have given it your best shot but you are now starting to realise it is not worth the struggle. Even though you may not have made any progress yet wanted to, it is time to let this one go and move on. It may feel like giving up but in the long run, it will be for the best.

I hope you found my reading interesting, I may need to figure out symmetrical minor arcana, if you have any tips, do send them my way!
Note: Meanings borrowed from Biddy Tarot, as I am too lethargic from the hospital to type from my physical guide book. I will try typing my own readings next Tuesday.