Few days ago, I received a notice from Manager of Tasteem Global that I will be forever blocked on this platform and even on Tasteem VN. I have been blocked but I am not satisfied with this decision from them. They didn't listen to me, to my explanation, they judge me for my flawed past. And even when my friend wanted to discuss more about my issue, to demand justice for me, they just didn't care and said irresponsibly that my case is closed, no need more discussion.
People are leaving steemit and I'm now also depressed. Maybe, this will be the last article I wrote on Steemit, but I also want to say all what I have been thinking and feeling sad for what @tasteem Team did.
Here are some "warning" commands that I got from them. (Most of it is mistakes that I never think that it can be mistake because I read the rules so many times and I do not think I broke the rules because of this. How can I break the rules if there is no rules about it.)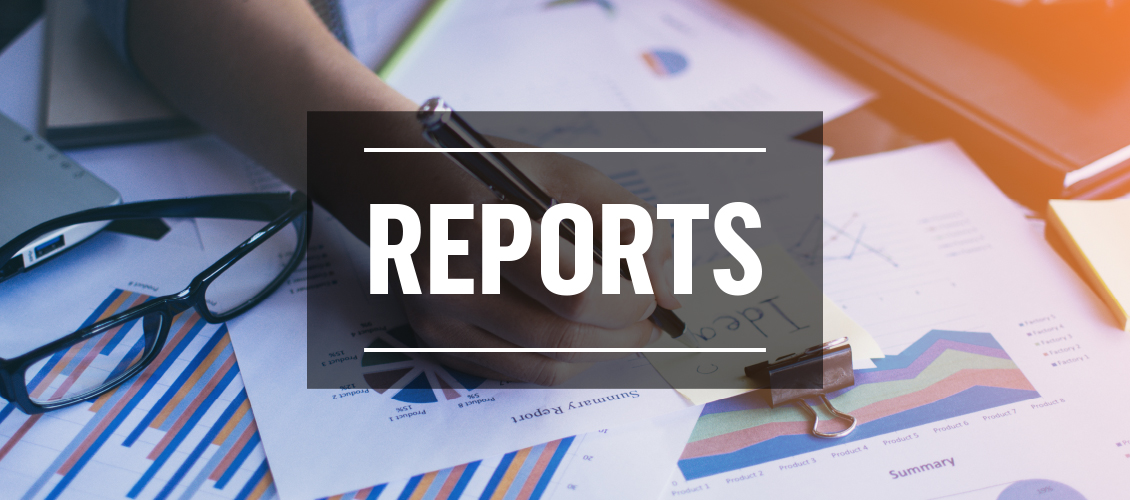 image source
The first and the secondWarning:"The table at the restaurant look different on every picture." I got 2 warning for this type.
I explain clearly that the tables look different because my post combined a lot of photos in a lot of times I come here. Those times are really close. This is my favorite milk tea shop. I come here a lot, constantly. All photo is taken by myself. There is only one milk tea shop has the name and phone number like this all over my country. It showed clearly in my post. The manager of Tasteem GL @siamcat agreed that I didn't steal photo anywhere, but still not remove the warning in my post, with new reason "All the pictures must be taken from the same day of your visiting. You can't use pictures from several visiting and add them in one review". I'm sure that I have read the rule for many times and there is just a rule "post about the restaurant you visit recently". It doesn't mean that I cant use different photos to enrich my post, right?.My photos are not at the same time but all are recent photos. Obviously, there is not a rule like the manager said, but the manager still insist to not remove her comment and I still got two warning for their shortcoming and unclear rules. I just want them to show me what kind of rule I broke to get this warning.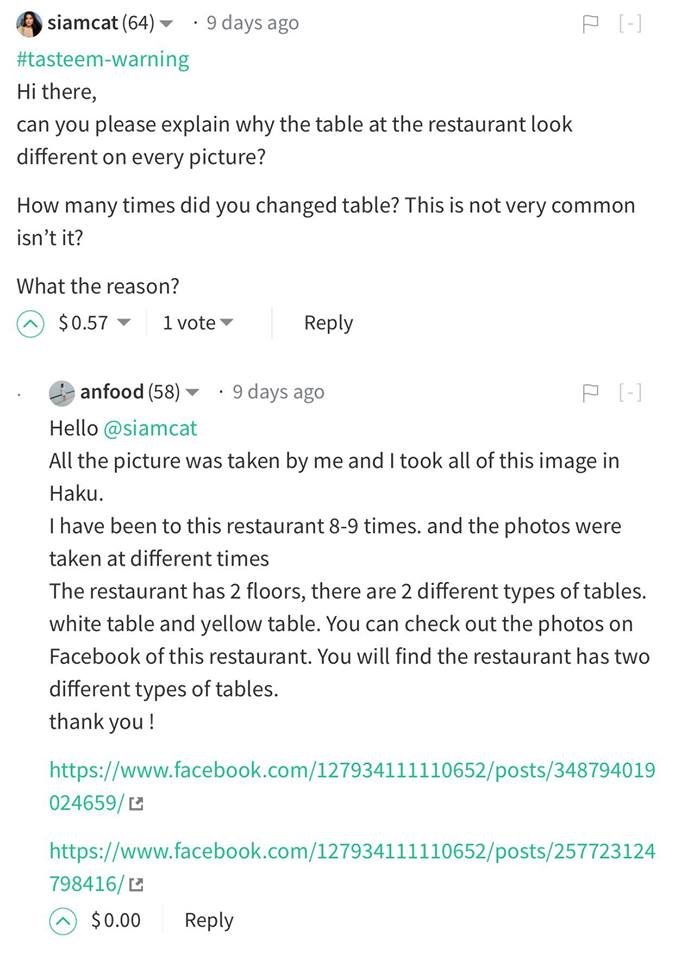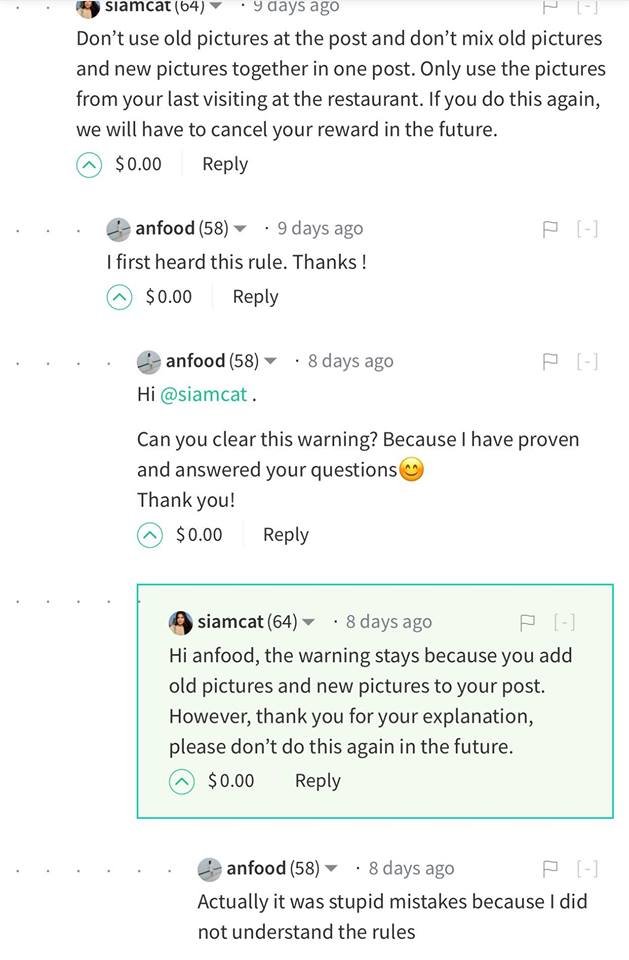 https://steemit.com/tasteem/@anfood/tasteem-ef9d81
https://steemit.com/tasteem/@anfood/tasteem-ee57c6
The second warning: "Hi! I'm a Tasteem supporter and even if you got a nice review and good pictures, you also need to stay in tune with the contest. A place to visit daily like this one is not a place to Eat with a Blind Date (The actual contest name). Please keep in mind that, everything else looks fine."
This warning is ok. Because I admit that I didn't really understand what is "blind date". It makes me confuse and post about a normal restaurant. But I didn't mean to make this mistake. The supporter said that my post is fine. I also didn't repeat this mistake. So it is not really serious warning, just for remind me.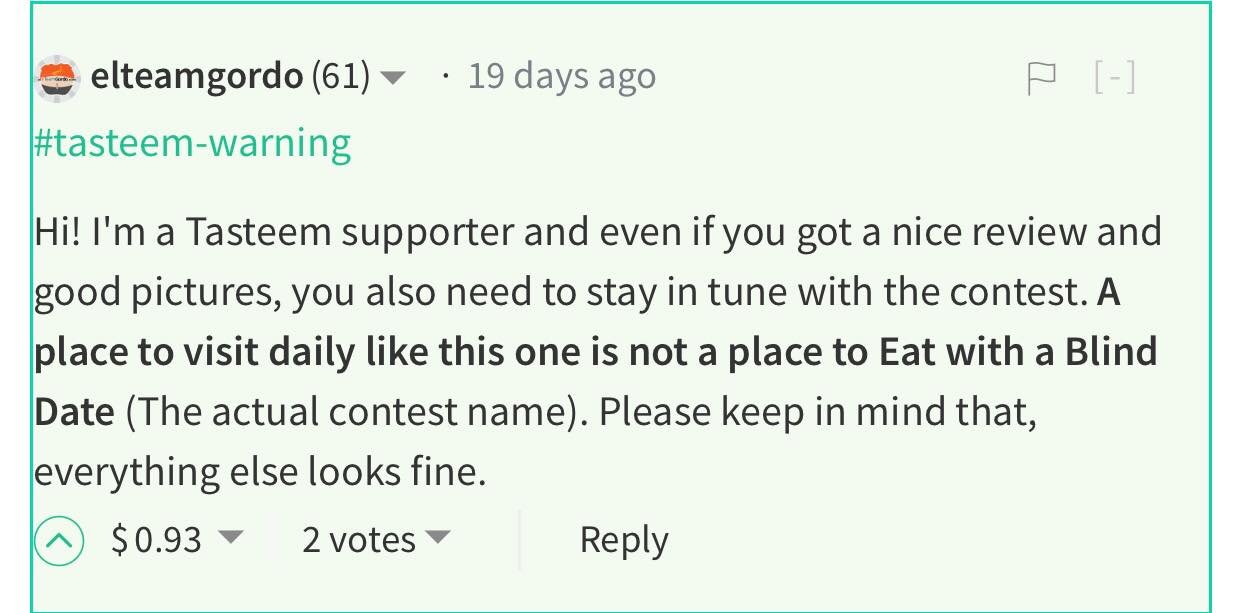 https://steemit.com/tasteem/@anfood/tasteem-2667af
The third one: 'You must NOT post about franchises, delivery or take-out food'
I did take out food and said about it in my post. But every photo including food photo were taken in restaurant, when I still stay there. So I think it is fine. That is why I post it. I don't mean to cheat or lie. This warning is ok. I learn experience.
https://steemit.com/tasteem/@anfood/tasteem-da5509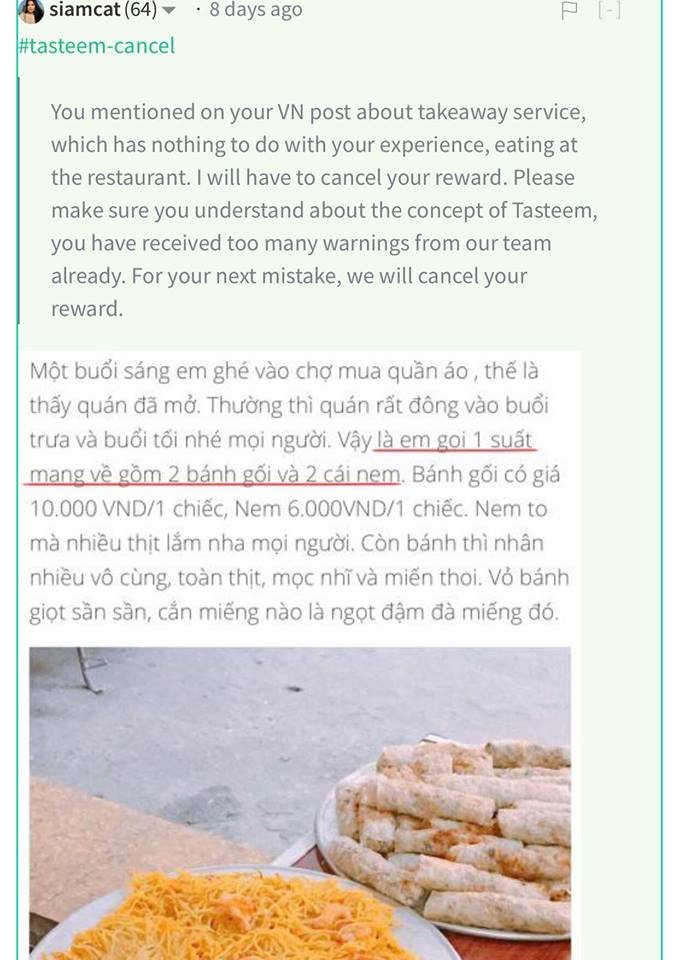 So there are 2 out of 4 warning is wrong, not appropriate. Normally, the level of violation on tasteem will follow this way: warning – cancel – hide – hide 2 – hide 3 (the strongest penalty). I just get 1 warning and 1 cancel for the mistake I don't mean to do. I thought it is still fine because I didn't get some serious command like hide or hide2.
But they blocked me
I'm really surprised when @siamcat come to my post (https://steemit.com/tasteem/@anfood/tasteem-b69ea6), a totally fine post with hide3 and said:
"#tasteem-hide3
Hi Anfood,
I asked my team to investigate about your case and the result was not good. You are involved in plagiarism and work as a ghost writer for @a-alice. You manipulated your reviews by using old pictures. You received too many #warning from our team, both at VN and GL platforms.
Our Tasteemteam from both platforms agree to block you from our contest. Your behavior is unacceptable for us.
@a-alice on our watch list, for her next mistake, we will have to block her too."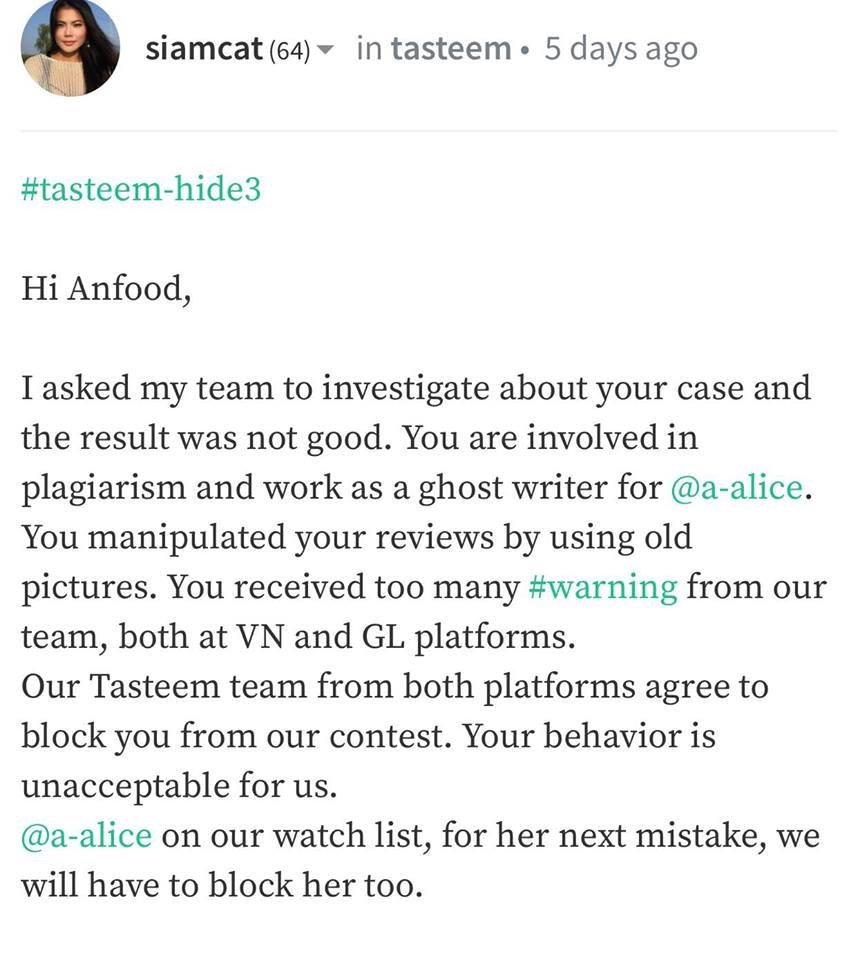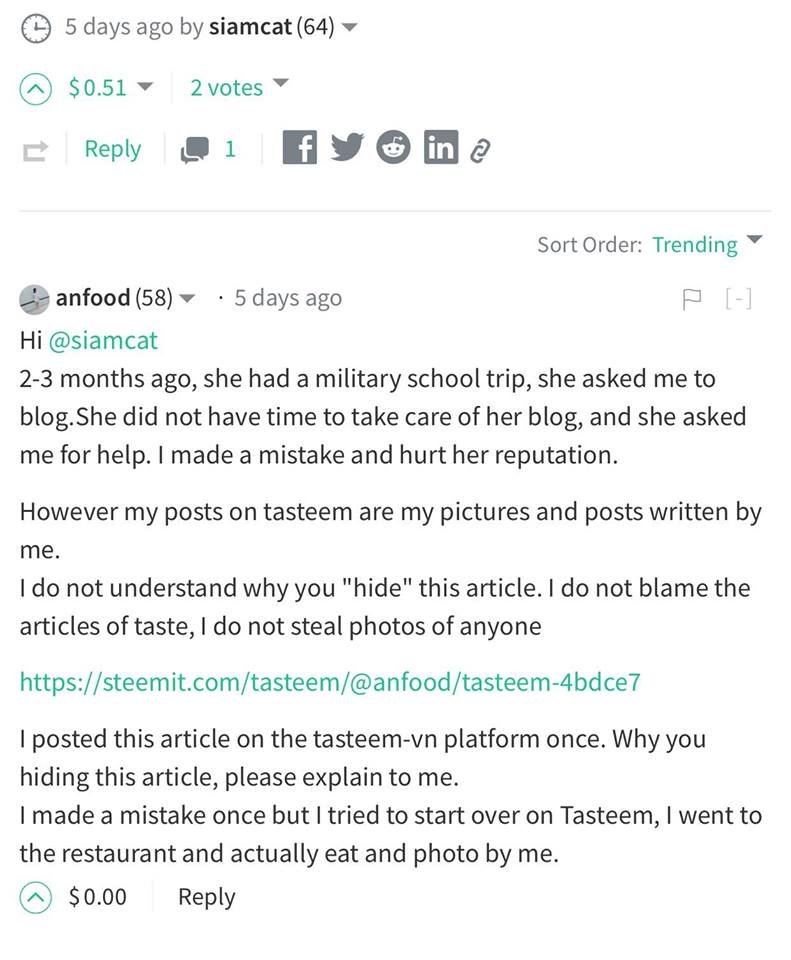 It means that I'm blocked for receiving TOO MANY warning (which are wrong a half as I said above), in both Tasteem GL and Tasteem VN (I only got 1 warning in Tasteem VN for lacking a photo of food, nothing else). And another reason they blocked me that is my past is flawed. I was working for @a-alice while she was in army and couldn't use internet. I WAS involved in Plagiarism and ruin her blog, her reputation and even our friendship. Sorry my friend !
From that time, I always regret and promise that I will never do it again. Since I start join Tasteem, I never steal anything from anyone, photos is mine, content is mine. I have been trying to be a better person. But Tasteem judge my past and accuse me plagiarism without any evidence. I can't be a better person just because my past is flawed? Is that fair to me? It really hurts me.
They really make me angry when they mention about @a-alice. I realize that they are going to do the same thing with @a-alice just because of my mistake in the past. Although @a-alice is writing really hard now and get a lot of curation in Tasteem VN.
Last words
I have been blocked by Tasteem-vn and Tasteem- GL. It still make me feel not fair. But I do not hope to return, I don't want to return or write on Steemit anymore. But I want to say that Tasteem'srules actually misleads others. I never thought I would break the rules on Tasteem. All of the restaurant photos were taken by me, experienced, photographed and written by me.
I just hope that Tasteem can make their rules more sufficient and clear. I even got a warning from @carlpei for posting reviews when the contest almost finish. I just post it whenever I have free time. I can't understand. The rule is what I read and what I saw, not what they say. What should I do when every time They bring to me a new warning for the rule that no one know. Their managers and supporters should follow the rules. Not to punish users by their power without complying rules. So there will be no one feel unfair like me.
Anyway, @siamcat hiding my article (https://steemit.com/tasteem/@anfood/tasteem-b69ea6) that I did not make mistakes then blocking me, it still make me question a lot. Seeing the price is going down, and get treated unfairly by these people here, I think I don't have any reason to stay here anymore. I hope after I leave Steemit, they will not hurt anyone just because of their prejudice.
---
Thanks !