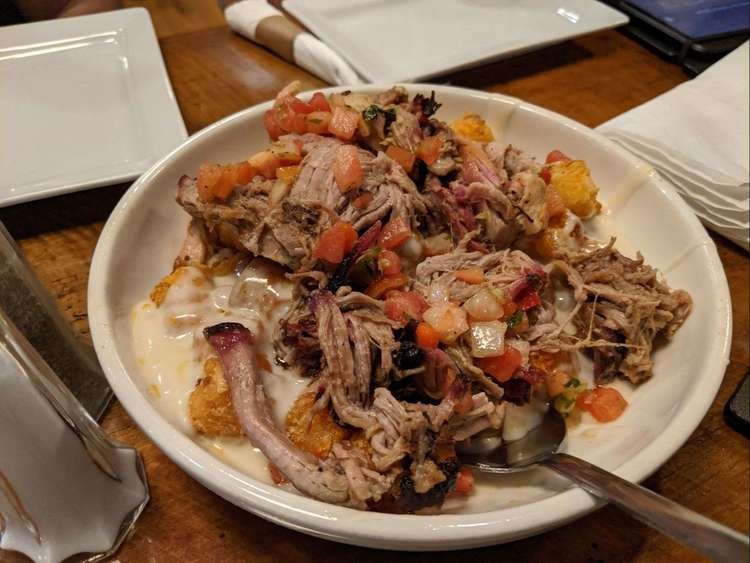 This place has been opened for close to six months, but this past weekend was the first chance that @mrsbozz and I actually got to visit.
We decided to make a date night of it and went with two of our closest friends.
Unlike many of the Southern states and cities whose name is synonymous with BBQ, Midland, MI would probably sit pretty low on the list of great places for slow smoked deliciousness.
At one point we did have a place that had at least one Memphis in May win under their belt, but I personally never felt they lived up to some of the other BBQ I had tried in the past.
That's why I was so excited to learn about the opening of Molasses.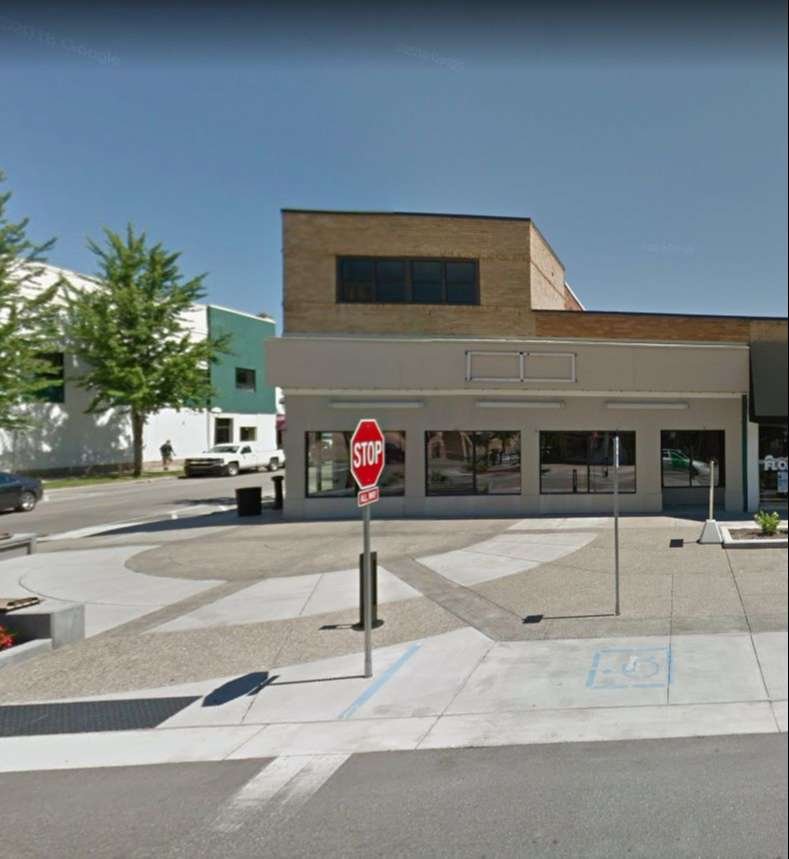 The restaurant itself isn't that big. It sits on a corner in downtown Midland and though I didn't get a proper photo of the front, I did find this image off of Google Street View from before they remodeled.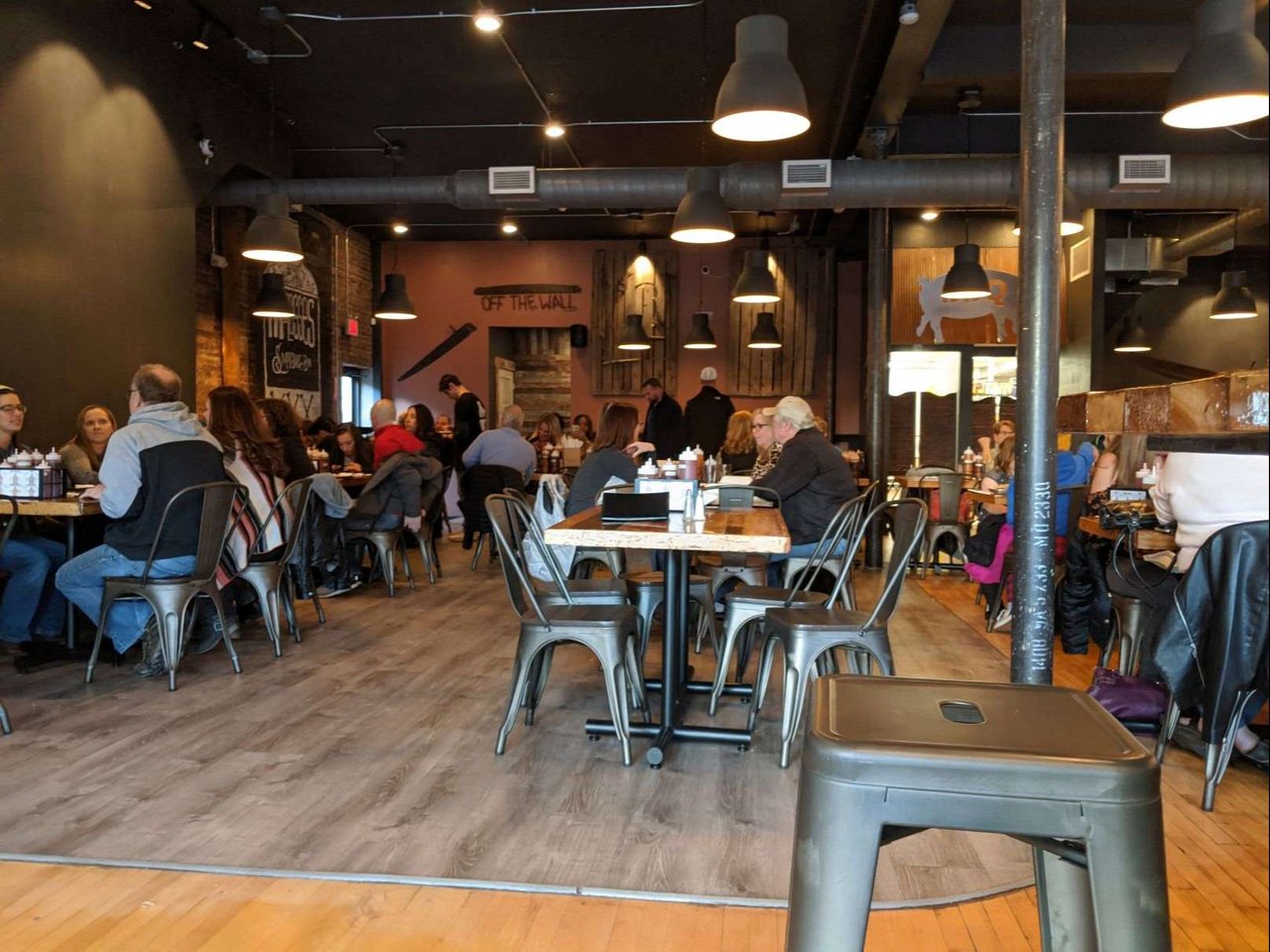 As I mentioned, it isn't very large, but let's be honest, you aren't really coming here for the seating space or the atmosphere. You are likely coming here for one reason and one reason only and that is the BBQ.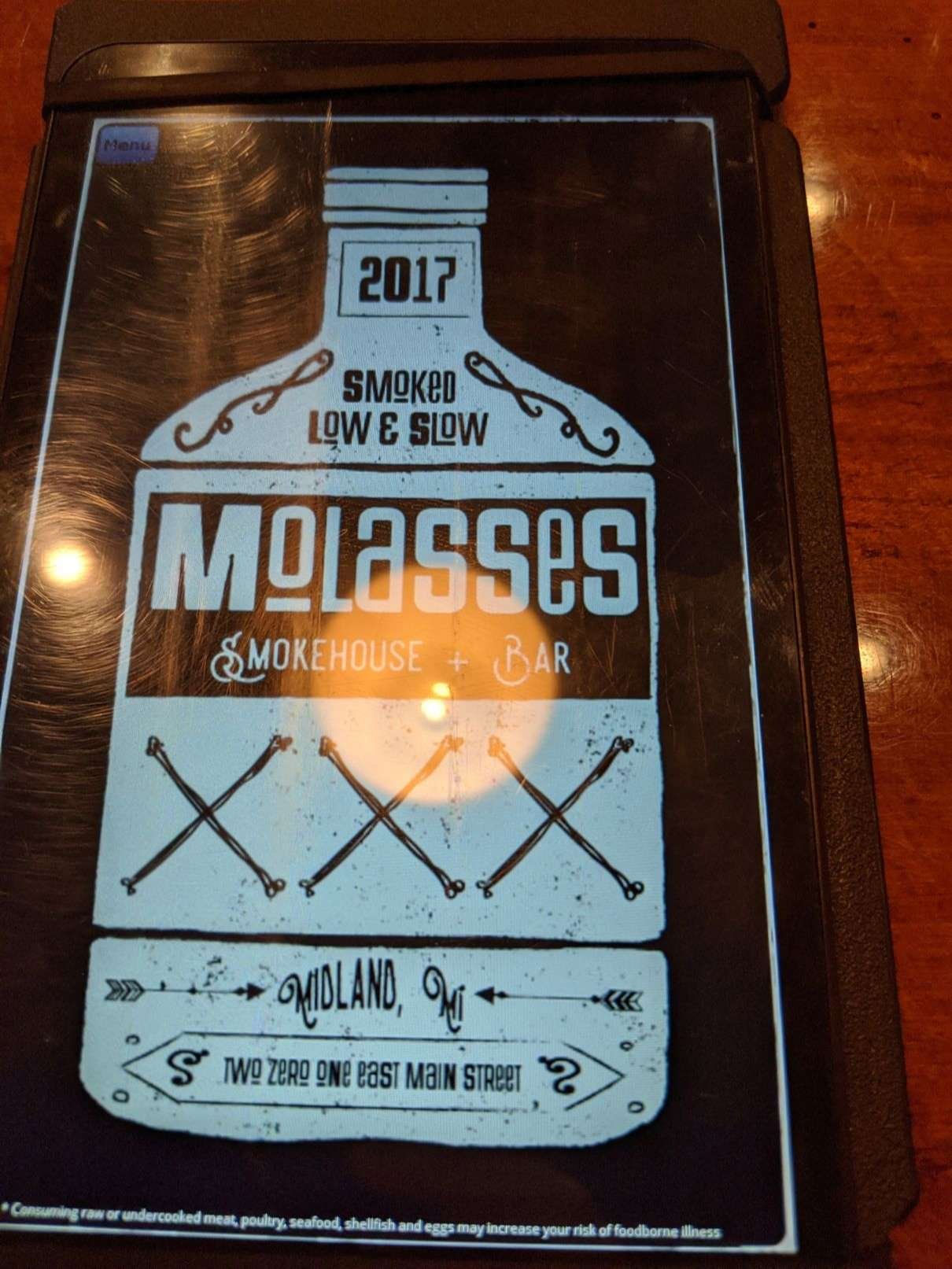 Like many restaurants these days, they have went the tablet route, so it makes it every hard to take pictures of the menu. I encourage you to visit their website if you want to check out the menu in full. One cool thing about the tablet menus is the fact that they include a picture of every dish if you tap on that item. I really like that.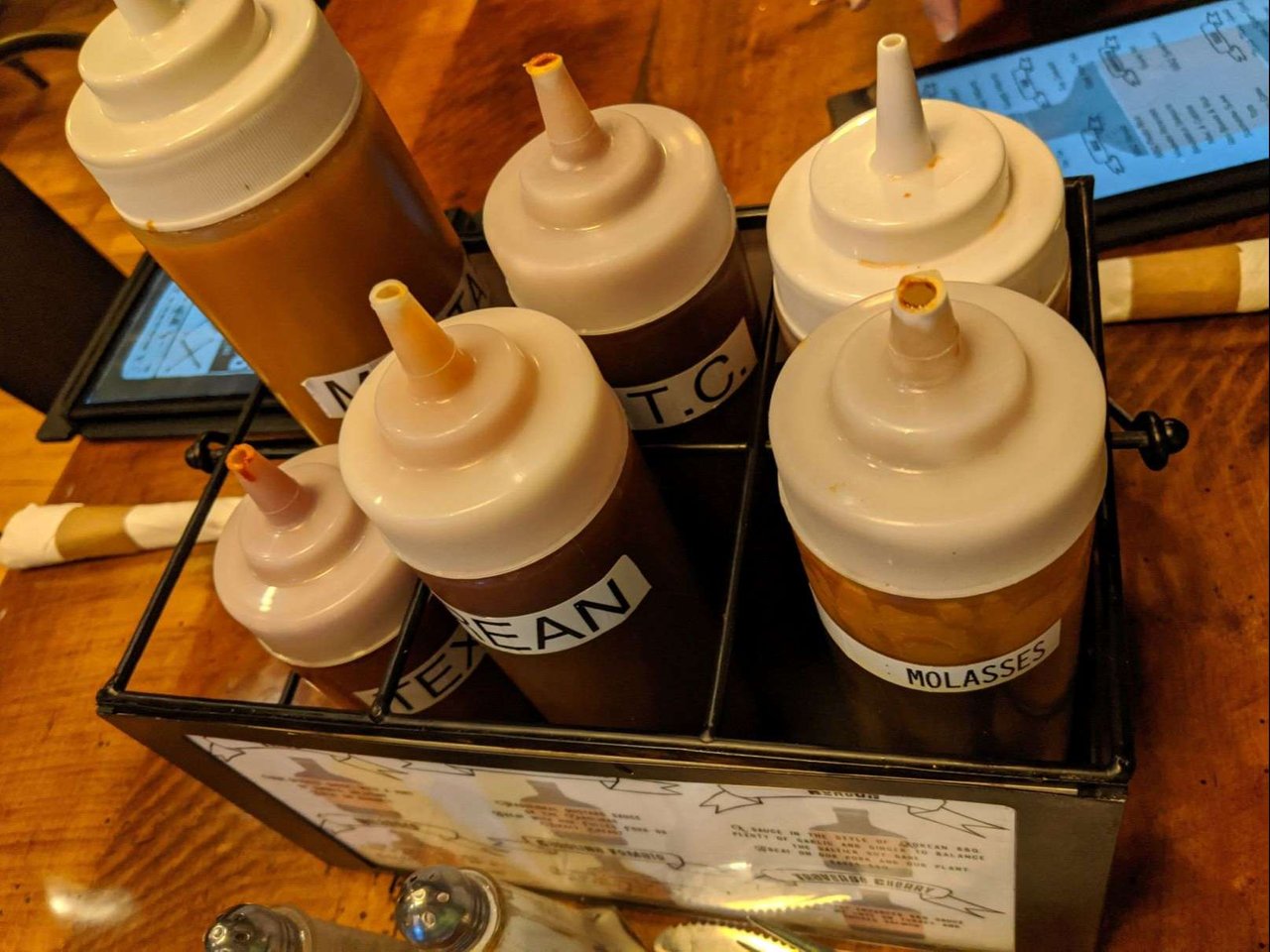 Sitting on the table is a basket of their different flavors of BBQ sauce. I wo uld have to say that although unconventional, the Korean was one of my favorites. It had the perfect blend of sweet and heat.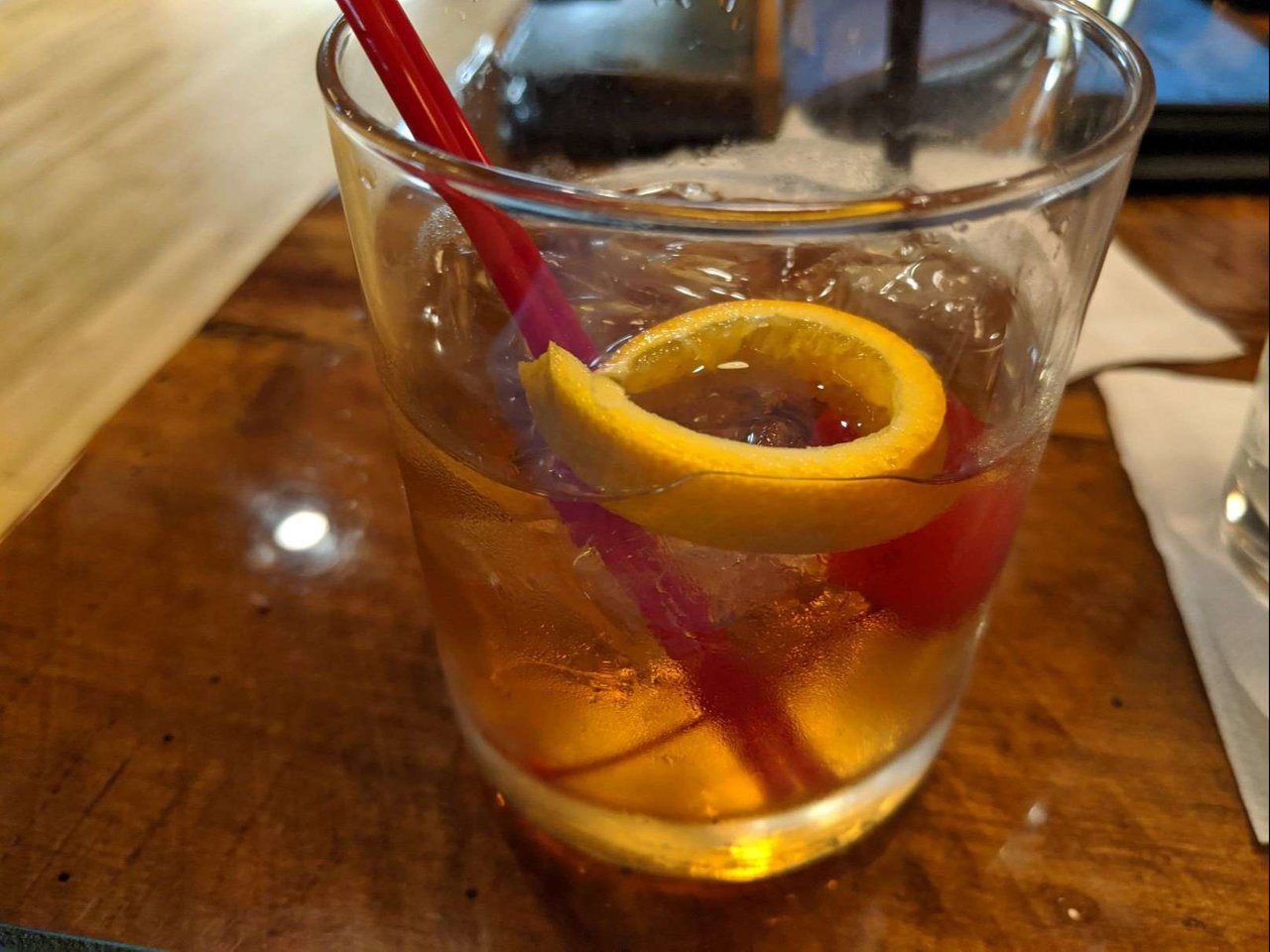 My friend David and I started off with an "old fashioned", one of my favorite whiskey cocktails. @mrsbozz helped herself to a Strawberry lemonande.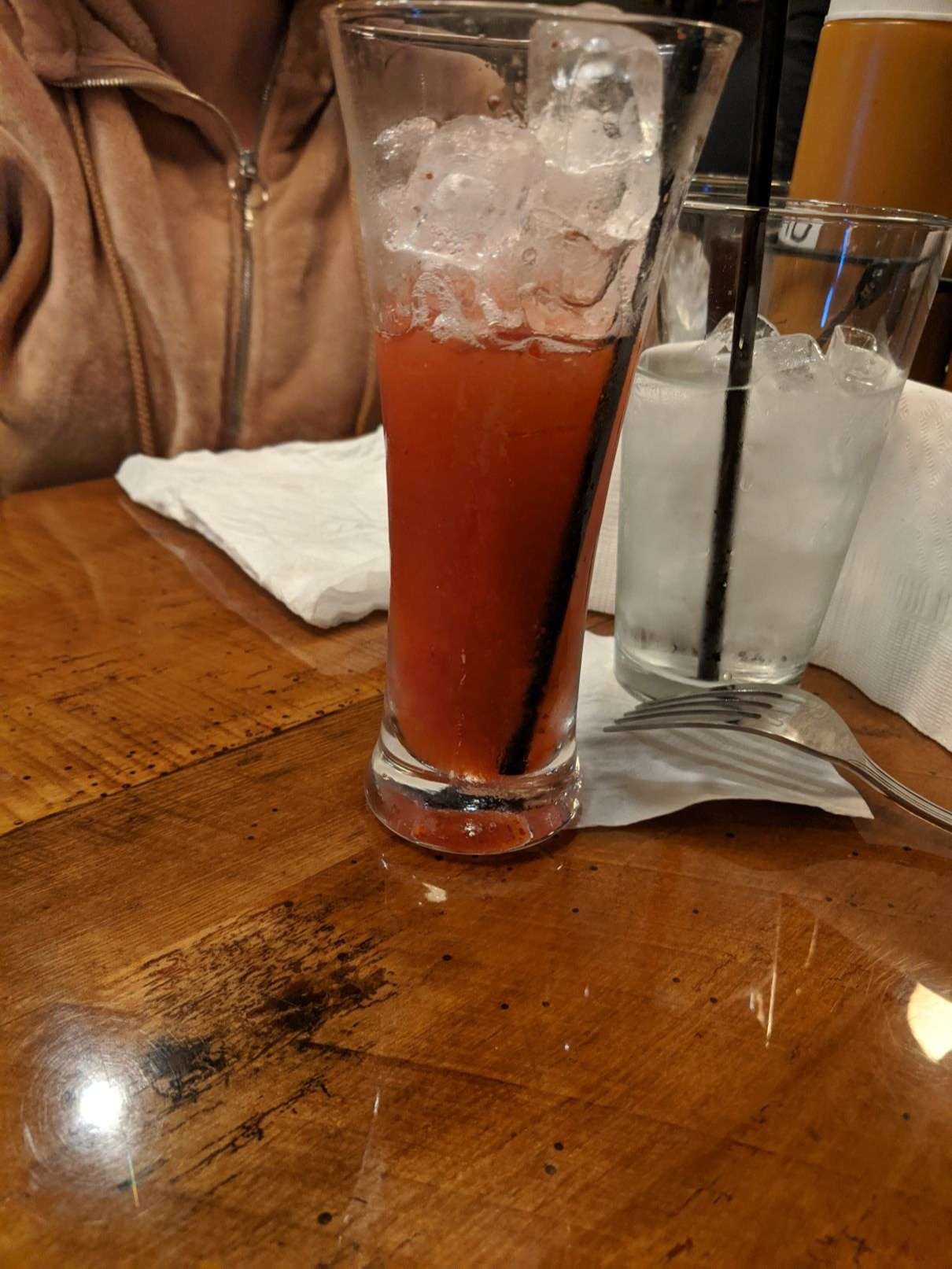 The drinks were well mixed and although a little pricey, I feel like you got your money's worth for the most part. It isn't someplace I would spend the evening throwing them back though. I might end up doing dishes for lack of being able to pay the bill...
We started off with the loaded tater tots that you see in the opening pictures. They were fantastic. Even though we shared them among four people, there was plenty to go around and I actually had to pace myself so I didn't get full on them and ruin my appetite for the main course.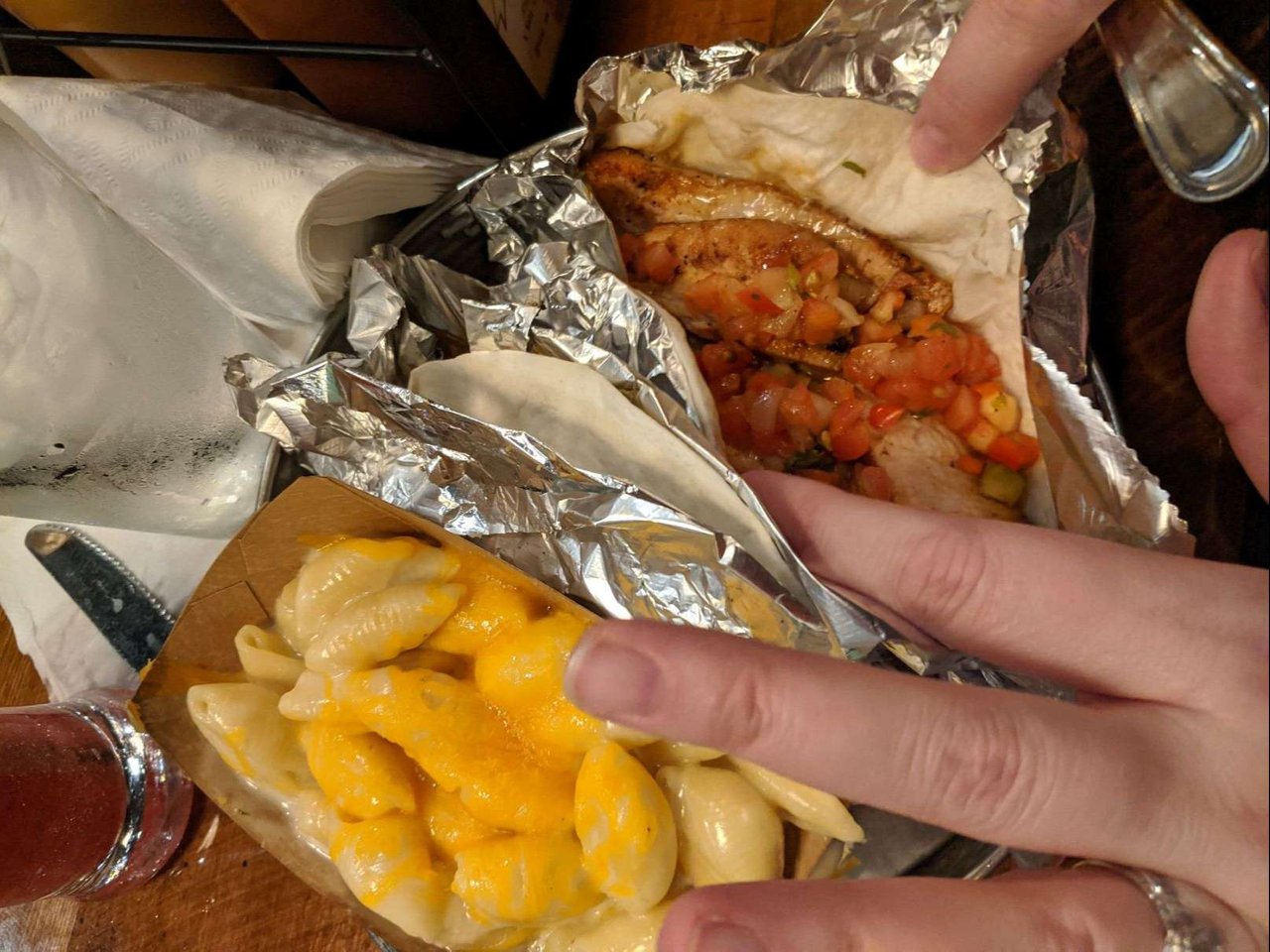 @mrsbozz got the smoked turkey tacos and although she thought they were really good, she would probably not get them again. Typically at places like this her and I share a two or three meat plate. I get some turkey or chicken for her and then I get one or two other meats for me. We share our sides and usually end up having just the right amount of food.
Her best friend Sarah got the pulled pork sandwich along with tater tots and she really enjoyed it as well.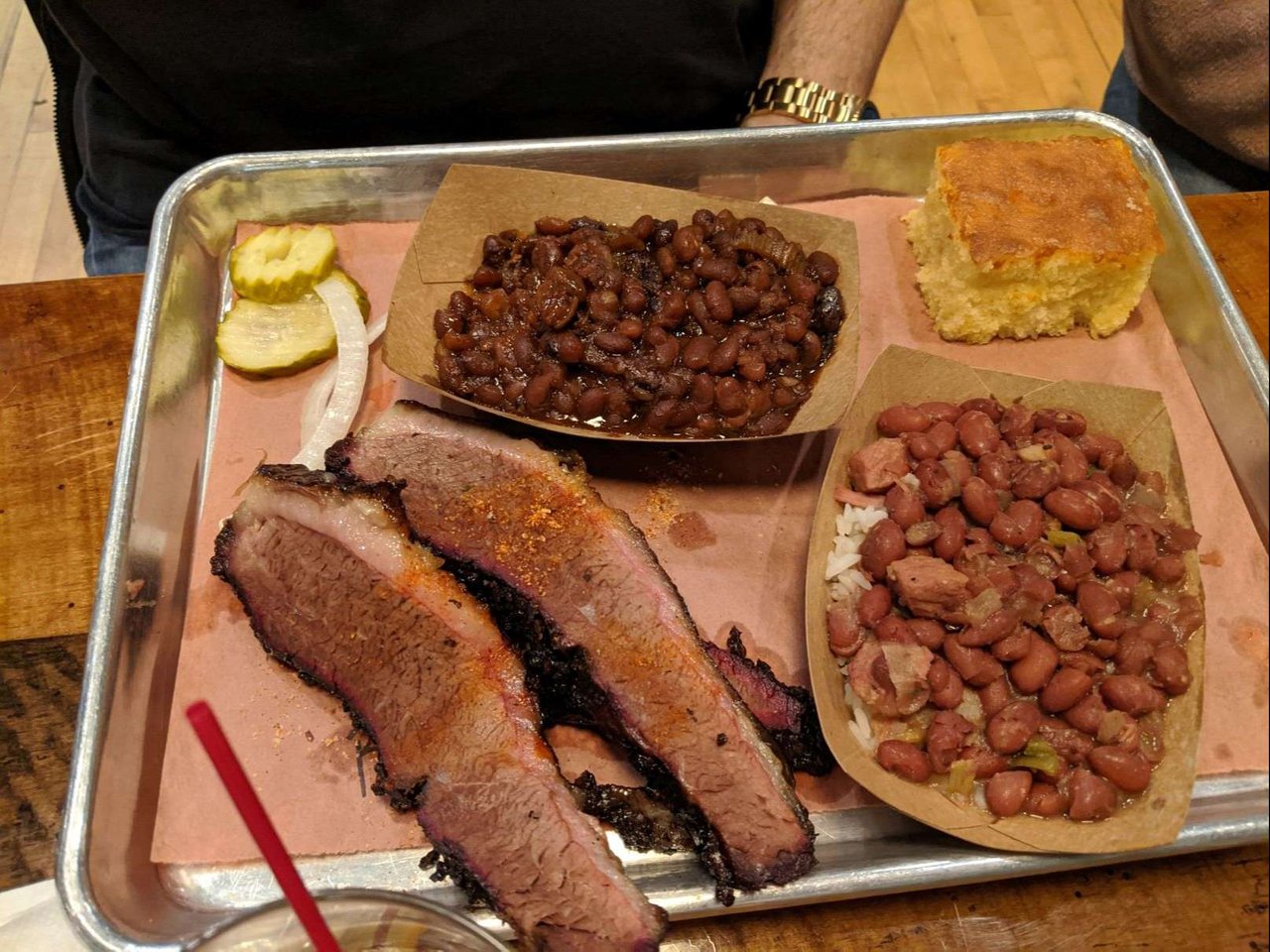 David got the brisket along with baked beans and red beans & rice. He didn't talk much while we were eating, so I think that means he really enjoyed it. There was nothing on his plate by the time we left as well.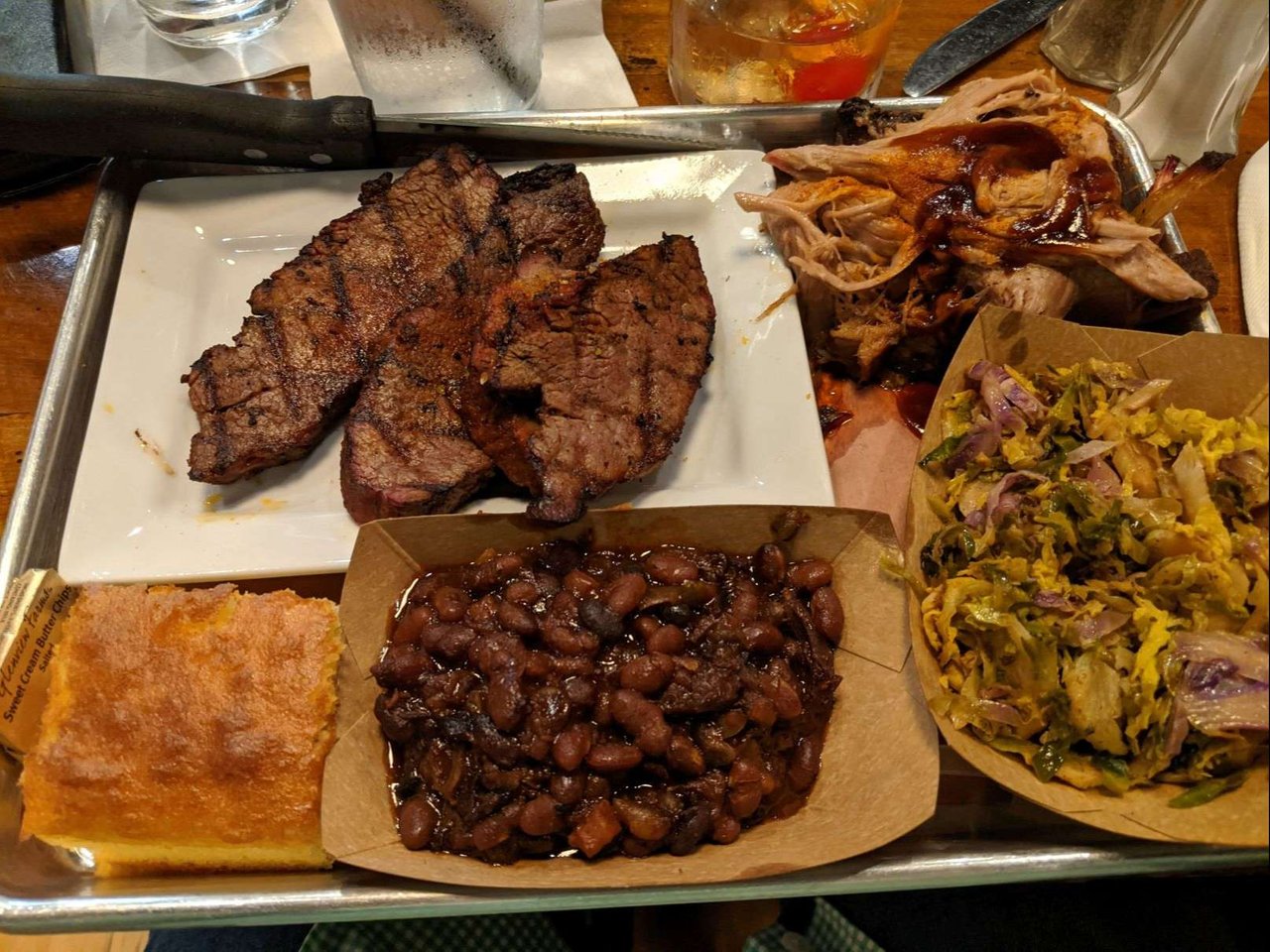 I decided to go with the two meat tray and I got the pulled pork along with the tri-tip. For my sides I got baked beans and brussels sprouts.
I am going to be honest here and tell you that I have never had BBQ from anywhere South of Ohio. I know that might be shocking, but that is just the fact. One day, my wife and I are going to rectify that, but for now, the one place I have had that serves consistently good BBQ is the City BBQ chain in Ohio.
Because of that, I measure all BBQ I have to that standard. Someday, when I have a higher one, I will use that, but until then, I have heard from various sources that City BBQ does a stellar job of competing with the stuff down South.
I mention all of that because the BBQ at Molasses meets (pun intended) that standard without question.
I knew the pulled pork was going to be good because we got a hint of it in the appetizer. What really blew me away was the tri-tip. I have never had tri-tip before and I was really impressed by how tender it was and how much flavor it had.
The beans were fantastic and the brussels sprouts were heavenly. On top of that the corn bread was sweat and savory without a hint of dryness. There is nothing I hate more than dry cornbread.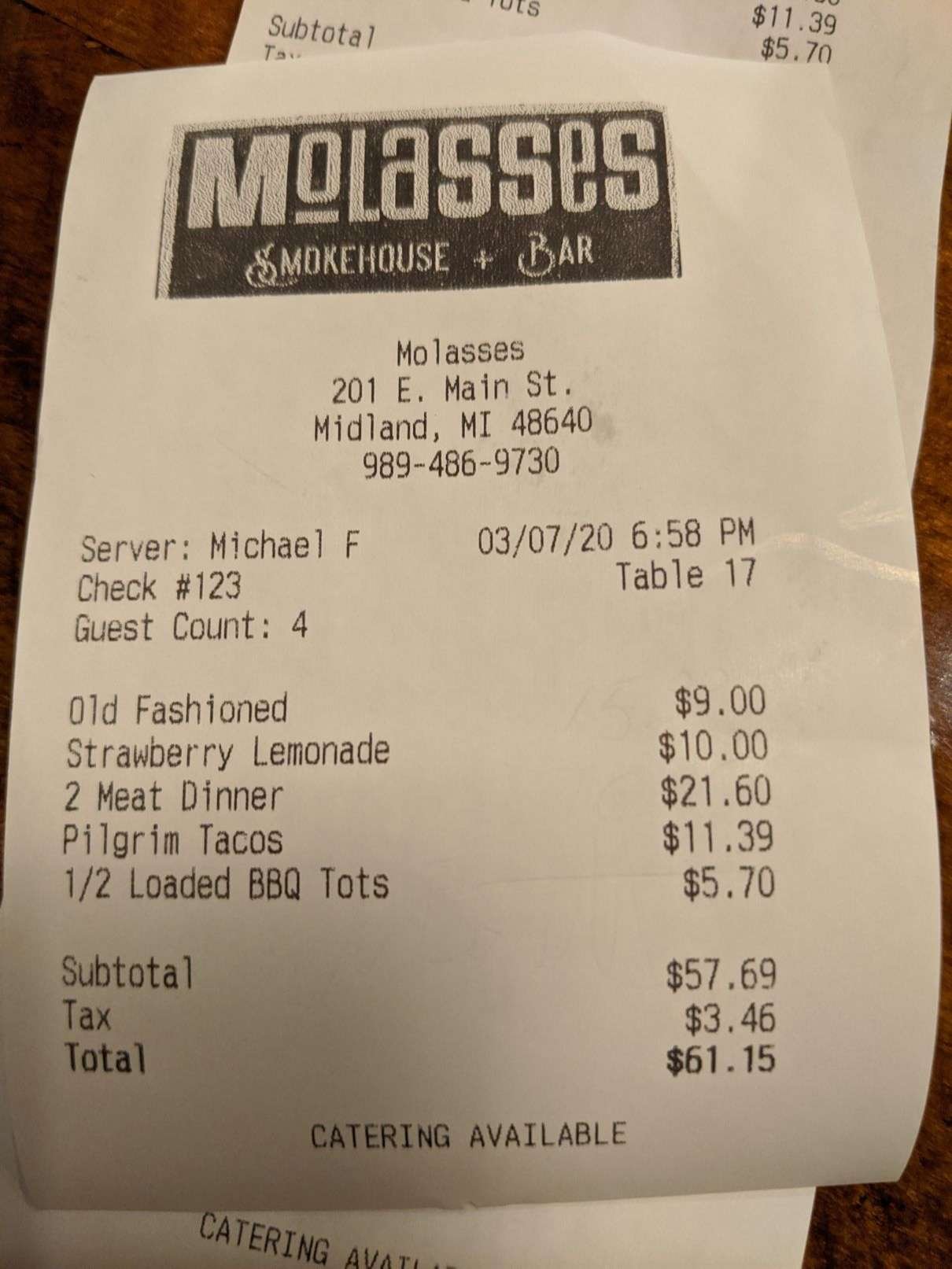 With a total bill of $61.15 USD before tax, Molasses isn't a cheap date. Although, if you remove the cocktails, that would have dropped the bill close to $20 right there. Ultimately, I am of the opinion that it is hard to put a price on good BBQ.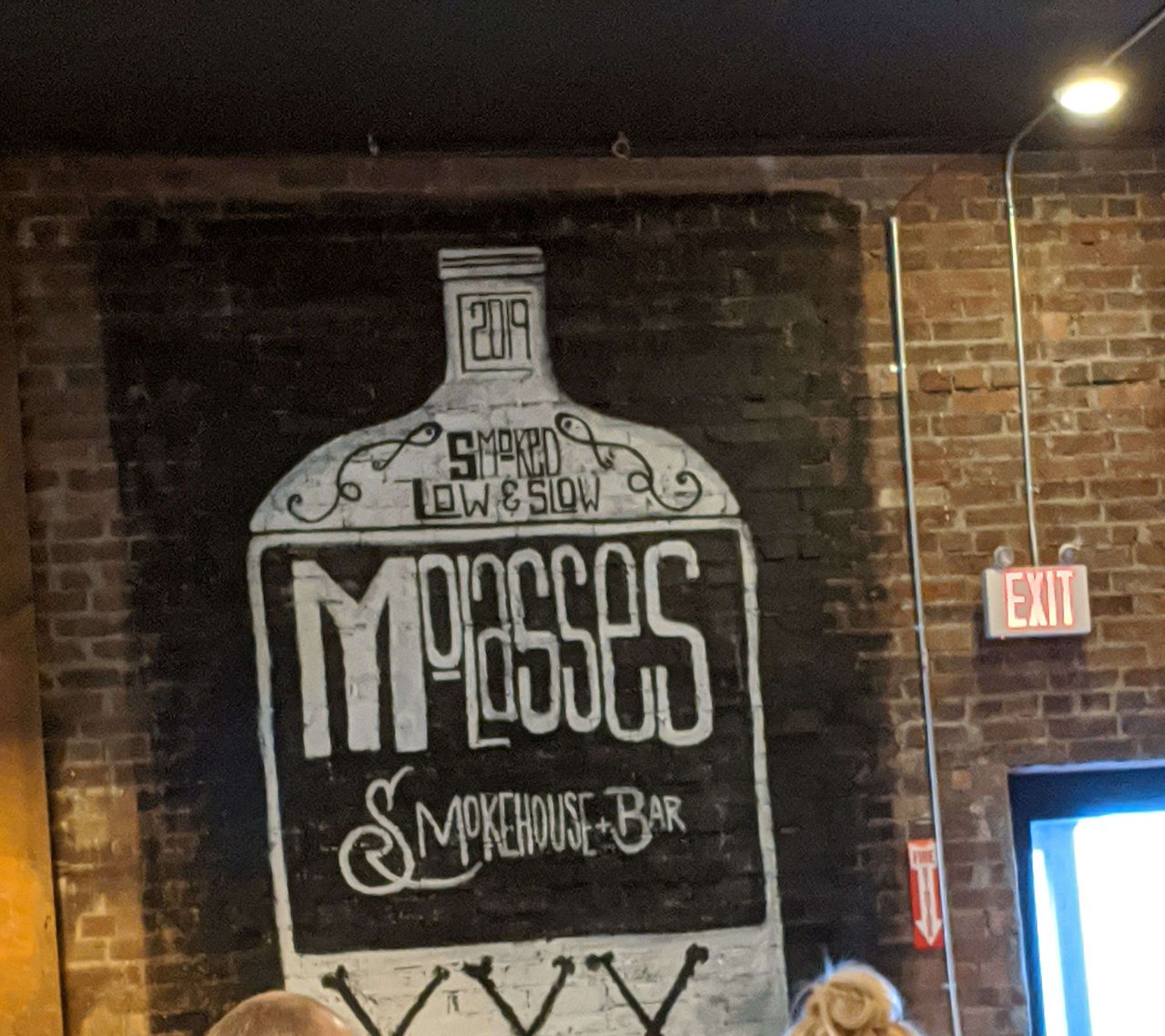 To say I would go to Molasses again in a heartbeat is an understatement. I would run, walk, crawl, roll in a barrel to Molasses to have some of their fantastic BBQ at the drop of a hat.
If you are ever in the Midland area and you are looking for some fantastic BBQ, this is the place that you need to check out!
---
Restaurant Information

Molasses Smokehouse and Bar



201 E Main St, Midland, MI 48640, USA
---
Bozz Eats: Molasses Smokehouse & Bar
This post participated in the Tasteem contest BBQ & Burgers