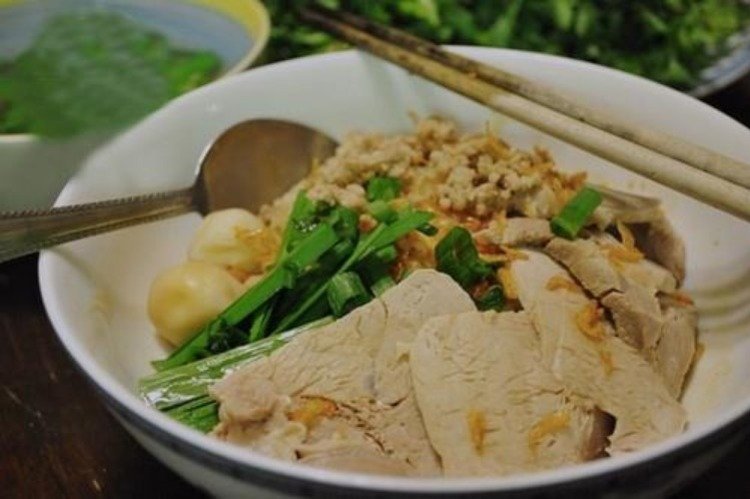 Dried noodles are very attractive with the noodles are marinated in sweet sauces sauce sweetened delicious, used with sweet drinks are easy to eat.
You need to prepare the following ingredients to make dried noodle:

500g lean meat or pork ribs

1 white onion

3 carrots

300g minced pork

3 garlic

Drying hose

Egg boiled eggs, peeled

Scallion

heart, liver, kidney (if you like)

Sugar, soy sauce, soy sauce, vinegar, white sugar, salt, pepper

noodles

Shrimp, vegetables, bean sprouts, bean sprouts, lemons
Rice noodles dry
Making:
Step 1:
Add the lean pork pieces to the pot with carrots and white onion. If you use heart, liver or kidney, you should always go to this step and boiled as meat.
Rice noodles dry
Sprinkle water over the pot and simmer over medium heat. After the boiling water you remember picking up the foam frequently so that the water was in. Once you have tuned for about 1 hour and clear water, put 1 tablespoon of broccoli or a piece of squid in the pot.
Rice noodles dry
Step 2:
Pick up and clean the chives and the umbrella. Cut to eat. Price washed, drained. Scallions.
Rice noodles dry
Garlic peeled, minced and put into the pot with a little oil.
Rice noodles dry
Non-aromatic garlic on medium heat, stirring until the garlic has turned yellow. Turn off the stove and continue to mix. Once the oil has cooled down, it turns darker and brighter.
Rice noodles dry
Step 3:
Mix 5 tablespoons sugar, 3 tablespoons black soy sauce, 1 tablespoon vinegar and 8 tablespoons soy sauce to make the sauce. Stir well for sugar. You can put in the microwave oven spinning in a few tens of seconds for faster melting. Taste and eat again. Divide the amount of sauce into the bowls you will use to eat the skillet, scoop up a spoon of garlic.
Rice noodles dry
Step 4:
Let the meat into cold water bowl. You can check the cooked meat by poking chopsticks on the meat. If the meat is not red, the cooked meat is ripe. Cut the meat into thin slices.
Rice noodles dry
Add sugar and salt to the broth. Add the eggs and 1 tablespoon of garlic to the aroma.
Rice noodles dry
Step 5:
Stir fry for frying pan. Add 2 servings of water to the meat, stir until the meat is cooked and clear.
Rice noodles dry
Noodle fillet.
Rice noodles dry
Step 6:
When serving, put the noodles in the bowl with the sauce and garlic, mix well.
Rice noodles dry
Sprinkle with green onions, lean meat, minced meat, dried beetroot and eggs on the noodles.
Rice noodles dry
Step 7:
Scallions, chives and little sprouts into the bowl of water. Put the hot water into the bowl.
Rice noodles dry
Prepare dry noodles with vegetables, squash, can, and lemon.
---
Restaurant Information

- Dried noodles are very attractive with the



48501 Warm Springs Blvd # 114, Fremont, CA 94539, USA
---
- Dried noodles are very attractive with the
This post participated in the Tasteem contest Your weekly choice