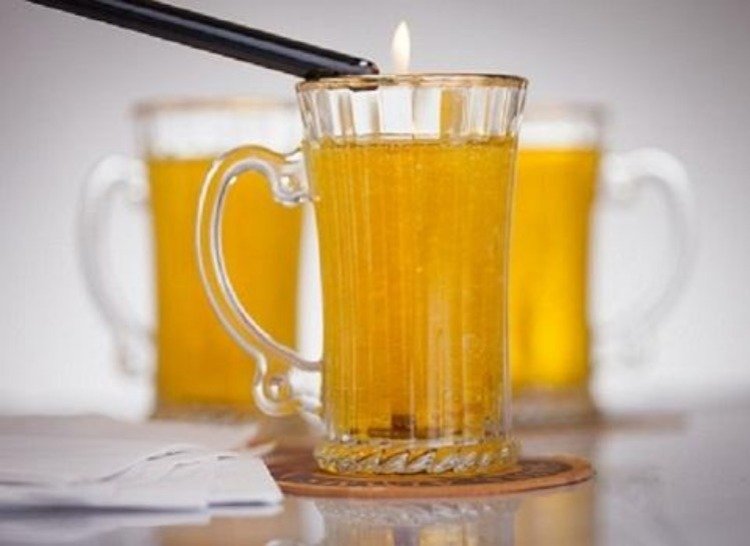 Unique beer mug lit - candle light
Taste candles to cool fresh brewed beer, very fun and easy to make. You can put them on your table at the party or make a surprise gift to your friends,
To make your own beautiful sparkling candles, you can use different styles of beer, different colorants for real candles, including foam beer above.
The steps are as follows:
Step 1: Measure the wick with a length of 3 inches (7.6 cm) longer than the length of the beaker
Step 2: Stick this wick in the cup
Step 3: Cut the candle wax into small pieces, put into the double boiler. Above to the water, the bottom pot holds water. Boil water and reduce heat gradually, boiling water and do not boil.
When the wax is completely melted, turn off the stove.
Step 4: Add colorants to candles like a real beer. Yellow or brown are the right colors to create the most authentic, but some of the colors are different, so choose what color you like.
Step 5: Pour the wax into the cup. For the remaining wax, use an egg whisk or a fork to beat evenly until the wax forms a foam.
Step 6: Pour the foam into the cup, can spill into the cup to look more real.
Step 7: Pay attention to the wick wires are still in the center. Then let cool. And you have a unique handmade beer candle.
NOTE: Candle wax will darken when heated. To test, drop a few drops of hot wax on a piece of white paper and place in the refrigerator to close the state, then look at the color to know the standard color.
Some beers are darker or brighter. You can make different beer mugs, different colors as gifts for beer lovers in your family.
If you do not use double boiler, just put the water in the pot, boil, put the wax into a can and the wax will melt in it.
Wish you a good hand made glass of sparkling beer sparkling with instructions to make simple candles at home!
---
Restaurant Information

Unique beer mug lit - candle light



601 Cesar Chavez, San Francisco, CA 94124, USA
---
Unique beer mug lit - candle light
This post participated in the Tasteem contest The Palatable Beauty of Chinese Cuisine