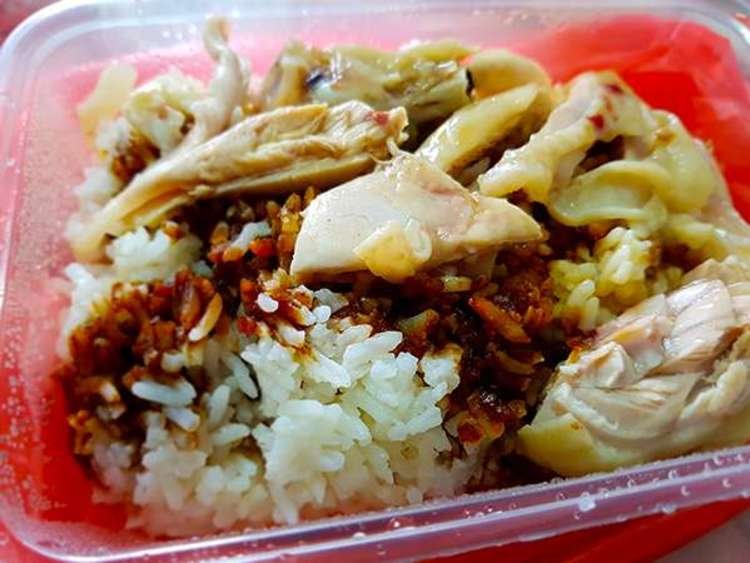 The theme is 'Takeaway' food so I am taking you away from your boring desk to have a look at what I have taken away for my lunch!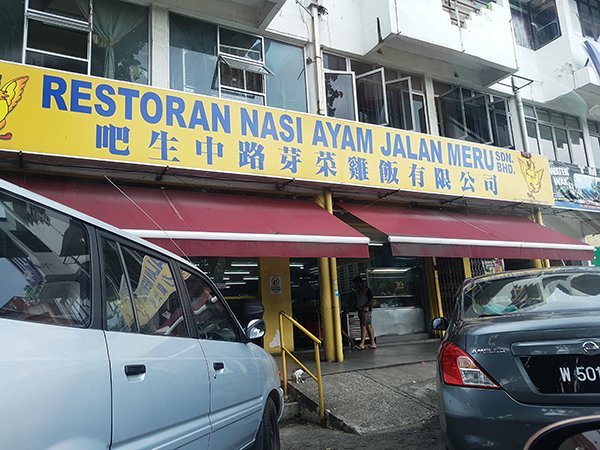 Chicken Rice Restaurant, Meru Street.
As you can see from the sign, this restaurant mainly sells chicken rice. They are also among the few lefts that sell a very traditional kind of chicken rice. You might ask, what's the difference between all the chicken rice sellers? Well, there are many, such as the way they prepared the chicken, especially the steam Hainanese Chicken, whether the meat is juicy, tender or tasty. Roasted chicken can't be too dried but yet has the crunchiness on the skin. The rice has to be fragrance with the chicken broth, and many more.
So when the locals tell you which shop to go, it's better you follow the directions so you won't be disappointed.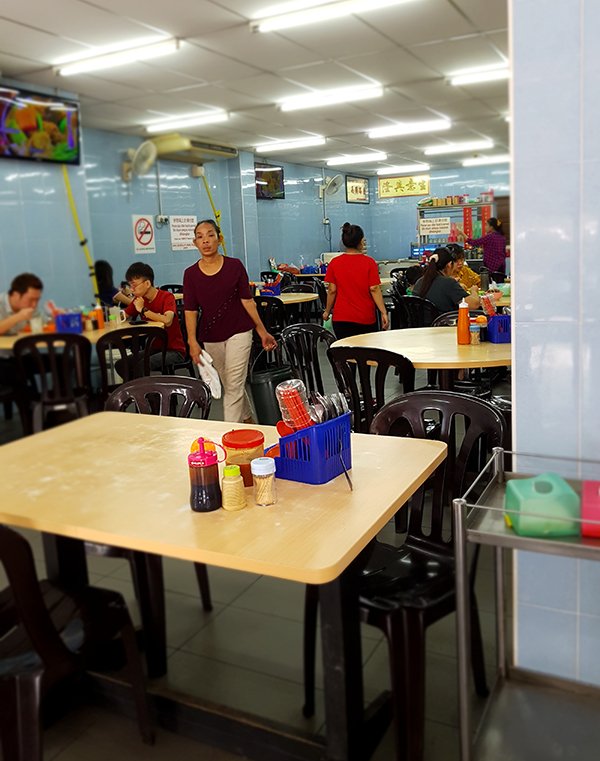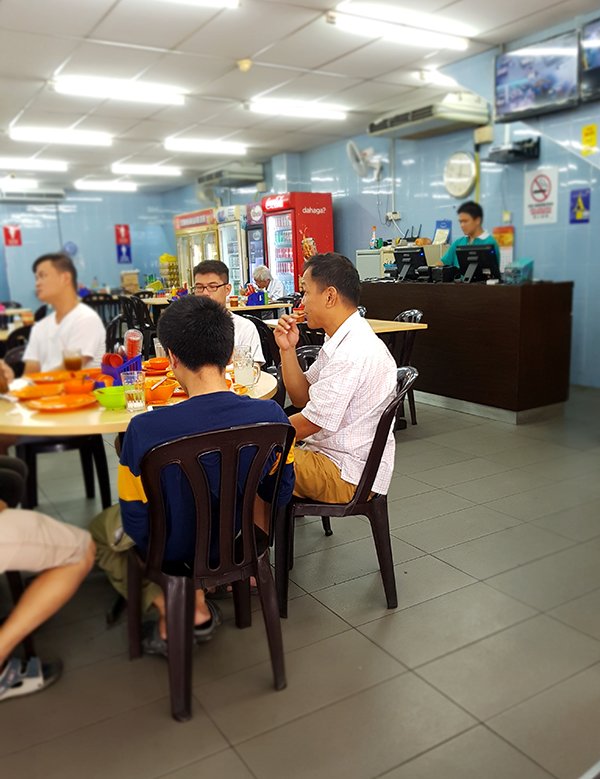 They do have a clean and spacious space for dining as well but during midday, the weather is a little bit too hot for my liking to sit there and dine. So I choose to take away from this restaurant, most of the time.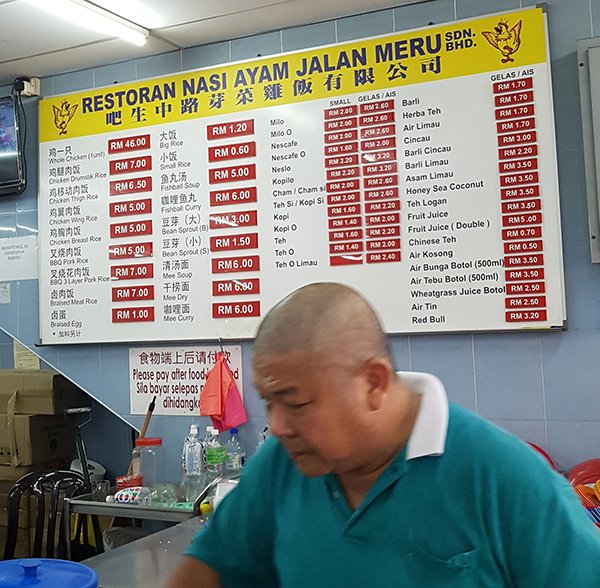 You can see from the Menu Board above, they have a very simple list and the price is affordable for the white-collar crowd. Besides a few types of chicken, they also sell noodles, and their fishballs are all handmade by themselves.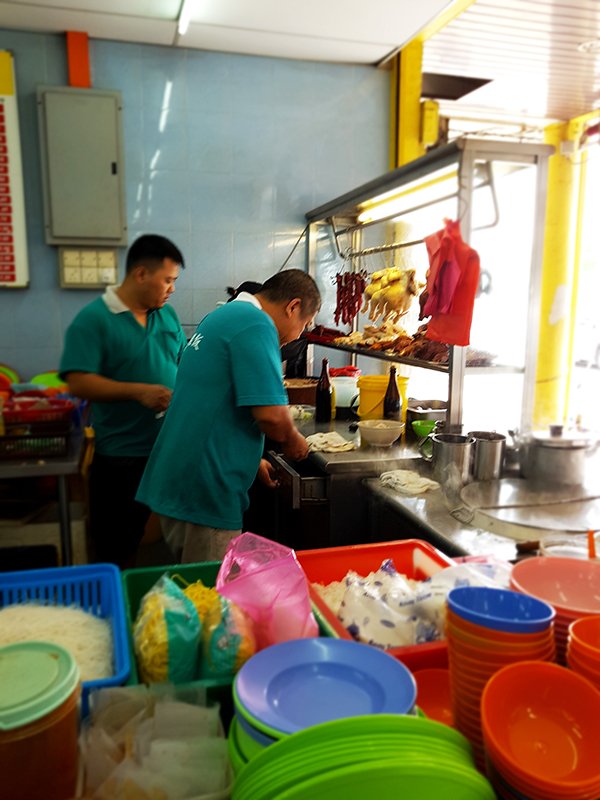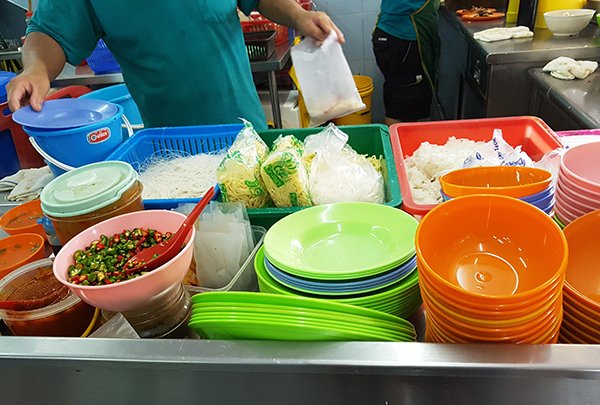 This uncle handle the noodle sections and he is fast with his hand! Within a few minutes, my takeaway is done. There's another staff doing all the chopping at the chicken counter.

This is what I have taken home.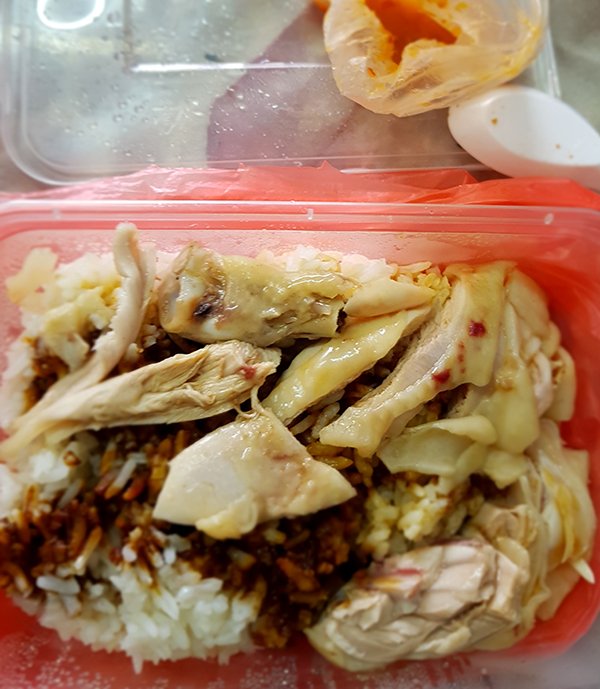 Look at the chicken, so juicy and tender.
As far as I know, only us the Klangites like to eat our chicken rice with added Black Thick Soy Sauce. It's a culture that was passed down from generations. This one cost me RM6.50 (USD 1.55) because I asked for the chicken thigh.
You can get as cheap as USD 1.20 for a plate of delicious chicken rice here.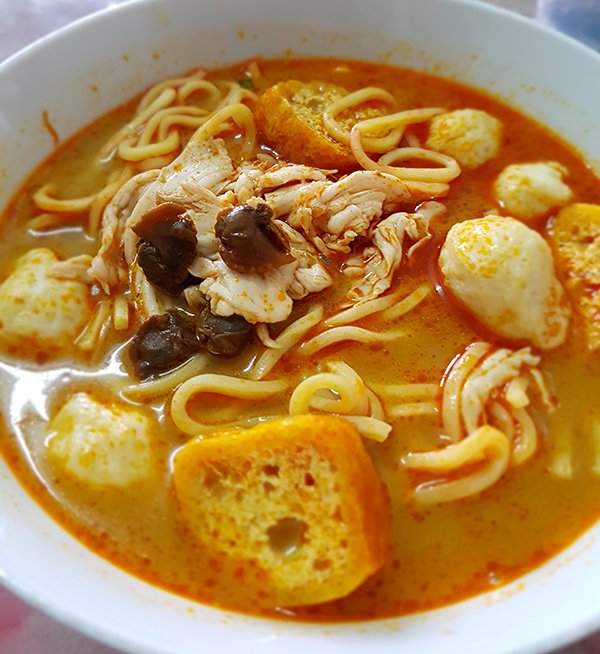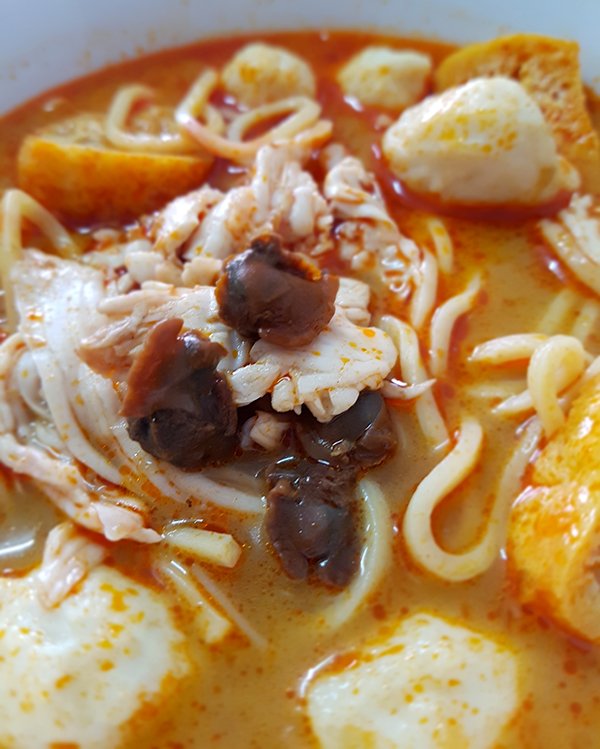 Here is the Curry Noodle. For just RM6.00 (USD 1.43), you will have a bowl of noodle contained with shredded chicken, five homemade fish balls, big and juicy cockles and some bean curds. The curry soup is cooked with chicken broth as well, so it doesn't taste too spicy unless you add in the additional curry paste that they gave, well that's another story! I can even drink the whole bowl of it!

Overall
This is one of my favourite places to go get my lunch (since they open only until 5 pm). I would recommend whoever that likes to go for a food adventure, this will be one of the place you need to visit.
I hope you like the review this time. Thank you and see you in my next post!

All photos were taken with my Samsung Galaxy S7 Edge.

Restaurant Nasi Ayam Jalan Meru.
Address: 239, Jalan Meru, Kawasan 19, 41050 Klang, Selangor, Malaysia.
Contact: +6012-297 8205
Business Hour : 7 am - 5 pm Daily.
Location:
!steemitworldmap 3.071349 lat 101.449551 long Restaurant Nasi Ayam Jalan Meru d3scr

Thank you for stopping by, this is a place where I can share the things I enjoy in life, art, gardening, nature, foods. This is why my divider above are filled with all the different kind of icons that I love doing. I hope you enjoy my post so far, leave me a comment if you like.
谢谢您的到访,这里是个我可以分享关于我所喜爱的生活,包括艺术,园艺,大自然,食物等等的地方。 这就是为什么我上面的页脚全都是我喜欢做的不同类型的图标。 我希望您喜欢我的帖子,如果您喜欢,不妨留下您的评语。
Proud Member of:

Proud curator and editor of #cn-malaysia

---
Restaurant Information

Restaurant Nasi Ayam Jalan Meru



239, Jalan Meru, Kawasan 19, 41050 Klang, Selangor, Malaysia
---
Restaurant Nasi Ayam Jalan Meru
This post participated in the Tasteem contest Takeaway