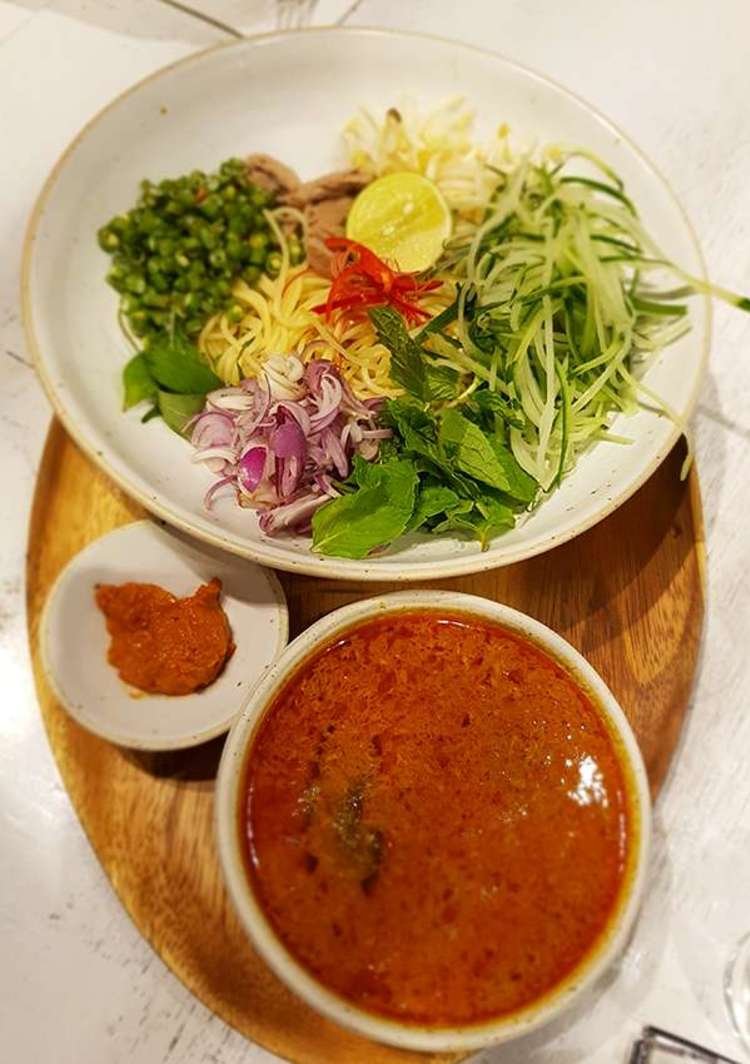 Where to eat for my blind date you would ask?

Here is a place I would recommend to people who are thinking of one, Benji's at Bangsar Village. Benji's is a place with a vibrant and fun colourful ambience, fill with cute and striking drawings, the cosy environment is suitable for two strangers to meet for the first time.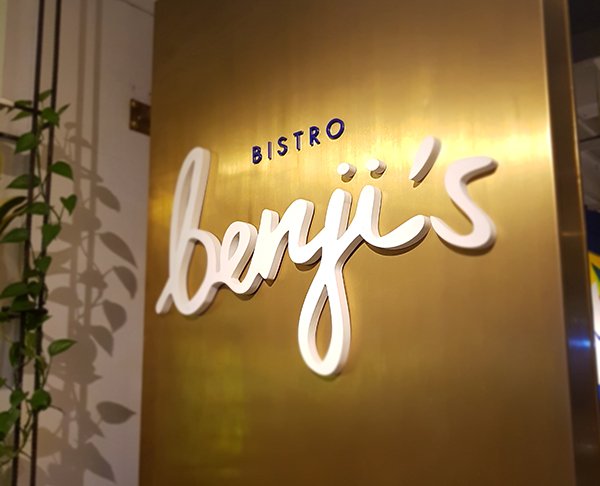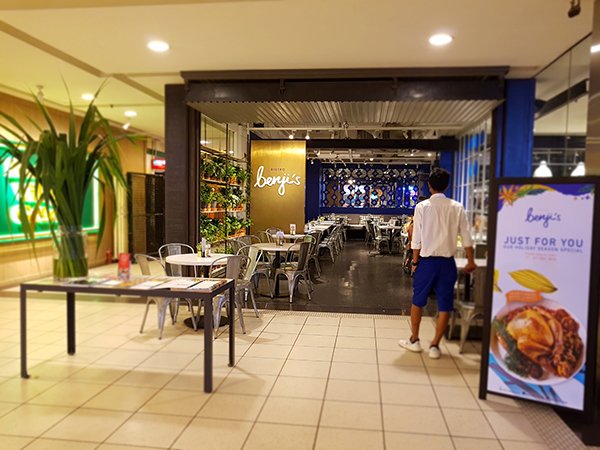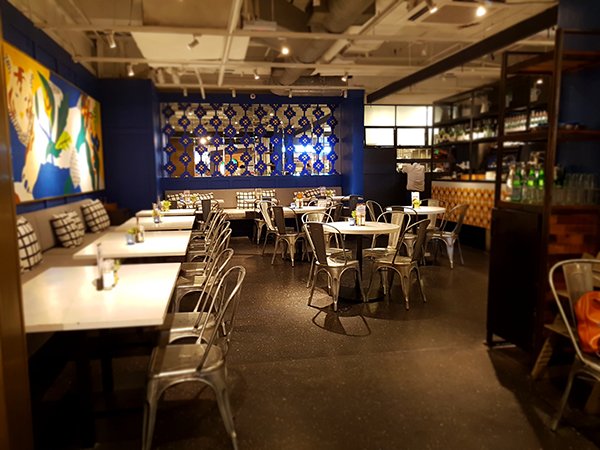 Benji's have a very cosy dining place with its dim lights ambience, comfortable sofas seatings. Very suitable for a couple to have a nice warm chat and dine.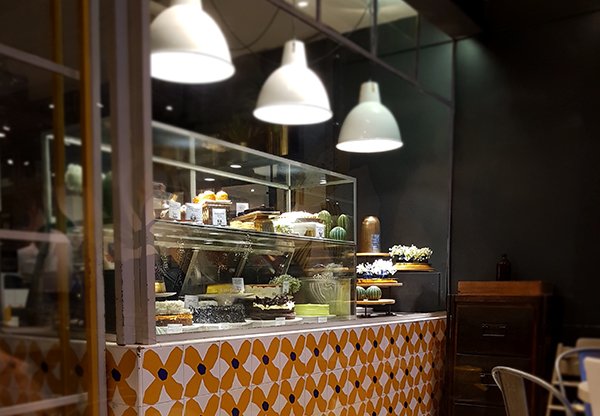 They also have wide selections of delightful desserts and our favourite - Scones! An outdoor sitting also available, which are spacious and bright, if you are more comfortable being under clear bright lights that is...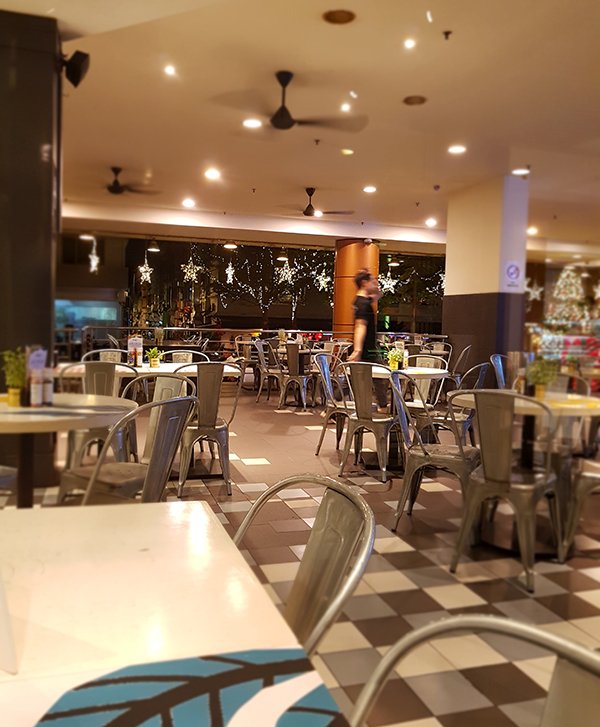 There goes the fun of dating... Haha

The Menu.
Let's have a look at their menu and see if they are suitable for your taste bud.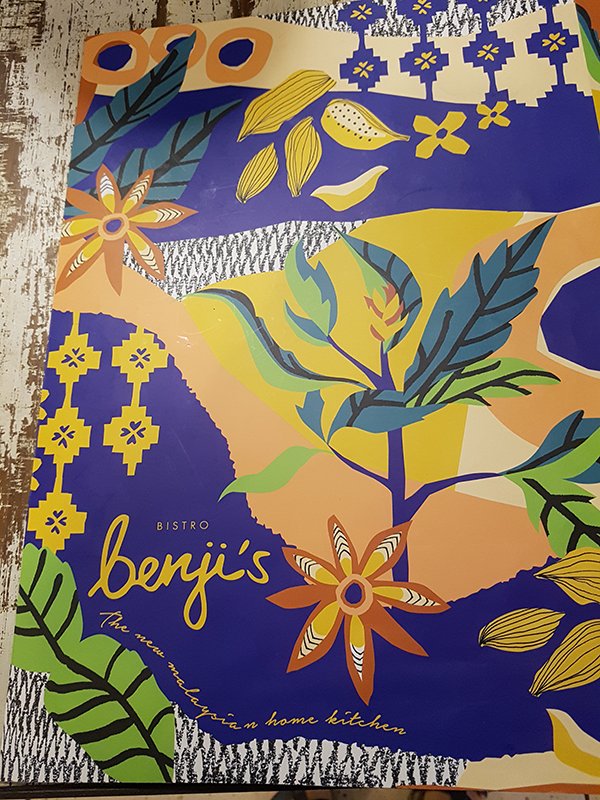 Isn't it delightful to look at? So colourful!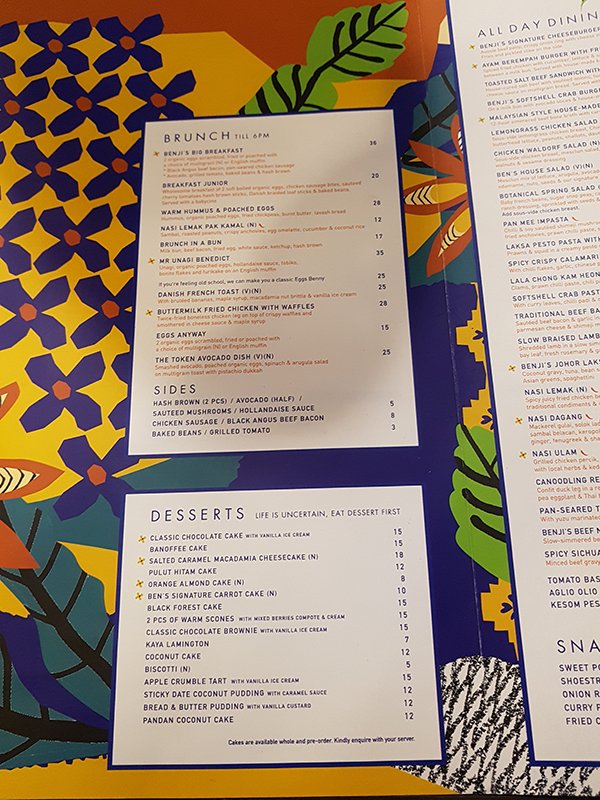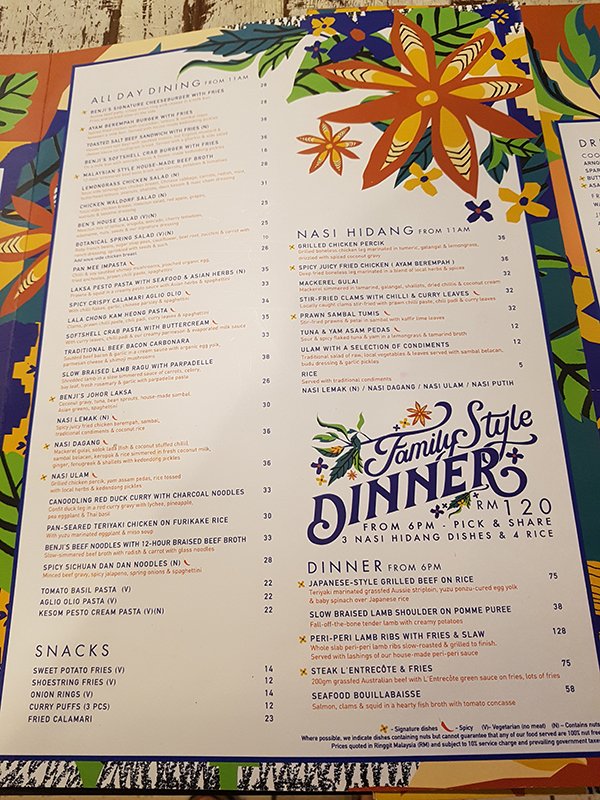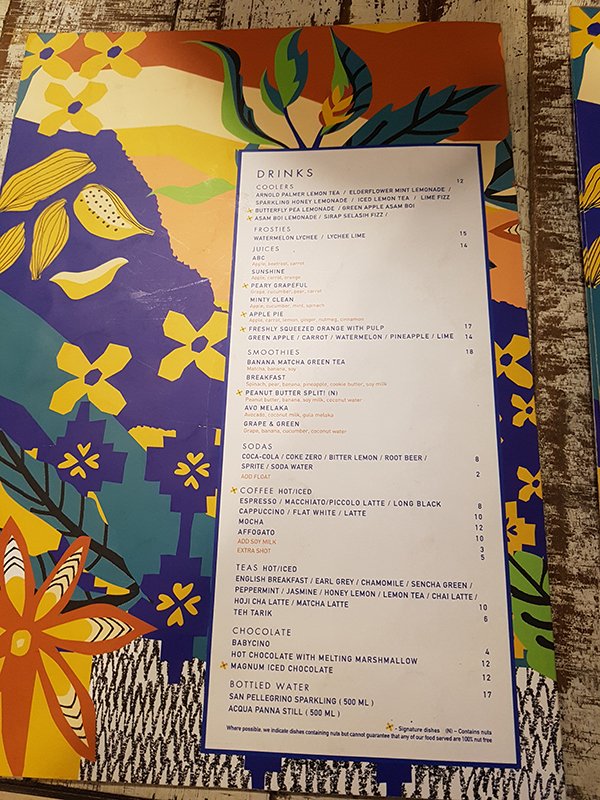 There are so many fusion foods here, a mixture of local and western, plus some new inventions from the chef which are just mind-blowing such as the one we ordered and about to show you.

Here are some of the delicious food you can try.
This the mind-blowing dish that I mentioned earlier.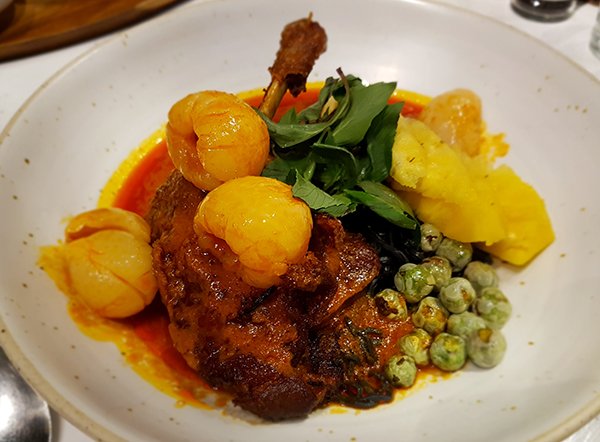 Canoodling Red Duck Curry with Charcoal Noodle, RM 33 (USD 7.92)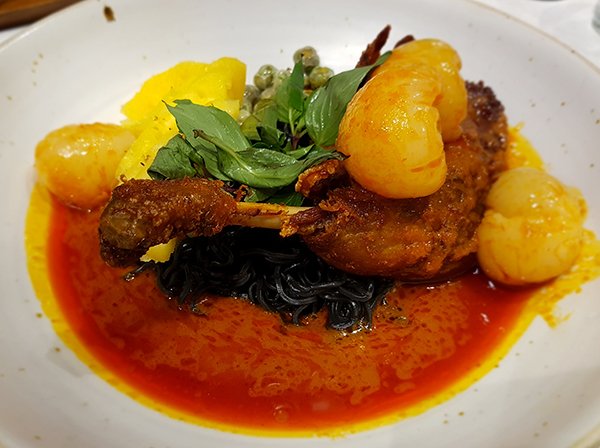 Canoodling Red Duck Curry with Charcoal Noodle consist of Confit Duck Leg in a Red Curry gravy, some huge Lychees and Pineapples, Pea Eggplants and Basils to the taste. All were placed on top of the nice warm Charcoal Noodle. The gravy is not that spicy although it looks really red, a taste of sweet and spicy, quite nice actually.
The Duck skin was still crunchy when they served it, making it more enjoying to eat with the rest. The combinations of all the ingredients were surprisingly tasty and this is a must-try if you ever come here.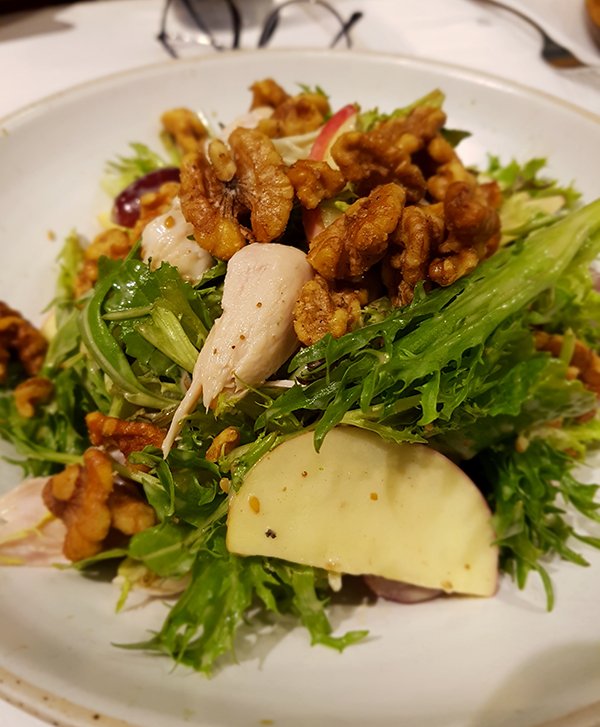 Chicken Waldorf Salad, RM 31 (USD 7.44)
The portion of Chicken Waldorf Salad was surprisingly big as well. They are very generous with the Chicken Breast given, Mesclun Green Salad, Red Apple slices, Grapes, Walnuts and Sesame Dressing on top. It's enjoying to have some fresh greens among all the heavy gravy food sometimes.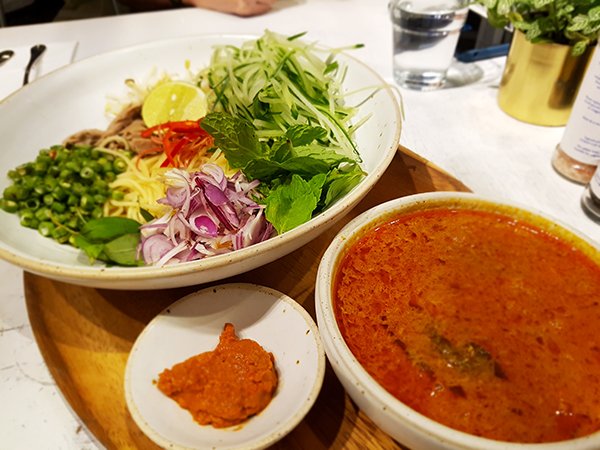 Benji's Johor Laksa, RM 26 (USD 6.24)
Lastly is the Benji's Johor Laksa, my friend fell in love with this dish the moment she took the first taste! The Coconut gravy was separated from the dish which consists of Tuna, Bean Sprouts, House-made Sambal, Asian Greens and Spaghettini. Poured the gravy to the bowl and mixed them up, she was in heaven and I believed her, hahaha...

Overall
I love the place, it's cosy, great light music, food was great even though it's a bit pricey but hey, to impress your partner some effort needs to be shown as well.
I even find the staffs' uniform to be of Carribean feel and pleasant to look at. That's it for today's review.
Thank you again for reading my review, hope you enjoy it! See you in my next post!

All photos were taken with my Samsung Galaxy S7 Edge.

Bistro Benji's by BIG.
Address: G5, Jalan Telawi 1, Bangsar Village, Bangsar Baru, 59100 Bangsar, Wilayah Persekutuan Kuala Lumpur, Malaysia.
Contact: +603-2287 2630
Business Hour: 9 am - 10 pm Daily.
https://thebiggroup.co/bistro-benji
!steemitworldmap 3.129782 lat 101.670680 long Bistro Benji's d3scr

Thank you for stopping by, this is a place where I can share the things I enjoy in life, art, gardening, nature, foods. This is why my divider above are filled with all the different kind of icons that I love doing. I hope you enjoy my post so far, leave me a comment if you like.
谢谢您的到访,这里是个我可以分享关于我所喜爱的生活,包括艺术,园艺,大自然,食物等等的地方。 这就是为什么我上面的页脚全都是我喜欢做的不同类型的图标。 我希望您喜欢我的帖子,如果您喜欢,不妨留下您的评语。
Proud Member of: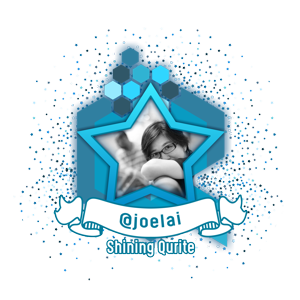 Proud curator and editor of #cn-malaysia

---
Restaurant Information

Bistro Benji's by BIG



1, Jalan Telawi 1, Bangsar, 59100 Kuala Lumpur, Wilayah Persekutuan Kuala Lumpur, Malaysia
---
Bistro Benji's for your Intimate Blind Date.
This post participated in the Tasteem contest Where to eat for my blind date?