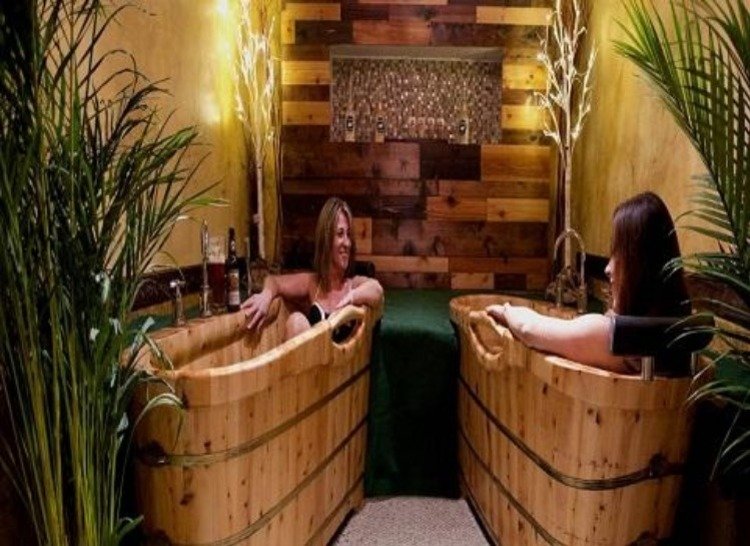 Is Spa Beer Really Good For Your Health And Skin?
Have you ever heard of spa beer? This type of beauty care is very popular in European countries. Together with Czech draft beer Chebbier learn specific about your spa beer!
Research on the health benefits of the ingredients in beer has been heated up in the media recently. Beer is known for ingredients that can treat a variety of diseases ranging from acne, stomach ulcers to cancer. Spa sprouts grow like mushrooms in Europe. Is beer really good for your rough skin?
Some studies suggest that ancient Egyptians and Romans used regular beer as a beauty habit to keep the skin smooth and evenly colored. Perhaps inspired by this ancient beauty, some modern cosmetic companies have begun adding yeast to their products, claiming that the yeast's ingredients would help acne effectively, Maintain a pH balance for the skin. In line with that trend, a series of spa beer was born.
What is a spa beer?
Spa beers are popular in most European countries mainly in Austria, Czech Republic, Germany ... Many beer spas are built right in the breweries. Guests can enjoy beer as well as beer - inspired services including: Beer bath, facials or body massage.
Why are beer spas so popular?
Simply because Europeans love beer. The beer baths are very popular. Baths are usually gathered in a large room where guests can enjoy beer and chat with their friends. The novelty of the spa-inspired treatments of the Spa has attracted visitors from all over the world.
Is there any scientific basis for this idea?
A popular beer spa, found at the Chodovar brewery in the Czech Republic, has teamed up with a local doctor and a bath science expert to find an effective bathing formula. Dr. Roman Vokatý believes that bathing is good for the skin and hair, warming the joints and supporting the immune system.
What is the beer brewery?
To create a soft beer bath requires yeast, beer, a mixture of crushed herbs added to the hot mineral water tank about 93 degrees. Finally, the beer is added to create a smooth foam. After bathing for about 20 - 25 minutes, you will be wrapped towels to keep warm and relax. This stage will help your skin absorb nutrients, eliminate toxins and glow smooth.
Skin care, health care at beer spa is really effective?
Beer lovers believe that each ingredient in beer has its own effect. Hypoallergenic, warm water permeates the pores, eliminates toxins and stimulates the circulatory system. Alcohol has an exfoliating effect on the skin. Alcohol is a key ingredient of vitamins, which helps to cleanse, regenerate the skin, increase elasticity, slow down the aging process and treat acne effectively.
Can I have a beer at home?
It's probably not a good idea to fill your home with a beer. But you can care for your skin by applying a mask. Beer Mask will bring you beautiful and smooth skin.
---
Restaurant Information

Is Spa Beer Really Good For Your Health And Skin?



Turk St, San Francisco, CA, USA
---
Is Spa Beer Really Good For Your Health And Skin?
This post participated in the Tasteem contest The Palatable Beauty of Chinese Cuisine