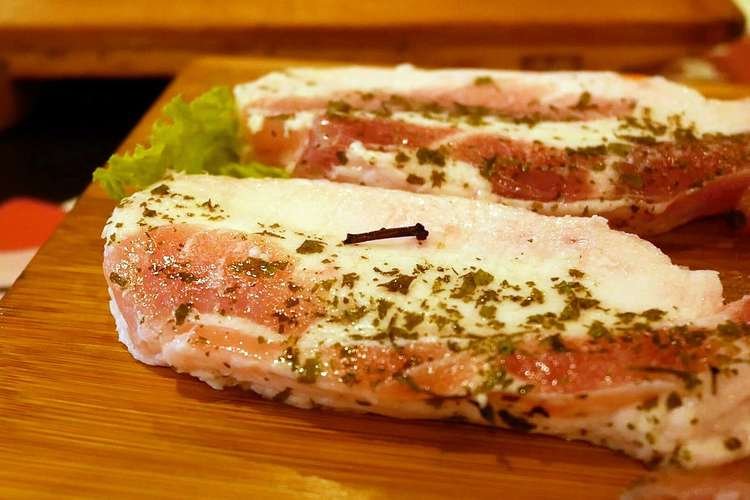 A Tasteem Review
What is Samgyeopsal? It is a form of Korean BBQ which is grilled pork belly accompanied with various vegetables and sauces. Here in the Philippines Samgyeopsal restaurants have gained popularity and restaurants have sprung up almost everywhere. Today I will share with you our recent experience in one of the most popular "All You Can Eat" Samgyeopsal restaurants in our area.
Romantic Baboy

It was 5:00 pm when we headed out to have our dinner. Before we left, we called the restaurant first to ask if reservation is needed. From our past experience, it is best to call first for reservation and ask when will the dinner buffet start.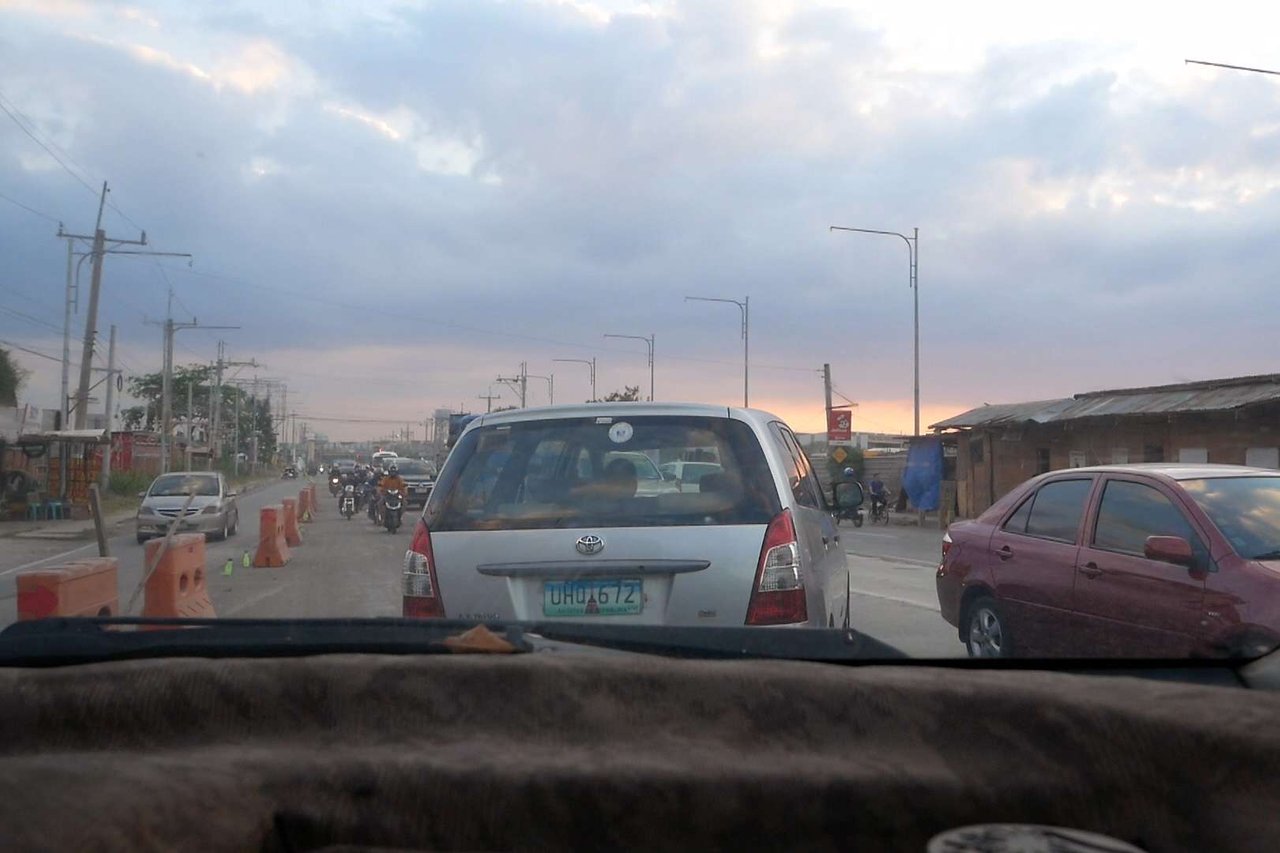 Over the phone, we were informed that there is no reservation as it is a first come first serve basis. Also, there is no specific time or schedule for the buffet. You could come at anytime that you want to eat. We also asked about the time limit as other buffets have a 2-3 hour time limit. We were surprised when we were told that, "There is no Time Limit."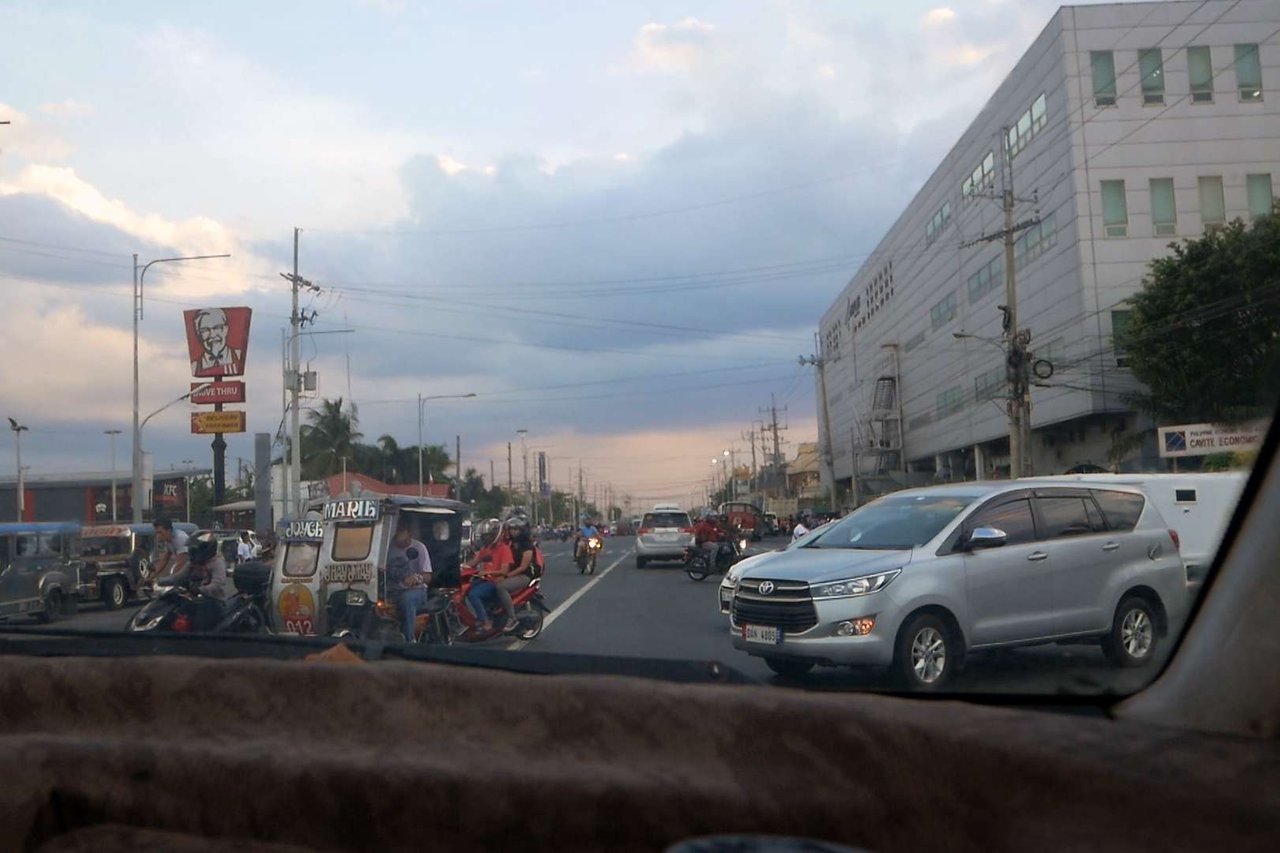 We reached the branch which is nearest to where we live. As far as I know, there are more than 50 branches which are still growing.
Hours of operation
Everyday from 11:00 am to 12:00 am
The name of the restaurant sounds a bit weird but unique in some way. The word baboy is our local language that refers to "Pork." In english, the name of the restaurant is "Romantic Pork," which is clearly shown by their mascot outside every branch. A pig in tuxedo biting a rose ala Casanova, holding a bouquet of roses and a heart with the location of the branch.
We arrived around 5:30 pm and at this time there is not a lot of customers yet. I was told by my colleagues that the line tends to get long during the exact lunch and dinner hours. I think we just arrived in time.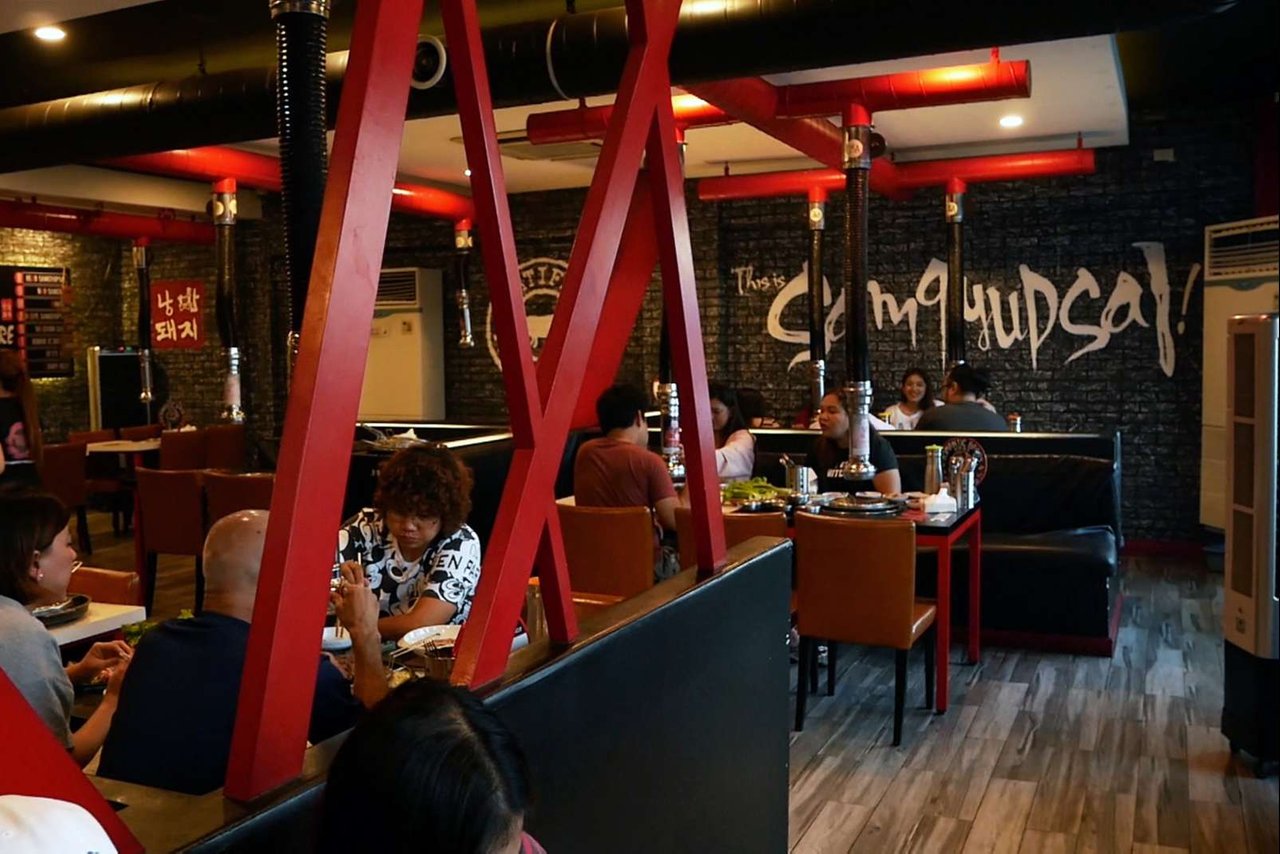 The Menu
Marinated and flavored meat
Herb Samgyupsal - Herb flavored pork belly
Woo Samgyup - Thin slices of beef brisket
Moksal - Seasoned pork neck
Curry Beef - Thin slices of beef in curry sauce
Spicy Beef - Thin slices of beef in spicy sauce
Romantic Bulgogi - Sweet marinated Korean style beef
Yangnum Galbi - Marinated pork ribs
Side Dishes
Stir fried Fish Cake
Kimchi
Coleslaw
Jap Chae
Scallion Salad
Sweet Potato
Inclusive of unlimited rice and lettuce.
Price
All these UNLIMITED for the price of 499 pesos or around $9.81 USD.
Drinks are not included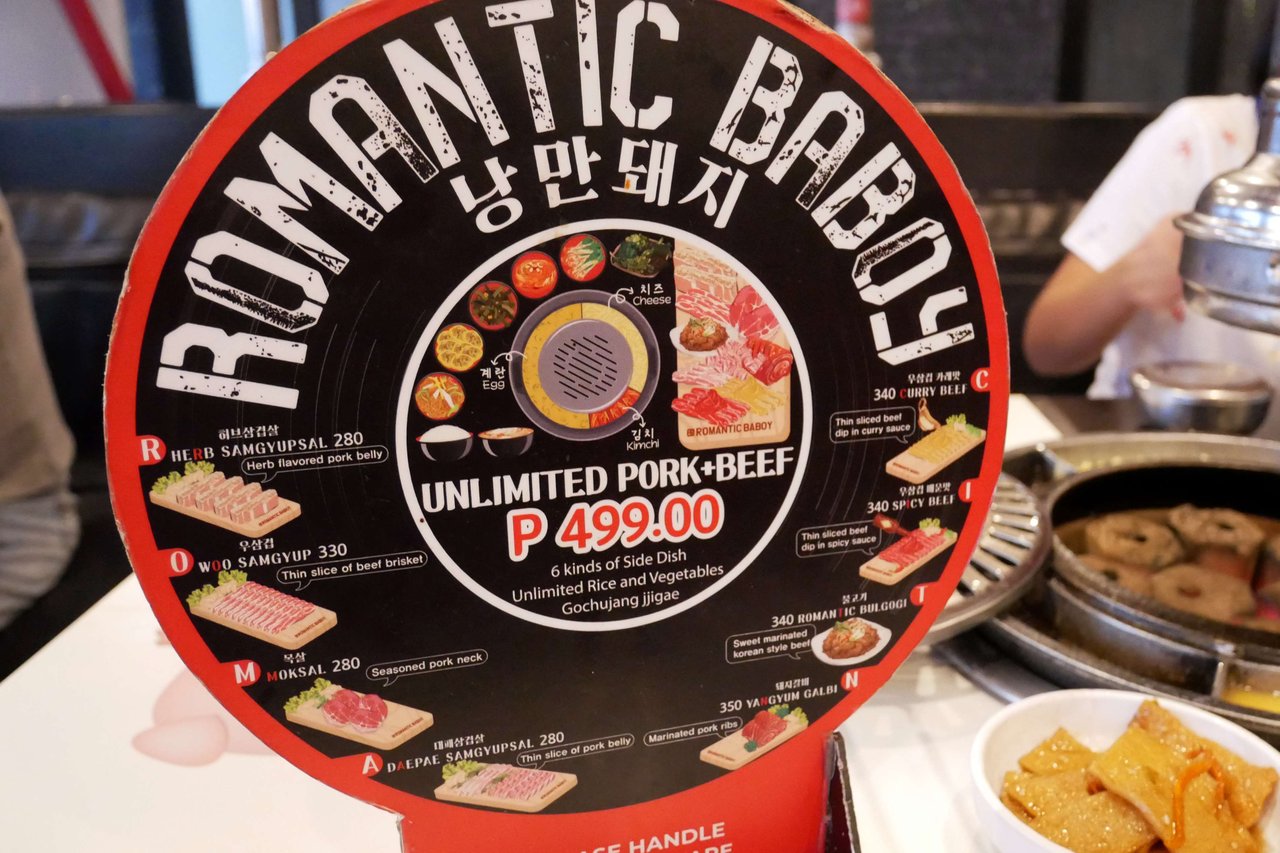 The grill in the center of the table has three section on the side.
Mainly for:
Sweet potato side dish with sesame seeds. Not my favorite as I am not very fond of sweet potato.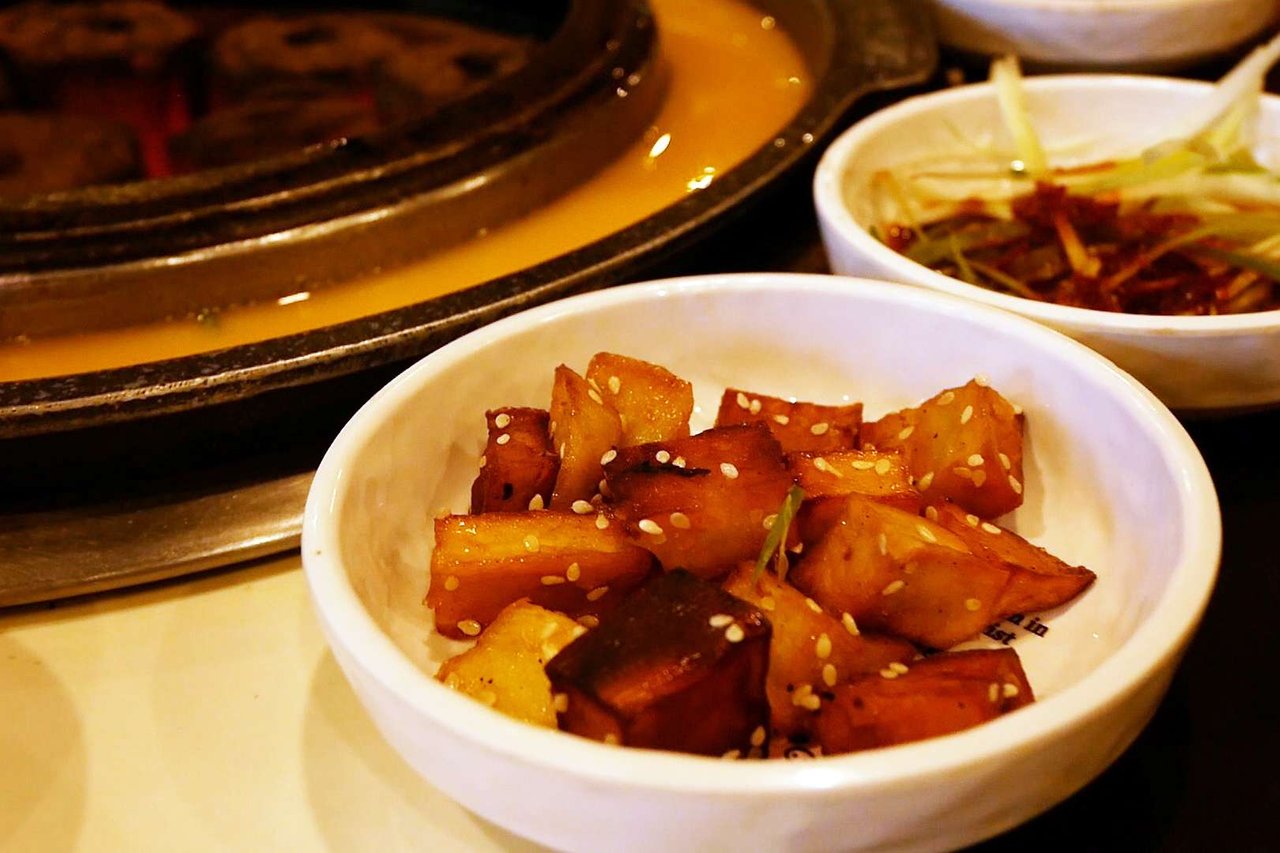 This is the first time I have tried stirfried fish cake. It surprisingly very likable to my palate.
This is my favorite side dish "Scallion Salad". Scallions mixed with some sort of special Kimchi sauce.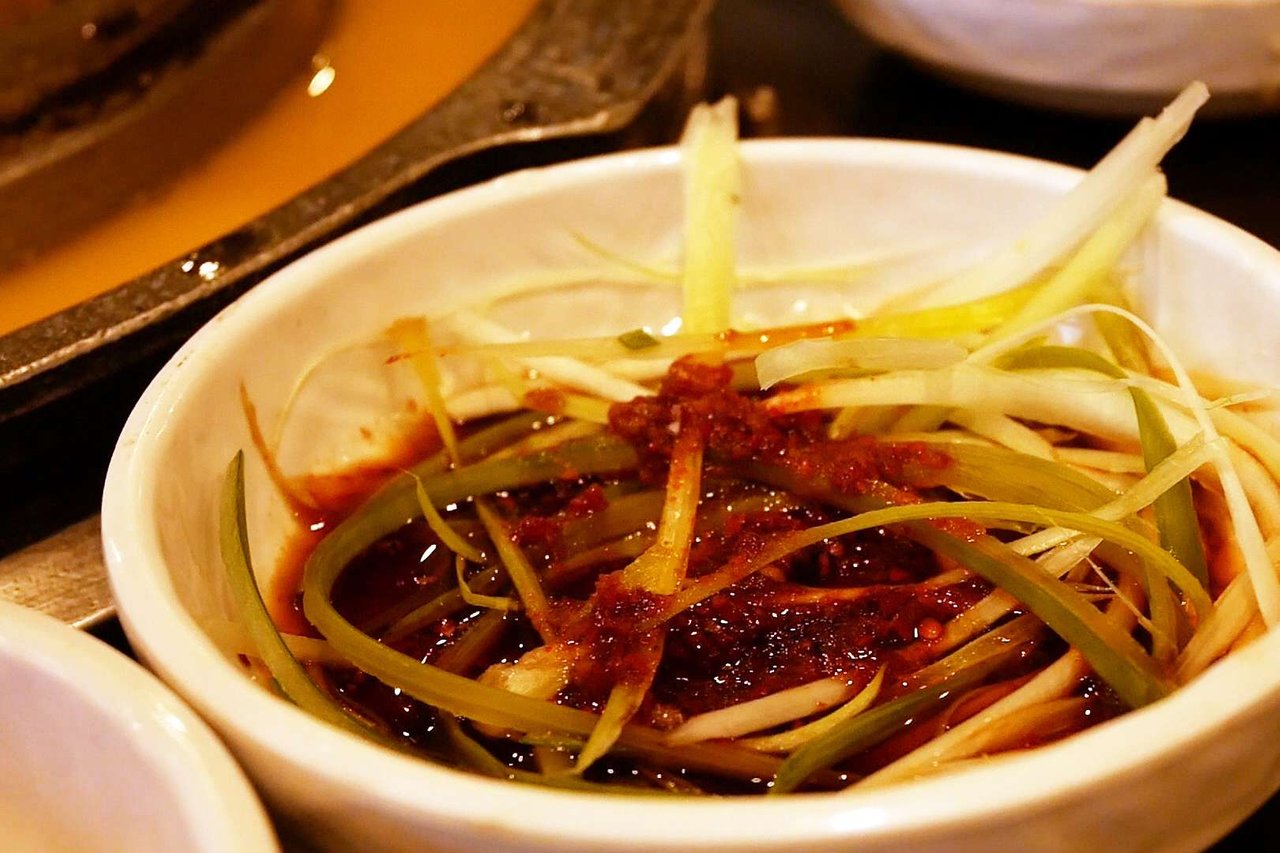 Sauces
Ssamjang sauce
Sesame Oil
Soysauce
Chili Sauce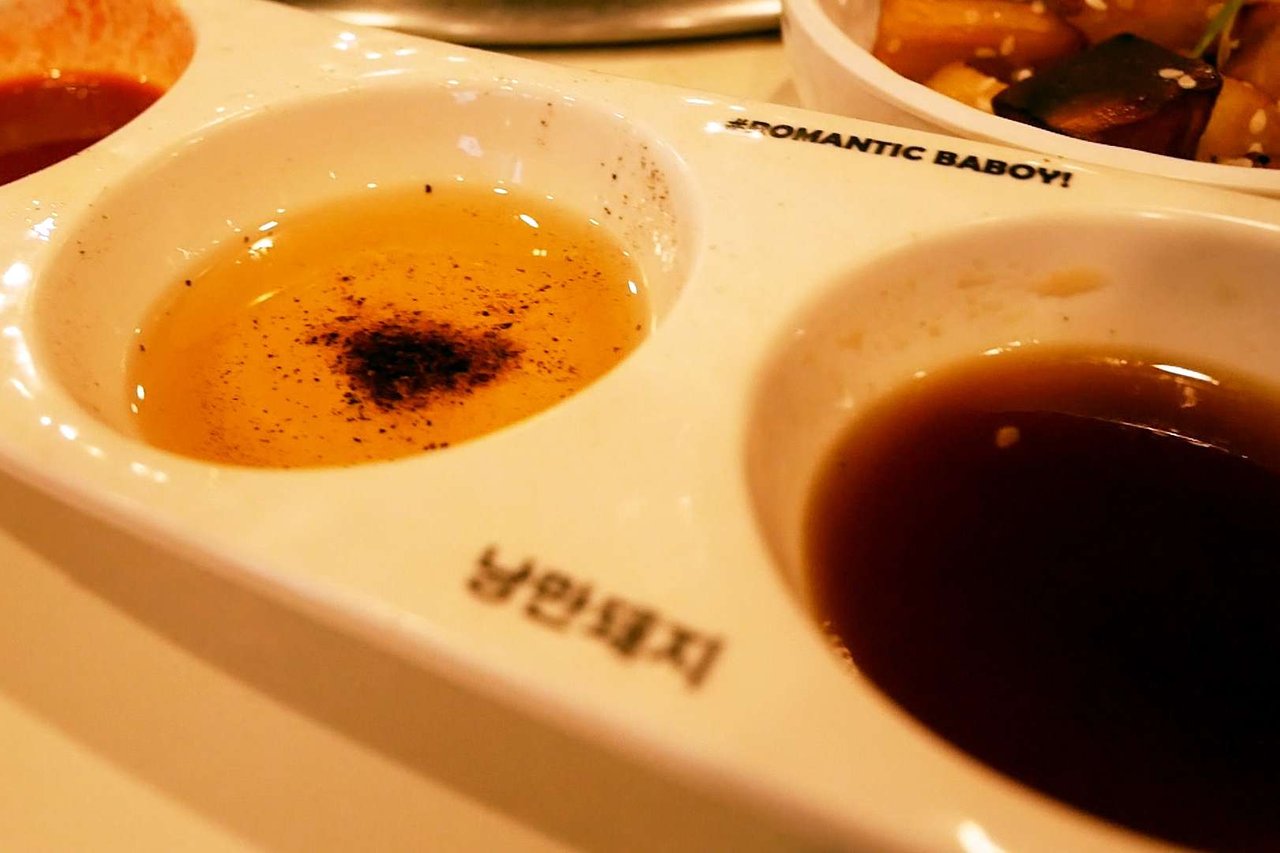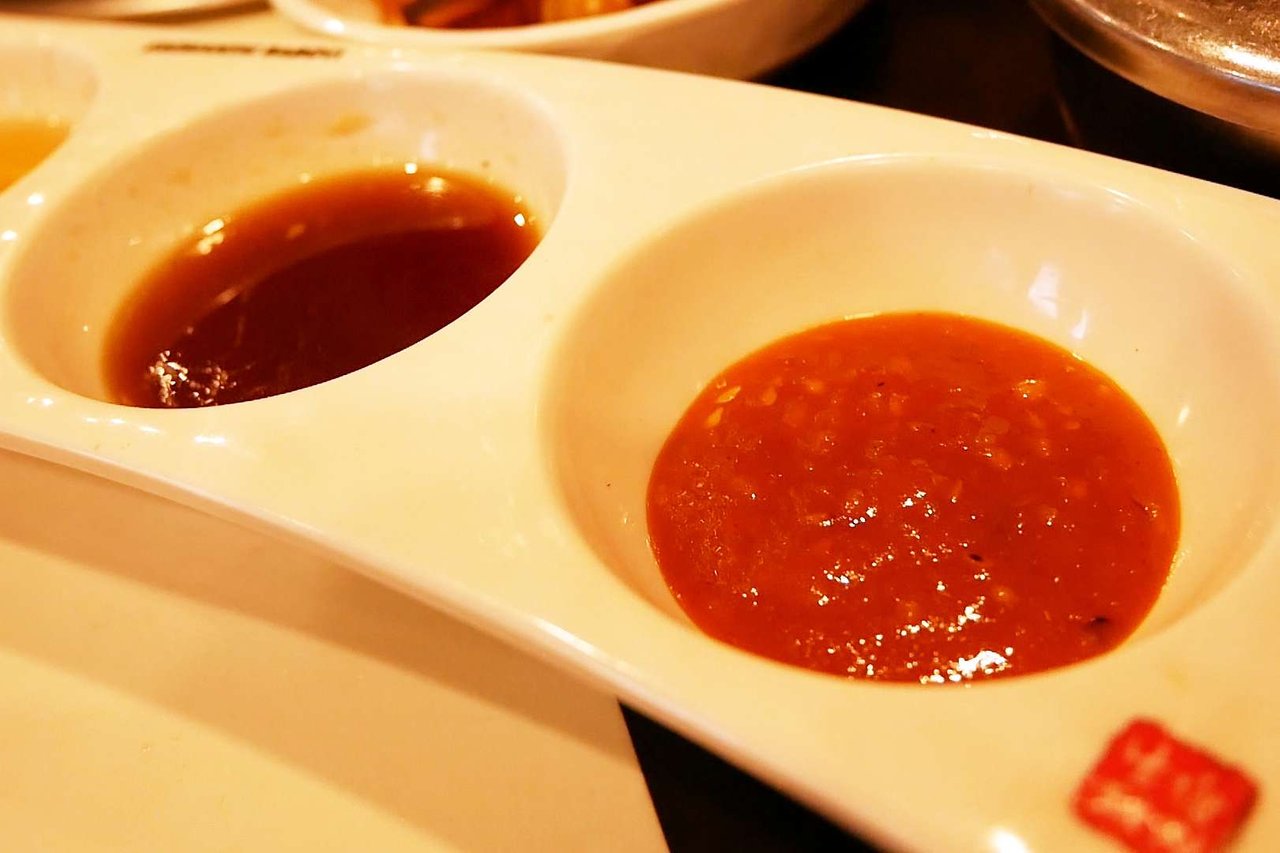 The egg on the side of the grill gets cooked as you grill your meat. On the other section is the cheese which is a perfect dip for the grilled meat.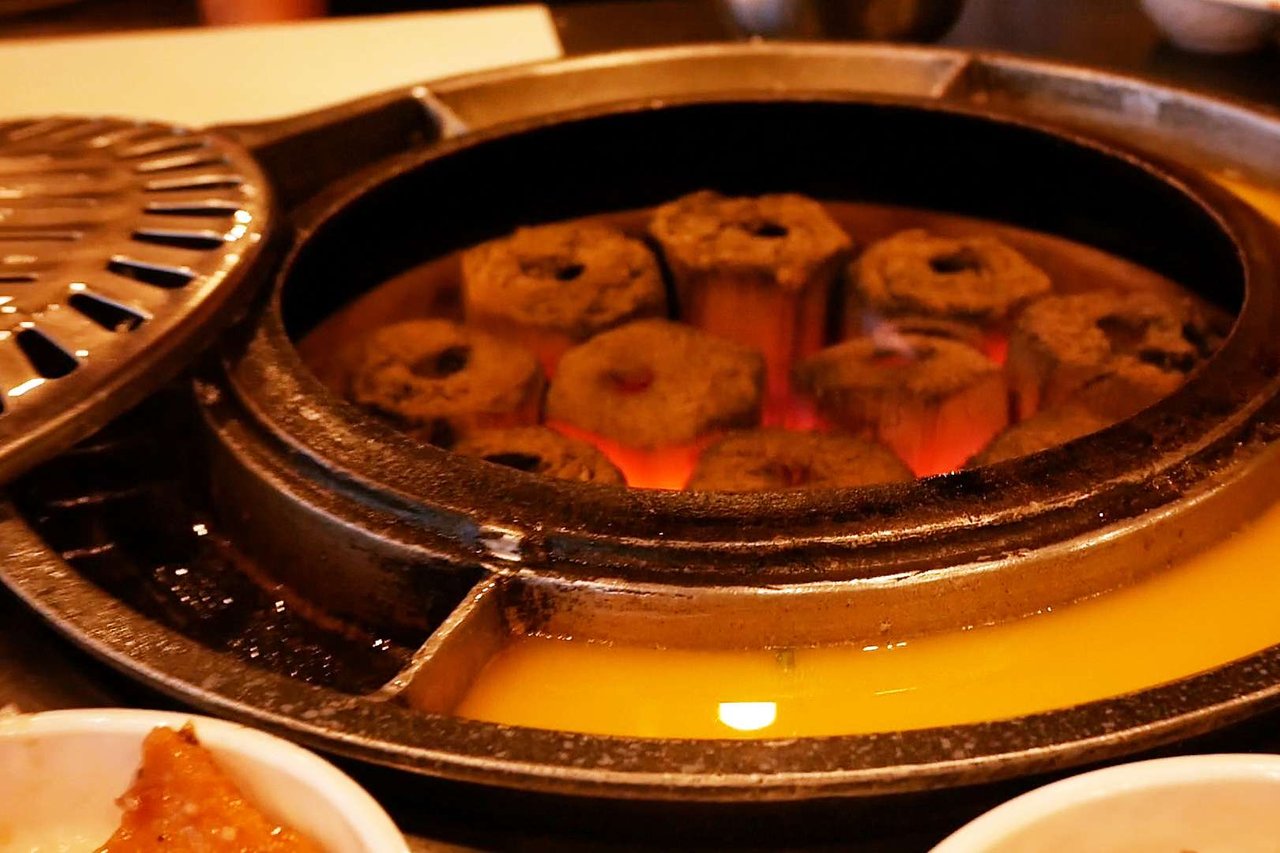 The first to arrive is the Moksal which is seasoned pork neck. Equal portions of fat and meat in each serving. It is best to request for scissors to cut the meat while grilling which we only found out later on.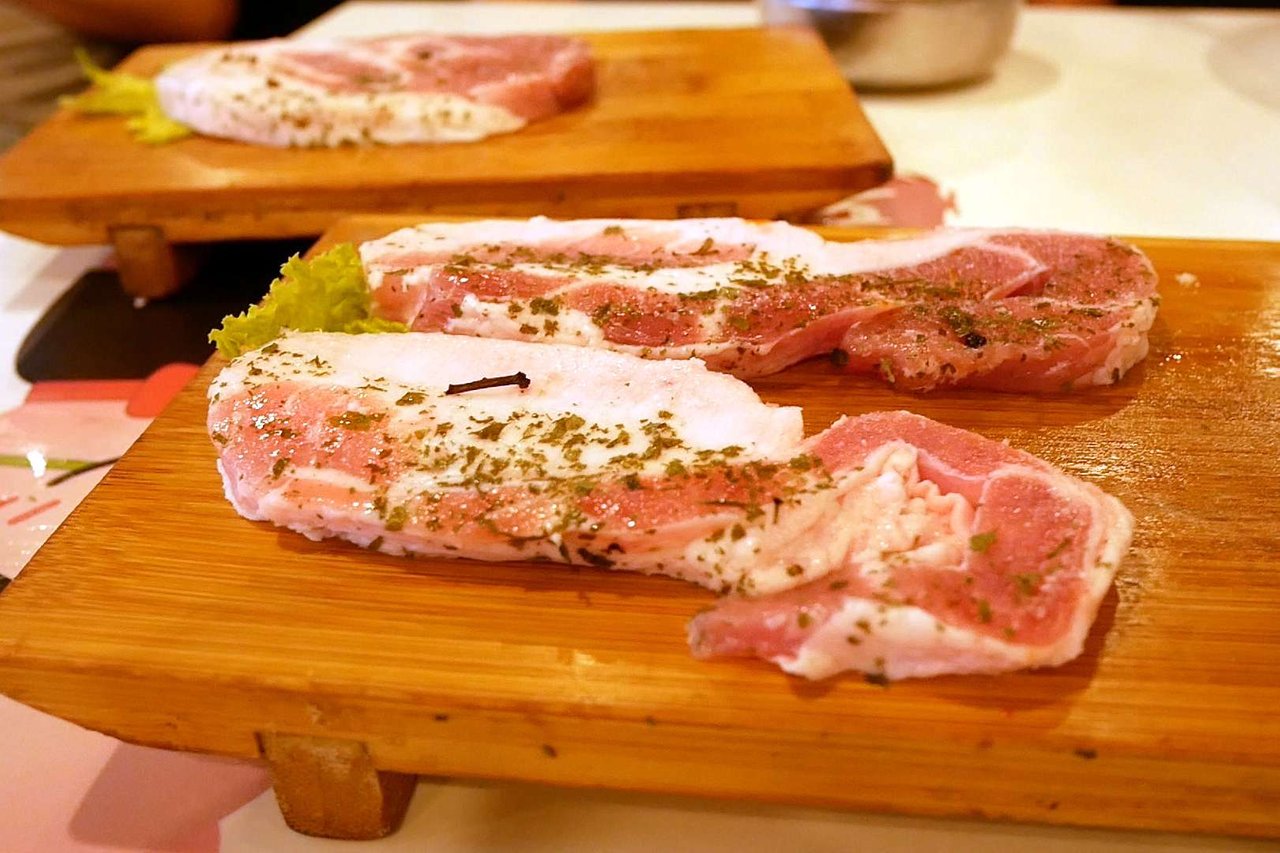 Next was the Romantic Bulgogi which is sweet Korean style marinated beef. This was our favorite and was enjoyed by the kids due to its sweet flavor.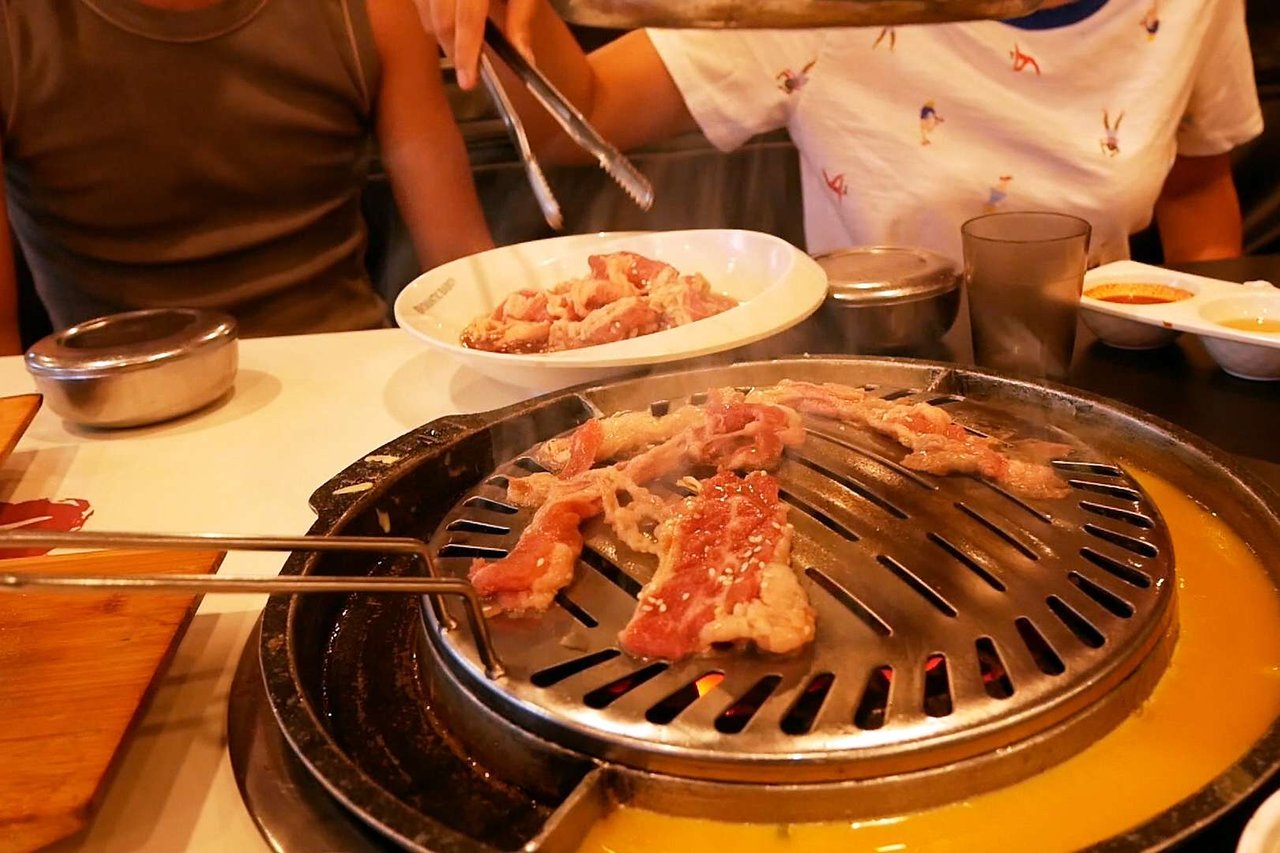 From here on it was a no holds barred grilling session. Everyone had their piece of meat on the grill. It is up to you if you want your meat well done or a bit juicy.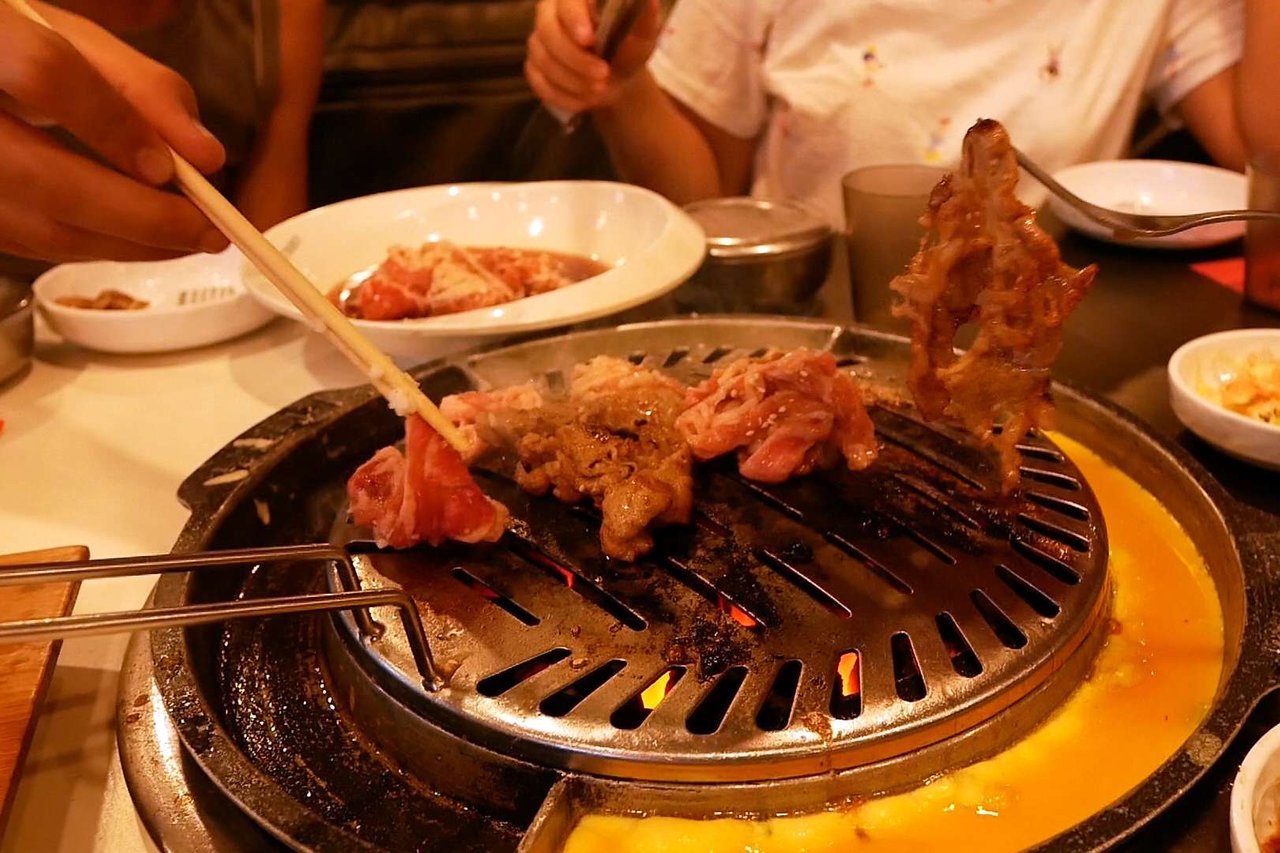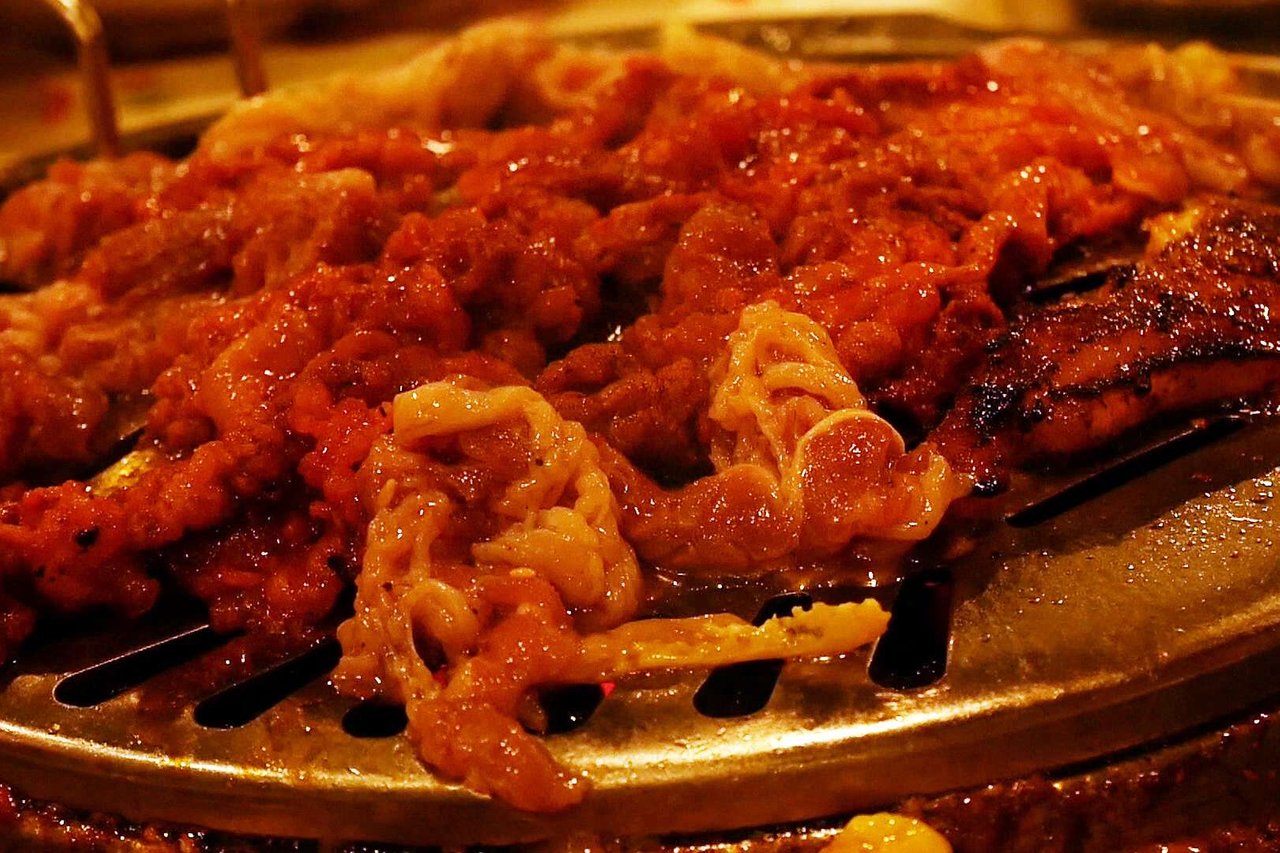 I was enjoying our dinner and the grill could not cook fast enough for us. My family eats very quickly during meals. Maybe it is something we got used to but we need to eat slower when eating out.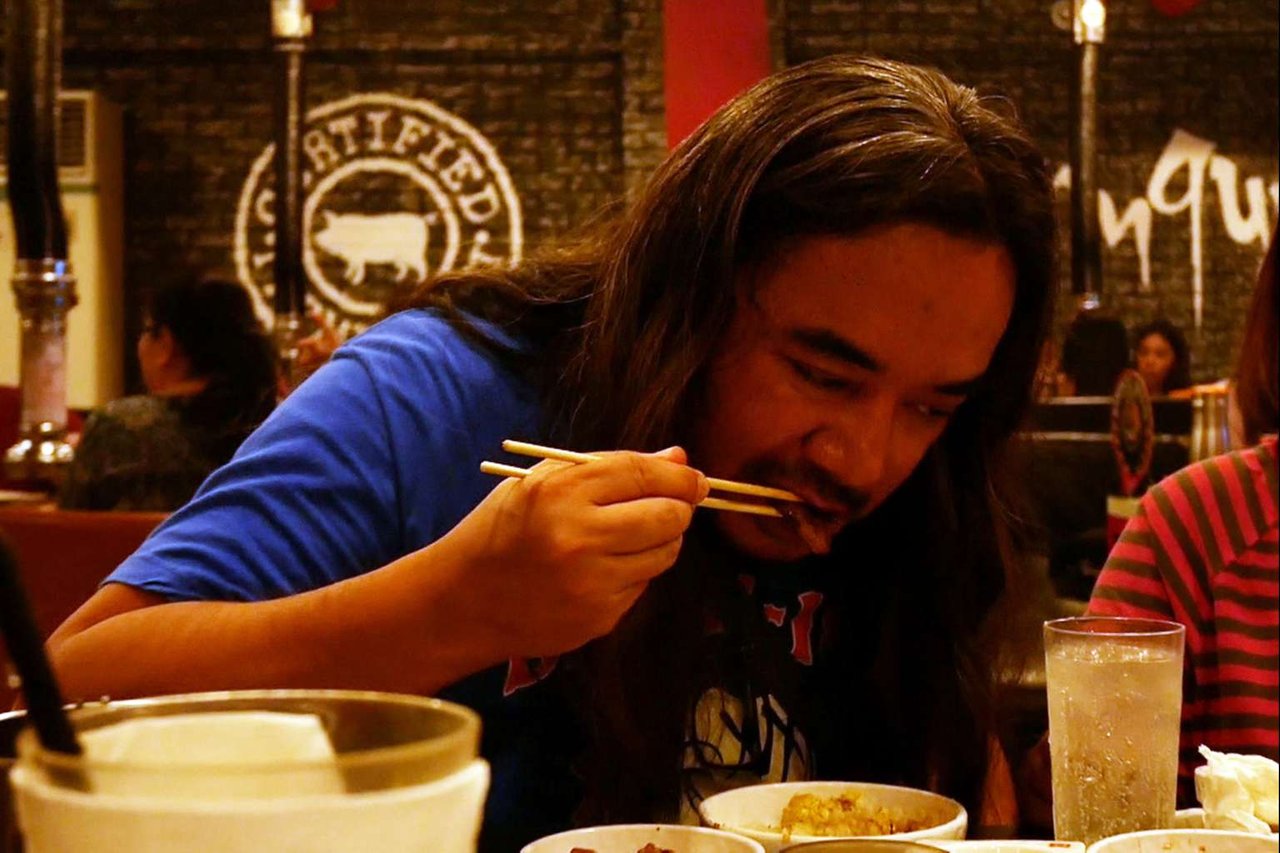 Batch after batch we were enjoying every bite. At this point we do not even know who's meat or why type is on the grill.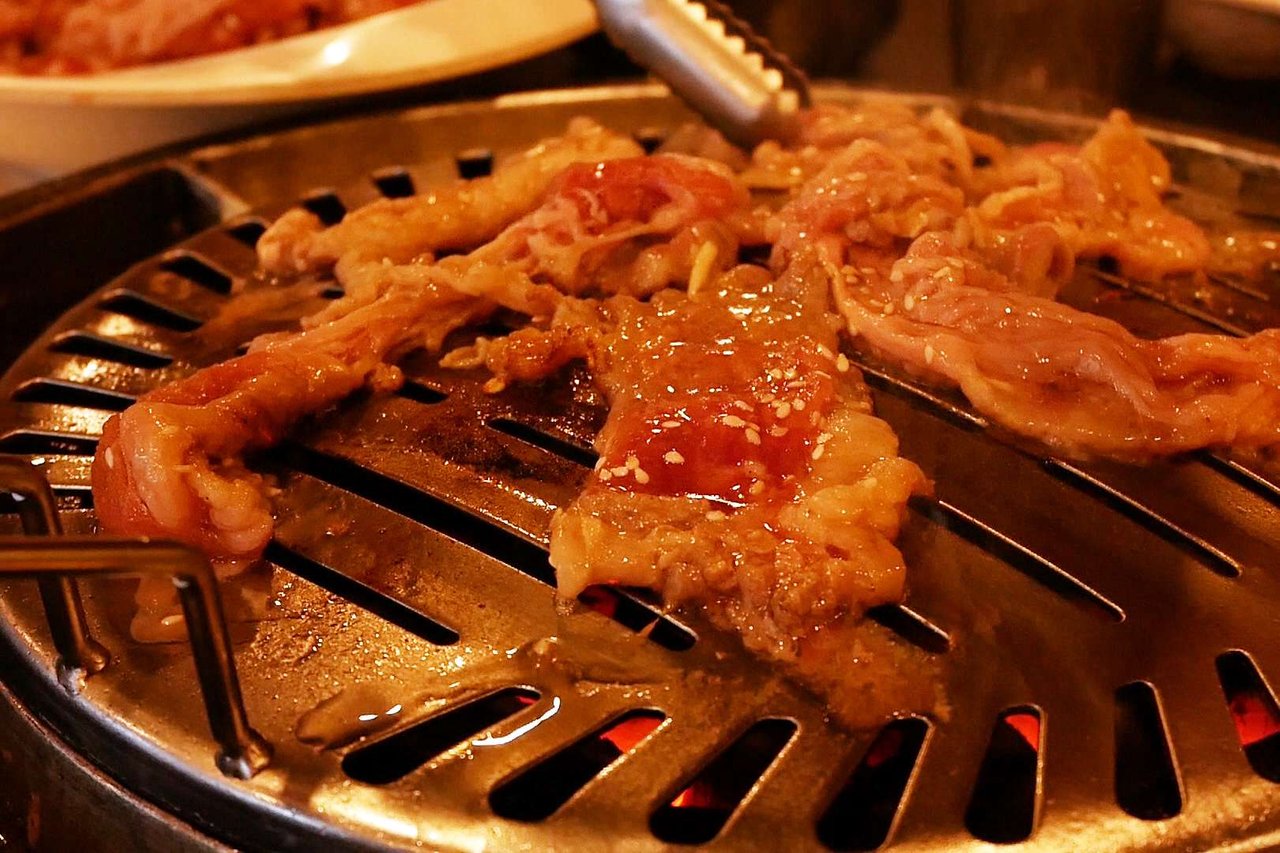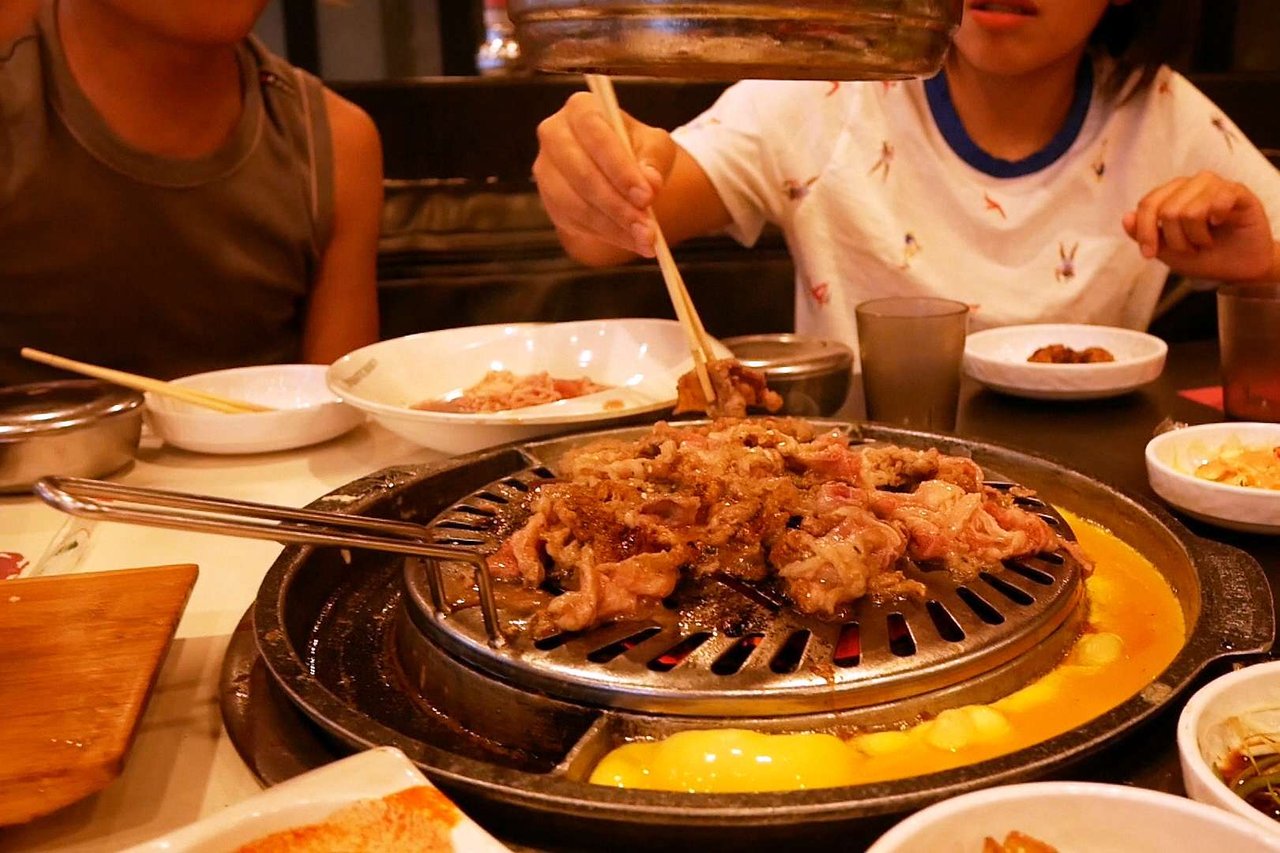 When the meat we have on the table was running low. I checked the menu to try out the varieties. Service here is pretty quick and the crew are very attentive to your needs.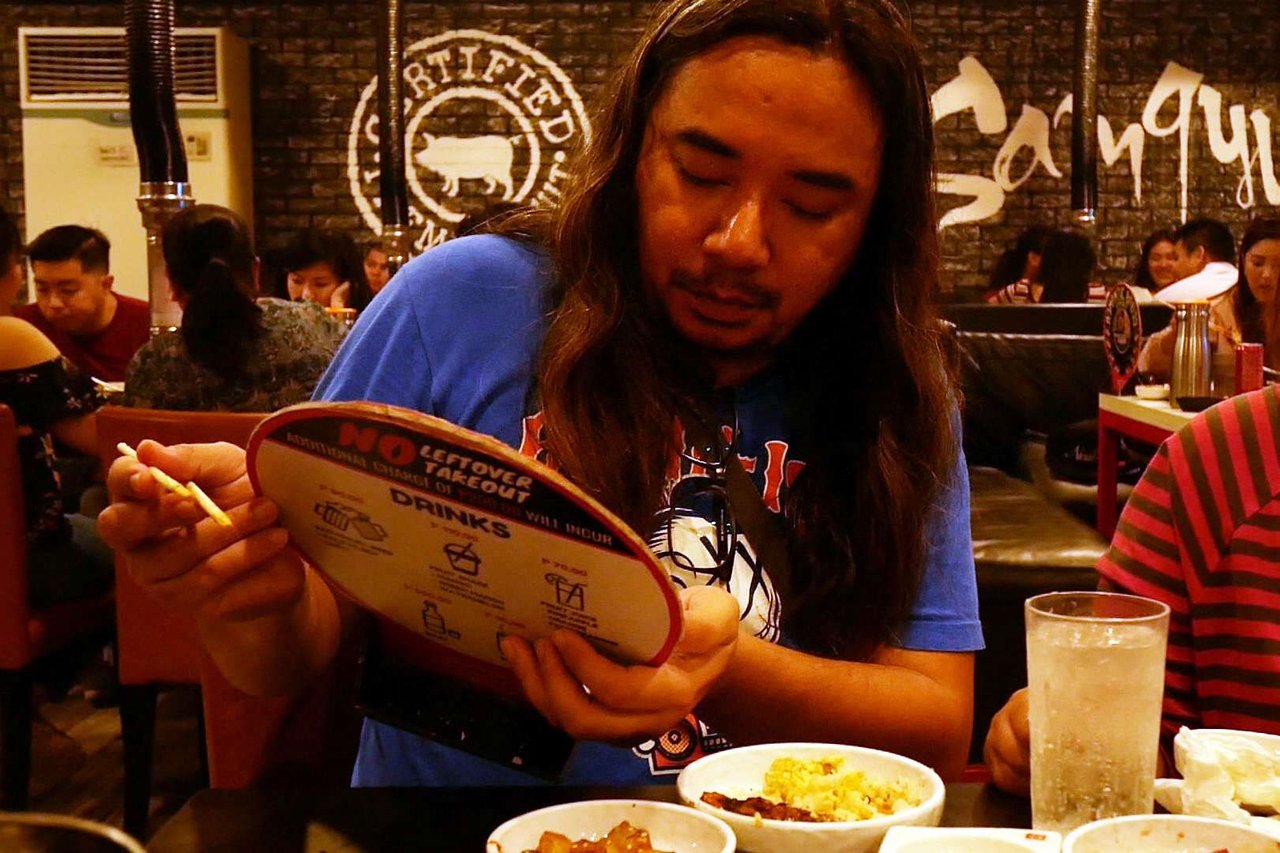 The next batch includes the Spicy Beef and beef Brisket slices. We love beef and failed to try the other pork variants. To get the full experience it is best to ask for 2 -3 three variants on your first batch, followed by different varieties on your next batch. Our mistake here is we asked for 2 - 3 serving of the same variety specifically the Beef Bulgogi.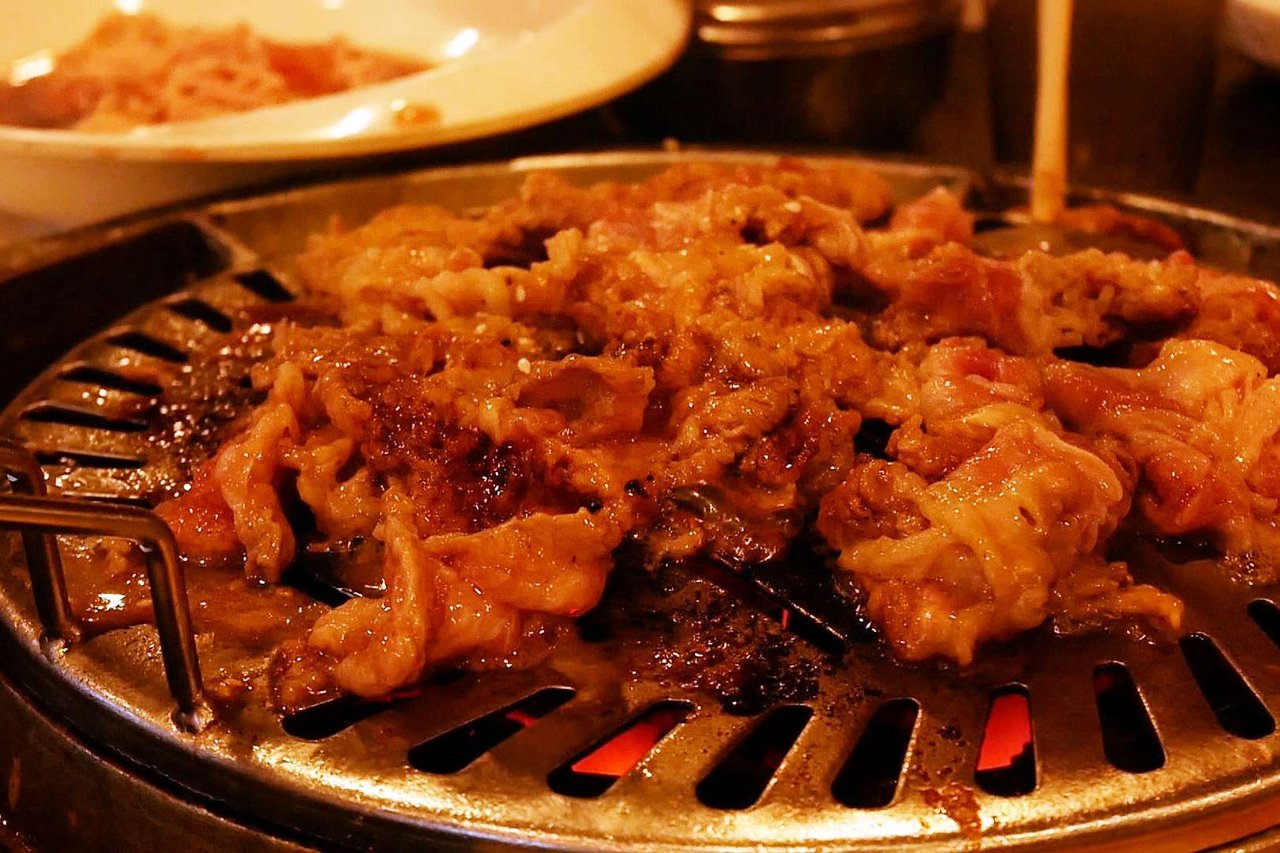 Once your grill is starting to burn it will be replaced by one of the staff. We didn't request the change but they are very attentive enough to see when it needs to be done.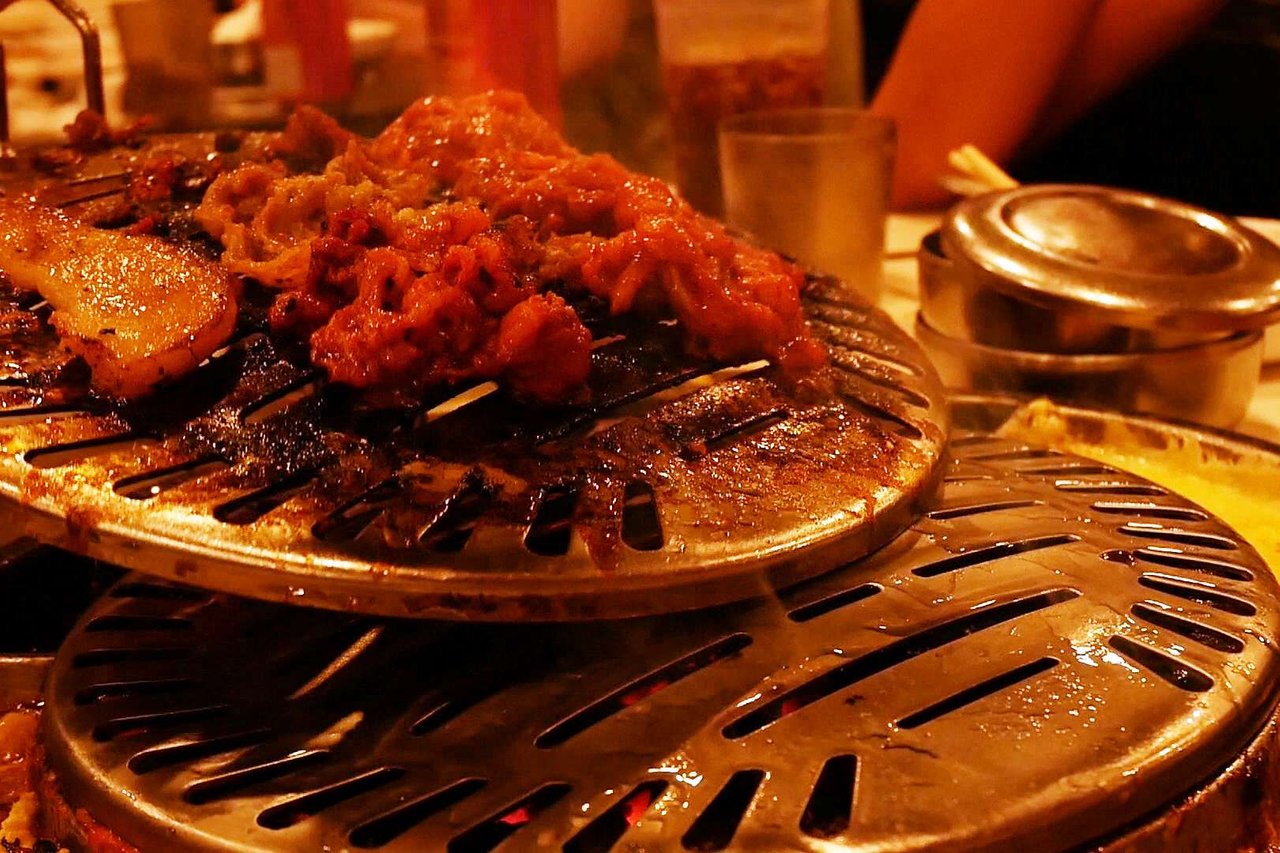 Our food crusade continued and batch after batch kept coming in. I was surprised how my family was keeping up as they enjoyed the food very much.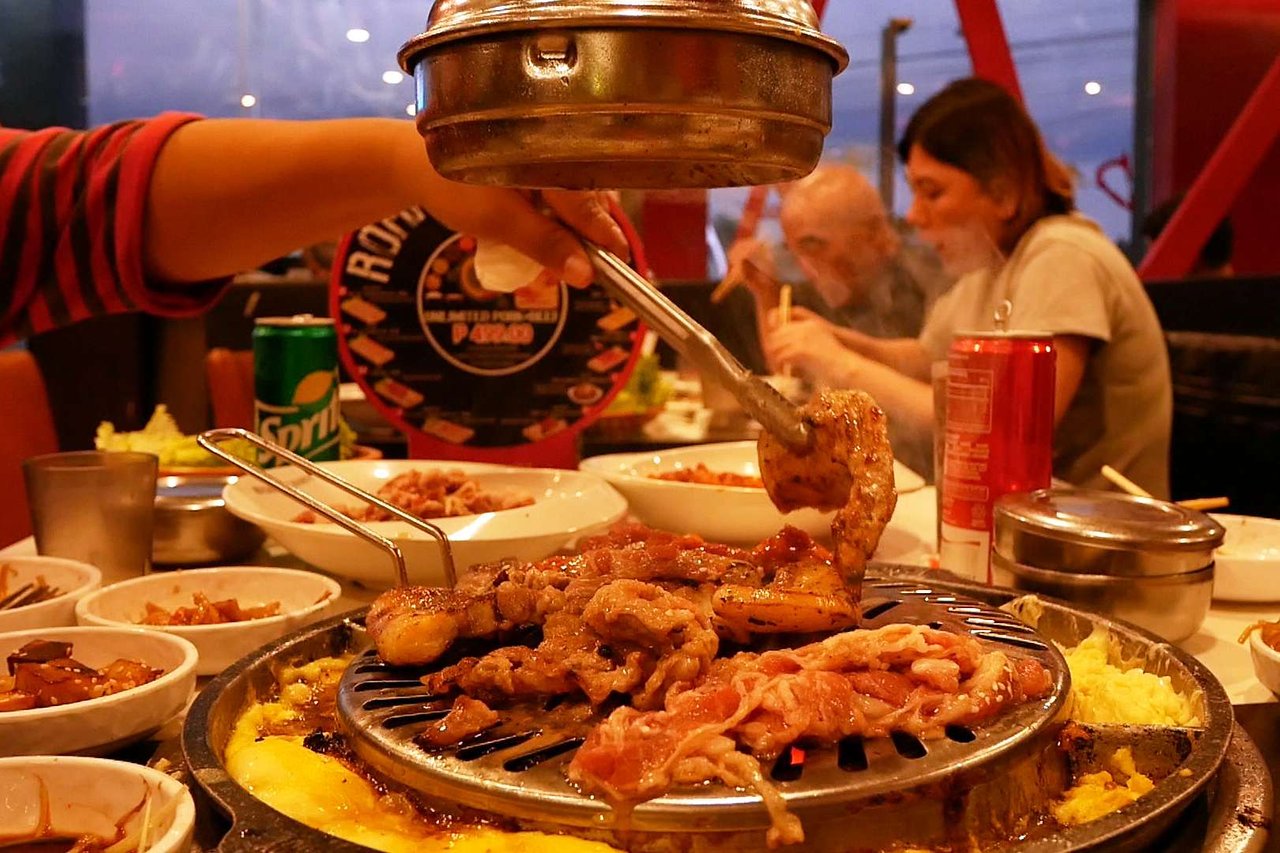 After a few more servings the kids were finally getting full. I also felt that it was also game over for me.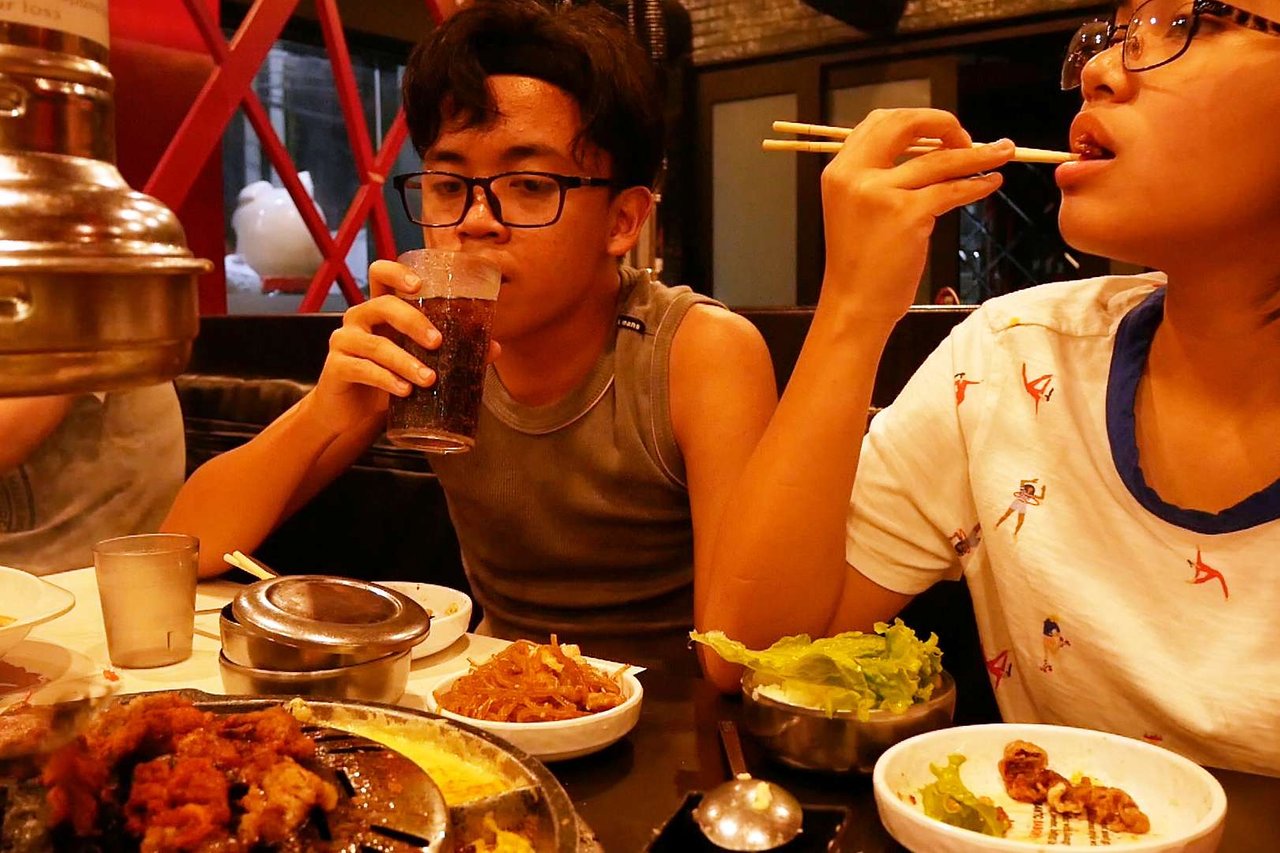 When it comes to Korean food it was the first time for me. My wife showed me that the proper way to eat it is by wrapping the grilled meat in lettuce along with other ingredients like the egg, kimchi and scallions.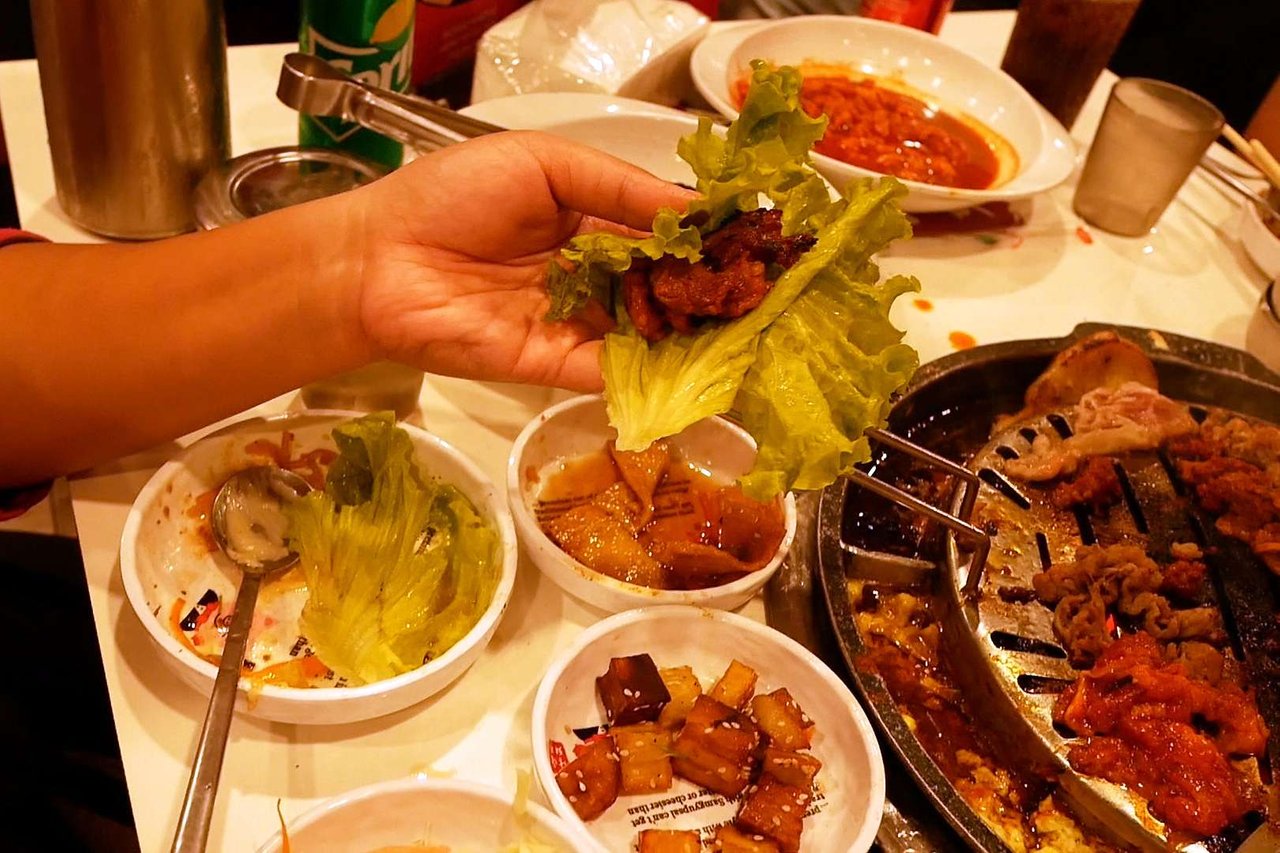 Placing the meat, egg and scallion salad in the lettuce.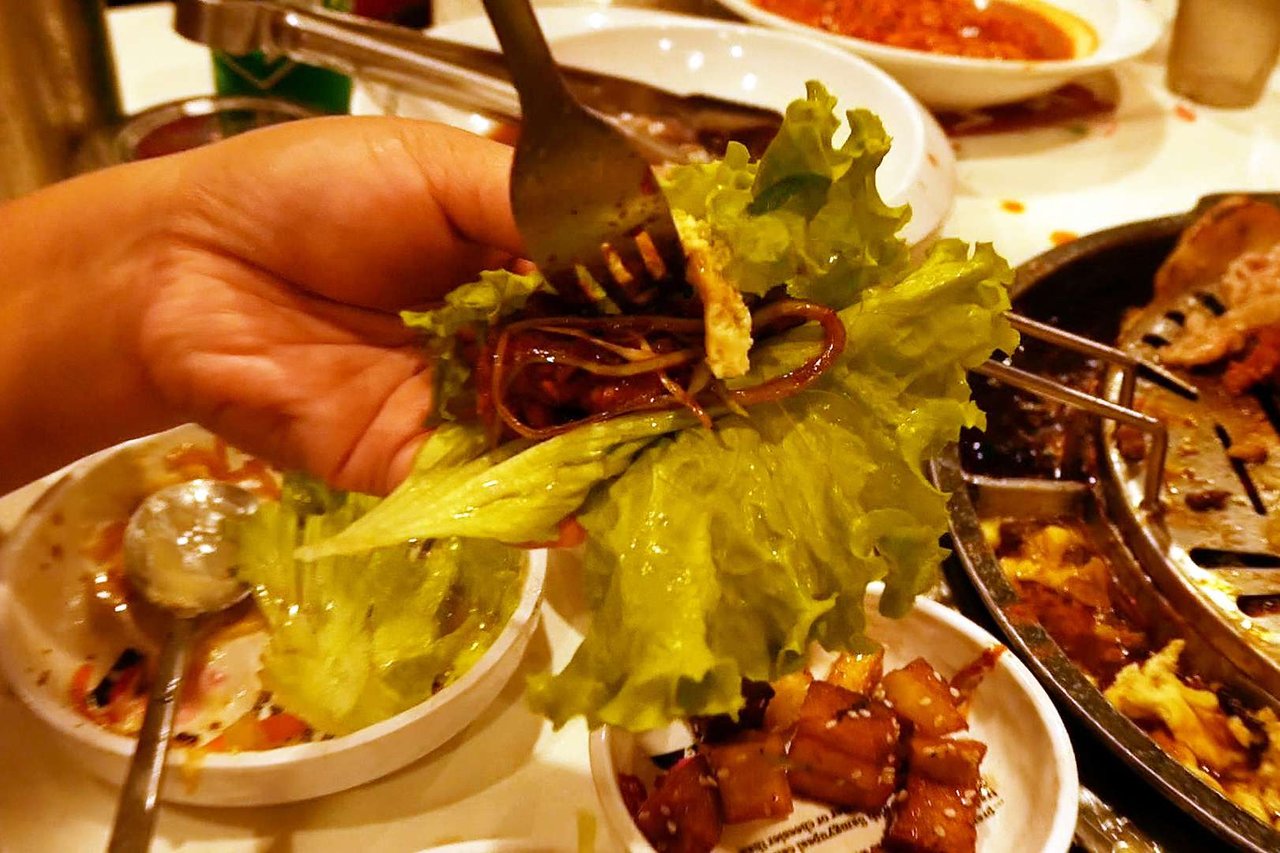 Wrapping it together and aim for one whole bite if possible.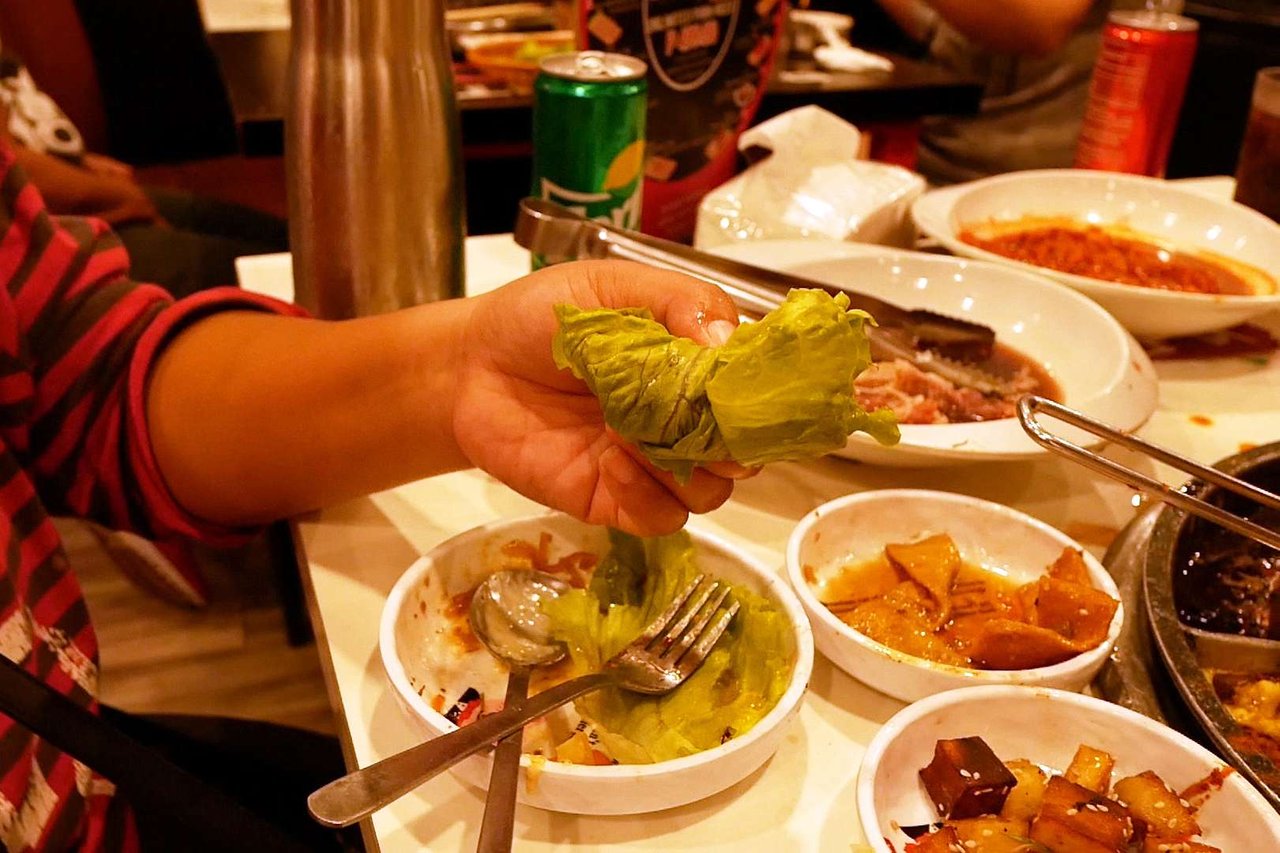 This is the last batch of meat on the grill and our table looks like a battle ground. We didn't use much of the sauces something that we need to make use of on our next visit.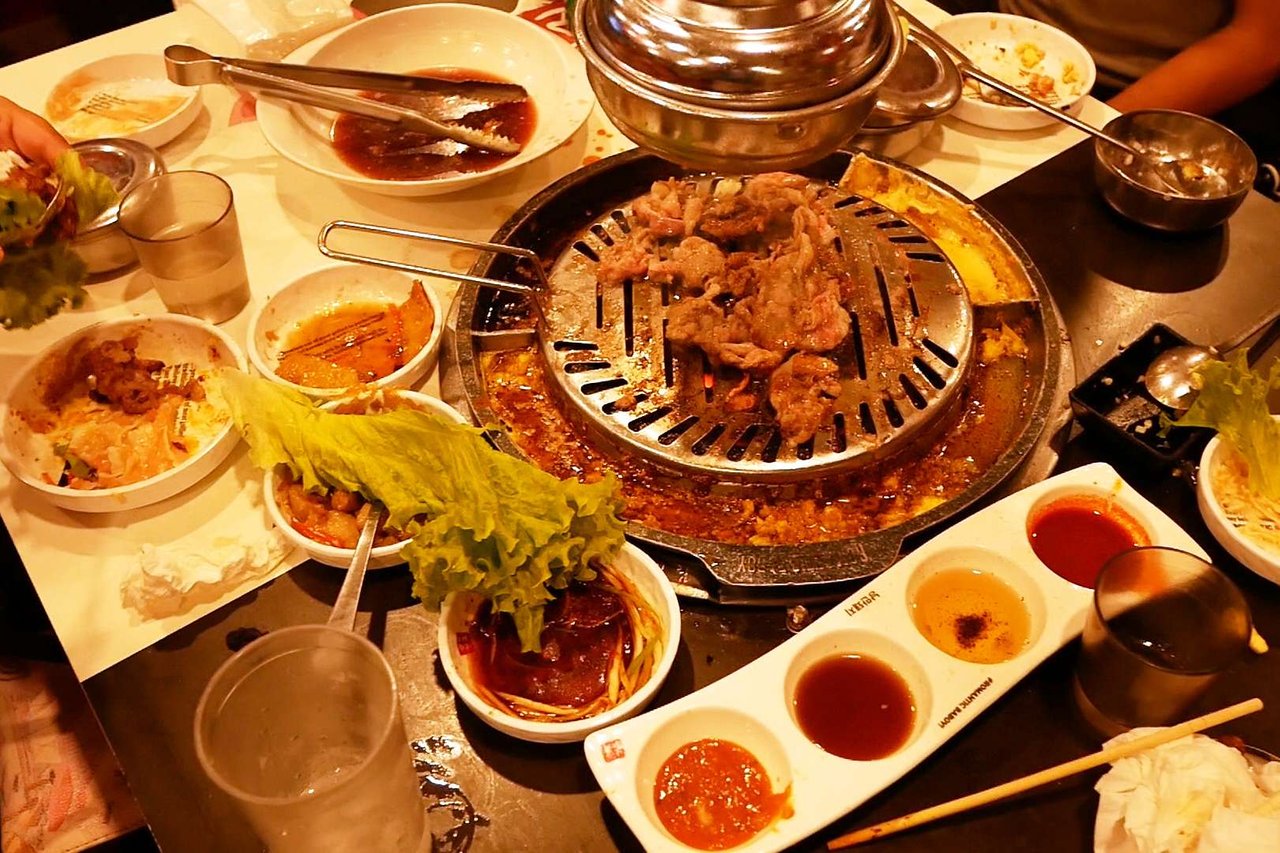 At the time we were finished with dinner, all the tables are now occupied and people were waiting outside for their turn. We spent around two hours in our dinner. When we asked for our bill the staff surprisingly asked us, "Are you done already?" it seems that they were expecting us to stay longer as there is no time limit. Possibly because other customers stay up until closing time but since we had our fill it is best to let the other customers take their turn.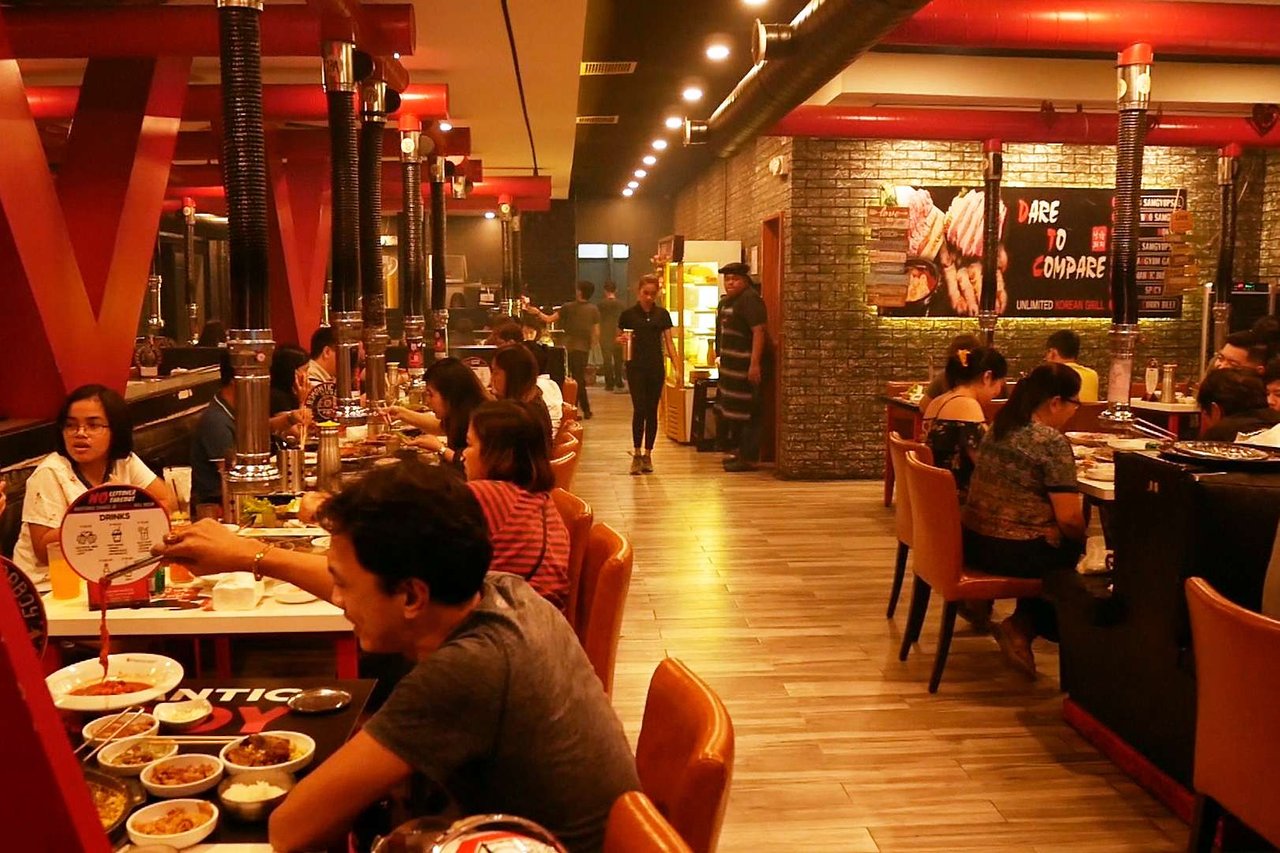 This was an amazing dining experience for us and a place that you could confidently recommend to your friends. A place that is definitely worth coming back for more.
The Verdict
Food - ♠♠♠♠♠ (Excellent food)
Price - ♠♠♠♠♠ (Unbeatable price)
Service - ♠♠♠♠♠ (Quick and responsive)
Cleanliness - ♠♠♠♠ (Issue only with the slippery floor on the back part area)
Parking - ♠♠♠ (Parking space in front of the restuarant is just enough for around 10 vehicles. Diners would need to move their vehicle in case other customers are about to leave. On the other hand the parking attendant is super helpful and deserves a tip.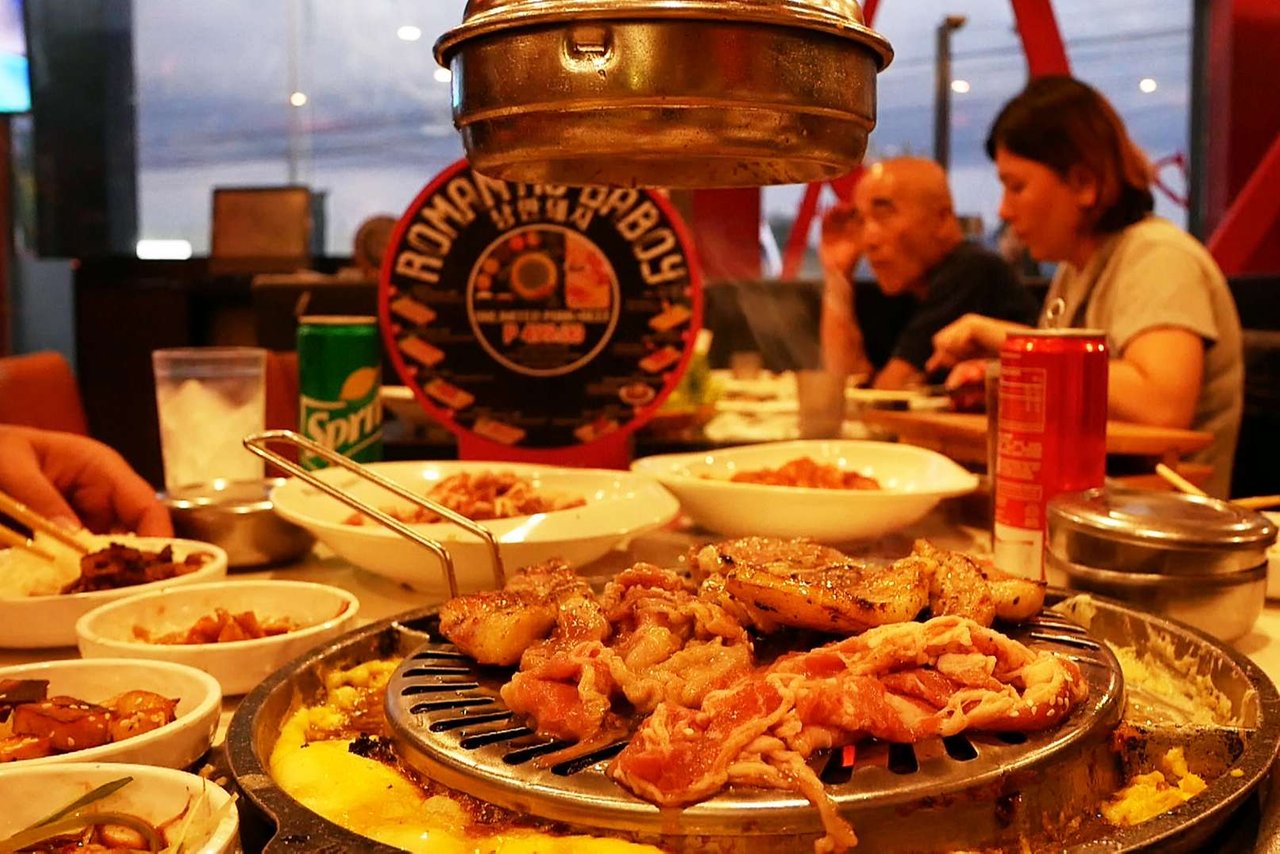 Visit and follow @steemitbloggers AKA #powerhousecreatives. A community that is exceptional, talented and engaging.
All photos are original and taken with
Panasonic Lumix GX85 with 12-32 mm kit lens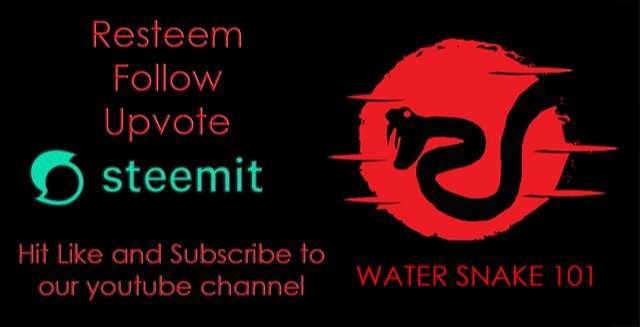 ---
Restaurant Information

Romantic Baboy



General Trias, Cavite, Philippines
---
Samgyeopsal "Romantic Baboy" - Beautiful Sunday
This post participated in the Tasteem contest BBQ & Burgers