Teachers' Day: What is the significance of Teachers' Day in ..
Wednesday, 5 September
Teacher's Day is celebrated on September 5 every year throu ..
5th September is the birth anniversary of a great teacher Dr. Sarvepalli Radhakrishnan, who was a staunch believer of education, and was a well-known diplomat, scholar, the President of India and above all, a teacher.
Pandit Jawaharlal Nehru, who was one of his closest friends throughout, had many great things to say about Dr. Radhakrishnan: "He has served his country in many capacities. But above all, he is a great teacher from whom all of us have learnt much and will continue to learn. It is India's peculiar privilege to have a great philosopher, a great educationist and a great humanist as her President. That in itself shows the kind of men we honour and respect." Dr. Sarvepalli Radhakrishnan On Teacher's day, students across India dress up as their teachers .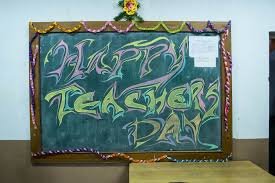 About Dr. Sarvepalli Radhakrishnan
Teachers' day is celebrated across India on 5th September, every year, which is also the birthday of former President, teacher, educator and scholar Dr.Sarvepalli Radhakrishnan.
In the year 1962, when Dr. Radhakrishnan assumed his office, the first ever teachers day was celebrated.
Sarvepalli Radhakrishnan was an Indian philosopher and statesman who was the first Vice President of India and the second President of India from 1962 to 1967.
Died: 17 April 1975, Chennai
Awards and honours
1931: appointed a Knight Bachelor in , although he ceased to use the title "Sir" after India attained independence.
1938: elected Fellow of the British Academy.
1954: The Bharat Ratna, the highest civilian award in India.
1954: Order Pour le Mérite for Arts and Sciences (Germany)