Hola! This is a post I've been sitting on for a while. I half wrote it in Brisbane in December, but then went to the Gold Coast for a few days, came back to Panama, got busy, got bored, and forgot about it.
But then people started requesting that I write more posts that aren't Team Australia updates or Travel Digests so here is an attempt to do exactly that. 
This could very well turn out to be a shit post, but let's continue anyway and see how it goes.
👜Challenge numero uno: What's in my bag? 👜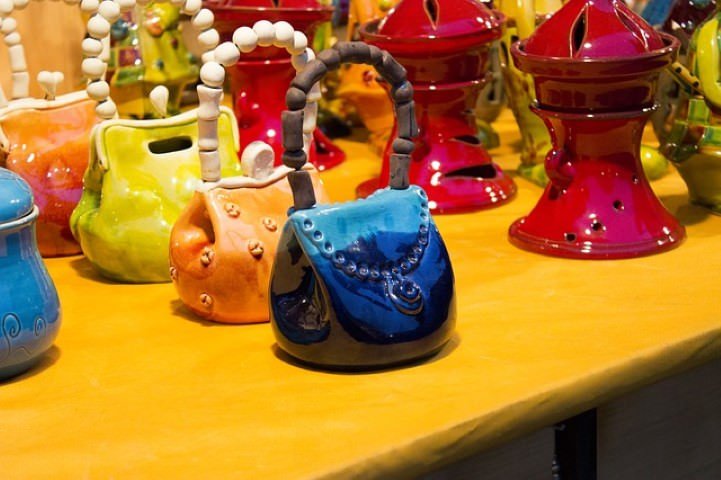 The 'what's in my bag' challenge was started by @ramengirl. I was nominated by the lovely @livinguktaiwan about two months ago. I'm so late to the game, I don't even know if anyone is still doing this. 
Hmm, they are not. I just checked #whatsinmybag and I'm the only one there. 
Woo! Straight to the top of the trending list!
I only have two handbags these days. I had a lot more but I culled them all when I left Australia since I only brought 50kg worth of material possessions with me. 
My other bag is a smaller going out bag, so this is the one I use every day.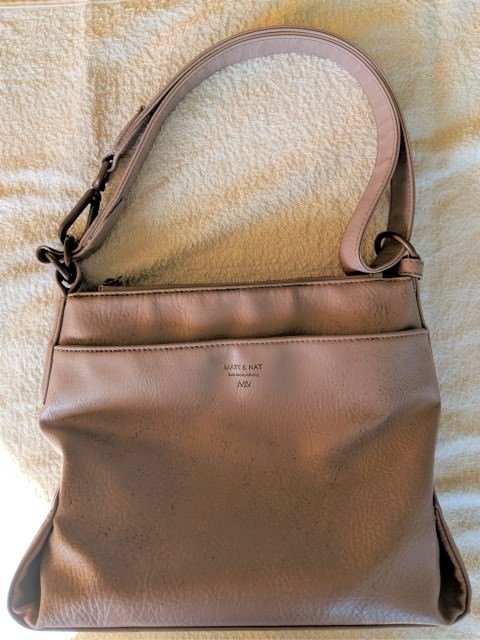 It is by Matt & Nat, which is a Canadian 100% vegan bag company. I bought this at the Brisbane Vegan Festival a few years ago. It was not cheap but I love it and the quality is awesome. 
I think the colour is really nice and it goes with pretty much everything I wear. Plus it's a good size. I hate really big bags, and small bags are generally impractical for everyday purposes. So this is the Goldilocks of handbags.
The other thing I like about this is the lining. It's made from recycled plastic bottles!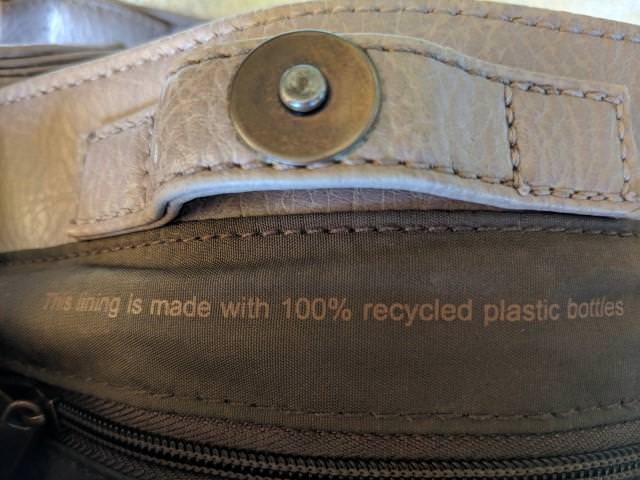 The only problem I have with this bag is it appears to be succumbing to mould. If you've been reading my stuff for a while or listened to me rant in #teamaustralia in PAL Discord, you know that living in Panama, I'm in a constant battle with the stuff. I've tried cleaning it with vinegar but that hasn't worked too well. I'm reluctant to use anything too harsh in case it damages the bag. So for now I just put up with it.
👜 Let's move onto the contents 👜
I took these photos in Australia but it's still got the same stuff in it more or less, so I don't feel the need to update them.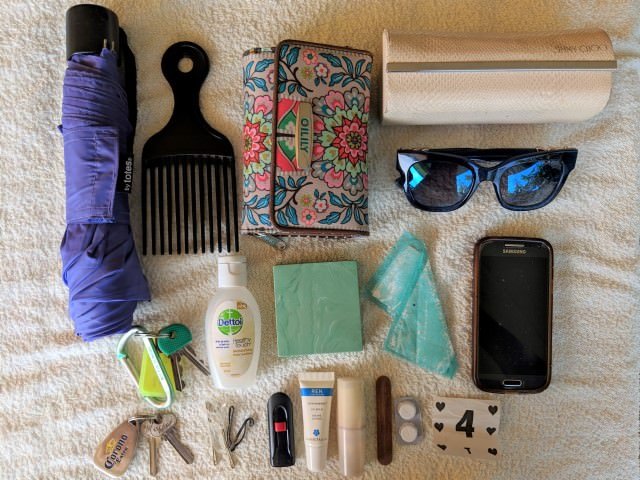 Purse. I have an Oilily purse. It's so colourful and pretty and it's also vegan. I really like it.
Umbrella. I use this all year round in Panama. Either cos it's a) the wet season and pissing down raining or b) the dry season and mega sunny. Using umbrellas to block the sun is much more of a common sight in Latin America than Australia. I don't know why Aussies don't do it, it's fucking brilliant.
Keys. These were to my friend's house where I was staying, and my sister's house in Australia. Both sets are back with their respective owners and have been replaced with the front door key card to my apartment. Yes, it's like living in a hotel. One tap and you're in.
Afro comb. I like wide tooth combs. I'm very rough on my hair and I'm pretty sure I'd have even more breakage if I used a regular one.
Hair stuff. I'm always carrying bobby pins and elastics around for crossfit. You never know when you might need to work out and require a ponytail. 
A usb stick. This had a bunch of tv shows on it which I watched in Australia. Well, mostly on the plane going over and coming back. It's no longer in my handbag.
Powder, lipstick and lip balm. They're gone. I'm not doing daily catch-up lunches with friends now that I'm back in Panama so I'm not feeling the need to carry makeup around. Plus I don't wear makeup in the day here anyway since it just slides off with the heat. The lip balm was a freebie from the plane. I don't know where that went. I think it's around somewhere.
Hand sanitizer. It's also gone from my handbag since I don't eat out much and therefore don't need it.
Panadol. I don't get a lot of headaches, but I like to have two pills in my purse ready to pop just in case.
Travel nail file. This was my purse next to the Panadol but I seem to have lost it, which I'm a bit annoyed about. I liked the mini size. It fit perfectly.
#4 raffle ticket. This was some pub competition up in Cairns. I didn't win. I think I chucked it after taking this photo.
Tissues. These were from the plane. I think there was only one left in there. Pretty sure it's still in my bag.
Phone. That was my old phone. It was a piece of shit and needed replacing so I bought the latest Google Pixel in Brisbane, which I love. This crappy old Samsung has been relegated to a drawer. Next time I go back to Australia I'll drop it one of those phone recycling bins at Vodafone or the Post Office or wherever.
Jimmy Choo sunglasses. I love these. I first saw them in Jimmy Choo in Hawaii a couple of years ago but didn't want to pay US$600 or whatever they were. I found them online in Australia for a couple of hundred dollars less from a Hong Kong distributor (legit, not fake). I remember it took forever for them to arrive but they are so nice. I'm a massive fan of blue stuff. I've probably worn them everyday since I got them. After taking this photo I noticed one of the Swarovski crystals has fallen out of the top left. This makes me sad and a bit annoyed.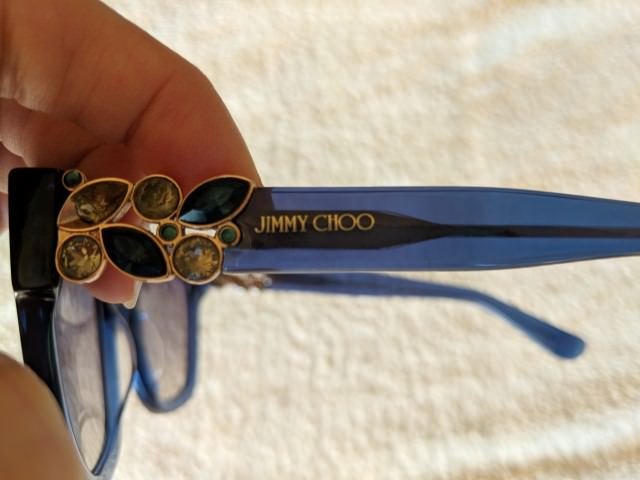 And that's it. As you can see the contents of my handbag are not very exciting. @onethousandwords suggested I throw some extra stuff in there to spice it up a bit, but I don't even have anything interesting that I could add. 
Urgh! I'm so boring. Sorry.
However, I do like my the bag and the purse, so check out those brands if you are looking for something vegan to carry your stuff around in.
💥 Bonus challenge 💥
There was a challenge going around the Chinese community at the start of 2018 to post a photo of your 18-year-old self and discuss. I was nominated by fellow vegan @magicmonk after meeting him at the Brisbane meet-up in December.
Here's me when I was 18. I don't know what the fuck I'm wearing but it's making me look fat. I wasn't. I've never had a weight problem.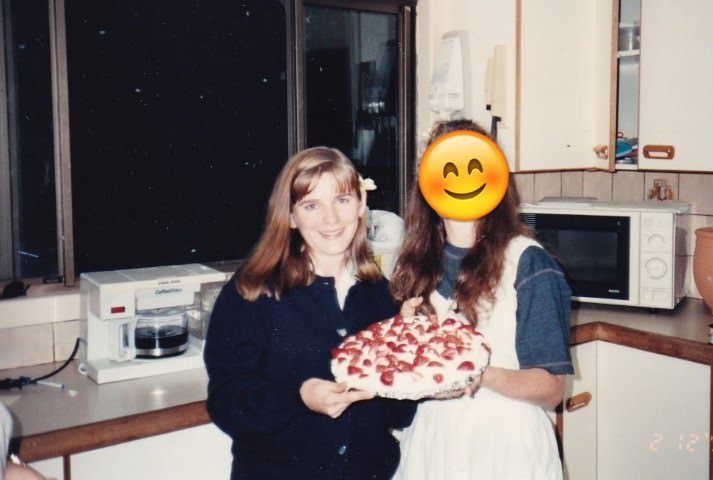 It was the last week of school, and the cool first year teachers who were living in a share house invited a bunch of us to their place to hang out and have dinner before we all went our separate ways in life. There was no drinking since most of us were still 17. However, I had already turned 18 by year 12 since I spent a year in France as an exchange student in year 11. It didn't count when I got back so I graduated a year older than the rest of them. 
I'm guessing me and my friend decorated the pavlova. I'm pretty sure I've never actually made a pavlova in my life, but who knows, maybe we made and decorated the entire thing.

I'm not going to tag anyone to do either of these challenges cos I can't be arsed. However, if you like the sound of posting the contents of your handbag and/or finding the least embarrassing photo of yourself as a teenager to ink to the block, let me know and I'll name and shame you.
Update
There's been some interest so I nominate the following people for the #whatsinmybag challenge: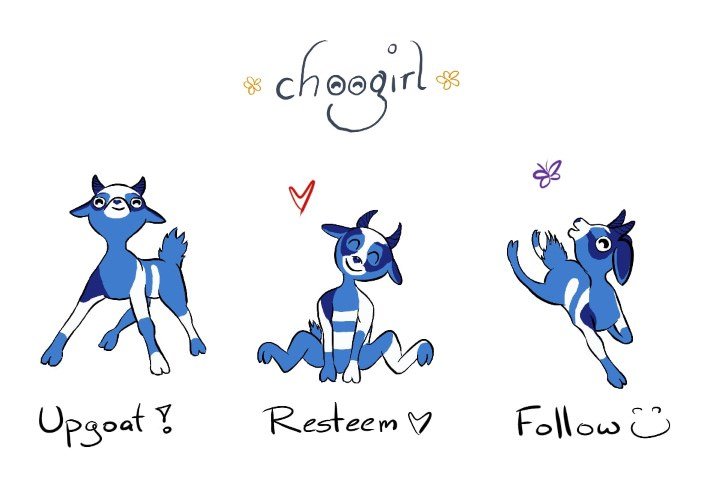 Footer by @ryivhnn