I have had "get best power and gas deal" on my to do list for a while. I recently asked the Mustachians Australia Facebook group (named after the financial independence guru Mr Money Mustache) for their recommendations and was slightly surprised that there was less consensus and fewer definitive recommendations than there usually are when people ask about the best deals/providers/strategies.
I set out to do some research. I definitely didn't solve the problem (largely because of point 1. below) but hopefully you find some of my information below helpful.
Electricity and gas pricing is extremely opaque and electricity companies are not very helpful. I wish they could be forced to have matching tables so you could compare them properly. The actual rates are generally buried in the details of their websites whilst they label their numerous different plans with stupid titles like "mega saver" and "super discount 5".
When you are trying to compute and compare prices you need to consider the fixed supply fee, then some kind of graduated pricing which usually has the first X units (which can be per day or on some other time scale) at a certain price, then the next X units at a higher price, and so on. There is often some kind of prompt payment discount as well, so you need to factor that in to the quoted usage rates. A 20% discount off a $1 rate is not as good as a 5% discount off a $0.80 rate. Usage is a key factor but not the only factor. One of the issues with the price comparison sites is that they tend to ask for an average usage amount but if you are like us your summer to winter (and even day to day) usage can vary a lot depending on heating and cooling devices, and when you are home.

Price comparison sites. If you are in Victoria you should definitely go to https://compare.energy.vic.gov.au/. By doing a comparison, even if you don't act on it, they will send you a $50 check. Free money! I'm not sure if other states offer a similar offer.

When using comparison sites you should be careful of two things. Firstly, the non-government sites often work often commission and don't include all the available companies. Secondly, there are a number of power companies who game these sites by offering up what seem like very good rates but having contracts that allow them to bump up prices significantly as soon as they are allowed to. If you check the Google reviews for a prospective new power company you will quickly see the ones that employ this strategy. THERE ARE SOME REALLY DODGY ONES!

Most (if not all) of the companies, even the "proudly Australian owned" ones, use overseas call centres. This means you are normally dealing with someone with no authority, potentially limited communication skills, and a clear script. I would recommend that where you can use live chat rather than the phone because it helps make the communication clear, lets you multi-task (dealing with them can be really slow), and lets you keep a record of what was said/promised. If you can escalate to an Australian based representative or manager this is even better but also hard to do (I had a recent foreign call centre experience where I asked to escalate, they said that they were the last level of contact, and I said that I knew that wasn't true, quickly lead to a more helpful person and resolution of my problem).

Even if you are happy with your power company you should still get in contact and ask if you are on the best plan. You being on the best plan is not in their best interest so they are not proactive about plan shifting. For many people this might work out the best. If you have some rates for other companies handy when you contact them you can try to bargain for a better set of rates.

In the end I stuck with my current provide Lumo but was able to negotiate better rates. I have noticed that fewer companies offer good signup bonuses at the moment (I first joined Lumo to get a Velocity points but they have dumped that scheme) but a few (including Lumo) have referral bonuses if you sign up via a friend. If you do some research and find (like I did) that Lumo gives the best deal, you can quote my account number (6978210) when you sign up and we each get a $50 gift card. For our location and usage, Lumo worked out to be the best provider (once they shifted me to a discounted rate plan) but I suspect this will vary across the country and by usage. (I notice Powershop offers a bigger gift card but their rates are higher - at least for my postcode).
What next? My next electricity adventure is going to be to investigate solar later in the year.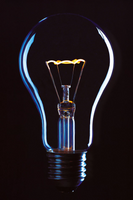 Picture source