TLDR Version:
Use my referral code ALG97M6YXD to get RM10 extra when you sign up for a BigPay prepaid MasterCard.
It is recommended because the app UI is really good and it automatically categorize expenditure for you for easy spending tracking.
Good security feature: Get notified when you spend; Freeze your card with the app; TouchID login for the app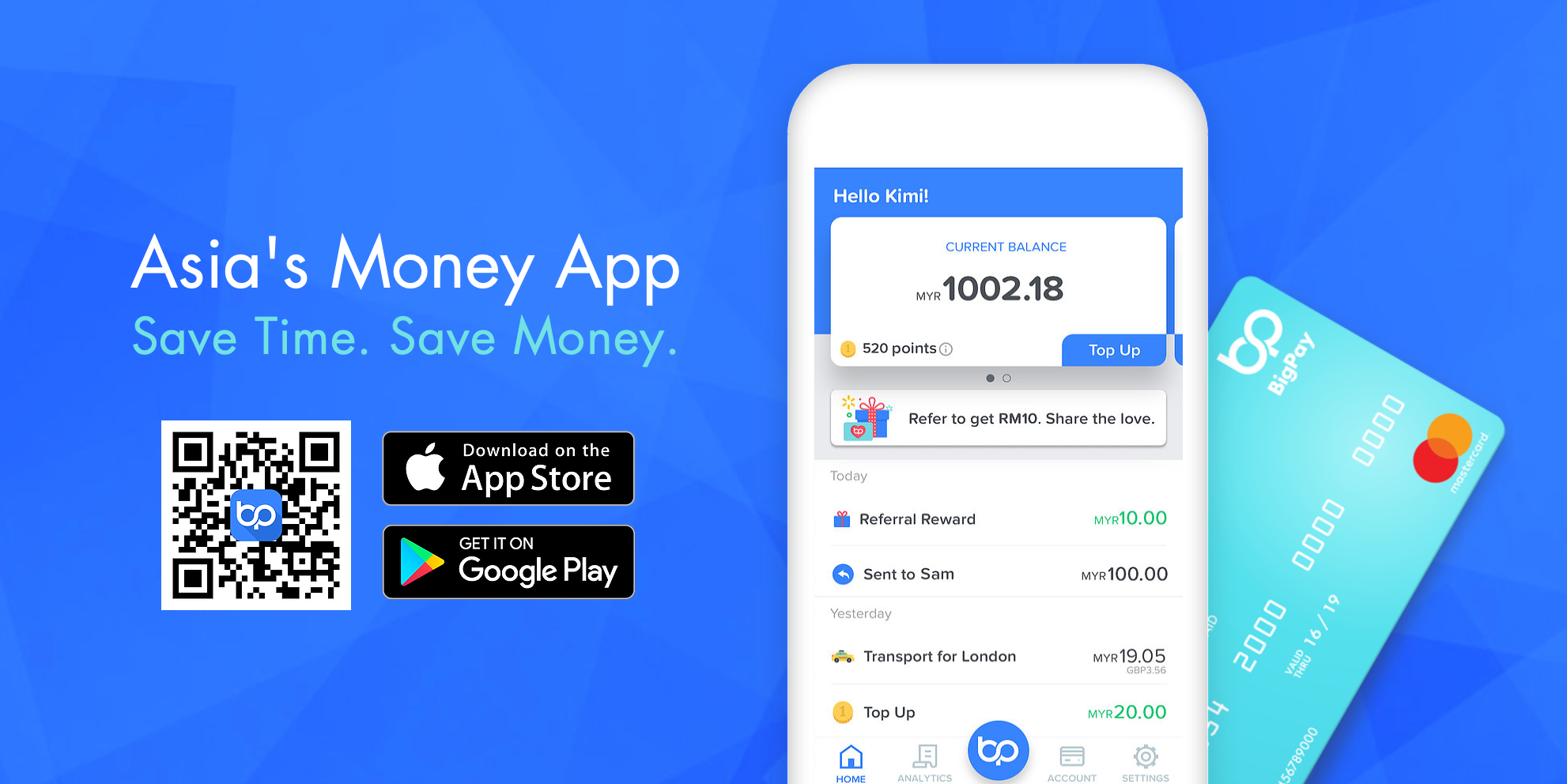 FULL TEXT:
E-Wallet has been the trend recently and more companies and joining the battle. They will bleed each other out, eventually the weaker one will exit the market, but until then the consumers: US are the ones who are going to benefit from it.
I have tried a few wallets and loved it. My earliest try was FavePay and I loved it because of the constant discount I got. However, once the incentive was gone, I was no longer there. The same goes with Boost. RazerPay and TouchNGo are still trash for now.
However, I liked Grab pay. Their primary service is so dominant that most of us already have their app in our phone. Turning themselves into an e-wallet is a smart move.
Many says that Malaysia is entering cashless time very soon but I don't believe that. I have to say that I still need cash almost 2 out of 10 shops I visit where only probably 1/2 of them accepts Boost/FavePay/GrabPay.
Master and Visa, on the other hand, is accepted in 80% stores I visit. Big Pay is giving you a card + e-wallet + an useful app.
What are some pros of Big Pay?
Important!!
MasterCard (Accepted almost everywhere)
An app which also acts as a spending tracker (auto categorize)
Instantly notified when your card is swiped
Good UI, TouchID login
Easy Top Up
RM10 extra when you use my referral code: ALG97M6YXD
Supplementary
Waived fees for AirAsia Ticket booking
Collect BigPoints (Can use for AirAsia Tickets)
Transfer money to your friends who are using BigPay
Good exchange rates for other currencies
Cons:
No contactless feature
Not many stores are accepting their BigPay e-wallet, which means if you did not bring the card or any cash, you are screwed.
The steps are pretty simple, you fill in basic details, mailing address, do your KYC (verification), top up RM20, then wait for the card to arrive at your doorstep with RM10 extra if you use my referral code: ALG97M6YXD
(I get RM10 too)
Download BigPay from AppStore or Google Pay and register now!