Good evening my dear steemians, @steemcenturion here. It is with much pain and sobriety that I wish to disclose this information to everyone and solicit for your help.
I have been in Umuahia for over a week now because of my mum's sickness, she has rheumatoid arthritis, which our doctors sent her to FMC Umuahia, Abia state.
Yesterday, I went for a Gospel meeting in Government College, Umuahia, and when the meeting was over, because it was late, I decided to go to my friends lodge in Umudike and sleep over
(she is my best friend and I already had a spare key).
So i called her and luckily, she was around and I told her I would be coming to her place,
She was so happy that she said she was going to prepare something for me.
I got to the place and I got a pleasant welcome , we discussed and discussed till we both fell asleep.
Meanwhile, someone was having a party in the lodge next to hers and it was really noisy, we didn't bother cause that was supposedly how the university campuses environs are.
At around 1 AM this morning, we had bangings on our door,the bangings woke us up,and became incessant, at first I was so afraid that I didn't know what to do, then I gathered the courage to ask
Who is that?
A make voice answered me from the other side.
If you don't open this door, I will shoot you and you will die there.
I didn't know what to do at this moment, as I was contemplating my next course of action, Amaka rushed and opened the door, and to my surprise, 3 very hefty men jumped into our rooms and started searching everywhere.
One turned to me and said
Where is your phone and your laptop?
I told him I didn't have a laptop, and that i plugged my phone in the walk socket, and he was like
You think you can lie to me?
They had wanted us to remove our clothes but the noise from other rooms in the lodge made them to quickly dissapear.
Finally, searched our rooms and carted away with our monies,my wrist watch and necklace,our phones and my friends brand new laptop.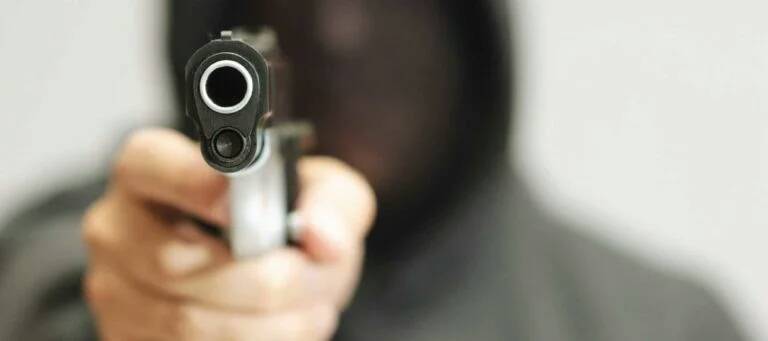 Image Source
Everything happened like a movie, I was so shocked to my marrows that I didn't remember that my phone was stolen.
It just dawned in me that I have been robbed!
For the first time in my life, I feel so disconnected from life.
I can't begin to imagine what I just lost with that phone.
First off, my phone houses my accounts and Cryptocurrency wallets, back ups ,private keys , mnemonics etc. -All Gone!
I had over $233 with of tokens, some of which I bought, some I got from airdrops and contest (I recently won 5 EOS from Eos nation contest).-Gone!
I had bought $50 worth of Ethereum to start my Cryptocurrency trading Career -Gone!
I had over 3000 doge coins and 2 litecoins in my coinomi wallet, which I had diligently mined from coinpot for over 5 months now.- Gone!
When I was in school, I had a dream to open up an online Magazine for women , since 2016 December, I have been writing and compiling over 500 articles targeted at women development to help kick start the vision in 2019 - Gone!
I had started 5 fictional story series for my steemit blog which I had completed the drafts of 3 and was still on the remaining 2, I was supposed to start posting them by June 2018.- All Gone.😭
My Graphical typography works, planned to add to my steem based website coning soon, 24 wonderfully designed collections- All Gone.😭
My WhatsApp with All my contacts, some of which I promised to teach one thing or the other.-All Gone.
All my pictures I had saved in my phone, from Year 1 to final year- All Gone😭
Some of my online training certificates and designs, which I had planned to send to my mums laptop once I get back home, -All Gone.
The fact is, I lost so many things I couldn't even account for from this theft, some of which whenever I remember I just break down in tears.
What pains me the most is that those guys do not know the value of all these things, they will probably sell for the phone for a cheaper price and or, just format the whole thing.
The only thing I have left right now is my steemit password, which was backed up somehow in my gmail account.
I just had to write this to plead with all steemians to help me in any way possible, I don't know what else to do at this point cause today is a very Black day for me.
Am calling on all my steemian friends to please help me in any way you can,
From @euronation ,@steembees @genesis-project,@steemchurch @suroassinggoogle @steemgigs @sistem @youarehope foundation, @damarth @dobartim @surfyogi @danielsaori @air-clinic, @sircork ,@eurogee @iamchijamz @backtoschool @steemhelpinghand @more4less @airhawk-project @antigenx @smyle @ewuoso @julietisrael @cherylsonty @desmonddesk @levitated-mind @emekasegun @flysky @drigweeu @sweetestglo-eu @fantomcee @ejemai @tojukaka @fisteganos @acheever, @iconelly @ajibade @wafrica @eturnerx @sourcehope @jerryboy4luv @bloggersheaven @zoneboy of @utopian @druids @murphylee @eunireal1 @timmyeu @peakreal1 @joagawu @hr1 @sussan @ehiboss @enolife @vheobong @samstikkz @gee1 @zizymena @jeaniepearl @desmoniac @donnest @adabless @solomonojay @aauthespian1 @adedoyinwealth @owoblow-steemit @abiye @insideoutlet @cryptosharon @sammyswt @brightfame @amec @ogoowinner @illuminatus @burlarj @ajremy @tony-duke @oredebby @camzy @ackza, @stellabelle, @surfyogi, @bleepcoin @reko @yehey @guiltyparties, @elgeko
And @everyone, anyhow you know you can afford to help me, please do.
I thank everyone one of you for coming to my aid. Thank you all.
Since my phone is stolen am not online at the moment, I will be going for a sim card welcome back tomorrow morning,I don't know how I can be communicating with all my friends here, except through my comment box.
Thank you all for your time.