The future is upon us with the transformation of transportation, we are on the eve of the self driving car. After being an intern in car company and observing vehicle development. The self driving car is already here, what goes on now is testing for bugs and development. We can easily say that it will take the next 5-10 years for implementation of the self driving car. Government approval, safety testing and things that will in general endanger the lives of people. The earliest development is going to occur in Ann Arbor with the french company Navya. The university is going to allow an autonomous shuttle to be in Ann Arbor this September. https://www.nytimes.com/2017/07/09/business/driverless-car-autonomous-university-michigan.html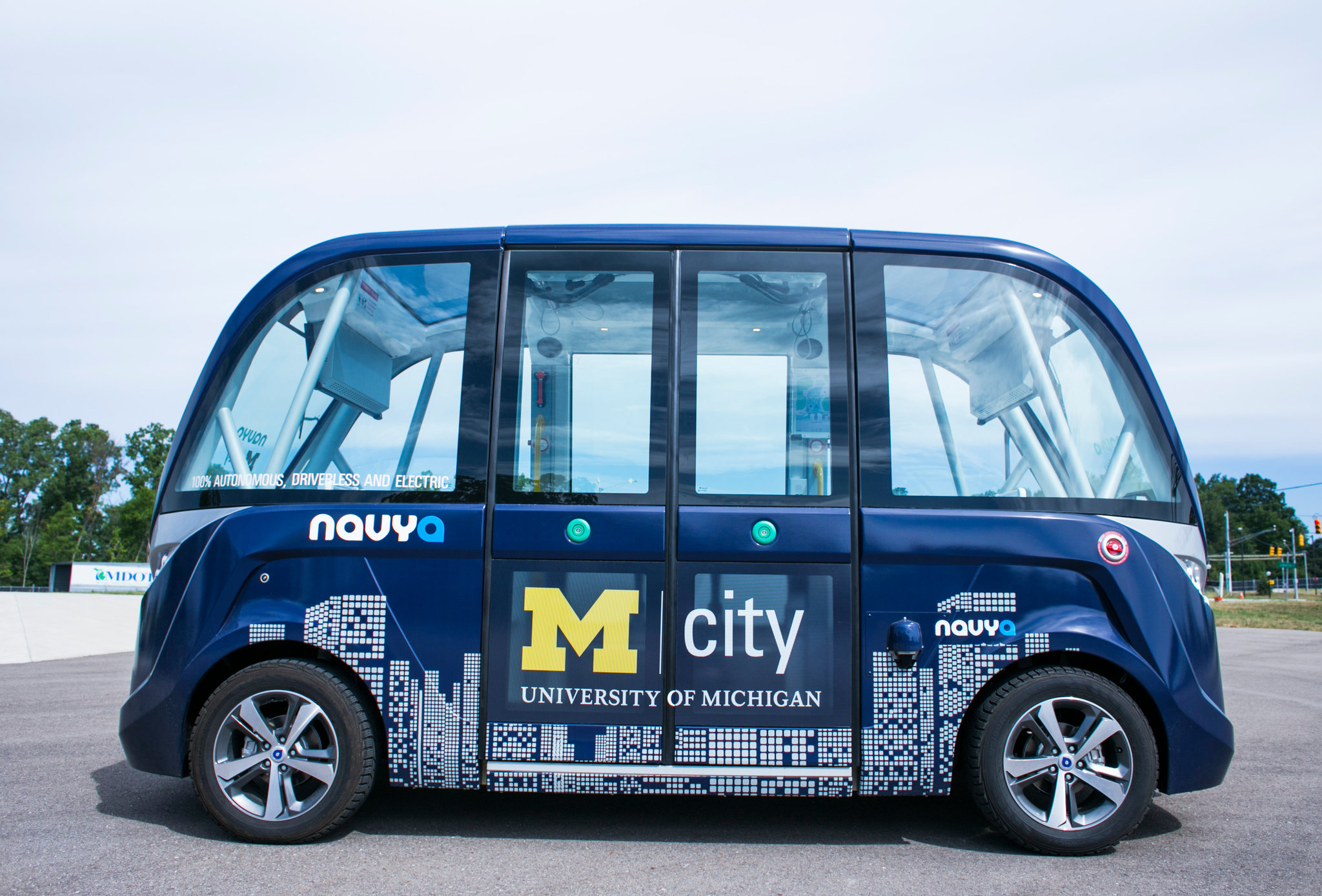 The societal changes with autonomous vehicles is going to be major. Allowing disabled people, kids and people from a lower socioeconomic background different ways to get around. Less traffic and overall safer roads with less accidents and deaths. It'll be interesting to see what happens to sports cars because what's the point of having a Lamborghini if you can't drive it yourself?
The main features of autonomous vehicles are automated platooning, precrash system, lane keep assist, electronic stability control, automatic parking, autonomous cruise control system and measurement of assured clear distance ahead. Click on the link to get a detailed understanding and explanation of the features. Automated platooning is a method to increase capacity of vehicles on the road. Precrash system using laser or image recognition to lessen or prevent collisions from occurring. Lane keep assist to keep vehicles in their perspective lanes. Electronic stability control a computerized system that detects loss of control of the vehicle and applies brakes to correct that. Automatic parking is the vehicle being able to park itself no matter the situation. Autonomous cruise control allows the car to drive at a set speed while using on board sensors to detect other vehicles on the road to slow down or accelerate. Measurement of assured clear distance ahead is using on board system to identify when the safety of the vehicle is being endangered and will not be able to stop within a safe distance.
https://en.wikipedia.org/wiki/Autonomous_car#Autonomous_driving_functions
Some of the companies working on Autonomous Vehicles: General Motors, Toyota, Honda, BMW, Intel, Google, Navya, Tesla and the list goes on
Detroit is known for being the motor city. It will once again be known for vehicles but this time is different. It won't just be the motor city but the autonomous vehicle capital of the world. The race to build and develop autonomous vehicles in the US is no longer contained to the big 3 automotive companies. Several companies involved in the race to build autonomous vehicle have vowed to base manufacturing and research and development in Michigan. Companies such as Uber, Navya will open facilities. However companies such as General motors, Ford, Chrysler and Toyota already have a base in the state and they've kept their technology under wraps. Not to mention all the automotive part distributors are already based in the state of Michigan. Companies such as Borg Warner, Delphi and Bayer among many others. Michigan is positioned to be the capital of autonomous vehicles, with favorable laws for vehicle testing as well as already having all the major players in the automotive industry located in state. http://www.detroitnews.com/story/business/autos/2016/09/19/uber-facility-metro-detroit/90687690/
A prediction timeline
Commercial use of Autonomous Vehicles: Early 2018
Private use of Autonomous Vehicles: Around mid 2018 (Around June)
Full public acceptance of Autonomous Vehicles: 2021-2041
Vocal producers in production of Autonomous Vehicles: Uber, Tesla, Waymo(Google) and Navya
Companies to watch in Autonomous Vehicles : General Motors, Ford, Mercedes Benz, Lyft
Citation
Boudette, Neal E. "Michigan's New Motor City: Ann Arbor as a Driverless-Car Hub." The New York Times. The New York Times, 09 July 2017. Web. 28 July 2017.
Journal, The Wall Street. "Uber to Open Facility in Detroit Area." Tech.newsbelow.com. N.p., n.d. Web. 28 July 2017.
"Autonomous car." Wikipedia. Wikimedia Foundation, 25 July 2017. Web. 28 July 2017.