I have owned a Lumia 950 since it was released. Before that I was Android all the way but at the time Security and even getting OS updates was a complete mess so I decided to switch to the Microsoft WinPhone 10 ecosystem.
This is what I learnt on that journey and the trepidation I now face now my trusty Lumia is feeling battered and bruised from the ravages of time and the fact Microsoft have killed the OS.
I fully understood the App Gap of that ecosystem at the time of the switch so what was it that attracted me to it?
Direct and regular OS upgrades, I am still getting them.
Integration with my home infrastructure, I use Win 10 on my home PCs
I use the Microsoft cloud services, I still use my Hotmail address :O
The ability to connect to a screen and keyboard and have a desktop
20MP camera, QHD OLED screen and Face recognition back then
The UI experience
The Windows 10 UI on the phone is actually a breath of fresh air compared with the Android and iOS offerings. I assume most of you either use or at least have encountered Win 10 on the desktop. The start menu with its live tiles makes so much sense on a phone screen. It is information dense while feeling uncluttered at the same time.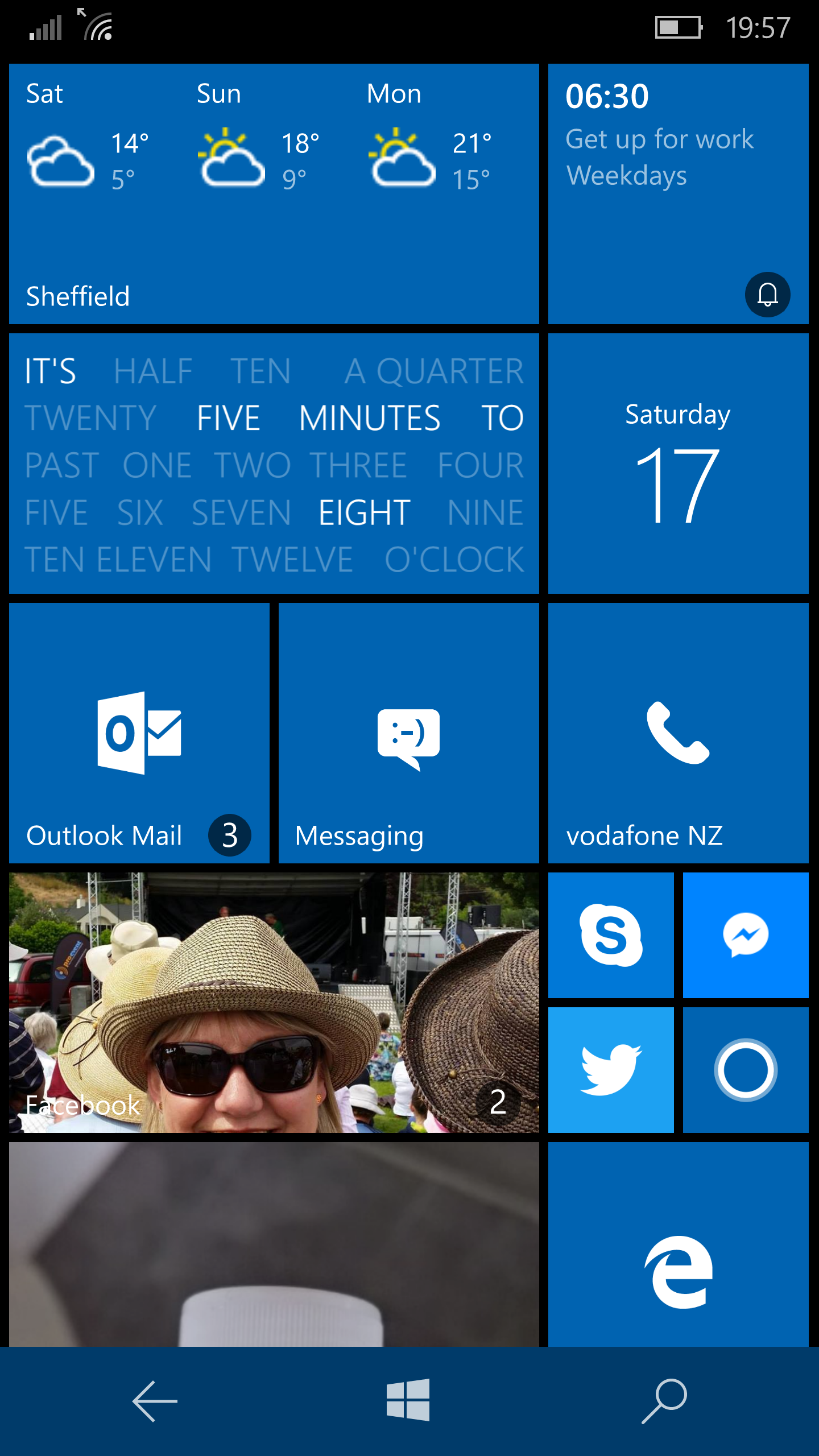 Live tiles means you do not always need to go into apps, they just give you the information. Emails, Appointments, Alarm time, Top stories and even crypto prices just roll into place at a glance. When you go to the App list you can jump about by selecting the Letter section breaks etc just as you see on the desktop. It is fluid and responsive.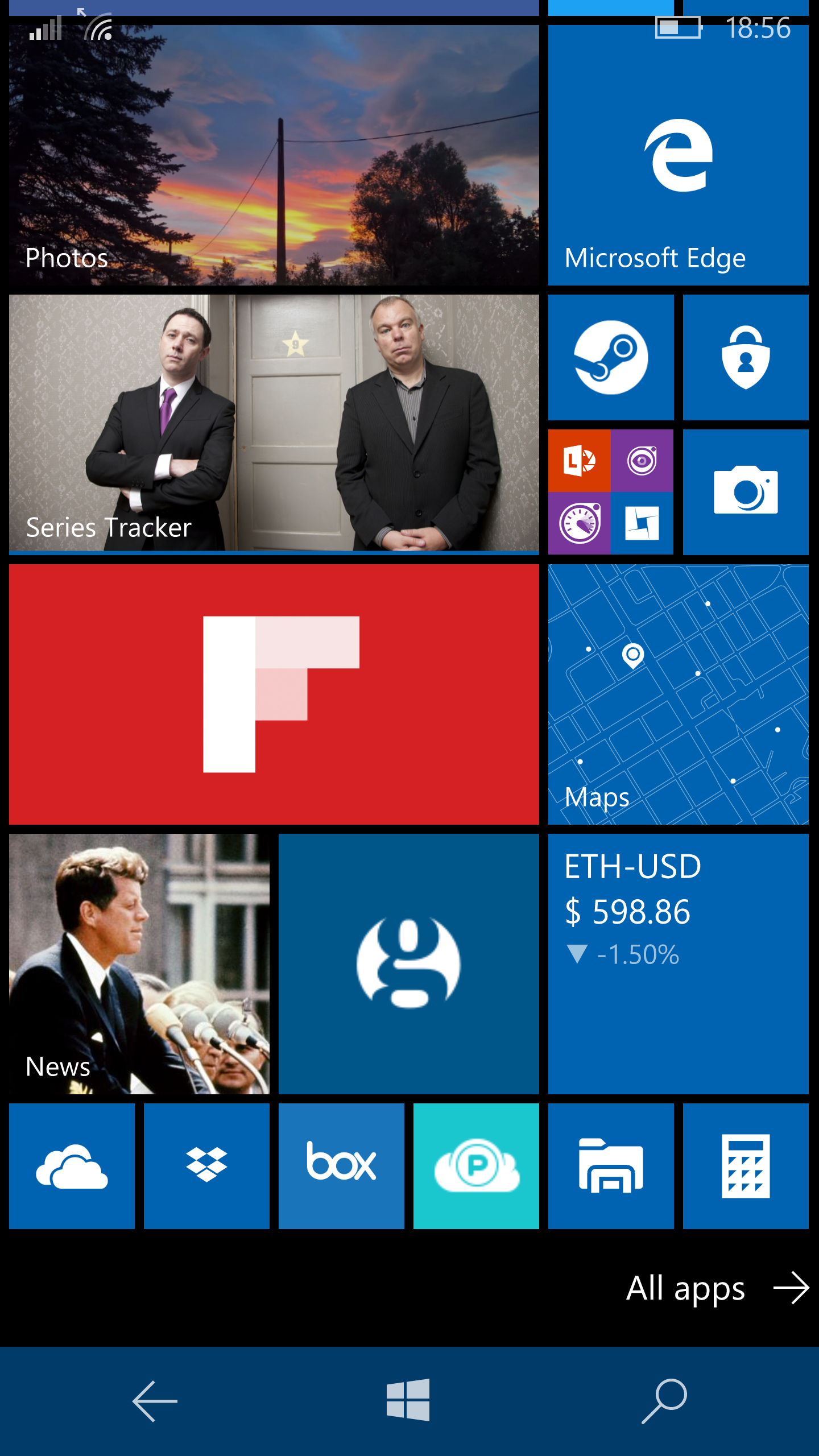 The Android interface I knew and the iOS interface I had seen from the era were more like Windows 3.1 in comparison. Folders of icons with no real interactivity. Sure you could pin widgets to an Android home screen but what you end up with is a mess of miss-matched UI styles.
I still love using it now and will really miss it!
That camera
People always rave about some new smart phone cameras but one thing the Lumia range has always had is great cameras. 20MP with an F1.9 ZEISS lens. The camera on the Lumia can capture so much detail, take a look back on my wall for my Chernobyl trip for some examples and open them full size.
Continum
The idea is simple and logical given the specs of modern phones. Why not present the UI in desktop form if you connect it to a display. The Windows concept is probably the best stab at this I have used to date. You connect it to a screen via USB-C to HDMI plug or use a MirrorCast dongle or TV for wireless.
When you do this you are presented with what looks like a Windows 10 desktop and all Microsoft apps and many 3rd party apps support the resolution shift. It will drive a full HD TV fine which is no surprise as the phone screen is higher resolution.
On the recent trip back to the UK along with Ukraine and Hong Kong I left my Surface Pro at home and packed a mirror cast and small blue tooth keyboard instead. So we had Netflix in hotels etc all via my phone.
It can be a bit clunky if you try and run too much as only 3GB ram but it works fine for light stuff which is all you want from a phone.
The app gap
This is what really killed Windows Phone 10. Compared to Android and iOS it is a stark difference. Lucky for me all the apps I wanted were present, including Facebook and Steem. There are some obvious missing Apps such as SnapChat but in reality I am not the sort of person that would use that anyway.
I have about 20-30 apps installed and use the browser for most other stuff. I even have GTA San Andreas for it which it runs lag free.
I am sure the real heavy app users would find the sparse app store crushing but I had all the tools I needed for my day to day use cases.
Conclusion
I really liked that Windows Phone 10 UI design for how it looks outside the box on finger interaction and information density. I look at the modern Android and iOS and they have just not moved on that much. Still just a home screen as icon grids. The Lumia 950, while a sort of drab looking phone, is solid hardware and specs that is great to hold and use.
This leave a real dilemma. There is no way I will join the Apple walled garden. I do not like the excessive control of all things. As a developer I would never risk the effort to write for it to be rejected and lose all that work. So that leave just one choice Android.
I am looking mid range this time around and the best choice I have found so far in the Sony Xperia XA2. If any of you know something better in the same price band let me know. I have been out of the Android market too long to know what are the best options.