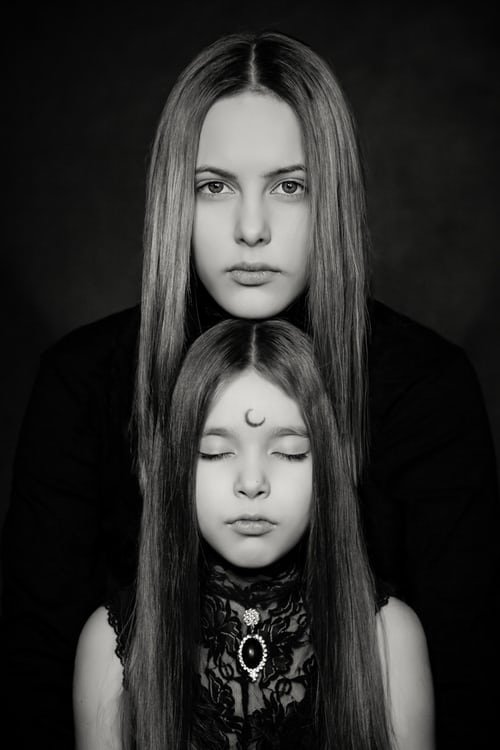 source
Mariel was still on her work day, convulsing, everything seemed to indicate a trauma resulting from her vision of the future that she had just generated, she had the wires of electricity in the temple of her head.
"Disconnect her quickly."
"Quick, quick."
"I'm here, baby," Sohel said as she was being moved to the emergency room.
Her eyes saw flashes of light, blurred people, as he dozed more and more.
Sohel was left outside anxious, sad, and for the first time he felt he was losing something valuable.
After a while, Dr. Rosnill came out and told Sohel that Mariel was out of danger, that he should go and rest because the patient was asleep.
The doctor left, and Sohel in the cold corridor of ViFuCo's™ thinking about what had happened, realized that nothing would change staying there, and retired to his room in the north wing of the dome corresponding to the male members of the company.
Sohel could not sleep, he remembered the first time she saw Mariel, she was a teenager, standing in the garden contemplating from outside the immense dome that is ViFuCo's™, there accompanied by Sulma the director of the place, she seemed a shy girl in the amusement park, her capacity to see the future had been verified and now she was a new visionary brain acquired by the company.
♥♥♥♥♥
ViFuCo's™ is one of the most prestigious companies in the world in terms of predictions and effective responses. Everything arose from the idea of Katty Piere, a powerful French woman who from an early age was catalogued as a witch, demented and sorceress, her parents not to endure the chilling world of her daughter, designated her to live in the strictest of Catholic schools, but to Katty's surprise, the nuns had very strong spiritual communication and the gift she possessed was normal for everyone in the school.
Katty Piere not only developed that power, but also the gift of vision that she possessed was favored all that time, the nuns taught her that people were neither prepared nor open to that reality, and that she should hide her gifts, however she swore that she would change that, and that all people with similar abilities would belong to a privileged class, whose real goal was to demonstrate that with them life on the planet can be better.
When her parents died she was the only heir, in fact her parents had no more descendants for fear that the new member of the family would be like Katty, so she used her fortune along with a small group of visionaries who had joined her goal of creating the company ViFuCo's™ .
She formed a corporation in the middle of the forest, contacting people who did not refuse to listen to a young millionaire, got the best experts in science, technology and neuroscience, developed for her the ExtriMemory: brain connectors that take visions to a central axis where they are presented, and then classified according to the master program.
It took her time and money to achieve her great dream, but she formed a community of visionaries within one place, her beloved company "ViFuCo's™", was the only thing she loved and her legacy on the planet.
♥♥♥♥♥
The next day when Mariel woke up she sat on the bed totally bewildered, in a cold and gray room, there was a photo on the wall and in the photo you could see a group of very smiling people and behind them a very nice sign that said: Vision, Future and Prosperity, in function of you always.
There was a bathroom inside the room, and Mariel stood there staring in front of the mirror for a while. She heard the door of the room open and came out in fear.
"Hi Mariel, I'm director Sulma."
Mariel's eyes moved back and forth, and her head was filled with so many questions.
"I don't know who you are."
"Mariel, I'm your friend, you can trust me, I'm the director of ViFuCo's™, the company to which you belong"
That's when the doctor came and examined Mariel, realizing that the patient lacked many of her memories and diagnosed retrograde amnesia.
"For now the best thing is to take a short vacation, I don't want her working"
"Doctor, but what could this have done to me?"
"This situation is temporary, I consider that after twenty four hours everything can be normalized, hopefully so, and this was definitely a product of emotional shock".
"Doctor I feel lost, confused, what must I do to remember?"
"I can tell you anything you want to know," Sulma said.
"Not so fast Sulma, you have to let her remember on her own, the memories will come naturally".
♥♥♥♥♥
Sulma took her to tour the company, she was fascinated by the structure, a central glass dome where several working groups met: A1, A2 or A3, these were connected by ExtriMemory links to provide information, the views were classified using algorithms in real time and stored in different vision folders, the working groups covered different shifts.
Around the dome were the rooms of the employees, on the north side of it were for the gentlemen and on the south side were the rooms for the ladies, also had: a large dining room, film and conference room, a large medical room, a sports room and physical health; in the company there were thousands of people working every day, however few with vision gifts, working there meant virtually leaving the outside world aside, meant a rapid rise in economic status and for those with the gift of vision enjoyed a kind of divine glory.
When Mariel entered the center of the dome there were flashes of episodes in her mind, she remembered laughing with some co-workers, Sohel arrived and embraced her with strength.
"I've missed you so much, don't do this to me again."
"How do you feel?" as I looked at her gently.
A whirlwind of memories invaded Mariel's mind, she placed her hands on her head, like the one bearing an internal weight, Sohel and Sulma took her to a nearby seat, and she calmed down.
"I remembered my mother, I saw her" "Where is she?"
"I am very sorry to tell you this Mariel, but she is resting in the sky" said Sohel with much affection.
Mariel began to cry, a sadness invaded her heart, as if her chest was going to explode, Sulma went to do some activities she had pending in the office, so Sohel accompanied her.
"Mariel may not remember, but you and I have a loving relationship," Sohel said as he stroked Mariel's hand.
I imagined it, because of the way you act with me and the way I feel every time you approach me.
"I've always loved you and you can trust me, I don't know what happened, but I want you to know that we're right for each other," said Sohel.
Mariel went to rest in her room, suddenly she heard the door, it was her friend Dennis, when she saw her there at the door many memories came to her mind, with such clarity, a past full of joy and mischief with her dear friend, hugged her and felt safe.
"Mariel, you're not alone in this," as I hugged her.
"Mariel I think you saw something in your future that affected you so much that you reacted in that way, listen to me well, if the predictions or visions that we make have a maximum fulfillment in 72 hours, we must find out what was what you saw as soon as possible".
"Can that be done?"
"If you can, it's not easy, since the memories are classified and entered into their respective categories, but the personal memories of each one of the visionaries are kept in an archive, where each one knows the password to enter, do you know your password?"
"no, I don't remember anything about that"
"Well I tell you some personal things that may be important for you to remember the key to your file: You did not know your father, your mother's name was Mary and died 7 years ago, there is something very delicate I do not know how to tell you."
"I'm just asking you to tell me the truth."
"You have a 7 year old girl named Ashley, the girl's father you never wanted to talk to, and I know you took this job because you didn't have any money, no one to take care of your baby, so this was a way out for you, the company has kept, cared for and educated your daughter all this time".
"A daughter, my daughter Ashley, then must be something about her that I saw in the future" was knotted in her throat.
"It's going to be okay"
"I feel that I abandoned my daughter, I feel that I gave her to ViFuCo's™" said Mariel between sobs.
"Don't be so hard on yourself, you were a minor with a baby in your arms, no more family, without any support in this life, what else could you do? tell me, it was the best for you and for her, the baby does not lack anything".
"I want to leave here, I want to dedicate the rest of my life to my daughter, it no longer makes sense to stay in ViFuCo's™, I have no visions, I lost the gift"
"I think you still have the gift, you just don't want to use it to keep from hurting yourself, by the way, did you remember the password?"
"Yes"
"Follow me," said Dennis.
Dennis took her to the room where the personal visionary records were, and from there Mariel accessed the system and entered her file, but to their surprise there was nothing kept from that day, it was very strange.
♥♥♥♥♥
Mariel made the decision to leave ViFuCo's™ and went to talk to Sulma about it.
"I want to leave ViFuCo's™"
"What did you remember?"
"What? What do you mean?" Mariel said
"Days before what happened to you you asked me to terminate your contract, that you wanted to change your life, and I told you that I am your guardian, when you came here you were a minor and I became your legal guardian and you signed an extended contract."
Sulma when she first saw Mariel felt a great empathy for her, the feeling of protecting her enveloped her heart, a very sweet minor with so much fragility on the outside. Sulma was a woman dedicated to her work, without offspring, she became her guardian and the mother's love that was inside her gave it to Mariel, she refused to let her go, the simple fact of thinking about it broke her soul, the time passed made her see Mariel as a daughter.
"Now I remember, we had an argument, you said that ViFuCo's™ had invested a lot in me and my daughter and it was not fair that I left so soon, you started throwing things, you behaved like a lunatic. Now I'll show you if I can get out of here."
Mariel leaving, feeling helpless, all he could think about was running away.
"Wait Mariel, please wait" sobbing Sulma like a wounded mother.
Sulma had changed her mind because of what happened to Mariel and she realized that she couldn't keep her there against her will, so Mariel's contract with the company was terminated, as Sulma had never really given her an end date until now.
When Sulma calmed down, she looked for one of the technicians and asked her to access Mariel's personal visionary register. She wanted to know if Mariel was in danger outside ViFuCo's™; to her surprise, the last file had been erased; the technician detected that on the same day as what happened to Mariel, someone at night accessed that file; Sulma was very nervous and asked her to do everything to recover it, and the technician was only able to recover part of it.
"Oh no, Mariel may be in danger, look for the head of security please" and she went running looking for Mariel, the corridors were getting very long, really ViFuCo's™ seemed like a small town inside that peaceful forest.
♥♥♥♥♥
Mariel found out the address of the place where Ashley was, and went to talk to Sohel, she looked for him where the visionaries worked and he wasn't there, and she found out that Sohel was working as the central network administrator and went to talk to him.
Sohel was dedicated to the maintenance and updating of the core network and even supported the neuroscience group and was very respected in the company for his skills in technology and information technology, was an orphan from a very early age and was raised by an aunt who turned out to be a friend of Katty Piere, Katty to know Sohel's potential waited for him to grow and train professionally, wanted him working in ViFuCo's™. He had had a relationship with Mariel for a year and she was the only one he considered his family.
"I don't want you to leave Mariel, we've talked about this before, please stay, you're my life, the only valuable thing I have left, your daughter can continue living as she has lived until now".
"Shut up, don't be selfish, I have thought for a long time only about myself, I have lived well here I can feel it"
"and if you love me so much, why don't you come with me?" caressing his face.
"Observe we are at the top, look around you, there is abundance, prestige, I know you love what you do, your predictions and those of your team work, help avoid and solve so many things on this planet, please Mariel you're the selfish."
"I'm leaving Sohel, I don't expect you to understand me at all, but I'm also a mother, and I want to take care of that. Goodbye Sohel"
Sohel grabbed her arm and didn't want to let her go, she was trying to let go and couldn't. He seemed like another person, full of anger and aggressiveness, she had to start screaming and that was when she remembered.
"You" her eyes couldn't believe that the person in front of her was a bad man.
"I saw you in my vision, you're so cruel, attacking my daughter."
"You have no proof of anything, it's your word against mine"
"It was you who deleted the file. It doesn't matter, now I'm going to tell everyone"
"Not so fast my baby" grabbing her tightly and looking to the sides to see what she could think of.
"Let her go, leave her alone," Sulma said.
"I've just got it, can't you see she wants to leave ViFuCo's™"
"I know it was you who erased Mariel's personal record, let her go, let her go."
Sohel released her when he saw the company's security personnel arrive and left with them.
♥♥♥♥♥
The next day Mariel in the company of Sulma went to look for Ashley, she would start a new life, she no longer had any ties with ViFuCo's™ and when she saw her daughter she had a wonderful vision of the future.

The end

Thanks to the people of @bananafish and @calluna for this wonderful contest Tell A Story To Me - The Known Future
---
Dear friends thank you for the support, we are in contact.