The National Anticorruption Commission (NACC) reported on Friday (September 20) about the personal finances of 80 members of the House of Representatives, 79 of which were signed after the March elections, one of which recently resigned.
This Personal Financial Report of the National Anti-Corruption Commission (NACC) is a supplement to the NACC's previous report of 415 MPs who had previously submitted their asset lists in July.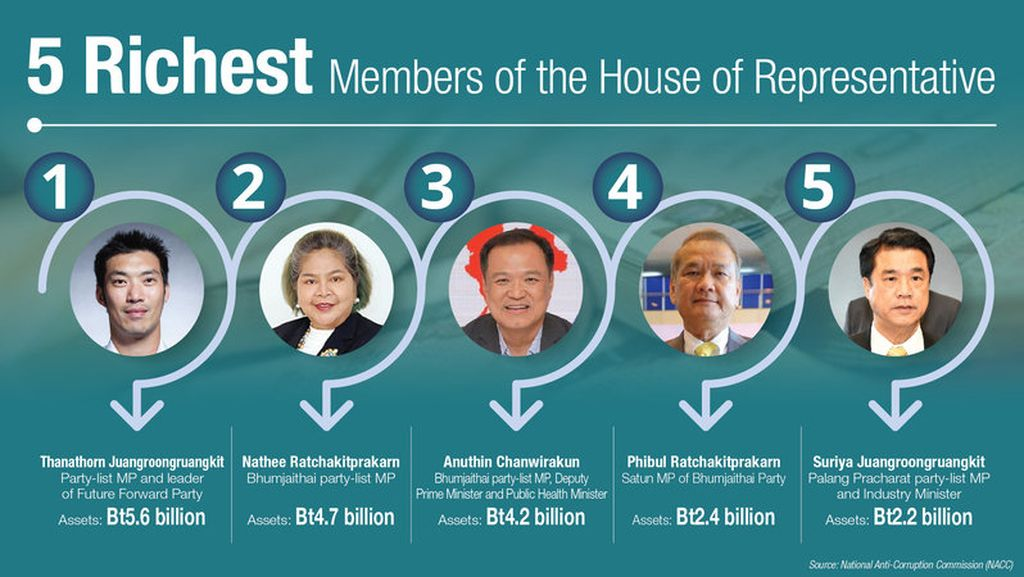 The most notable members whose assets and liabilities have been uncovered by the NACC are Thanathorn Juangroongruangkit, chairman of the Future Forward Party (FFP); Mrs. Pannika Wanich, the spokeswoman of the FFP, Piyabutr Saengkanokkul, the Secretary General of the FFP; Ms. Parina Kraikup, a member of the Phalang Pracharat Party from Ratchaburi Province; and Mongkolkit Suksintharanon, a member of the party list and leader of the Thai Civilized Party.
The two reports together found that Thanathorn Juangroongruangkit was the richest MP, with assets of 5.137 billion baht, consisting of 1.5 billion baht cash, 1.527 billion baht in bank deposits, investment of 3.014 billion baht, land worth 41 Million baht and a house worth 47 million baht. He stated that he had debts of 683 million baht (shared with his spouse).
This is followed by Ms Nathee Ratchakitprakam, a Bhumjaithai Party member with a fortune of 4.7 trillion baht and debts of 177 million baht.
Third on the asset list is Deputy Prime Minister and Health Minister Anuthin Chanwirakun, another Bhumjaithai Party MP, who, along with his spouse, reported assets worth 4.19 billion baht and debts of 50 million baht.
A delegate from Satun, Mr. Phibul Ratchakitprakarn, also from the Bhumjaithai Party, had a fortune of 2.38 billion baht, which he shared with his spouse. He gave debts of 42 million baht.
Industry minister Suriya Juangroongruangkit, who finished in fifth place, was the richest member of the governing coalition, the Phalang Pracharath party, and together with his spouse declared assets worth 2.19 billion baht and debts of 0.6 million Baht.
The Secretary-General of the Future Forward party, Piyabutr Saengkanokkul, said 9.9 million baht of assets are worth 2.3 million baht.
Thai party leader Mongkolkit Suksintharanon declared 192 million baht for assets and 19 million baht for debt.
The future spokeswoman for the Future Forward party, Ms. Pannika Wanich, said she had assets of 3.3 million baht and a debt of around 700,000 baht.
Ms. Pareena Kraikupt, a member of the Palang Pracharath Party, reported assets of 169 million baht and a debt of 29 million baht.
However, a member of the Palang Thai Rak Thai party caused astonishment after he had stated his assets at 1.1 billion baht. The MP, Kathathep Techadetruangkul, claimed in his declaration of assets to the National Anticorruption Commission that he owns two mythical metal parts (Lek Lai), which according to the deputies together should have a value of 1 billion baht.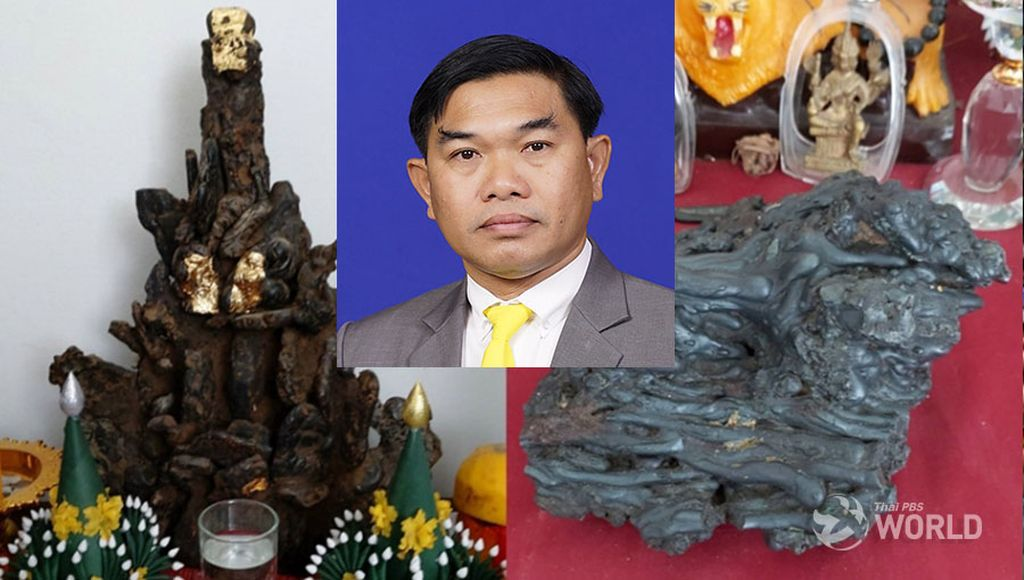 Kathathep Techadetruangkul said he received the two Lek Lai in 1994, a rock mineral also known as magnetite, which is believed to have mysterious properties.
His fortune also includes a meteorite worth about 10 million baht, two Phra Somdet Buddha amulets, which he declared at about 25 million baht, 2.2 million baht in bank deposits, a house worth about 8 million baht and about 800,000 baht of debt.
Kathathep told the National Anticorruption Commission (NACC) that after a series of disasters and bad luck some two decades ago, he received one of the two Lek Lai villagers claiming to be worth 700 million baht.
He further claimed that after the Lek Lai was in his possession, his life would have changed forever for the better. Even his wishes were fulfilled for the most part, so that his improved destiny and the mythical metal became the talk of the town. It had been talking fast and many people had already visited him in his house to show their respect and to ask for blessings from the Lek Lai.
The MP continued to claim that an unidentified foreigner, believing in the mythical powers of the lucky charm, had already offered him 700 million baht, but he declined the offer.
Sources: Nationale Antikorruptionskommission (NACC), Thai PBS World, Thailand Tip