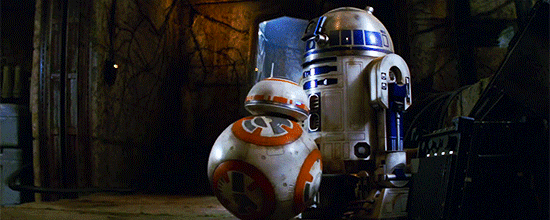 We're Still Here!
It has been a minute since we did an update on our status and we have recently changed a few things around to reflect our passions. We hope everyone is doing well out there in the STEEMIVERSE and just keeps moving forward! What other direction does time move? Ha! So, here is what has been decided and will start soon:
New Payout Structure
80% is going to our fabulous delegators distributed by the weight of their delegations.
4% is going to @thealliance to help support our beloved family.
4% is going to my partner @jatinhota for his loyalty & technical skills.
4% is going to witness @enginewitty for concept, ownership and design.
1% is going to @freewritehouse to help better reward their community.
1% is going to @spunkeemonkee as they umbrella family involvement on chain.
1% is going to @homesteaderscoop as they bring business to the chain.
1% is going to @naturalmedicine for their care of others
1% is going to @fuerza-hispana for keeping their word and helping the Latino community.
.5% is going to @tyedyefirepower as they help out the fam and @ssg-community.
.5% is going to @stsl to assist in their curation efforts.
.5% is going to the charity @youarehope to help with their pursuits.
.5% is going to @tarc to aid them with finding doggies homes.
.5% is going to @welcomewagon so they can better cultivate new Steempeeps.
.5% is going to @poetsunit to help curate and encourage more poets.
Dividends are sent out daily to delegators and beneficiaries.
You Want To Delegate?
We could surely use some more of that generous spirit from the community! By doing so, you are essentially donating to all the communities listed above and at the same time, getting a kickback for your much appreciated delegation(s). You can delegate to the Allied Forces with as little as 10 Steem Power. It involves a total of 4 very small steps that take a total of 30 seconds to complete. Here is a graphic to help illustrate just how easy it is: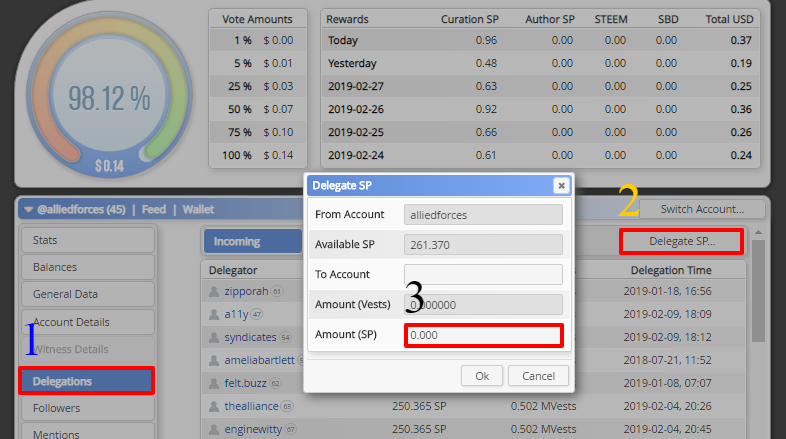 - Tap/click the box that says DELEGATIONS
- When that populates, click the far right menu box that says DELEGATE SP
- Type in alliedforces (without the @ symbol) in the box that says TO ACCOUNT
- Decide how much of your available Steem Power (SP) you will delegate and type it in the associated box
- Tap/click the box that says OK
- Use your private ACTIVE KEY to confirm the operation
- You're done!
Parameters:
We accept both STEEM and SBD for bids.
Current Maximum and Minimum bids will be listed on our page.
Minimum age of a post is 20 minutes.
Maximum age of a post is 5 days
Maximum bids per author per round is 4.
If you have been downvoted by @spaminator, @steemcleaners, @cheetah, @enginewitty, @jatinhota, @thealliance or @mack-bot, the Allied Forces will NOT upvote your post and your bid is forfeit.
We frown heavily on spamming and plagiarism so any blacklisted users that send bids will not be voted on. Those funds are forfeit and sent directly to @thealliance.
Any posts that carry the NSFW tag will not be voted on and bids will be refunded.
Any bids for posts outside of the minimum or maximum age we have set will automatically be refunded.
Allied Forces will vote every round upon reaching 100% Voting Power (VP)
The account will resteem any URL with a bid of 0.8 or higher (up to the current max)
The Voting Trail
As some of you may have noticed, when you get a vote from us, you have also been getting votes from several other accounts! That's because we have started a trail and hope you would join us in supporting our customers better and adding to your curation efforts in the process.
Thank YOU!!
We appreciate all the support we have gotten! Anyone that has any suggestions, please let us know in the comments. One was made for a voting trail? More feedback on that would be great. And remember, by supporting our bot, you also are supporting some of our preferred organizations on the platform. If you enjoy being on the STEEM blockchain, don't forget to vote for your favorite witnesses that help keep it running! STeem oN!!

10SP - 20SP - 50SP - 100SP - 250SP - 500SP - 1000SP - 5000SP