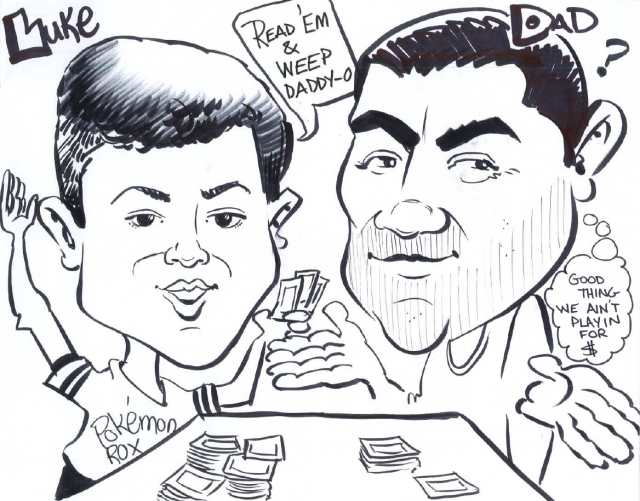 Always good to see things from a different perspective
In life we always look at things through our own eyes. It is easy to get tunnel vision and become self centered. It is always good to be reminded of how other people view a situation. As a leader it is always important how others will perceive and react to things that you do.
Recently while at a market, my son and I decided to have an artist sketch a rendition of us. After talking to us for about 5 minutes and spending another 10 working on the sketch, we get the opportunity to see how we look through someones elses eyes. I must admit that he was pretty talented and hit the nail on the head.
Supposedly we are playing Pokemon cards and Luke happened to mention that he always beats me. I tried to debate this fact but it looks like the artists took Lukes word over my own.
I challenge you all to take a step back during your day and think about how your actions would be viewed by someone else. Hopefully this will lead you to make better choices or at least to confirm that you are making the correct ones to begin with.
---


Darryl (@dadview) is a loving husband and father who enjoys spending time with his family no matter the activity.
He is an active member of The Alliance











If you enjoyed this post, please up-vote and/or Follow @dadview on Steemit