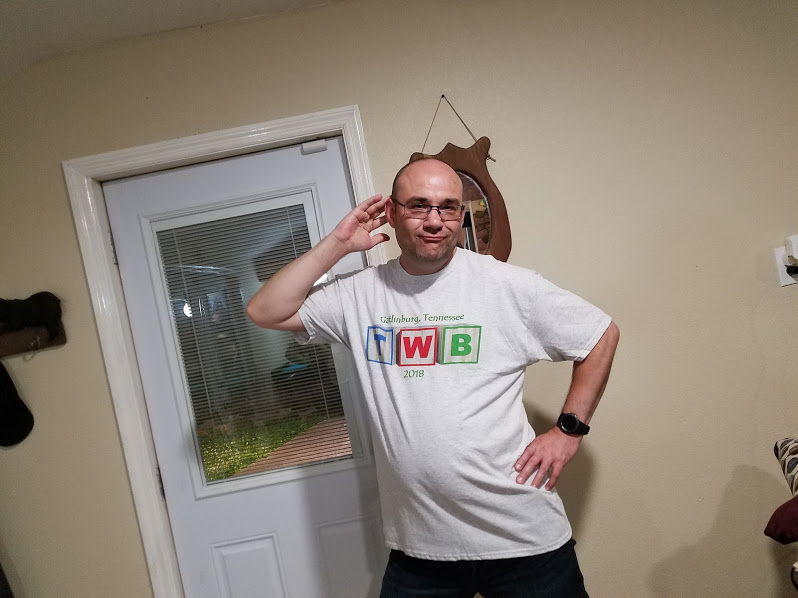 You are much taller in person man! Of course, everyone is to me LOL! There was that first initial awkward hug right? You know what I mean, the 'I already know you and thank you but I still don't
know you
' kind of thing? But the comfort level set in quickly as I made the rounds and met up with some familiar faces and new-to-my-face Steempeeps. Trying not to let the excitement go too soon, I was sure to make my way in and get my hug fix from Mrs. Hugglesome herself,
@rhondak
!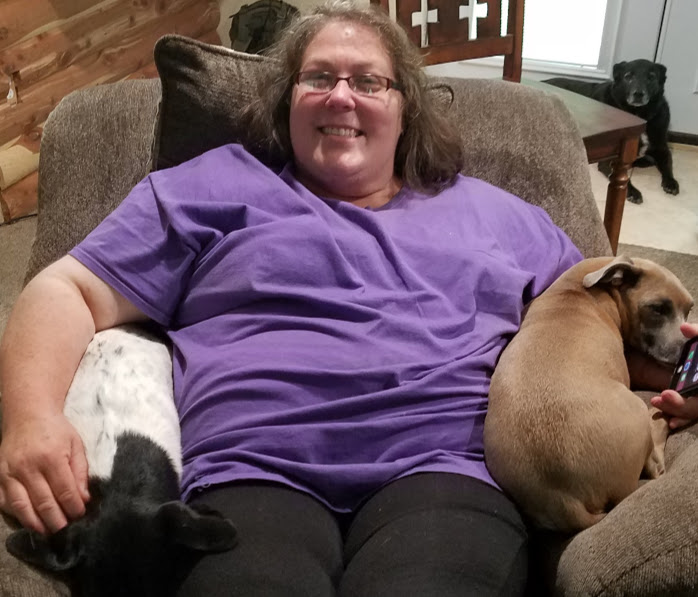 That's Page and Abercrombie (sp?) in the chair with her. The meet and greet for
@thewritersblock
was fortunately close enough, here in Tennessee, that I was able to go and meet some their more prominent members.
@anarcho-andrei
was there briefly during my visit and said hey. Rhonda and her bear-chasing hubby Scott, of which whom all three I am already familiar to. New personal Steempeep faces were
@jonknight
and
@jayna
. Jon is pretty cool, have known him from the platform and discord already. Jayna, who now resides in my childhood stomping grounds, was really great to meet as we share much in common.
You Said @gmuxx Application?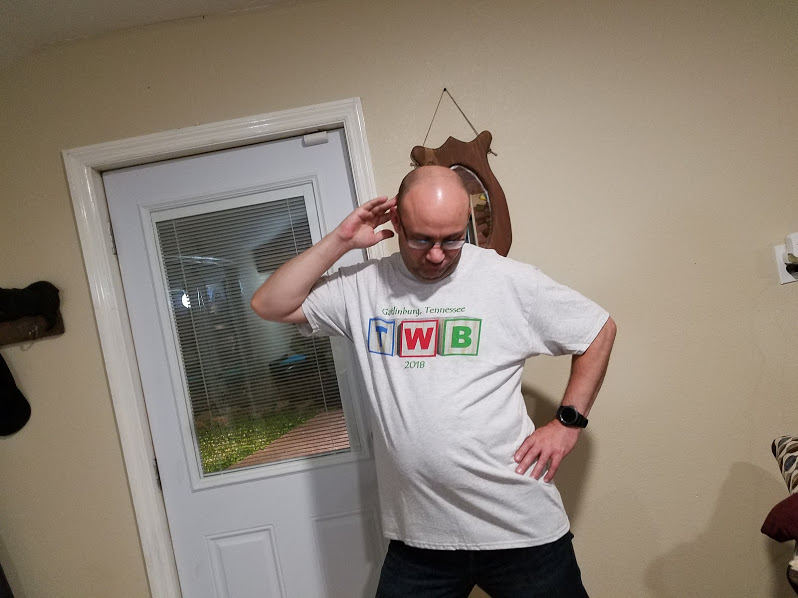 Such a good sport, this guy. Really enjoyed hanging out with you. Almost forgot what this post was really about. After a splendid dinner that Jayna cheffed up for us, we sat outside at the picnic table and he says to me, "Ok, sell The Alliance to me." Earlier in the day someone had mentioned the fam and he replied that nobody had asked him to even join so he never submitted an application or pursued it. Putting me on the spot trying to sell my fam? Would that make me a sell-out? LOL
My Answer
But I understood. He simply wanted to know about the heart. I gave him the short version of why I started the fam and explained to him about our quality and commitment desires that leans heavily on how we strive to stay engaged with each other. I expressed to him that one of the biggest down falls of this platform is the retention rate and how by building a unity within, we all grow together. We have 200+ solid, dedicated active members in the family helping each other. This became the answer to his question number 2 - engagement and retention.
Ok Sign Me Up
Questions number one and three I can answer as well. It's not every day you get to meet someone from half way across the world and give them a 'personal interview', you know? I know his first run in with
#thealliance
was in
@shadowspub
's PYPT. We slowly got to know each other through that and he made his witness bid a few weeks prior to mine this year. I didn't hesitate to give him my vote.
As for the what does he bring? It's Muxxy man, c'mon. LOL! He brings humor, a good heart, and a well-versed writing ability we can learn from. Top that off with being a dedicated Steempeep and I'd say he's allied material. I sent him a link to the playground so he can guage and learn how we go about interacting with each other. He'll be in the castle soon.
A Final Thought on Positivity
The whole day was just a positively charged exchange of smiles and good feelings. That is something that has been seen less recently on the platform. Spiteful demons swinging their borrowed daggers and fear induced FUD suckers running for the hills. None of the people I was with on Saturday are like that. Except
@sircork
, we all know he's a tyrannical megalodon just waiting to chew on people. J/K man, love you bro!
But, you won't find any of us plagiarising and stealing people's content. We may put out some passionate posts and we may be astute in our stances, but never will you find us in the position of a bully.
@noblewitness
and everyone there encourage the positive impact the STEEM blockchain and all it's pretty flowers can have on society. Let's not let a few bad apples spoil our pies.
Some relative posts to check out:
All SBD from this post will be split between @youarehope and @tarc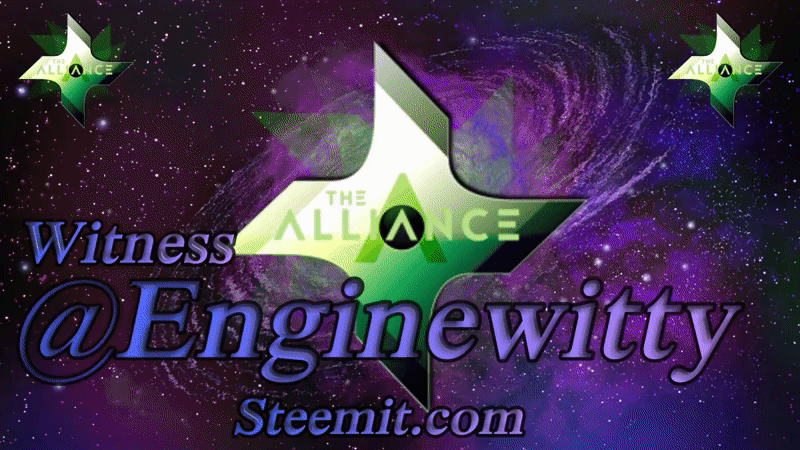 @snook made this badass gif