To all Steemit members, a happy good morning! Are you enjoying making blog out of your daily activities?
For me, I find it very interesting. Sharing our daily lives makes me feel at ease and tense at the same time. At ease because I can share things about my life (hopes you find it interesting too) in which you can acquire cooking tips, remedy or customs of every country to learn and tense because I need to catchup for the date of the blog and I need to sacrifice too my early sleep to finished it.
Today while browsing Facebook, I saw my sister's dessert selling post and I remembered how I love this dessert way back during my single life in the Philippines. I loved to cook this Tibok tibok or Maha Blanca dessert. I started craving and made joke to her by asking the price as if I was really a buyer! She replied in a joke way too.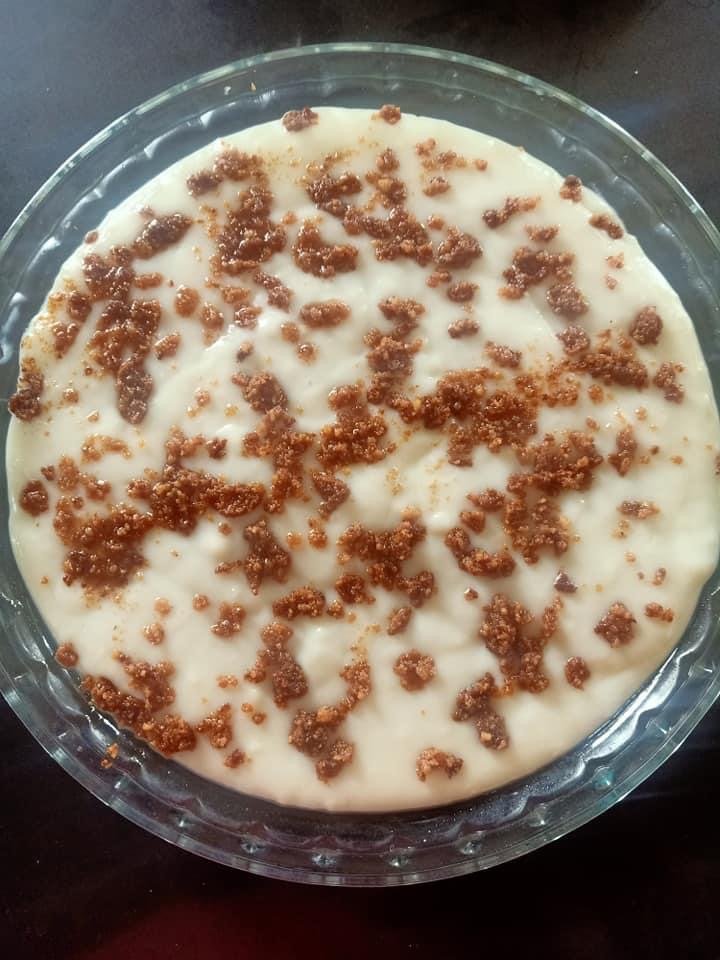 The photo of Maha Blanca was made by my sister in our town province Pampanga. It consists of cornstarch, coconut milk, sugar and corn kernels with coconut crunchy as toppings. Photo shared with permission from my sister. I told her that I'm going to use it as my blog and she just used thumbnails as ok.
This is the recipe on how to cook Maha Blanca Pudding.
Ingredients:
1 can of sweet kernel corn
3 cups of coconut milk
200 grams of cornstarch
1 can condensed milk (used 1 tube for less sugar)
2 cups fresh milk
1 cup sugar (Optional)
1 cup coconut milk for making crunchy toppings or you can use cheese.
Procedure:
First, dilute the cornstarch to fresh milk or water.
Place the coconut milk in a pot.
Add the condensed milk, sugar and sweet corn kernels.
Stir to mix well.
Boil the mixture and stirred constantly.
While boiling add the diluted cornstarch and keep stirring until it becomes thicker.
Once it becomes thicker and bubbles surface close the burner and prepare a tray then transfer it while hot.
Prepare a pan for the remaining 1 cup of coconut milk.
Boil it again until the water is gone and don't mix until it becomes crunchy.
Placed the crunchy coconut/cheese on top of the pudding and served while it is hot.
Others prepare the cold one therefore refrigerate it first before serving.
There you are steemitians, hope you like my cooking tips on how to cook Tibok tibok. Hope that you will like the taste too.
I would like to mention again @fycee for inviting me here to share my everyday diary and for celebrating the 1000 days of Steemit @steemitblog.
I am a member of @japansteemit team together with the new members too @abbey701, @yadamaniart and I thank @cryptokannon for inviting me to be part of their group.
Thanks for dropping by.
         🌸🦋🌷@elitogold 🌷🦋🌸