Our morning began with our daily ritual of bulletproof coffee, Bible study, breakfast and prayer. I've mentioned this before, it isn't especially exciting, but it IS extremely important. We are the way we begin our day. Getting off onto the right foot is a vital part of our lifestyle.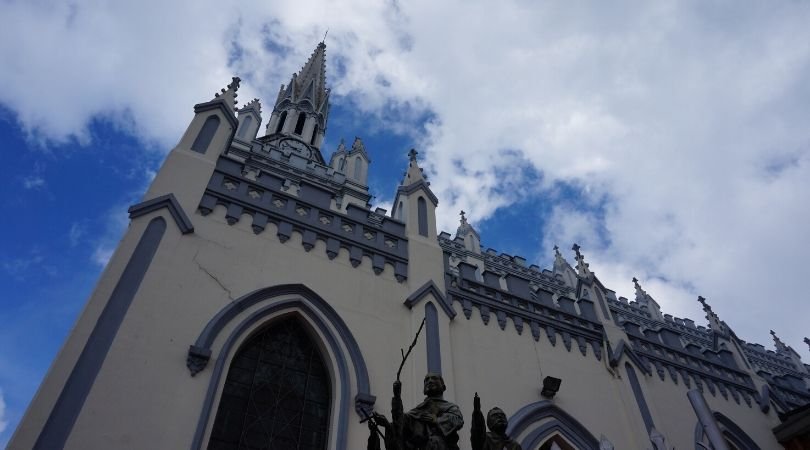 Plus, I still have many pictures from yesterday I didn't share - so I will pepper this story with them as well! Pictured above is Augostinos, one of the many Catholic churches in "the city that has a church on every corner"
All pictures are property of Erin Donaldson and rights are reserved.
Dear Diary - It's the 4th of July in my home country...but does it still mean anything?
Colombian Independence is on July 20th - soon we will see Colombian flags flying from every door and house in the neighborhoods. People might have family gatherings or go to rumbas (parties). Still, it isn't the massive celebration or ritual here, that it IS, in the USA.
Yet, even now, as an American - I feel very detached from everything. Even more, do our lofty American ideals still matter today? Even to Americans? Things to ponder.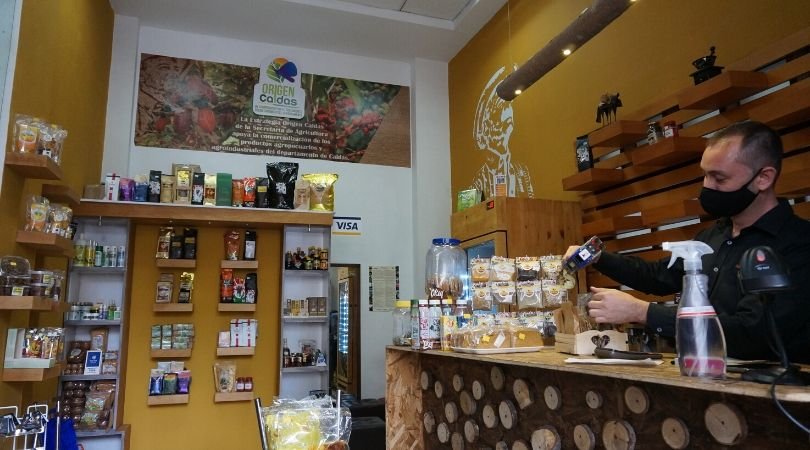 It is much easier to create new products here in Colombia - and I have a special place in my heart for local products and people
We declared our Independence in 1775, yet in 1913, we began to give it away - to the Banksters. Today, we can hardly understand the concept. Everyday, our movements are tracked, monitored and stored in vast digital archives processed by AI driven computer systems with digital guidelines for stopping "crime" or monitoring intense situations.
Benjamin Franklin wrote that "Those who sacrifice liberty for security, deserve neither," at a time when freedom and liberty were at all time peaks. Now, people are reading back over those words and wondering what happened. Many of us have even pulled up stakes and left.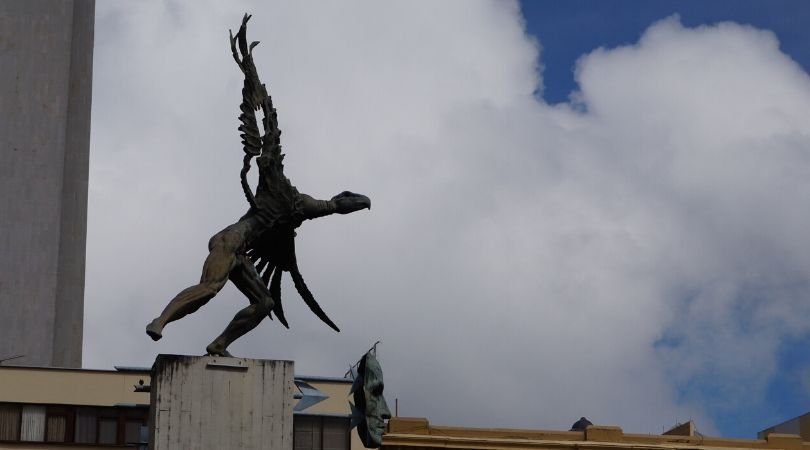 *The most famous statue in Manizales is a Masonic concept based on the duality of mankind and a blending of the national bird and the body of the "great liberator" Simon Bolivar."
My life in Colombia, is all part of a desperate attempt to cross the burning bridge of liberty and find a safe haven - even if only temporarily. And, for the most part, I feel good about it. Colombia is the freest country in the world for Homeschooling. They have some deep issues, but most of the population are entrepreneurs who aren't afraid to start their own business in lieu of decent job opportunities - which is a form of freedom.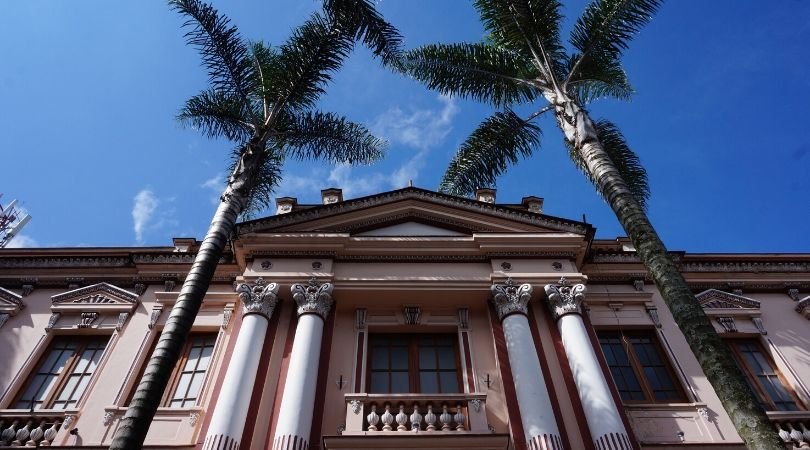 Coronavirus really scared Colombians, and many foreign residents who live here seeking their own private piece of paradise. But, they are starting to recuperate from the shock and fear, and they are getting angry. Personally, based on my experiences yesterday out in the street running errands, meeting with friends and taking pictures of a city I love, I think the lid is about to be blown off the whole thing.
Yesterday, I saw people out in the street living their lives, going about their business, and involved in finding a way out of the nightmare. You saw the avocado man in my picture who is happily selling on the sidewalk to anyone who would stop by. We witnessed the activity of a population which is ready to go back to work, and ready to make progress.
Honestly, I can't imagine ever living in my home country ever again. In the US, anyone who tries to set up a spot on the street and sell something, will be extorted and kidnapped by the police. Homeless people are forbidden from sleeping in public spaces, while soup kitchens are being closed down for serving food. Not very free, or independent.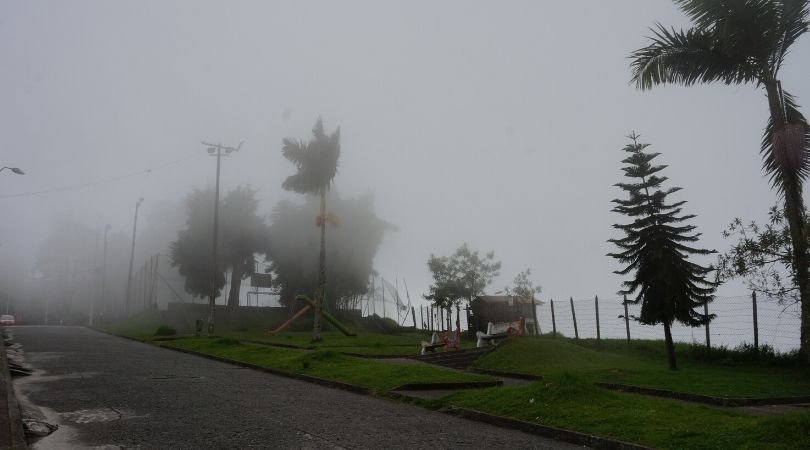 Bruma, is not really a fog, but a cloud that descends upon the high mountain cities and towns of Colombia.
Colombia has problems, and they are many. But, there is a freewheeling spirit of commerce and trade here which isn't going to accept this lockdown much longer. The sleeping tiger is awakening, and I think very soon life will mostly feel normal. Everything I saw, and everything I am seeing indicates that this is a culture with a deep vein of creativity which won't allow itself to be suppressed much longer.
In a world where nothing is as it seems, Colombia for me, is a bastion of independence. My home country the USSA, has become a place where debts can land you in prison, and freedom is only a pretty illusion as even the homeless aren't really that free.
Yeah, I could get all whoopee about Independence Day, throw a party and celebrate for the sake of being an American. But you know what? I think I would rather go take a walk and absorb the intense tropical beauty of the place I now call home. For me, THAT, is liberty. For me COLOMBIA, is my bastion of freedom, prosperity an opportunity.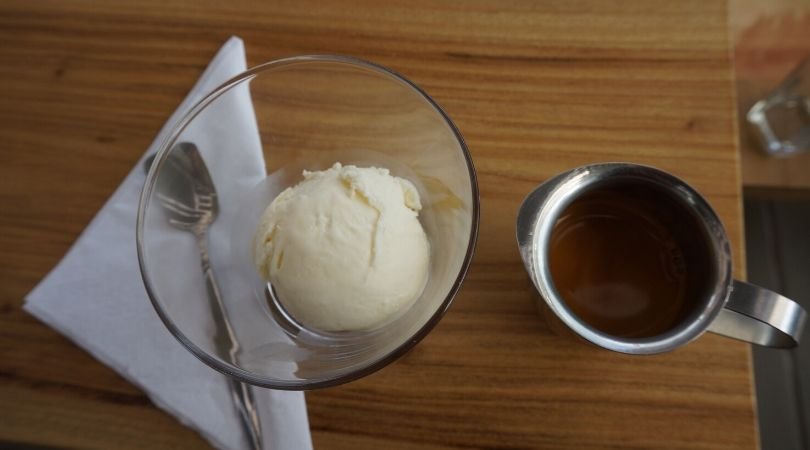 Nothing makes me feel free like locally grown, freshly brewed coffee served in a locally owned shop.
I'm not saying it is easy here, or safe. But, I sacrificed my safety for freedom as soon as I left the US, and I wouldn't go back, even if you paid me to. Everything I need, I have here. Cheap food, low rent and a culture - that most of the time, I absolutely adore!
Dear Readers, Time for me to sign off, go play with my son, read a book, watch my favorite Colombian novella "Las Muñecas de la Mafia," and maybe even have a nice nap on my day off. My life here is as free and independent as I could ask for. True, I am not rich, and earning enough money to buy STUFF, isn't always a walk in the park, but that's ok.
As we come to the end of #The100DaysOfSteem...
If you feel a kindred spirit in my diary about times of coronavirus, pressure and overcoming - then do your part to help a neighbor get through to the other side by upvoting, and/or giving me a resteem, of this post. Tell a friend - and join #thediarygame so we can all bring home the rewards of high quality content curation on the @SteemitBlog ecosystem.