Hello World on this Clueless Caturday
For a moment now I have the urge to create and propose to all and every human the possibility to leave the boundaries of society behind. We are all born Free and with the natural right to live our life as we wish. To eat and drink is a birth right and must be respected by all and one. (Call me crazy, I just "know" for my whole life that we are on the brink of a big change.)
Yeah, and still we are "far away" of this and that for much too long. During mankind's history many have tried to show or explain this natural law and help the folks to implement it in their daily life... most of them died the martyrdom. So how do I do all this without dying a martyr and with all peace and respect to all living beings?!
Luckily until today we have humans awake and sound to understand all this. The evolution isn't stopping on demand for kings and fools. I consider myself one of those, born to be awake, to find the way back to nature and to live the only truthful laws in life. With the aim to make it easier to leave the "system" for as much humans as possible.
So, this creation process includes a "how to present myself" in this crazy world of "soziopaths", which has, if ever some E.T.'s are asking, a self-made earthling-identity-card, a flag of earth and most important the truthful laws of the natural cycle of life for a base... Like a respectful version of saying: I'm an earthling and refuse the forced conditioning implemented by kings and fools, which is the source/reason for most of the sicknesses in this world...
Today you can see the first stage on the Flag Of Earth... I started with a wallpaper from a solar eclipse I found some time ago on the net. (If ever someone can show me to the original source to this, that would be much appreciated!) Then with the help of the website MakeSweet this animated gif was created.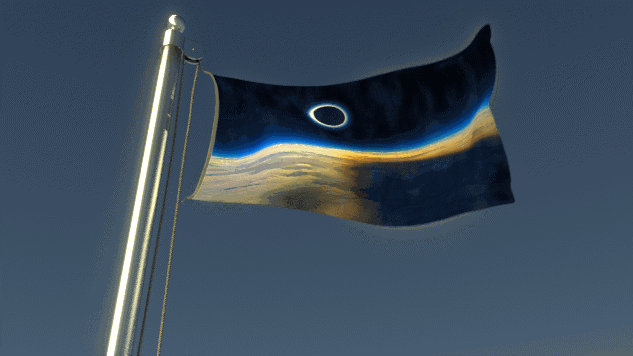 source of flag picture: 3D model SNS 【Cg】・pixiv by A4size

All and everybody interested in this whole process I'm talking here, please feel free to contact me for more... For One Is All and All Is One!
And a special thanks to @wesphilbin, for I used his #thoughtfuldailypost tag which you all should check out some time...
---
Peace Love and Earthlingness
Dan "The Dude" Mondoshawan
---
Be impeccable with your own word - Handle everything from a neutral point - Avoid assumptions by asking kindly - Always give your best to One And All!

And Your Life will Improve In A Way You Can't Imagine Today
---

---

---
All Steem will be Powered Up... All content is my own intellectual "property". All pictures are taken with an old Fuji Camera, all videos with a "broken" G-Eye 300 and sometimes worked on Gimp 2 or MovieMaker. Otherwise you'll see a source indicated...
---
👍 😊 😃 😂 😎 😁 😉 ❤️ ☕ ♫