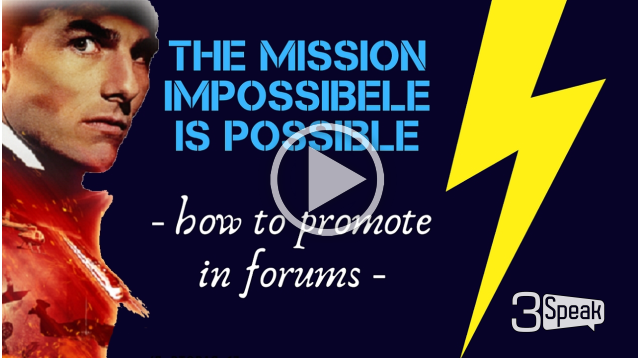 ---
In my previous video and post ( Launching ''Mission possible'' - promotion in forums - ) , I explained how I started promoting steem and 3speak in forums and how I will be able to reward all those who will help me in this mission.
In this one I want to explain how to promote in forums and why it's important.
First of all, I want to thank the @threespeak team for supporting my work and pinning my videos.
The first pinned video was about the poll I'm running in twitter to compare between 3speak, dtube and youtube. You can check the details here : 3speak, dtube or youtube ? , you still can vote by the way, after 2 days I will announce who won in that.
And the second pinned video is the one about the promotion in forums and you can watch it here :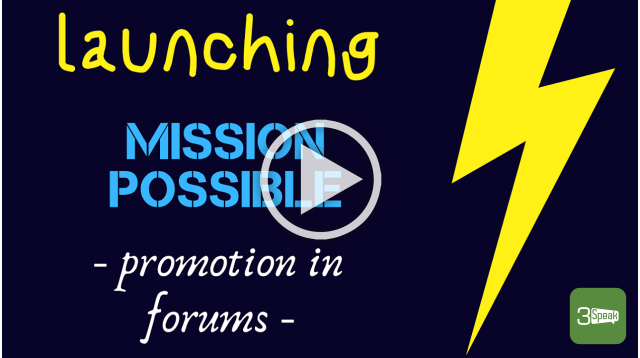 I want as well to thank the dedicated steemian who replied to my thread in bitcointalk about what he thinks about steem and thanks as well for meriting it ( I don't even know what that ), but it seems that he is helping that thread to be famous in the forum.
Follow him here please : @daan.
---
So, in this video I talked about the importance of writing different text in forums. That's because it helps the search engine to find the content. The same why we don't like to see plagiarism in steemit.
If you copy past the same content and write it in a few forums, that will not help you at all. But if you will write in each forum different content, that will be more likely found in the web and you will be able to promote anything you want. That's how I'm promoting now steem and 3speak.online
I gave an example of that in other forums as well :
For now I will reward those who will write in those forums my mentioning them in my posts.
But, afer just a few days I will be able to upvote comments with @threespeak power and I will reward comments from steemians I'm sure they registred in those forums and helped me in my mission to promote steem blockchain.
All you have to do is to write there what do you think about the topics I will write about. That will put the thread in the top and more people will see it.
The result of the previous ''Mission possible'' are great.
Just in 24 hours the topic is seens by almost 50 people in bitcointalk !

With your help, we can always make that on the top and more people will join steem !
Enjoy promoting steem, let's make it moon !
---
▶️ 3Speak